Since the 2000 NFL Draft, many franchises have taken the plunge and secured their supposed long-term franchise tight end in the first round. Some have excelled. Others have … well, they didn't do as well as their team hoped. Let's dive into how many TEs have been selected in the opening frame, ranking them from worst to first.
How Many Tight Ends Have Been Drafted in Round 1 Since 2000?
Twenty-four tight ends have been drafted in the opening round since 2000, accounting for 23 drafts. If you're a math whiz (or have a handy calculator), that comes to a hair over one tight end drafted per year, on average.
However, it's interesting to note that only nine of these players (38%) have been drafted in the last 12 years. In other words, the league's approach to utilizing a top pick on a TE has shifted somewhat, perhaps due to the (warranted) perception that many of these picks were busts relative to their draft position.
MORE: FREE Mock Draft Simulator With Trades
Kyle Pitts, Atlanta Falcons
No. 4 overall, 2021
T.J. Hockenson, Detroit Lions
No. 8, 2019
Noah Fant, Denver Broncos
No. 20, 2019
Hayden Hurst, Baltimore Ravens
No. 25, 2018
O.J. Howard, Tampa Bay Buccaneers
No. 19, 2017
Evan Engram, New York Giants
No. 23, 2017
David Njoku, Cleveland Browns
No. 29, 2017
Eric Ebron, Detroit Lions
No. 10, 2014
Tyler Eifert, Cincinnati Bengals
No. 21, 2013
Jermaine Gresham, Cincinnati Bengals
No. 21, 2010
Brandon Pettigrew, Detroit Lions
No. 20, 2009
Dustin Keller, New York Jets
No. 30, 2008
Greg Olsen, Chicago Bears
No. 31, 2007
Vernon Davis, San Francisco 49ers
No. 6, 2006
Marcedes Lewis, Jacksonville Jaguars
No. 28, 2006
Heath Miller, Pittsburgh Steelers
No. 30, 2005
Kellen Winslow II, Cleveland Browns
No. 6, 2004
Ben Watson, New England Patriots
No. 32, 2004
Dallas Clark, Indianapolis Colts
No. 24, 2003
Jeremy Shockey, New York Giants
No. 14, 2002
Daniel Graham, New England Patriots
No. 21, 2002
Jerramy Stevens, Seattle Seahawks
No. 28, 2002
Todd Heap, Baltimore Ravens
No. 31, 2001
Bubba Franks, Green Bay Packers
No. 14, 2000
Anthony Becht, New York Jets
No. 27, 2000
Should NFL Teams Draft TEs in the First Round?
"Should" is a loaded auxiliary verb. I mean, "should" GMs draft an offensive lineman, wide receiver, or cornerback instead? Who knows? Each franchise understands what they need in the draft, and they do everything they can (we assume) to fulfill their top priorities.
Some teams have selected a tight end to help round out an offense. Others, like the Falcons two years ago, brought in a generational talent to serve as a long-term offensive cornerstone (allegedly).
Yet, it's interesting that, say, the Lions jumped on a first-round TE three times in the span of a decade, while most teams haven't grabbed one in the opening frame in the last 25 years. First came Brandon Pettigrew, who posted nice numbers for a few seasons but struggled with drops. Then they went with Eric Ebron, who was essentially the same size, produced the same solid numbers, and similarly struggled with drops.
So why did they then go for T.J. Hockenson? Hadn't they learned their lesson? Well, Hockenson turned out to be the best of this group. Detroit apparently was unfazed by past disappointment. Hockenson was their top target because they believed in Hockenson, irrespective of what had transpired earlier.
MORE: History of First Overall NFL Draft Picks
It also should be noted that several guys on this list might have had stellar careers if injuries hadn't robbed them of their brilliance. Dustin Keller comes to mind. Imagine rookie Geno Smith in 2013 with the addition of the recently retired 29-year-old Keller? How much would the TE's presence have elevated Smith and advanced his development into a true franchise quarterback nearly a decade before he finally got another shot in Seattle?
Then there's Tyler Eifert and, to a lesser extent, Todd Heap. A healthy Heap on those Baltimore teams could have ended his career as an all-time great, at least statistically. But he had probably 1,000-1,200 yards and about 10 touchdowns on 20 missed games during his prime years. That's the difference between a "worthwhile" first-rounder and a Hall of Famer.
As the tight end position continues to evolve — as it has for several decades — into a consistent playmaking role, we might see more teams reach early for a big-bodied receiver who can force defensive mismatches. Much depends on how college football programs develop their talent and how these players grow into this very niche position.
Ranking the Best and Worst First-Round Tight Ends
The following rankings factor in injury-plagued careers but don't overweight these circumstances. In other words, this isn't merely about stats. It's also about the degree to which these first-round picks proved to be justified. First, were these TEs as good as advertised? And second, to what extent was this talent exhibited on the field?
Top Five First-Round Tight Ends
Let's kick off with the top-five first-round TEs from 2000 onward, followed by the five most disappointing TEs.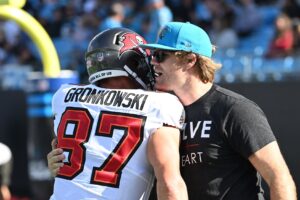 1) Greg Olsen, 2007-2020
One might make a claim for several guys sitting atop this list. I would argue that Greg Olsen is most deserving. From his age-27 to age-31 seasons — five in all — he amassed nearly 5,000 receiving yards on 383 receptions, culminating in three straight Pro Bowls. While his four-year fall beginning at age 32 was precipitous, it doesn't mar his extraordinary impact on the game.
2) Heath Miller, 2005-2015
Would Pittsburgh have won Super Bowls in 2006 and 2009 without Heath Miller? Perhaps, but it certainly would have been more difficult. As an adept route runner with great hands, Miller might have posted even bigger numbers on a lesser team.
MORE: 2023 NFL Draft Order
But on the loaded Steelers, he came along at just the right time, replacing the long-forgotten TE trio of Jerame Tuman, Jay Riemersma, and Matt Cushing.
3) Vernon Davis, 2006-2019
I believe Vernon Davis is still the fastest TE to play the position, having run a 4.38 40-yard dash at the 2006 NFL Combine. He was near the top of several all-time positional lists before turning 30. I believe the league didn't know how to get the most out of Davis. If he'd played today, his numbers assuredly would be even bigger.
4) Dallas Clark, 2003-2013
Naysayers might point to often muted statistics. Dallas Clark enjoyed only three campaigns with 500+ yards receiving. And yet, that's not Clark's legacy. For years, he played well behind superstars Marvin Harrison and Reggie Wayne in Peyton Manning's prolific passing attack.
During a declining Harrison's final season, Clark set career-high numbers, putting him No. 3 in TE receiving yards. Then, in Indy's first year without Harrison, a 30-year-old Clark was forced to step up. And he did, producing a phenomenal 100-1,106-10 receiving line that nearly matched Wayne's 16-game output.
Clark could have been one of the greatest tight ends of all time. Instead, he played an integral role as a long-time tertiary option, and when called upon to fill a major hole, he proved he could be one of the best in the game.
5) Todd Heap, 2001-2012
This was a really tough call. I could put any of six or seven guys in this slot. Give it another two years, and Evan Engram, T.J. Hockenson, or even Kyle Pitts might belong here. For now, based on track record, I'm going with the long-retired Todd Heap. While injuries stymied his career, he still managed to thrive while serving as an offensive cornerstone on an exceptional team for the better part of a decade.
Bottom Five First-Round Tight Ends
1) Anthony Becht, 2000-2011
This is not a fun list, but if it spurs constructive debate, fantastic. And when it comes to Anthony Becht, the central question is whether his selection was necessary. Coming off an 8-8 season, the Jets had several holes to fill. Certainly, TE was one of them, and that's why I believe they reached for Becht. It was a weak TE class, and Bubba Franks came off the board 13 picks earlier. New York opted for "serviceable" at a draft position that required "exceptional."
2) Jerramy Stevens, 2002-2010
If you played fantasy football back when Jerramy Stevens was in the league, you might have taken him with your final pick one year. Just once. He wasn't the right fit in Seattle, and it took him three years to leapfrog the considerably older Itula Mili on the depth chart. Simply put, the Seahawks didn't need Stevens in the first round and certainly didn't need him as much as they needed help elsewhere.
3) Daniel Graham, 2002-2012
It's hard to knock anything the Patriots did at the dawn of their dynasty. I mean, who am I to judge? But it's telling that only two years after taking Daniel Graham in the first round, they used another first-rounder on Ben Watson.
MORE: 2023 NFL Draft Overall Team Needs
Watson ended up being the better fit. Graham played out his rookie contract before serving as a tertiary option in Denver. He was a solid TE and also one who never lived up to his first-round billing.
4) O.J. Howard, 2018-Present
Not entirely fair, and also mostly justified. O.J. Howard was the first of three TEs taken in the first round in 2017, shortly before Evan Engram and David Njoku. It would seem clear that Howard has been the biggest disappointment of the three. And unlike Engram and Njoku (and most other first-rounders on this list), Howard's injuries aren't the only concern. Even when starting, he's only rarely flashed as a true franchise-caliber TE.
5) Marcedes Lewis, 2006-Present
Is this an excuse to talk about the ageless Marcedes Lewis? Perhaps. And honestly, this isn't an easy call. I've debated putting several other guys in this spot. With Lewis, what jumps out at me is competence. By most accounts, he's been an entirely competent tight end for nearly two decades. It's quite a feat.
But does that mean he was a wise first-round selection? Right after the Jaguars picked Lewis, the Jets landed the great Nick Mangold. Then the Colts picked Joseph Addai. Jacksonville filled an immediate hole, and in doing so, they lost out on a franchise-changing player.
Listen to the PFN Scouting Podcast
Listen to the PFN Scouting Podcast! Click the embedded player below to listen, or you can find the PFN Scouting Podcast on iTunes, Spotify, and all major podcast platforms.  Be sure to subscribe and leave us a five-star review! Rather watch instead? Check out the PFN Scouting Podcast on our Scouting YouTube channel.