The NFL officially voted to create a flex scheduling system to allow Sunday afternoon games to be moved to Thursday Night Football on Amazon Prime for the 2023 season.
In March, the NFL could not pass a resolution to allow the league to move games from Sunday afternoon to Thursday night, but they didn't have so few votes (15) that the proposal would be tabled until next year.
Instead, they kicked the can down the road to the Spring League Meeting, where they tweaked the proposal to account for some ownership objections and narrowly passed the rule 24-8 — the exact number of votes they needed in order to make the change.
Thursday Night Football Flexing Has 28-Days Notice
Instead of the original 15-day notice period for a decision to flex out a Sunday afternoon game for Thursday night, they changed the notice period to 28 days. This partially accounts for the biggest objection to the proposal, vocalized by Giants owner John Mara, who was concerned that fans who had made plans to attend a Sunday game would be left out in the cold when a game was flexed out on short notice, particularly fans who would plan significant travel to get to the game.
Nevertheless, the Giants voted against it, along with the Packers, Jets, Raiders, Lions, Bengals, Steelers, and Bears. Aside from the Jets, all of those teams have legacy ownership — owners who inherited the team from a longtime owner before the capitalization of NFL teams expanded in the 1990s.
MORE: 2023 NFL Schedule
This may play a role in their decision to protect fans from changes despite the potential gain in profits. Owners who purchased their team for billions of dollars may be more sensitive to the profit they could gain from a change in scheduling.
"We're incredibly focused on our fans and stay focused on our fans watching the screens, on television everywhere else," said Hans Schroeder, the executive vice president and chief operating officer of NFL media. "I don't want to at all think that we're not going to be sensitive to that. We'll do our best on how we communicate. And we do that currently as early as we can. We're appreciative of that. But we're also trying to balance how we make sure on the other side that we're getting great games into the right windows."
There wasn't much more assurance given on that front, but there was an emphasis on the fact that games had already been subject to schedule changes, and a number of games late in the schedule were marked as "TBD," so fans wouldn't be able to make concrete plans about them anyway.
The NFL Was Failing Their Amazon Partnership
The NFL is clearly focused on fans who don't travel, however. TNF ratings were disappointing last year, which coincided with the first year of Amazon Prime's ownership of the product, where they have exclusive national streaming rights to Thursday Night Football games.
Part of the reason may have been due to a lackluster lineup of games, where non-competitive games with low stakes populated the lineup. In the second half of the season, this included a Philadelphia Eagles blowout against a non-competitive Houston Texans team, a low-stakes NFC South matchup between the Carolina Panthers and Atlanta Falcons, a tepid Las Vegas Raiders-Los Angeles Rams matchup that counted for little in the standings, and a meaningless Jacksonville Jaguars-New York Jets affair in Week 17.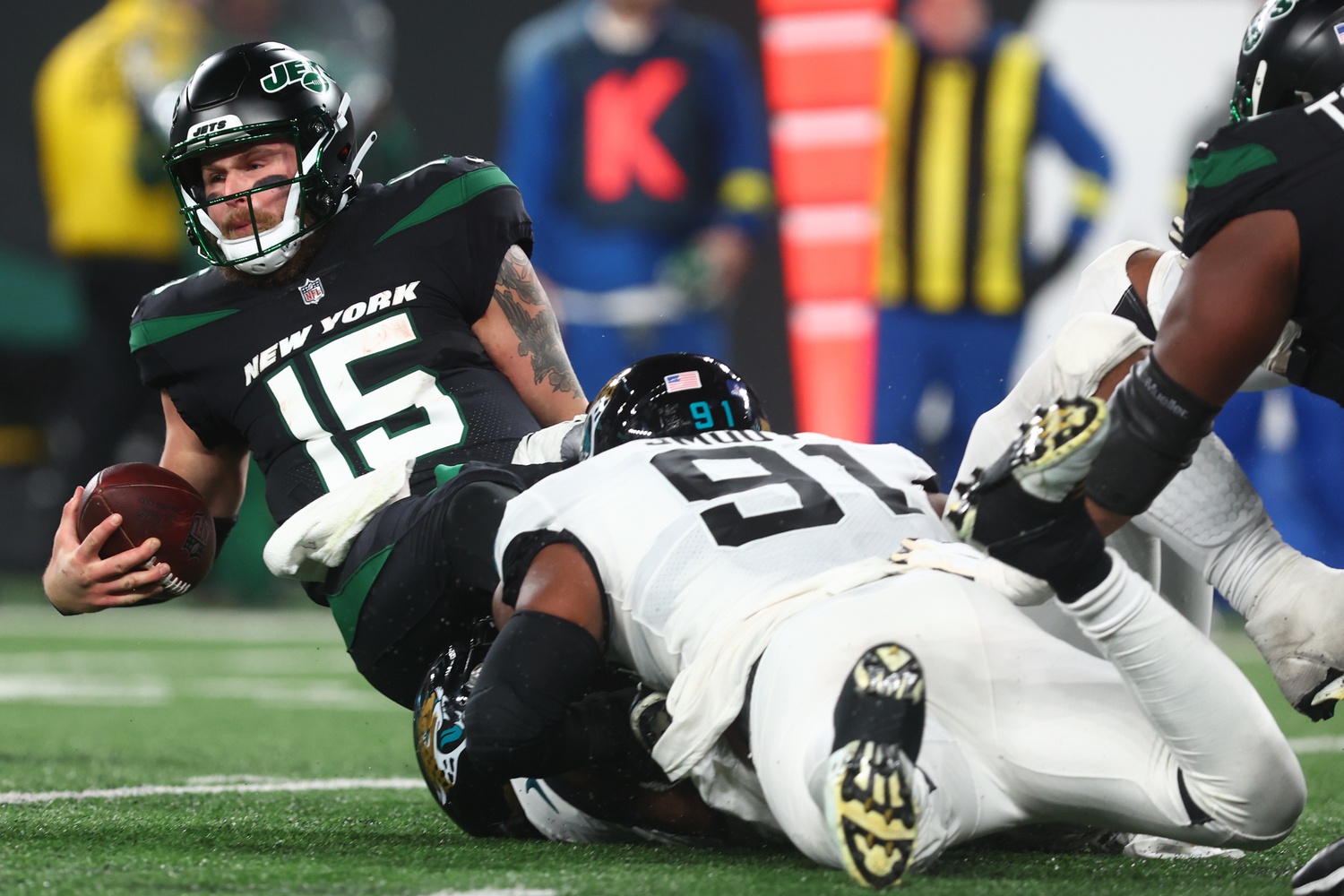 The NFL hopes to create higher-stakes or more entertaining matchups with their scheduling fix, though it would mean that CBS or Fox, their Sunday afternoon broadcast partners, would lose out on that exciting game. The NFL indicated that there was no change in their negotiated deals with either of the two networks to accommodate this.
They might still be capable of being "very respectful of [their] rights and commitments to CBS and Fox," as Schroeder put it, because there are very few games the NFL would be able to flex into Thursday night.
Not Many Games Are Eligible for TNF Flexing
The circumstances are so stringent that the proposal extends the experiment for one year if no games end up flexing out from Sunday afternoon to Thursday night. In addition to the 28-day notice, the flexing can only occur during Weeks 13-17.
The proposal added the possibility of any unscheduled games — marked as "TBD" on the schedule — as eligible for movement to Thursday night as well.
"We're also trying to balance how we get the best games into the best windows for our partners," said Schroeder. He said they have a certain performance standard they expect to meet to flex games into Sunday night, and that "We're going to have even a higher bar for Monday night, and even a higher bar for Thursday night about the type of game we think would merit real consideration to flex."
In addition to the narrow window of weeks, which could bump the Seahawks-Cowboys matchup in Week 13, the Patriots-Steelers game in Week 14, the Chargers-Raiders game in Week 15, the Saints-Rams contest in Week 16, and the Jets-Browns in Week 17, the NFL will not force a team to be an away team on Thursday night twice in a season.
That excludes the Vikings, Giants, Lions, Bears, Broncos, Jaguars, Buccaneers, Titans, Panthers, Bengals, and Dolphins from playing away matchups in those weeks, though they could host a game.
On top of that, if the Seahawks, Patriots, Chargers, and Saints don't see their games flexed — something we will know about a month before it happens because of the notice window — they also would be prevented from traveling on the road for a Thursday game a second time.
MORE: NFL Playoffs 2023 — NBCUniversal, Peacock To Make History
Teams are also protected from being flexed into Thursday night multiple times, though a team could be flexed to Sunday night one week and Thursday night another week. Nevertheless, there is a limit to the number of late games a team can play – seven. At the moment, only one team is close to that — the Chiefs are scheduled for six prime-time games.
Even if the NFL finds itself with a plethora of attractive games late in the season that meet that criteria, they will only exercise this option twice all year.
Which Games Are Eligible To Be Flexed to Thursday Night Football?
That leaves the following games as eligible for flexing. Any games marked with an asterisk are games involving an away team who has a Thursday Night Football game scheduled for Weeks 13-17.
| Week 13 | Week 14 | Week 15 | Week 16 | Week 17 |
| --- | --- | --- | --- | --- |
| Falcons @ Jets | Rams @ Ravens | Texans @ Titans | Colts @ Falcons | Falcons @ Bears |
| Cardinals @ Steelers | Colts @ Bengals | 49ers @ Cardinals | Packers @ Panthers | Raiders @ Colts |
| Colts @ Titans | Texans @Jets | Commanders @ Rams | Browns @ Texans | Rams @ Giants |
| Browns @ Rams | Bills @ Chiefs | Cowboys @ Bills | Commanders @ Jets | Cardinals @ Eagles |
| 49ers @ Eagles | Seahawks @ 49ers* | Eagles @ Jaguars | Cardinals @ Bears | 49ers @ Commanders |
| Chargers @ Patriots* | | Falcons @ Panthers | Cowboys @ Dolphins | Steelers @ Seahawks |
| | | Steelers @ Colts | Raiders @ Chiefs | Patriots @ Bills* |
| | | Jets @ Dolphins* | Ravens @ 49ers | Chargers @ Broncos* |
| | | | Seahawks @ Titans* | |