The Texas Tech Red Raiders reached eight wins for the first time in 10 seasons in 2022, setting a considerable bar for head coach Joey McGuire to clear in his second season. The Red Raiders were back to being an impressive offensive force last year, but it's the defensive talent leading the way of their 2024 NFL Draft prospects.
Texas Tech Red Raiders Roster and Depth Chart Changes
Though Tyree Wilson was the only Red Raider to be drafted in the 2023 class, the Red Raiders saw several notable departures. Leading quarterback Donovan Smith transferred to Houston, and second-leading rusher SaRodorick Thompson and top-two linebackers Krishon Merriweather and Kosi Eldridge graduated. Overcoming these losses won't be easy.
The good news for the program is this is a veteran roster with playmakers ready to fill the void. Senior quarterback Tyler Shough, tight end Baylor Cupp, and running back Tahj Brooks can carry the offense. The defense added several transfers to bolster a unit that is expected to start nine seniors.
Incoming linebackers Steve Linton and C.J. Baskerville must combine to produce a solid pass rush with Wilson gone. The offense should be in good hands if Shough is finally healthy, as nine seniors are also in line to start on that side of the ball. Considering the talent and trajectory of the team, the Red Raiders should produce their best season in a long time.
Texas Tech NFL Draft Prospects
Tyler Shough, QB
With only 22 games played over four seasons at Oregon and Texas Tech, Shough must prove to be durable. At 6'5″ and 225 pounds, Shough has a prototypical frame and a surprising ability to run and fall forward through contact. Until 2022, Shough completed at least 63.5% of his attempts while averaging at least 9.3 yards per attempt.
Much of Shough's game checks the boxes on being an NFL prospect. He has good velocity on short and intermediate throws, plus enough touch to connect on deeper passes. His experience has given him the ability to identify pre-snap blitzes.
However, Shough's accuracy is not great overall, and it dips when he's under pressure. He's more accurate than precise, struggling to lead receivers into open space. And despite his athleticism and rushing totals, he's a statue in the pocket until it's time to run.
Still, Shough has Day 3 potential as a prospect because he fits the mold as a physically gifted athlete.
Tahj Brooks, RB
Even while in tandem with Thompson last year, Brooks proved to evaluators he can impact games in multiple ways. Although his yards per carry dipped from 6.5 to 4.7 in 2022, Brooks' hard-nosed style and willingness to stick to the scheme allowed him to churn out a productive season. Brooks also saw a massive leap in his receiving production, setting career-highs with 26 receptions and 164 yards.
He doesn't have the explosiveness through contact or quick feet that allow him to create beyond what's in front of him, but Brooks can be a late-round prospect if he handles the full-time role effectively this fall.
Jerand Bradley, WR
The most exciting prospect on the Red Raiders' offense is redshirt sophomore Jerand Bradley. The massive 6'5″, 215-pounder led the team in all receiving categories, showing off solid deep speed from both the slot and as an outside receiver. Bradley is an unrefined route runner, but it didn't matter much because of his catch radius and unusual burst off the line for someone his size.
It may not be likely Bradley declares after this season, but his ability to impact games in the red zone and on deep passing concepts gives him a chance to rapidly develop. He has Day 2 potential.
Baylor Cupp, TE
With only 12 receptions for 132 yards in his career, all coming in his debut season with the Red Raiders last year, Cupp isn't someone who stands out because of his production. However, at 6'6″ and 245 pounds, Cupp's movement ability is at an NFL level. His blend of size and speed allowed him to play in the slot and win on crossers against both safeties and linebackers, and his concentration at the catch point was notably good.
Cupp may become the biggest riser on the team this season.
Myles Cole, LB
More of an off-ball linebacker than a true edge defender, Myles Cole produces as an effort player.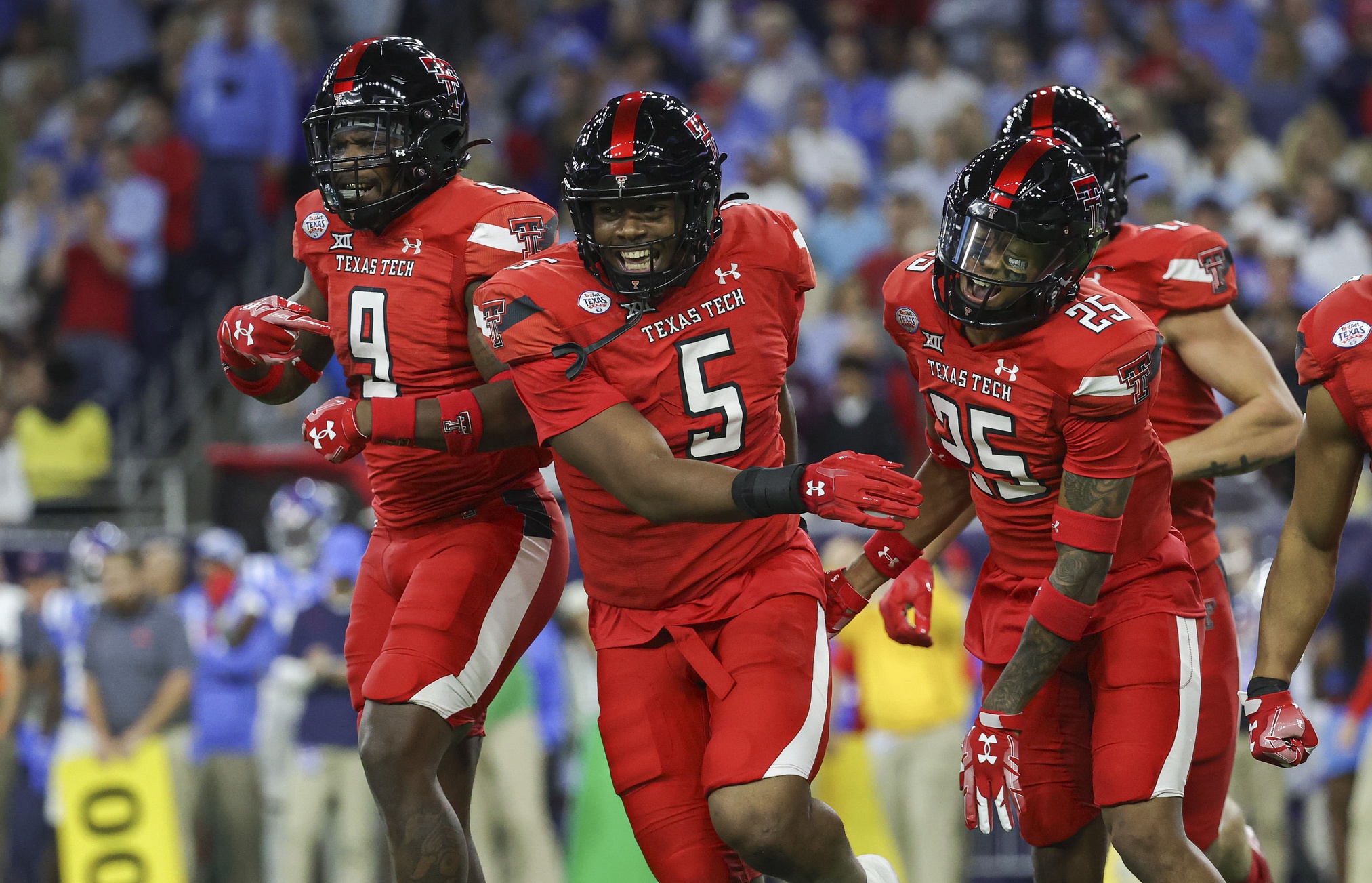 His activity level pays off on stunts and delayed blitzes, and he constantly finds himself around the ball. However, he's likely more of a camp invite player due to his lack of instincts and explosiveness.
Steve Linton, LB
Transferring from Syracuse, Linton has two seasons of eligibility left. He'll play more outside linebacker and EDGE with the Red Raiders, hopefully filling the gap that Wilson left behind. Linton has excellent length as a 6'5″, 225-pounder, and he tallied six tackles for loss with 3.5 sacks in 2022.
Linton has the traits to be an impact player for the Red Raiders quickly. The NFL has to see Linton add some bulk and be a consistently productive player who can handle being at least a rotational pass rusher at the next level. It's more likely he's a 2025 prospect than a 2024 one.
Rayshad Williams, CB
A standout cover corner with great size at 6'2″ and 204 pounds, Williams allowed only 25 of 54 targets to be completed in 2022. His length and ability to ride in the receiver's hip pockets before playing the ball are significant positives. Williams showed great physicality and surprising quickness for his size in coverage and awareness in both press and off-man alignments.
Williams will need to improve as a run defender in 2023. He's not effective at taking quality angles or aggressively finishing in space. He must also continue to find the right balance between being a playmaker and getting grabby in coverage, as he only has one career interception.
An underrated player entering this fall, Williams can rise from a Day 3 pick with the right improvements and more exposure.
Malik Dunlap, CB
Williams' running mate is no slouch, either. Malik Dunlap is even larger than Williams at 6'3″ and 220 pounds. He allowed only 33 of 65 targets to be completed and was among the nation's leaders in pass breakups. Like Williams, Dunlap is not a playmaker, with only one interception on his résumé.
Some teams may want to move Dunlap to safety because his deep speed isn't great, and that will make sense based on their scheme. However, Dunlap is effective at using his size and strength to jam receivers and be an asset in coverage. Zone-heavy defenses should value Dunlap as a Day 3 prospect entering the season.
Texas Tech Red Raiders Schedule
Week 1
BYE
Week 2
Sept. 2: at Wyoming Cowboys
Week 3
Sept. 9: vs. Oregon Ducks
Week 4
Sept. 16: vs. Tarleton State Texans
Week 5
Sept. 23: at West Virginia Mountaineers
Week 6
Sept. 30: vs. Houston Cougars
Week 7
Oct 7: at Baylor Bears
Week 8
Oct. 14: vs. Kansas State Wildcats
Week 9
Oct. 21: at BYU Cougars
Week 10
BYE
Week 11
Nov. 2: vs. TCU Horned Frogs
Week 12
Nov. 11: at Kansas Jayhawks
Week 13
Nov. 18: vs. UCF Knights
Week 14
Nov. 24: at Texas Longhorns
Week 15
BYE
Listen to the PFN Scouting Podcast
Listen to the PFN Scouting Podcast! Click the embedded player below to listen, or you can find the PFN Scouting Podcast on iTunes, Spotify, and all major podcast platforms.  Be sure to subscribe and leave us a five-star review! Rather watch instead? Check out the PFN Scouting Podcast on our Scouting YouTube channel.