When studying talented TCU cornerback Jeff Gladney during the 2020 NFL Draft process, it was hard not to notice the abundance of talent that TCU had on their defense. From other 2020 prospects like Ross Blacklock to standouts Garret Wallow and Trevon Moehrig, the TCU defense is loaded. However, Moehrig's partner in crime, safety Ar'Darius Washington, is just as talented as anyone else on that defense.
Washington burst onto the scene as a redshirt freshman by snagging five interceptions and being named Big-12 Defensive Freshman of the Year. He is only 5'8″, but Washington made a name for himself nonetheless and was feared by opposing offenses.
[sv slug=mocksim]
Washington's standout tape
For a redshirt freshman, Washington's tape was fantastic in every sense of the word. He was deserving of the praise and accolades that he received following that stellar season. He was unbelievable.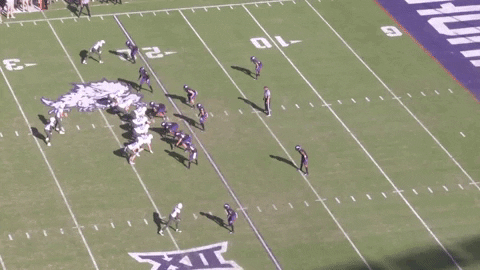 The hype with Washington all starts with his range on the back end of the defense. Get him in a deep half, single-high role, or anything that requires him to cover a substantial amount of ground, and he is up to the task. With fluid hips, great speed, and high football IQ, Washington can make the middle of the field closed even when it should not be.
This play against Baylor is an excellent indicator of just that. He covers a ton of ground and takes a great angle to get a pass breakup. Washington keyed in on the post and went right over the top to take it away.
Washington's awareness, ability to read the quarterback's eyes, and route concepts on a given play are elite. Below is a Cover 2 play. Washington flips his hips and cuts across the field to undercut this route for an interception. It is such an incredibly impressive play, as his backpedal and footwork have to be incredibly smooth to allow this to happen. When a defensive back, especially a safety, has these types of instincts and ball skills, they are an incredibly valuable part of the defense.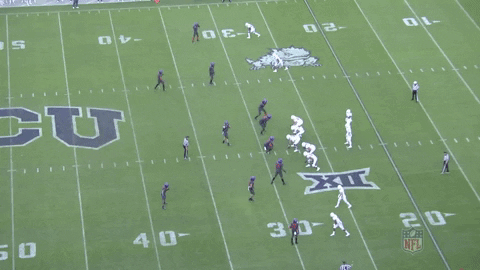 This one is all route anticipation. Washington mirrors the receiver's stem and keeps himself square so he can pull the trigger and come downhill when needed. With a slight inside shade, Washington does a great job of not losing that leverage and, most importantly, not over pursuing on the route after it looks like the receiver could carry this vertically. The receiver gets bumped and fails to attack Washington's leverage, but still, Washington reads the receiver's hips and breaks on this ball to make an impressive interception. That speaks to his fluidity, click and close, and ball skills as well.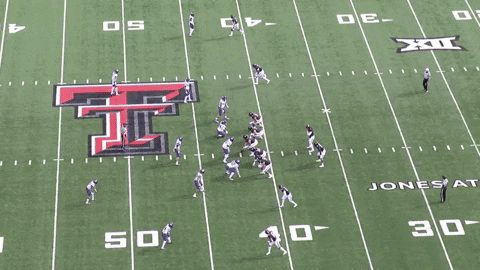 A redshirt freshman being this keen on route combinations is rare. Washington can change his reads and process through a route combination so quickly. Notice how he is focused on the slot fade here, but immediately recalibrates for the hitch and goes over the middle of the field.
His ability to redirect his eyes and make incredibly difficult plays on route concepts is impressive. Washington makes an NFL play to adjust on the fly and shows off excellent closing speed to get to the catch point when this ball arrives. He does a great job of playing through the receiver's hands, bats this thing out, and creates an interception via the tip drill.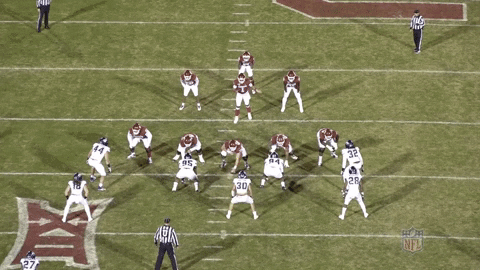 Will Washington's size be an issue?
With his size only being 5'8″, 179 pounds, Washington is naturally going to have concerns about his tackling and play strength. That was my biggest fear heading into his tape, but honestly, Washington is rather strong and is a good tackler. Below you can see him not just tackle Jalen Hurts but completely upending him. It is a one-on-one tackle in that alley. He does a great job putting his eyes through Hurts' thighs, wraps up, breaks down to stay square, and drives through his lower body to make the tackle. With how slippery and physical Hurts is as a runner, this is an impressive tackle.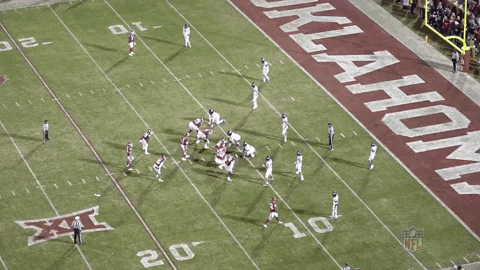 From the same game, Washington makes a touchdown-saving tackle here on Kennedy Brooks. He is not overaggressive and keeps his fill on the back end in the cut back lane. Washington does a great job of sifting down and engage Brooks once he gets outside the numbers and make a massive tackle.
This play might be my favorite, though. Washington reads this play like a book. He keys in on this inside zone run right away just from the footwork and knows he has to hold the edge here and not let anything get outside. Washington makes a terrific fit here once JaMycal Hasty bounces this thing outside of the tackle. He gears down and then explodes with good closing speed to Hasty.
Related | Top safeties in the 2021 NFL Draft class
TCU safety Ar'Darius Washington's outlook
The 2021 safety class looks loaded right now. There are a lot of guys to contend with at the top. Washington even has his own teammate in the aforementioned Moehrig to be compared against. However, Washington is an imposing player. He does a lot of things well and can condense a lot of roles for a defense.
You can trust Washington in an overhang over the slot. That allows him to work in man coverage because of his fluidity and intelligence. He is not an overly aggressive player. As a defense, you can change up blitzes out of the slot with that. Thus, he gives you greater flexibility. Also, he has the instincts, range, athleticism, and most importantly, ball skills to be an impact single-high safety. You can trust him there. At times, he shut down the middle of the field to opponents because of what he could do on the back end. As a last line of defense, Washington is a really solid tackler too.
Now his size is going to make some people question him. Yes, he is tiny; however, he plays bigger than he is listed and has good play strength. Still, this is not a guy who is going to take on blocks and shed them. Washington's lack of length can hurt him at times as well in man coverage. I would not expect Washington to get bullied around in man coverage, though.
That leaves Washington as an outstanding football player. NFL teams strive to get versatility and match to their guys on the back end of the defense. Washington is a guy that allows defensive coordinators to diversify their pre-snap looks and shift them post-snap. That is a valuable tool; just as valuable is the playmaking ability. Washington brings that. His size might knock him out of the first round, but to me, he's a first-round talent.