The 2022 season was a magical first year for Sonny Dykes and his TCU Horned Frogs. Finishing 13-2 and making it to the College Football Playoff National Championship, the Horned Frogs proved to be a force to be reckoned with. We dive into how their 2024 NFL Draft might play out.
TCU Horned Frogs Roster and Depth Chart Changes
Dykes and his program face a major challenge entering this season. Losing eight players to the 2023 NFL Draft, including star quarterback Max Duggan, running back Kendre Miller, and wide receiver Quentin Johnston, will have a significant effect on what this team does as they look to win the Big 12.
Several potential impact transfers were added, including wide receivers JP Richardson, JoJo Earle, and Jaylon Robinson. Offensive linemen Willis Patrick and Tommy Brockermeyer may prove helpful for incoming running back Trey Sanders. In total, TCU added three transfers from Alabama, and only three of their 13 additions were from outside Power Five conferences.
How Sanders and assumed starting quarterback Chandler Morris redefine the offense will determine this team's ceiling. TCU's defense has to replace its two leading sackers Dylan Horton and Dee Winters, plus star cornerback Tre'Vius Hodges-Tomlinson. It won't be an easy task, but TCU does have several notable NFL prospects to help lead the way.
TCU NFL Draft Prospects
Jared Wiley, TE
One of the biggest pass catchers in the country at 6'7″, tight end Jared Wiley has unusual coordination and speed for his size. He excels on curl routes against zone, where he's comfortable settling in between defenders and preparing for contact. Though he wasn't often featured as a primary read except on play fakes and trick plays that are designed to get him wide open, Wiley has solid potential to be a more consistent contributor in the passing game.
The more solidified part of Wiley's game is as a blocker. He'll lose some reps due to his high pad level, but his activity level, length, aggression, and quickness are major assets. It's not a question of whether he's a good blocker or not but how good he'll become over time.
Wiley enters the season with a Day 2 grade.
Savion Williams, WR
Although Savion Williams has only 36 receptions across three seasons, his 6'5″ frame is hard to ignore. A plus kick returner in the one season he was given the chance to and showing glimpses of being a quality possession receiver in 2022, Williams is someone to watch after TCU overhauled its receiving room. If Williams can prove to be more explosive in one-on-one opportunities, he'll rise throughout the year.
Brandon Coleman, OT
While scouting services have Brandon Coleman as the best offensive prospect on the Horned Frogs, the 6'4″, 320-pound left tackle is closer to Wiley on my board. Coleman is a powerful blocker who projects better to the guard spot in the NFL than a starting blindside defender. While his strength is an important part of his game, he has stiffness in his lower body, so he can't recover against speedy defenders who get the corner angle on him on passing plays.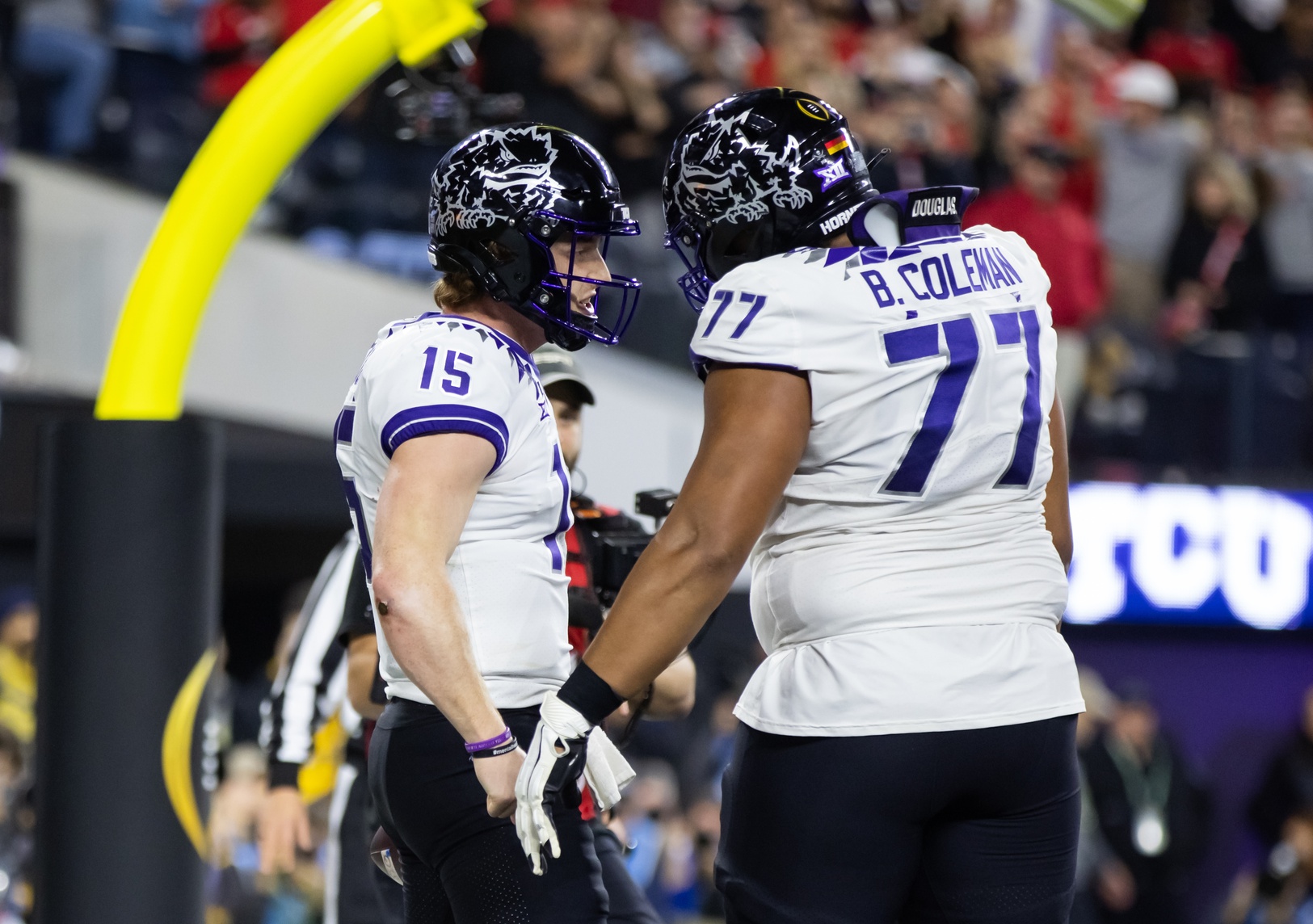 Regardless, moving Coleman inside helps solve that problem, and he can still be a quality Day 2 or early Day 3 value.
Josh Newton, CB
Arguably the best senior prospect in the Big 12 this fall is cornerback Josh Newton. At 5'11" and 195 pounds, Newton has the physical tools and build to fit in perfectly against modern NFL receivers who are quicker than fast and aren't as dense. His lone weakness is not having top-notch speed, but the rest of his game is impressive.
Newton shows good patience in both press and off alignments, never panicking in his drops and continuing to mirror until he has to flip his hips and run. He hunts the ball effectively, using his length to swat at passes.
Most importantly, he has the necessary change-of-direction ability to stay in the hip pocket of receivers on difficult whip routes.
His blend of athleticism, competitiveness in the run game, and size has Newton landing with a quality Day 2 grade entering the fall.
Mark Perry, S
A competitive defender who has experience as a true free safety, Mark Perry sees the field developing and anticipates throws effectively. He's supportive in the run game but not someone likely to be a box defender, as he was mostly a coverage option either in deep zones or as a slot safety. He's undersized in coverage as well, putting him in somewhat of a schematic box at the next level.
Perry can stand to improve his ability to hold up in man coverage and ball-hawking instincts while in coverage.
TCU Horned Frogs Schedule
Week 1
BYE
Week 2
Sept. 2: vs. Colorado Buffaloes
Week 3
Sept. 9: vs. Nicholls Colonels
Week 4
Sept. 16: at Houston Cougars
Week 5
Sept. 23: vs. SMU Mustangs
Week 6
Sept. 30: vs. West Virginia Mountaineers
Week 7
Oct 7: at Iowa State Cyclones
Week 8
Oct. 14: vs. BYU Cougars
Week 9
Oct. 21: at Kansas State Wildcats
Week 10
BYE
Week 11
Nov. 2: at Texas Tech Red Raiders
Week 12
Nov. 11: vs. Texas Longhorns
Week 13
Nov. 18: vs. Baylor Bears
Week 14
Nov. 24: at Oklahoma Sooners
Week 15
BYE
Listen to the PFN Scouting Podcast
Listen to the PFN Scouting Podcast! Click the embedded player below to listen, or you can find the PFN Scouting Podcast on iTunes, Spotify, and all major podcast platforms.  Be sure to subscribe and leave us a five-star review! Rather watch instead? Check out the PFN Scouting Podcast on our Scouting YouTube channel.