It's NFL cutdown day. Every team in the league had to reduce their roster to 53 players by 4 p.m. ET on Tuesday, which meant hundreds of players had to be purged. Here are the most notable NFL roster cuts today for each team.
Be sure to check out all of the NFL roster cuts and transactions in our team-by-team tracker. Also, as some of these cuts take place, make sure to bookmark our updated NFL practice squad tracker to see where some players might end up.
Most Notable NFL Roster Cut for Every Team
Arizona Cardinals | QB Colt McCoy
While McCoy was expected to be the Cardinals' starting quarterback while Kyler Murray recovers from a torn ACL, Arizona surprisingly moved on from the veteran on Monday.
With McCoy gone, the Cards will start either recent trade acquisition Josh Dobbs or fifth-round rookie Clayton Tune against the Commanders in Week 1.
Atlanta Falcons | CB Natrone Brooks
Brooks, a rookie undrafted free agent out of Southern Mississippi, was penciled into quite a few Falcons' roster projections in advance of cutdown day. Still, he didn't make Atlanta's cornerback depth chart.
He played ahead of Darren Hall in the Falcons' final preseason game, but Atlanta cut Brooks, Hall, and Breon Borders on Tuesday while keeping six corners on their roster.
Baltimore Ravens | RB Melvin Gordon
Gordon is a known quantity, but his contract with the Ravens — worth "up to" $3.1 million — was really only worth the league minimum and contained no guaranteed money.
J.K. Dobbins, Gus Edwards, and Justice Hill were already roster locks in Baltimore, while rookie undrafted free agent Keaton Mitchell has also played his way onto the depth chart. Gordon could become insurance on the Ravens' practice squad.
Buffalo Bills | OT David Quessenberry
Quessenberry had been shaping up as Buffalo's swing tackle, especially after Tommy Doyle tore his ACL and Brandon Shell abruptly retired. But the Bills released Quessenberry, who played nearly 40% of the club's snaps in 2022. Ryan Van Demmark now looks poised to serve as OT3 behind Dion Dawkins and Spencer Brown.
Carolina Panthers | LB Deion Jones
The Panthers added Jones at the end of July as another veteran presence in their linebacker room, but Carolina only kept four off-ball LBs on its initial roster.
Jones could come back to the Panthers' roster after Week 1 when his contract would no longer be guaranteed for the entire year. In addition to Jones, Carolina also cut 2022 fourth-round LB Brandon Smith.
Chicago Bears | QB P.J. Walker
Walker's release might not come as a surprise given his preseason performance, but the Bears gave the veteran quarterback $2 million guaranteed to back up Justin Fields this season.
However, Walker was thoroughly outplayed by Division II undrafted rookie Tyson Bagent during the exhibition season. Walker could still make his way to Chicago's practice squad.
Cincinnati Bengals | EDGE Raymond Johnson III
Johnson was arguably the Bengals' most productive defender during the preseason, and Joseph Ossai's Week 3 injury might've cleared a path for Johnson to make the Bengals' roster.
But Cincinnati cut him on Tuesday, meaning he'll have to clear waivers in order to get on the Bengals' practice squad. Johnson posted eight pressures and two sacks during the exhibition campaign.
Cleveland Browns | OL Michael Dunn
Cade York wasn't necessarily a surprise Browns cut after the second-year kicker struggled throughout the preseason. But Dunn was, especially after he saw first-team practice reps while filling in for Joel Bitonio earlier this month. Dunn has always performed well as a reserve interior lineman and should easily find work elsewhere, but Cleveland might bring him back after putting someone else on injured reserve.
Dallas Cowboys | LB Jabril Cox
Cox was thought to be in consideration for a roster spot in Dallas after fellow linebacker DeMarvion Overshown suffered a season-ending knee injury during the preseason.
But Cox, who's been slowed by injuries of his own since being selected in the third round of the 2021 draft, is no longer a Cowboy. Markquese Bell will give Dallas additional linebacker depth after transitioning from safety this offseason.
Denver Broncos | WR Kendall Hinton
Albert Okwuegbunam would've been the choice here, but the Broncos ended up trading the fourth-year TE to the Eagles instead of cutting him. Meanwhile, Hinton was expected to make Denver's roster, especially after Tim Patrick and Jerry Jeudy suffered recent injuries.
Instead, the Broncos have initially only kept Brandon Johnson behind starters Courtland Sutton, Marvin Mims, and Jeudy. Denver will likely add more pass catchers over the next several days.
Detroit Lions | WR Dylan Drummond
Drummond appeared to be one of the Lions' most consistent receivers throughout camp, but they still waived the undrafted free agent out of Eastern Michigan. Cornerback Chase Lucas was also something of a surprise Detroit cut, as he'd played well during the preseason and posted an interception in Week 3.
Green Bay Packers | P Pat O'Donnell
O'Donnell signed a two-year deal with the Packers in 2022, but Green Bay is turning over its punting duties to rookie Daniel Whelan, who impressed during the preseason.
While O'Connell was due to count $2.38 million on the Packers' salary cap, Whelan will make just $750,000 this season. Green Bay now has two rookie specialists in Whelan and kicker Anders Carlson.
Houston Texans | CB Desmond King
While King and linebacker Christian Kirksey might look like surprise cuts on paper, the Texans are saving cap space here — $3 million by releasing King and $5.25 million by cutting Kirksey. Tavierre Thomas will play the slot full-time in Houston, while Christian Harris and Denzel Perryman project as the team's starting linebackers.
Indianapolis Colts | WR Mike Strachan
Strachan has only posted five receptions for 85 yards since being selected in the 2021 draft, but his size (6'5″, 225 pounds) and fellow receiver Ashton Dulin's season-ending injury seemed to have opened a roster spot. Strachan's lack of special teams ability likely led to his release.
Jacksonville Jaguars | OL Chandler Brewer
The Jaguars had one of the more straightforward cutdown periods in the NFL, but Brewer is an experienced interior lineman who might've fit as a backup on Jackonville's roster. Instead, seventh-round rookie Cooper Hodges will make the club as a depth piece at guard. Brewer could draw interest on waivers or as a free agent.
Kansas City Chiefs | QB Shane Buechele
Buechele, who served as the Chiefs' third quarterback behind Chad Henne, pushed Blaine Gabbert to become Patrick Mahomes' backup this offseason following Henne's retirement.
For a while, it looked like Buechele, a 2021 UDFA out of SMU, might win the job. But his dismal performance in Week 3 of the preseason — 8 of 17 for 89 yards, one TD, and two INTs — probably handled the gig to Gabbert.
Las Vegas Raiders | WR Phillip Dorsett
Dorsett looked like a viable contender to work as the Raiders' WR5 behind Davante Adams, Jakobi Meyers, Hunter Renfrow, and Tre Tucker, especially given his familiarity with Las Vegas head coach Josh McDaniels.
However, Dorsett played 33 snaps in the Raiders' preseason finale, a sign he was competing for a spot at the back end of the roster.
Los Angeles Chargers | WR John Hightower
Hightower, a 2020 Eagles draft pick, was making a case this summer to replace Jalen Guyton — currently on the physically unable to perform (PUP) list — as the Chargers' situational deep threat. But Los Angeles cut Hightower on Tuesday, even though Guyton will stick on the PUP list and miss at least the first four games of the year. Hightower could end up on the Bolts' practice squad, assuming he clears waivers.
Los Angeles Rams | OL Logan Bruss
Bruss was the Rams' third-round pick in 2022, so cutting him one year later can't be described as anything other than a disaster. Expected to compete for a starting job in his rookie year, Bruss tore his ACL and MCL last preseason. He moved to tackle this offseason but fell further down the depth chart as the 2023 exhibition season continued.
Miami Dolphins | WR Robbie Chosen
Chosen signed with the Dolphins this offseason to compete for the team's WR3 gig, but Cedrick Wilson appears likely to take that job after reworking his contract on Tuesday.
Chosen historically doesn't play special teams, which likely hurt his cause as he fought for a roster spot. He could still return to Miami's roster after Week 1 when his salary would no longer be guaranteed.
Minnesota Vikings | CB Joejuan Williams
Williams, a former Patriots second-round who the Vikings signed in April, had seen plenty of time with Minnesota's first-team defense and looked like a potential starting option.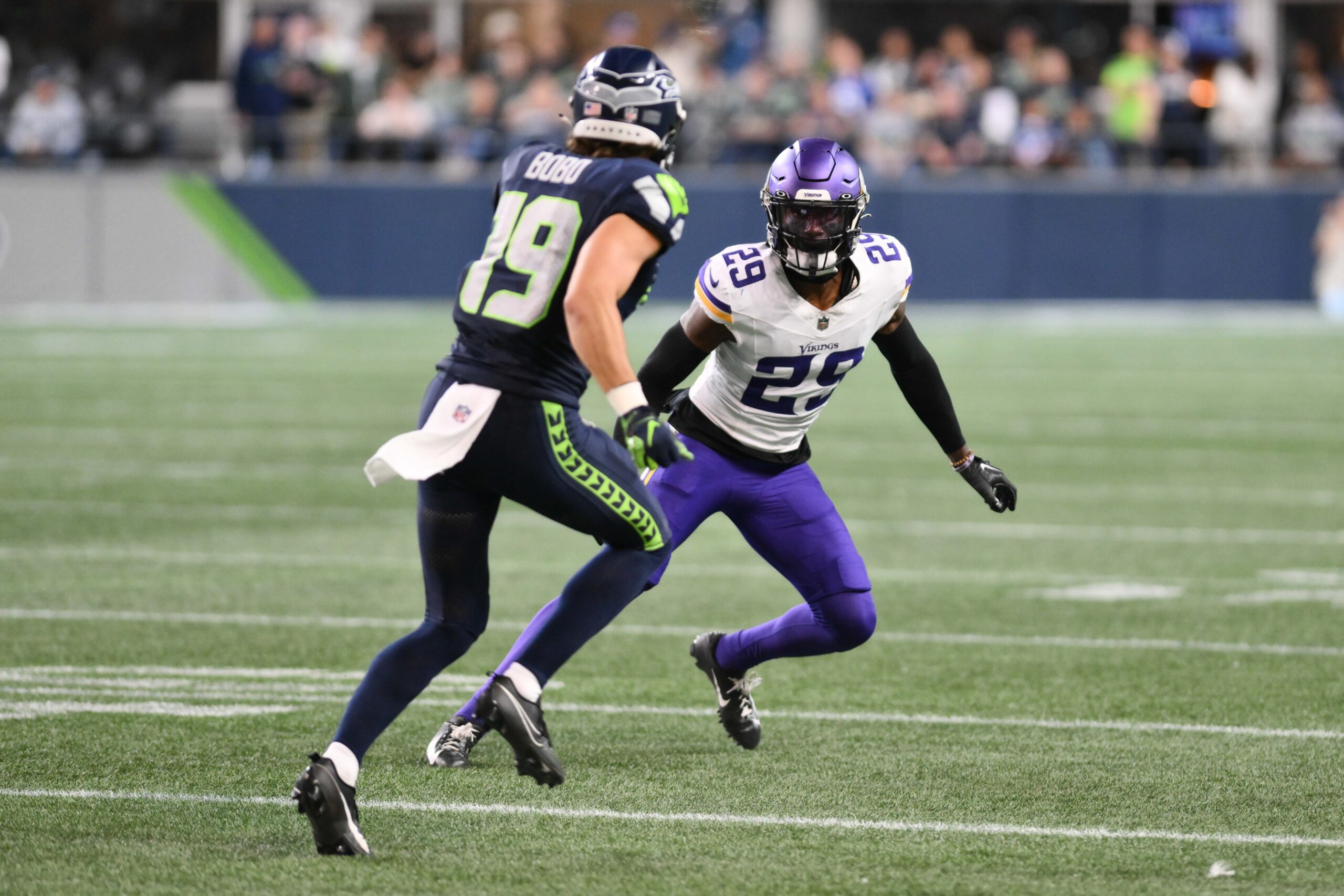 But he struggled in the Vikings' second preseason game and wasn't healthy enough for Week 3. Williams could find his way back to Minnesota's taxi squad in the coming days.
New England Patriots | QBs Bailey Zappe and Malik Cunningham
Mac Jones is the only quarterback on the Patriots' roster — at least for the moment. Zappe was Jones' backup last season and made two starts, so his release comes as a shock.
Cunningham played QB and WR during training camp and produced during the preseason, but he won't make New England's roster, either. The Patriots will find a new backup in the coming days.
New Orleans Saints | CB Bradley Roby
Reports indicated the Saints were generating trade interest in Roby, but that was likely just New Orleans trying to drum up a market for the veteran corner before cutting him.
While Roby looked like the Saints' best option in the slot, he'll now hit free agency. New Orleans saved $3.3 million by cutting the 31-year-old Roby, who started 10 games last season.
New York Giants | WR Cole Beasley
The Giants added a bevy of receivers this offseason, and that — combined with Wan'Dale Robinson's return from the PUP list — has squeezed Beasley off New York's roster.
Big Blue also cut veteran wideout Jamison Crowder, who, like Beasley, had become redundant thanks to New York's crop of slot options. Beasley doesn't have to pass through waivers, so his release could be temporary.
New York Jets | S Trey Dean
Dean, an undrafted rookie out of Florida, was extremely productive in the preseason, racking up 18 tackles and nine defensive stops in four appearances. Still, the Jets decided to roll with veteran Ashytn Davis as their fourth safety behind Jordan Whitehead, Tony Adams, and Adrian Amos. Expect Dean to land on New York's practice squad if he clears waivers.
Philadelphia Eagles | P Arryn Siposs
Eagles fans' most recent memory of Siposs includes his shanked fourth-quarter punt in the Super Bowl that Chiefs wideout Kadarius Toney returned for 65 yards. But he was still considered likely to make Philadelphia's roster after the club cut fellow punter Ty Zentner. Although the Eagles will work out other punters, Siposs could eventually return.
Pittsburgh Steelers | TE Zach Gentry
Gentry was the Steelers' No. 2 tight end behind Pat Freiermuth over the past two seasons, playing at least 400 snaps in each campaign. He earned just 49 targets in those two years while blocking on more than two-thirds of his offensive snaps. It's a role likely to be claimed by third-round rookie Darnell Washington in 2023.
San Francisco 49ers | CB D'Shawn Jamison
Jamison, an undrafted rookie free agent out of Texas, flashed enough in coverage during the preseason to claim a roster spot in San Francisco, but the 49ers have decided otherwise. Jamison also proved capable as a return man, which might have been helpful to San Fran as primary returner Ray-Ray McCloud recovers from a broken wrist.
Seattle Seahawks | LB Ben Burr-Kirven
Burr-Kirven had spent the past two years working his way back from severe nerve damage in his leg and produced during the preseason, but he fell just short of claiming a roster spot in Seattle. Burr-Kirven, who saw a lot of special teams action for the Seahawks from 2019-2020, could latch on elsewhere now that he's been cut.
Tampa Bay Buccaneers | OL John Molchon
Ryan Jensen's season-ending injury didn't necessarily turn Molchon into a roster lock, but the 2020 UDFA's chances certainly improved.
Instead, the Buccaneers will keep only nine offensive linemen, with Nick Leverett and Aaron Stinnie serving as key backups along the interior. Molchon's versatility to play guard or center should land him on Tampa Bay's practice squad.
Tennessee Titans | LB Chance Campbell
A knee injury derailed Campbell's rookie campaign, and the sixth-round pick didn't play a single snap in 2022. This year, he was expected to compete for rotational work at linebacker while serving as a special teams maven, but the Titans cut him Monday. As one of the most athletic LB prospects in last year's draft, Campbell should find work.
Washington Commanders | CB Rachad Wildgoose
Offensive lineman Tyler Larsen also profiles as a surprise Washington cut, but the Commanders are expected to re-sign him shortly. Instead, we'll go with Wildgoose, who was battling for a roster spot after playing 178 slot snaps for Washington in 2022.
The Commanders added multiple defensive backs this offseason, including first and second-round picks Emmanuel Forbes and Jartavius Martin, pushing Wildgoose out of Washington's plans.