A few weeks ago, it seemed as though New England Patriots quarterback Mac Jones was a lock for Offensive Rookie of the Year. However, Jones has struggled in recent weeks, leaving the door open for someone else to claim the award. Two players have separated themselves from the pack: Ja'Marr Chase and Jaylen Waddle. Let's use advanced metrics to see which is the more qualified candidate.
Both Ja'Marr Chase and Jaylen Waddle have stellar statistics
Since we are talking about them as potential Offensive Rookie of the Year candidates, it goes without saying that both Chase and Waddle have earned impressive statistics. Chase leads all rookies with 1,163 receiving yards, more than 200 yards ahead of the next qualifying player. He also has 10 touchdowns, 3 more than Pittsburgh tight end Pat Freiermuth and 5 more than any other rookie wide receiver.
Waddle can't match Chase in either of those categories, as he's totaled 941 yards and 5 touchdowns. Those are still excellent statistics, as Waddle ranks second among rookie wide receivers in both categories. But they don't compare favorably to what Chase has accomplished.
However, Waddle has an equally large lead in a different area. He has caught 96 passes this season, 22 more than Lions WR Amon-Ra St. Brown, and 28 more than Chase.
While Chase seems unlikely to break the NFL records for receiving yards or touchdowns (even with an extra game this season), Waddle's reception total is only a few catches away from breaking the NFL rookie record of 101, set by Anquan Boldin back in 2003. Despite their differences, both players are clearly having phenomenal rookie campaigns.
The advanced metrics favor Waddle
To help us further differentiate between Chase and Waddle, let's turn to the Offensive Value Metric (OVM). The OVM is a grading system created by the (Bx) Movement to measure how much of a player's statistical production they were actually responsible for.
So far in 2021, Waddle has a slight lead, with a grade of 34.92 compared to 32.14 for Chase. That doesn't look like a massive difference, as the two grades are only separated by a few points. However, those points mark a surprising gap between where the two players rank among other qualifying wide receivers this season.
Waddle's grade ranks ninth, while Chase's sits down at 30th. Relatively speaking, Waddle has been significantly more impactful for Miami than Chase has been for Cincinnati.
Waddle has also been more consistent than Chase
Of course, overall grades don't tell always tell the whole story. As such, let's look at how consistent Chase and Waddle have been over the course of their respective seasons. You can see their weekly grades in the chart below, marked by the black dots. For comparison, the yellow line represents the average OVM grade for wide receivers this season.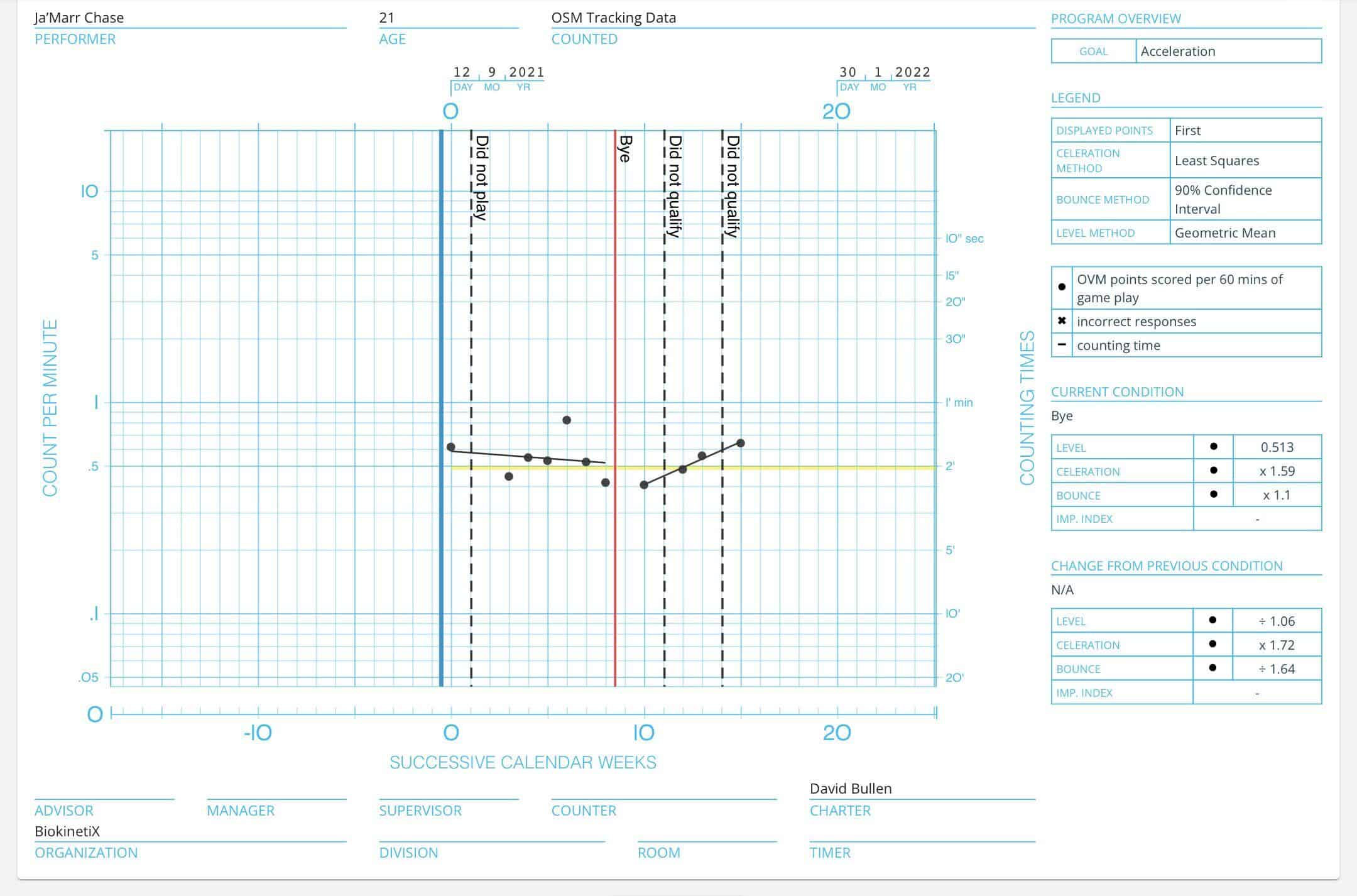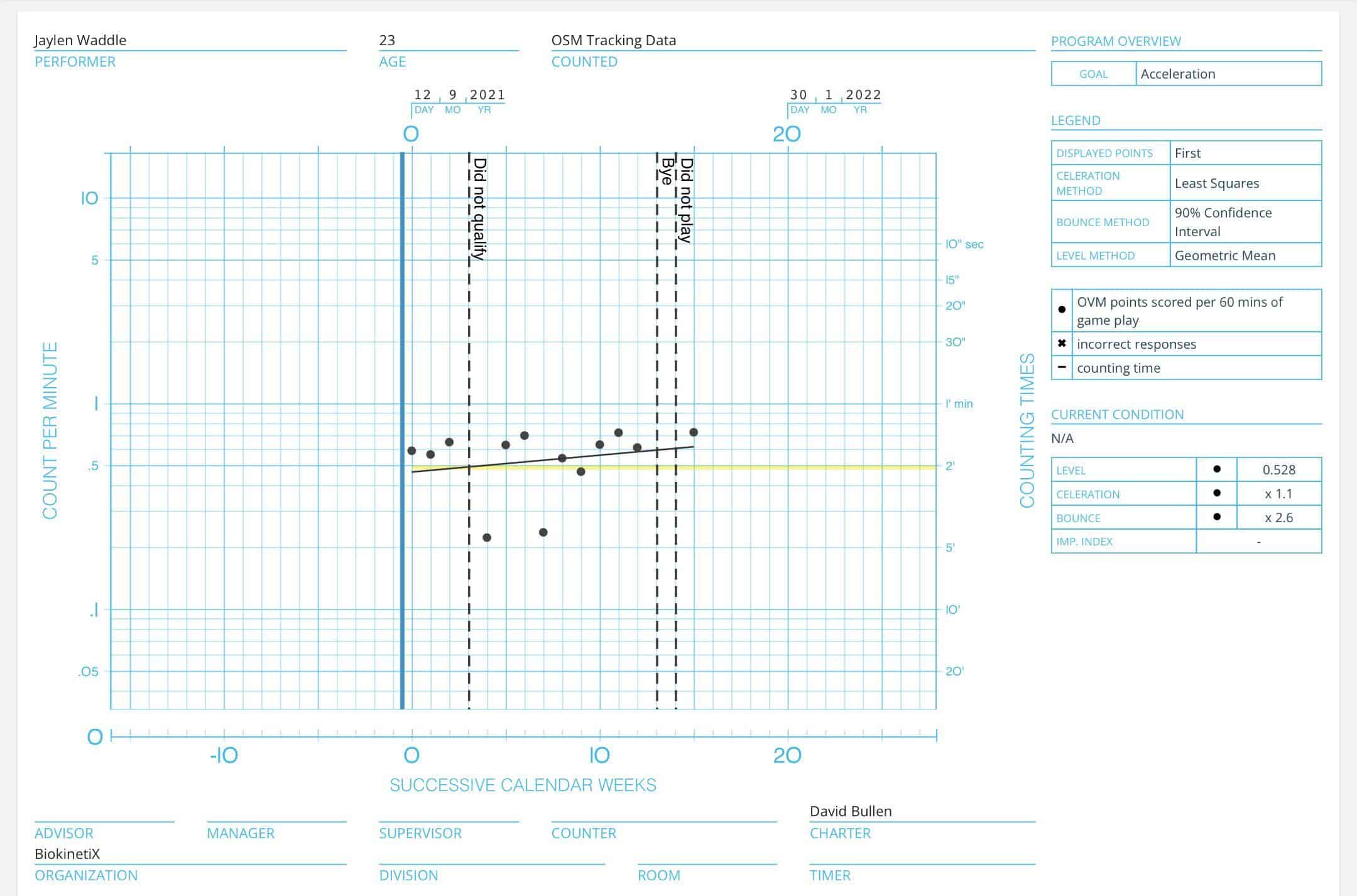 Overall, both players have been relatively consistent. Yet, while Waddle has the two worst grades, his overall level has generally been higher. The two wide receivers have each earned eight grades between 30 and 40 points, but Waddle has three above 40, while Chase only has one.
Comparing the two player's advanced metrics
If we want to understand why the OVM grades Waddle higher than Chase, we need to examine the advanced metrics behind those grades. As you might guess from watching them play, the two WRs are excelling in different areas.
Chase is averaging 7.2 yards after the catch, fifth among qualifying wide receivers. According to the NFL's projections, that number is 3.4 yards higher than expected, which ranks second.
Waddle, meanwhile, is averaging an unremarkable 4.6 yards after the catch, 0.4 yards above expectations. However, Waddle is catching 76.19% of his targets, ranking fifth in the league.
Chase, on the other hand, is struggling a bit in this area, with a below-average rate of 60.71%. If Chase were a more consistent target, he would likely have the higher OVM grade. Since that isn't the case, Waddle's reliability gives him the edge.
Having elite statistics might not matter
If it were up to the OVM, Waddle would be Offensive Rookie of the Year over Chase. In reality, Chase's gaudy box score might be enough to sway voters, although Waddle's potentially record-breaking numbers have their own appeal.
Unfortunately, despite both Chase and Waddle playing exceptionally well, it is entirely possible that voters will give the award to Jones instead. Voters for NFL awards tend to favor quarterbacks. Just last season, Justin Jefferson set the NFL record for receiving yards by a rookie, and that still wasn't enough to beat out Justin Herbert.
Of course, Herbert was a far more deserving candidate than Jones, but don't be surprised if Chase and Waddle find themselves overlooked in favor of the league's premier position.
Can Chase or Waddle make their case in the final two weeks of the season?
Whoever you think currently has the lead, it is important to remember that this race is far from over. The Bengals, Dolphins, and Patriots are all firmly in the playoff hunt with two weeks to go. Chase, Waddle, and Jones will all have chances to prove that they deserve to be named Offensive Rookie of the Year and help their respective teams win crucial games. Waddle and Jones even have a Week 17 matchup that could be a "win, and you're in" game for both of their teams.
With this being such a tight race, how these three players perform in the closing games of the regular season could make all the difference.