The NFL has given the stage to some of the world's greatest athletes and performers. While some players have maximized their opportunities and eventually made the Pro Football Hall of Fame, the NFL's process for inducting some of the greatest of all-time talents has created uncertainty for hopefuls.
And after former Pittsburgh Steelers, New England Patriots, and Tampa Bay Buccaneers wide receiver Antonio Brown tweeted his own Hall of Fame résumé, we're diving into whether Brown should make the Hall of Fame.
Should Antonio Brown Make the Pro Football Hall of Fame?
Brown has the on-field résumé of an NFL Hall of Famer. A Super Bowl champion who made first-team All-Pro four times and the NFL 2010s All-Decade Team, Brown helped redefine how evaluators looked at dominant wide receivers. At only 5'10" and 185 pounds, Brown was as unguardable as any player to have ever played the position sans Jerry Rice.
Brown's incredible stretch of play from 2013 through 2018 made up the vast majority of his production, though he also made the Pro Bowl in his second year in 2011. In the six-year span, he caught no fewer than 101 passes for 1,284 yards and eight touchdowns in any season. He led the NFL in receptions twice, in yards twice, and in touchdowns once. His 2015 season featured a career-high 136 catches for 1,834 yards.
After his fantastic career in Pittsburgh came to an end due to a contract dispute, Brown's off-field issues destroyed his reputation and opportunities. He was traded to the Las Vegas Raiders but never played a down for them, and was released later that season after playing just one game for the New England Patriots.
MORE: Best Wide Receivers in the NFL 2023
Brown rejoined Tom Brady in Tampa Bay for two seasons but ended his own career by storming off the field during a game midway through the season.
Entering 2023, Brown's all-time ranks are impressive. He sits 21st with 928 receptions, 24th in receiving yards with 12,291, 25th with 83 touchdowns, and is fourth all-time in yards per game with 84.2 across 12 seasons. The only receiver with a similar résumé who isn't in the Hall of Fame and is eligible is Torry Holt.
Still, Brown's on-field case isn't quite bulletproof. His lack of longevity is a glaring hole compared to others who finished their careers with more yards. Across 25 games between 2018-2021, Brown totaled just 107 receptions for 1,251 yards and nine touchdowns. He cost himself the opportunity to continue producing at a high level in those last three seasons.
Even a modest projection of another 2,000 yards from 2019-2021 would have put Brown 11th all-time in yards behind Reggie Wayne. Of the top 25 leaders in receiving yards, Steve Smith, Wayne, Andre Johnson, Anquan Boldin, Henry Ellard, Holt, Irving Fryar, and Jimmy Smith are eligible but not yet in the Hall of Fame. To get in, Brown's biggest case is that his peak earned him the nod over the lower peaks but better consistency than his peers.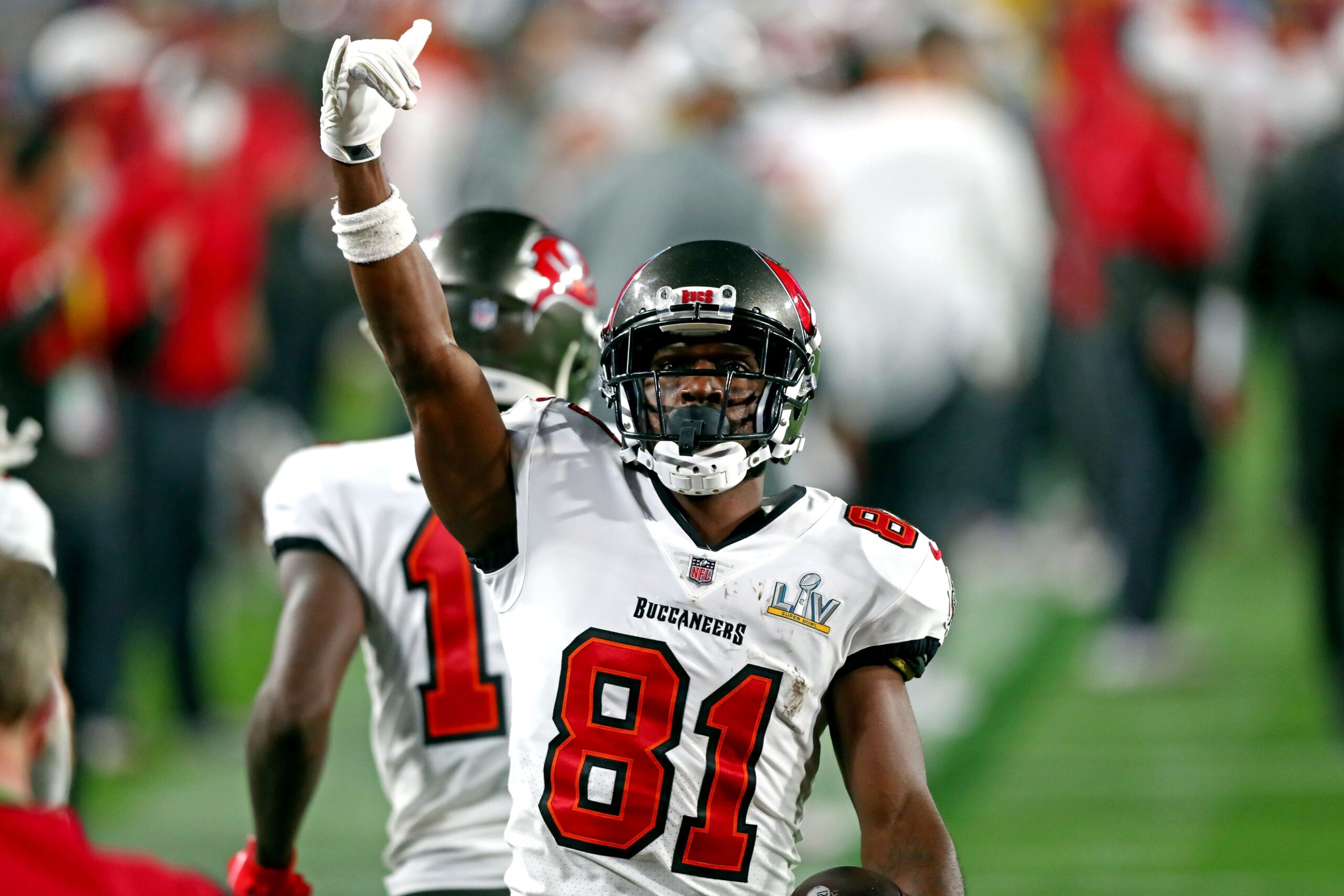 Why Antonio Brown Won't Make the Pro Football Hall of Fame
Brown's statistical case is strong but not perfect. However, when Denver Broncos running back Terrell Davis made the Hall of Fame despite only four productive seasons in his seven-year career, there became more of a gray area when it came to voting. Davis, like Brown, was transcendent during his peak, and that should be part of the voting process.
Brown may have to wait for others to get in, though. Larry Fitzgerald is a lock to get in eventually. Smith and Wayne have strong cases, and both Johnson and Holt may be borderline. Brown had a better peak than each of those players, but the same precedent that got Davis in hasn't been made at wide receiver yet.
Then, there's obviously Brown's off-field issues. We saw Terrell Owens, an unquestionable top-three NFL wide receiver, fail to make the Hall of Fame until the third time he was on the ballot. Owens ranked eighth in receptions and third in receiving yards and touchdowns, but both the players and media on the voting committee punished him for being an outspoken personality.
Owens called out the voting process in 2021 when Calvin Johnson made it as a first-ballot inductee over Holt and Wayne, saying "there's no justification" to who gets in and when they do. While Owens had to wait to enter the Hall of Fame, Brown's list of transgressions will be much more troublesome for his own case than Owens' outspoken personality.
From 2018-2022, Brown found himself benched with the Steelers, was traded to the Raiders before being released after fighting with then-general manager Mike Mayock, was sued for sexual assault and later released by the Patriots after threatening text messages were made public, suspended for eight games for a separate felony assault and battery charge, supplying the NFL with a fake vaccination card, then undressed mid-game and ran to the Buccaneers' locker room in his final NFL contest.
MORE: Predicting the 2024 Pro Football Hall of Fame Class
Pittsburgh head coach Mike Tomlin lauded Brown's "unbelievable will [and] work ethic," but the team opted against bringing him back at any point. New England head coach Bill Belichick was willing to give Brown a chance after falling out so quickly with the Steelers and Raiders, but his ominous comments after signing Brown that the team would have to "see how [it] goes" were justifiably cautious that it would ever work out.
Brown also fell out of favor with Tom Brady after Brady pushed for the Patriots and Buccaneers to sign him.
It's hard to burn so many bridges in the NFL and continue to be rewarded. Owens couldn't be denied his eventual entry into the Pro Football Hall of Fame, but Brown's case can be swept under the rug and forgotten much easier. His off-field antics have undoubtedly cost him millions of dollars and will likely be the reason he doesn't make the Hall of Fame.