The small school sleepers are part of what makes any draft cycle fun. While everyone loves watching the great talents from Ohio State, Alabama, and Clemson, sometimes those guys from the Sun Belt and Big Sky can impress an evaluator, especially given their level of competition. For Middle Tennessee safety Reed Blankenship, the NFL has eyes on him that make him that intriguing sleeper. However, it is not just fake buzz. His tape backs it up and speaks for itself.
What type of player is Blankenship, and how high can his stock go?
[sv slug=mocksim]
Reed Blankenship's superb tape
His high awareness and football IQ define Blankenship's tape. This is a football player who is a well-rounded prospect and is going to be in on tackles all the time because of his astute awareness. Coupled in with an extremely hot motor and you have a guy that can make hustle plays and save touchdowns, as well as assist in team tackling. Even for a safety, coaches will love to have a guy on their team that can do what he does.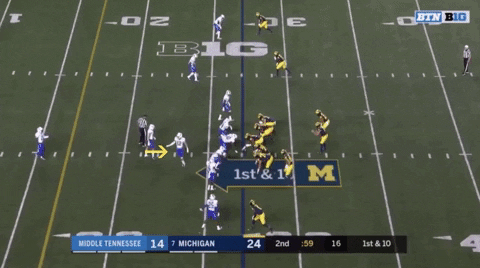 His first impressive play that stood out to me was this play. Blankenship is essentially a linebacker here and has to take on linemen that are trying to climb to the second level to seal him off of this sweep play. However, Blankenship does a great job of staying square to the line and waiting to drive down until the running back as to declare which hole he will take.
Related | 2021 NFL Draft: Top 10 safety rankings
Blankenship fights off any block from his flank, stays clean, breaks down, and makes the tackle in the gap. This is not where Blankenship is at his best, but he can certainly function in the box due to his discipline and build.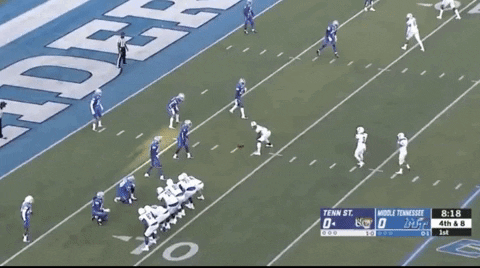 If you want an example of awareness, you may not get a better one here from Blankenship. On a play with so much going on, Blankenship reads the ball and sees it about as well as anyone could to make this interception. That alone is sound processing and excellent eye discipline. However, this showcases that Blankenship can be a playmaker on the back end.
Related: The top 25 safeties in the NFL
Blankenship illustrates fantastic ball tracking, ball skills, and body control here to corral this interception. You can not make this interception without impressive ball tracking skills. With that in his arsenal, it raises Blankenship's ceiling to a reasonable amount.
Blankenship's ability to drive on the football
There was nothing more impressive on Blankenship's tape than to see him take those instincts he naturally has and turn them into quality downhill drive skills from the single-high or two-high look. He does a fantastic job of working downhill to make plays.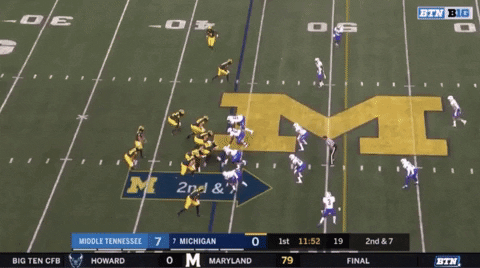 In man coverage here, Blankenship could not play this any better. The motion is meant to play with his eyes and clog up his pursuit lanes. However, he does an outstanding job of avoiding all the traffic in his way and takes a direct line to the ball carrier and stops them for no gain. This is an NFL level play from a single-high safety in man coverage.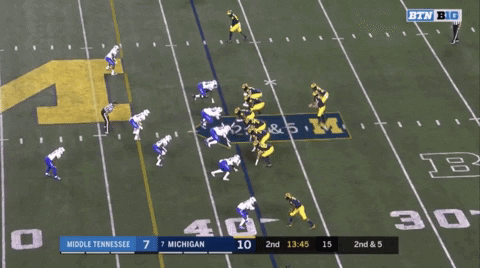 This one is Blankenship being the protector on the back end. This is a solid RPO concept from Michigan, and Blankenship seems to get sucked in. Still, he does a fantastic job to flip his hips and change direction to make this tackle even as he was about to overpursue. In the process, he very likely saves a touchdown off of this play.
Reed Blankenship's NFL outlook
I feel confident in saying Blankenship is going to find his way to the Senior Bowl. He has all the traits to be there and get drafted as high as Day Two. With playmaking skills, good functional athleticism, and great instincts, Blankenship runs all over the field and looks like the best player on the field when he is out there. It is not even close to all the Middle Tennessee games I watched. Blankenship was making plays, and he was a difference-maker out there.
Reed Blankenship could stand to improve on a few things in the NFL. For one, I would like to see better discipline in man coverage. As a safety, he will be the overhang defender at some point and will have to be better in that area. Durability is also a concern here, as he only played seven games last season. Still, Blankenship has a ton of talent and should be looked at by draft fans everywhere as a day three guy with upside to push himself into day two with a good process.