Ahead of the 2020 NFL Draft, Anthony McFarland Jr received a Relative Athletic Score (RAS) that suggested he may struggle to make the leap to the pros. However, just one game into his career, the running back looks ready to play a significant role in the Pittsburgh Steelers offense.
In the fourth round, McFarland was selected by the Steelers, joining a crowded backfield that already featured James Conner, Benny Snell, and Jaylen Samuels.
The rookie had to play the spectator's role in the opening two weeks as Conner and Snell earned the bulk of Pittsburgh's carries. Yet, McFarland made his debut in the Week 3 win over the Houston Texans. His encouraging performance on a limited number of rushing attempts indicated he could take on a larger share of the workload and make a consistent impact in his maiden season in the league.
[sv slug="mocksim"]
McFarland shows speed but not much else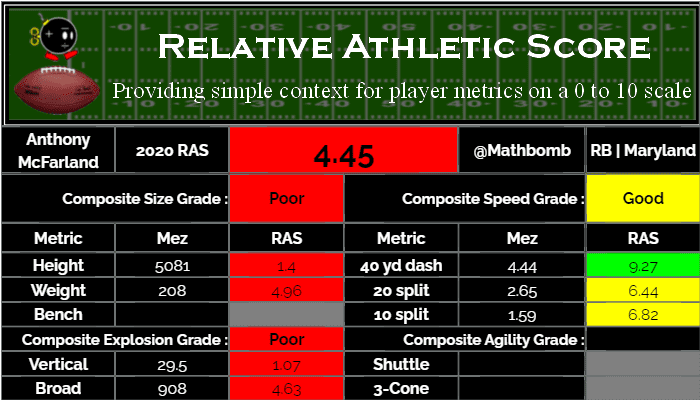 McFarland did not impress with his workout at the Combine. His workout resulted in a RAS of 4.45 out of 10, with the undersized McFarland performing poorly in the drills that measure explosiveness while he did not test in those that gauge agility.
However, poor testing has not prevented Conner and Snell from establishing themselves as contributors in the Steelers offense. Conner was picked in the third round in 2017 despite a RAS of just 4.33 while Snell was taken in the fourth round by Pittsburgh last year after receiving a RAS of 3.48.
McFarland outperformed both in that regard and did at least impress in the 40-yard dash, with his time of 4.44 seconds earning an elite RAS of 9.27 for that drill.
Related: What is Anthony McFarland Jr.'s fantasy football value in 2020 and beyond?
And that speed showed up as McFarland caught the eye in his NFL bow against the Texans.
McFarland flashes another gear
He flashed his acceleration on the first carry of his NFL career, combining change of direction skills with burst to get to the second level of the defense to pick up seven yards.
A more spectacular example of his speed came on this 20-yard gain on a delayed hand-off from Ben Roethlisberger, McFarland accessing another gear to break away from a linebacker and into the open field.
McFarland's 40 time was a fair reflection of the speed with which he plays the game. What was not made apparent in Indianapolis was his lower-body flexibility. McFarland showed elusiveness against the Texans to suggest he may have tested well in the agility drills and improved his RAS.
Making defenders miss can help McFarland stick
McFarland showcased the potential to frustrate defenses by making defenders miss on successive plays versus Houston.
The first sign of his elusiveness came on this two-yard gain, McFarland switching his run back to his right and evading a defensive tackle who had broken into the backfield.
On the next play, he made up for that modest gain by putting the Steelers in third down and short with a clever open-field move on a linebacker to gain seven yards on a pass from Roethlisberger.
McFarland's debut may have been unremarkable and will have gone largely unnoticed by those who do not pay close attention to the Steelers. However, both the numbers and his level of play in a limited role should offer great reason for encouragement for Pittsburgh and for fantasy football players who invested in McFarland in dynasty leagues hoping he can become a significant factor in the offense.
Related | 2020 Dynasty Fantasy Football Rookie Sleepers
Averaging seven yards per rush as he finished with 42 yards on six attempts, McFarland made a compelling initial case for a greater share of the carries with a display that provided a strong indication he can grow into a dynamic big-play threat.
Once again, in 2020, the Steelers invested in a running back with several physical shortcomings. Yet there are few things more valuable than speed in the NFL, and the early returns from McFarland's first game as a pro will give Pittsburgh increased confidence it made the right move in betting on his primary strength.