The NFL Supplemental Draft is back in 2023 for the first time since 2019. First debuting in 1977, the Supplemental Draft is a unique opportunity for teams to add a potential playmaker to their roster. Since its inception, a total of 46 players have been drafted.
We're diving into the best 10 NFL Supplemental Draft picks of all time, including one Hall of Famer and seven former Pro Bowl performers.
Ranking The Top 10 NFL Supplemental Draft Picks
10) Terrelle Pryor, QB/WR, Ohio State
Selected by: Oakland Raiders, Round 3, 2011
Reason for entering the Supplemental Draft: NCAA suspension for improper benefits
The vast majority of Supplemental Draft picks struggled to make an impact at the NFL level. That includes players who were taken with first-round picks, like quarterbacks Dave Wilson, Steve Walsh, Timm Rosenbach, and Dave Brown. The 10th-best player of the 46 total picks was either former quarterback and wide receiver Terrelle Pryor or offensive tackle Jared Gaither.
Pryor gets the nod because he showed a higher upside in his limited time before injuries zapped his effectiveness. Drafted to the Oakland Raiders as a developmental dual-threat quarterback from Ohio State before teams were committed to RPO action, Pryor had limited success before moving to receiver. His best contribution as a quarterback was racking up 576 yards in 11 starts.
Once at receiver for the first time in his life, Pryor showed immediate promise. He exploded with a career-best season in Cleveland, totaling 1,007 receiving yards and four touchdowns. Unfortunately, injuries limited Pryor to just 25 games over the next two years with three different teams. He finished his career with 1,563 receiving yards, 646 rushing yards, and 20 total touchdowns.
9) Jalen Thompson, S, Washington State
Selected by: Arizona Cardinals, Round 5, 2019
Reason for entering: Declared ineligible for an NCAA rules violation
The most recent Supplemental Draft pick to be selected is Arizona Cardinals safety Jalen Thompson. A standout safety at Washington State, Thompson could've declared for the 2019 NFL Draft had he known of a looming rules violation punishment. Instead, the Cardinals were able to get a player who has posted back-to-back 110+ tackle seasons for a mere fifth-round pick.
Thompson has been so effective in Arizona that he earned a three-year, $40 million extension. Able to play as a deep safety, a slot coverage option, and in the box to help defend the run, Thompson brings great value with his versatility. His former head coach, Mike Leach, described him as "first-class" and "outstanding."
Thus far, Thompson has proven the legendary coach correct with his NFL contributions.
8) Mike Wahle, G, Navy
Selected by: Green Bay Packers, Round 2, 1998
Reason for entering: Tested positive for steroids
There's not much sexy about drafting an offensive lineman, but an effective blocker can make a massive difference for the entire unit. The Green Bay Packers have been incredibly effective at drafting collegiate tackles and converting them into guards, and Mike Wahle is one of the better examples of this.
The second-rounder transitioned to left guard with the Packers, spending seven seasons with the team. Wahle started 83 games before signing with Carolina for three years and then finishing his career for one season in Seattle. His peak came with the Panthers, earning a Pro Bowl nod in his first season.
Wahle's former Packers teammate Marco Rivera once called him "the best athlete on our offensive line." That's quite an impressive statement from a player who was elected to the franchise's Hall of Fame.
7) Bobby Humphrey, RB, Alabama
Selected by: Denver Broncos, Round 1, 1989
Reason for entering: Did not declare for the main draft before the deadline
Despite struggling with injuries in college, causing him to miss all but two games in his final season at Alabama, the Denver Broncos selected Bobby Humphrey with their first-round pick in 1990. The investment worked, as Humphrey quickly reminded everyone why he was able to produce 1,471 and 1,255 yards as a sophomore and junior, respectively, in college.
As a rookie, Humphrey helped lead the Broncos to the Super Bowl, totaling 1,151 yards and seven scores on the ground, and adding another 156 receiving yards. He bettered his production in his second season, earning a Pro Bowl nod with 1,354 yards from scrimmage. Humphrey tried to get a new contract from Denver after he missed the majority of the 1991 season, but the team dealt him to Miami.
Despite producing 978 total yards with the Dolphins in 1992, the end of his career came shortly after.
During the 1993 offseason, Humphrey was shot in the leg by a friend before being arrested on a cocaine charge one week later. He was mired in a contract dispute before tearing cartilage in his knee, and the NFL never gave him another chance after the Dolphins waived him post-injury.
6) Josh Gordon, WR, Baylor
Selected by: Cleveland Browns, Round 2, 2012
Reason for entering: Dismissed from the program
The story of Josh Gordon has become an infamous tale that has some triumphs but repeated tribulations. There's no question that Gordon had rare NFL talent, which is why the Browns wisely risked taking him with their second-round pick. In fact, no Supplemental Draft pick has been taken as high as Gordon since 2003.
Gordon's electrifying blend of size and speed allowed him to burst onto the NFL scene with 805 yards and five scores as a rookie. He followed that campaign with 1,646 yards and nine scores, leading the NFL in yards despite playing in only 14 games. But Gordon's bright star quickly faded, with two full-season suspensions for marijuana usage robbing him of prime years.
He bounced around to four other teams after Cleveland finally cut the cord on him, showing brief flashes of the tremendous talent that once produced back-to-back 200-yard games. Gordon will forever be one of the biggest "what ifs" in NFL history.
5) Ahmad Brooks, LB, Virginia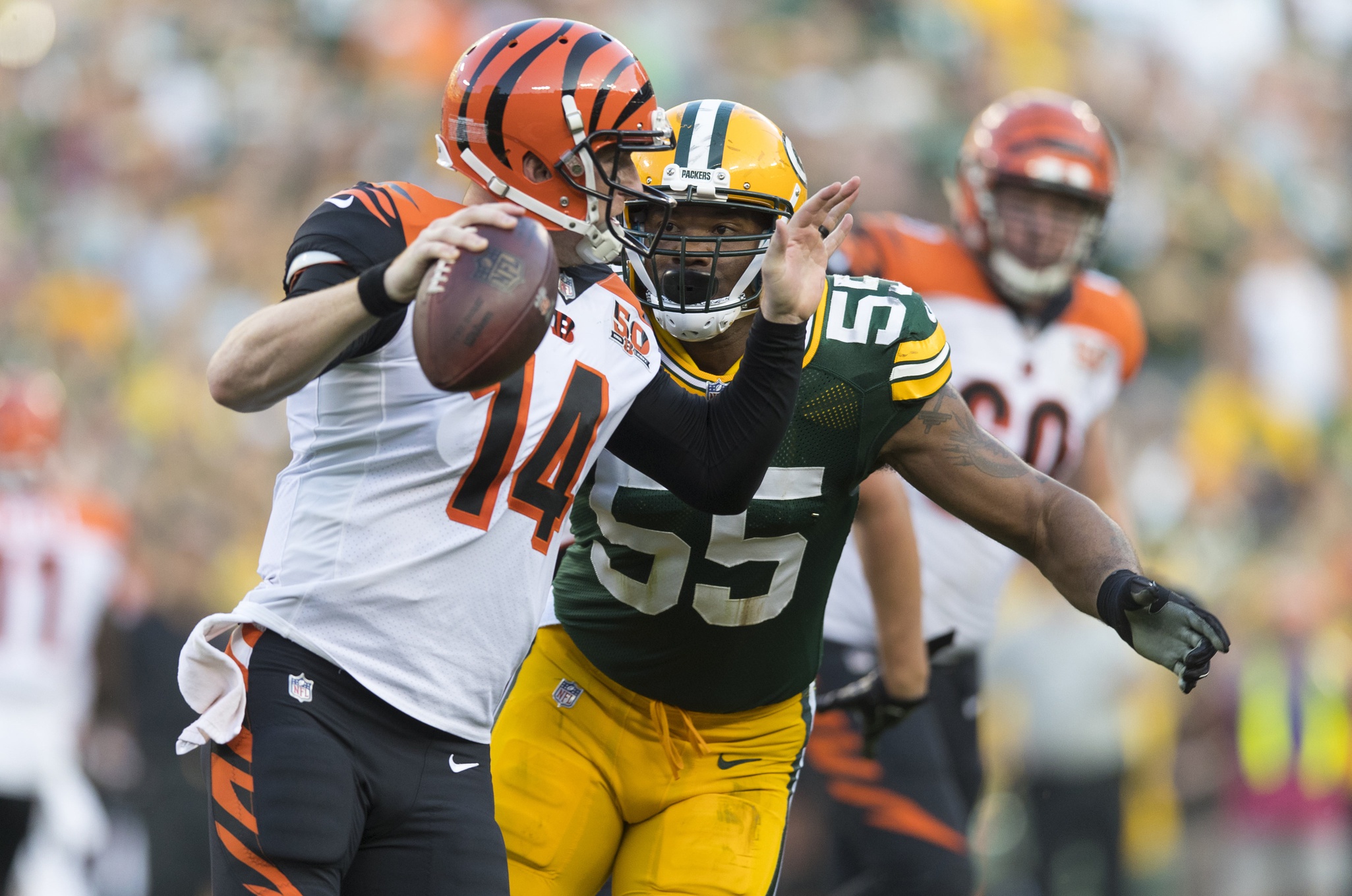 Selected by: Cincinnati Bengals, Round 3, 2006
Reason for entering: Dismissed from the program
When looking at what a consistently solid career looks like, there's no question that Ahmad Brooks proved to be a textbook definition of a quality linebacker. After spending two quiet seasons in Cincinnati, Brooks was released and found a new home in San Francisco. He quickly found his footing, totaling no fewer than five sacks in eight seasons and earning two All-Pro nods.
The 11-year veteran was a hard-nosed pass rusher who finished his career with 335 tackles, 88 quarterback hits, 71 tackles for loss, and 51.5 sacks with the Bengals, 49ers, and Green Bay Packers. If it weren't for Brooks' versatility and toughness, the 49ers' elite defenses under Jim Harbaugh and Vic Fangio wouldn't have reached such an impressive peak.
4) Rob Moore, WR, Syracuse
Selected by: New York Jets, Round 1, 1990
Reason for entering: Graduated early
Though few of the first-round supplemental picks have worked out, Rob Moore was an immediate hit for the New York Jets. The 6'3″, 203-pounder was a big-play machine at Syracuse, and his ability to wreak havoc on defenses immediately translated.
Moore spent five years with the Jets, producing 4,258 yards and 22 touchdowns, before being traded to the Arizona Cardinals, who also spent a first-round pick to acquire him.
Moore enjoyed an even better second half to his career with the Cardinals. In 1997, he led the NFL with 1,584 yards, reaching his second Pro Bowl and his first All-Pro team with rookie quarterback Jake Plummer. Moore finished his five seasons in Arizona with 5,110 yards and 27 touchdowns.
Entering the 2023 NFL season, Moore still ranks as a notable all-time player. He's tied for 78th with 628 career receptions and 61st with 9,368 yards.
3) Jamal Williams, DT, Oklahoma State
Selected by: San Diego Chargers, Round 2, 1998
Reason for entering: Ruled academically ineligible
Before Aaron Donald and Ndamukong Suh dominated offensive lines throughout the 2010s, Jamal Williams was the premier disruptor at nose tackle in the 2000s. The massive 6'3″, 348-pounder enjoyed an illustrious 13-year NFL career, spending all but one in San Diego.
Some will look at Williams' 13 career sacks and not understand his importance to a defense that ranked in the top 11 in points allowed in four of his six prime seasons. That would be a mistake.
Williams' presence anchored a defense that boasted linebacker Donnie Edwards, who produced 143 or more tackles in four straight seasons. He also opened up lanes for star pass rusher Shawne Merriman, who had 39.5 sacks from 2005 through 2007. Williams' contributions earned him two All-Pro nods and three Pro Bowl nominations.
2) Bernie Kosar, QB, Miami (FL)
Selected by: Cleveland Browns, Round 1, 1985
Reason for entering: Graduated after his junior season
Though the Cleveland Browns have endured one of the least-successful NFL runs since the league merged in 1966, the late 1980s brought several joyous seasons that nearly brought Super Bowl titles to Northeast Ohio. The main hero of Cleveland's three AFC Conference Championship appearances was quarterback Bernie Kosar.
The Ohio native wouldn't have it any other way.
Kosar and the Browns were able to make the stars align for the Miami Hurricanes quarterback to be taken with the top pick. Initially, he declared for the main draft before backing out and electing for the Supplemental Draft. Cleveland traded up for the right to take him, and Kosar was a hit with head coach Marty Schottenheimer.
From 1985-1989, the Browns won 39 of 63 games that Kosar started. At his peak, Kosar was an accurate passer who could also hit downfield plays. Finally, Cleveland had a playmaker under center, leading the team to top-five offensive seasons in 1986 and 1987.
Bill Belichick benched and released Kosar midway through the 1993 season in favor of Vinny Testaverde, clearing the pathway for Kosar to reunite with his collegiate head coach Jimmy Johnson in Dallas. Kosar was Troy Aikman's backup when the Cowboys won the Super Bowl, then he finished his career in Miami as a backup for three seasons.
Though Kosar wasn't a better overall player than some others below him on this list, the excitement he brought to his hometown and the level of work both parties put in to make their partnership happen matters.
1) Cris Carter, WR, Ohio State
Selected by: Philadelphia Eagles, Round 4, 1987
Reason for entering: Signed with an agent before his senior season
This one was easy. As the lone Hall of Famer who was drafted in the Supplemental Draft, Cris Carter will likely stand atop this list forever. Carter ranks sixth in receptions, 13th in receiving yards, and fourth in receiving touchdowns all time.
The 6'3″, 202-pounder was expected to be the primary offensive weapon on an Ohio State team that had national championship hopes. Instead of building on his 69-catch, 1,127-yard, and 11-touchdown season, Carter was suspended for marijuana usage, then ruled ineligible for accepting money from an agent.
Carter hit the ground running as soon as his second season began in Philadelphia, totaling 761 yards on just 39 receptions. But after three years with the franchise — totaling 89 receptions for 1,450 yards and 19 touchdowns — the Eagles placed Carter on waivers, allowing the Minnesota Vikings to claim him for $100.
He rewarded the franchise by leading the league in receptions once and touchdowns in three other seasons. Carter had eight straight 1,000-yard seasons. He earned eight Pro Bowl nods and two All-Pro nominations.
Listen to the PFN Scouting Podcast
Listen to the PFN Scouting Podcast! Click the embedded player below to listen, or you can find the PFN Scouting Podcast on iTunes, Spotify, and all major podcast platforms.  Be sure to subscribe and leave us a five-star review! Rather watch instead? Check out the PFN Scouting Podcast on our Scouting YouTube channel.