Netflix recently captured the interest of football fans with the release of their quarterback-centric (and aptly named) documentary series "Quarterback" last month.
That show chronicled the day-to-day lives, both on and off the field, of three NFL QBs: Patrick Mahomes, Kirk Cousins, and Marcus Mariota. There's a pretty wide variance amongst that trio in terms of accolades, star power, statistical output, compensation, etc.
What all three of those signal-callers have in common is that they took an NFL snap in 2022. The subject of Netflix's next football documentary, however, hasn't suited up for an NFL team since 2015.
Johnny Manziel's Netflix Documentary
The mercurial one-time star quarterback Johnny Manziel will be the subject of an upcoming Netflix documentary titled "Untold: Johnny Football." Per Sportskeeda, the standalone documentary will premiere on the streaming app this Tuesday, Aug. 8.
Manziel rose to stardom in the early 2010s during a torrid run at quarterback for Texas A&M. During his two-year stint as a starter, Manziel averaged 3,910 passing yards and 1,084 rushing yards per season. He scored a combined 93 touchdowns during two seasons under center for the Aggies.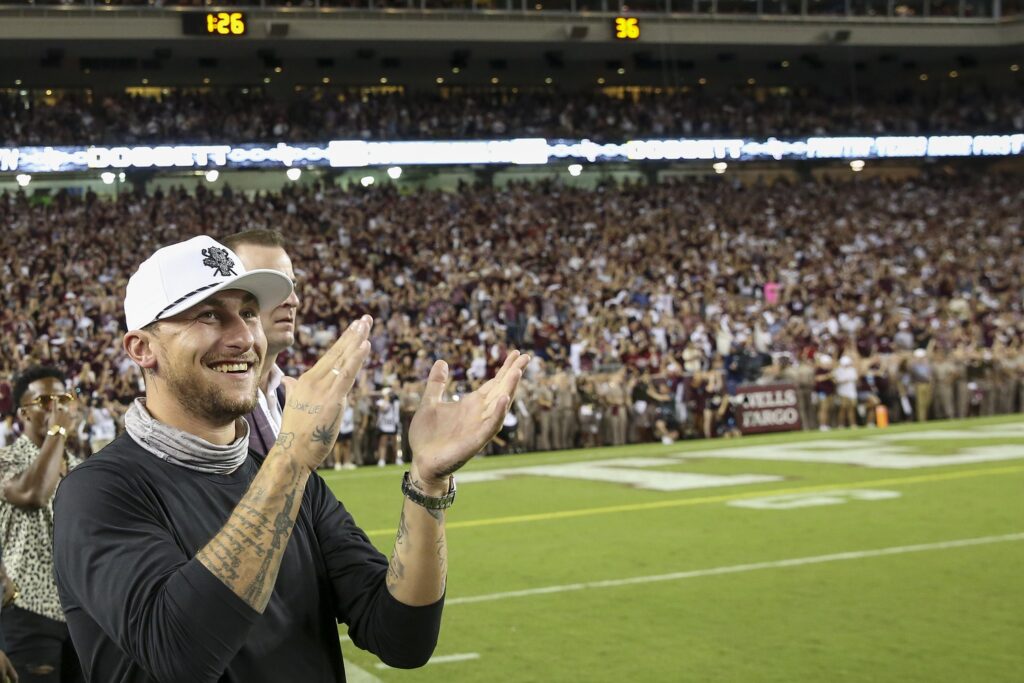 As a result of his success and propensity for jaw-dropping highlights, Manziel enjoyed a meteoric rise in popularity. He became known for his uncanny ability to elude pass rushers and make plays under pressure.
Manziel earned the nicknames "Johnny Football" and "Money Manziel" for his swagger and trademark touchdown celebration. And he did enjoy plenty of celebrating. In fact, the Aggies went 20-6 and won two bowl games under Manziel's watch.
Some analysts expressed concern about how Manziel's game would translate to the pros during the lead-up to the 2014 NFL Draft. His size (6'0″, 210 pounds) was definitely a concern. A greater concern, still, was Manziel's maturity.
Some viewed him as being brash or arrogant. His collegiate rap sheet did include a half-game suspension and a freshman-year arrest for disorderly conduct. Nonetheless, the Cleveland Browns opted to overlook those concerns and risked taking Manziel with their first-round pick.
The fact that it failed so spectacularly is why Manziel is now the subject of a documentary.
This CNN timeline of Manziel's pro career, and all the off-field incidents contained within it, is jaw-dropping. He drew headlines for suspected drug use, flipping Washington's team bench the bird, an assault, a trip to rehab, a Las Vegas weekend disguised (complete with blonde wig and false mustache) as a gentleman named "Billy," multiple moving violations and, most unfortunately, several reported instances of domestic violence.
And that's just the cliff notes.
Manziel flashed his talent some during his short-lived tour of the pros, but he largely looked overmatched and underprepared. That, coupled with his immaturity and legal troubles, led Cleveland to sever ties less than two years after drafting him.
This upcoming documentary will undoubtedly focus heavily on Manziel's darkest times. It'll likely be fascinating at times and troubling at others, much like the former star QB's life was during that period. In fact, Manziel revealed in a recent interview with USA Today's Scooby Axon about the documentary that he attempted suicide around that point in his life.
Former Football star Johnny Manziel opens up about planning to commit suicide after finding out he's bipolar.

"I got diagnosed as bipolar and I felt like it was the same as being called an alcoholic or a drug addict,"

"Spend as much money as I possibly could and then my plan… pic.twitter.com/XRzzVU8FzK

— Dov Kleiman (@NFL_DovKleiman) August 4, 2023
"I had planned to do everything I wanted to do at that point in my life, spend as much money as I possibly could, and then my plan was to take my life," Manziel says. "I wanted to get as bad as humanly possible to where it made sense, and it made it seem like an excuse and an out for me."
To hear Manziel tell it, it's little more than happenstance that he's still around to see this documentary's release.
"Still to this day, don't know what happened. But the gun just clicked on me," Manziel said.
Fortunately, Manziel seems to be in a better place now than he was back then. And in a position to entertain the football-loving public on a grand scale once more. Based on the statement he gave to Axon, it sounds like Manziel is grateful to wrap up that chapter of his life.
"So, a decade later, I've reflected back on it quite a bit and felt like this was a good time. Able to put a bow on the 'Johnny Football' side of things, to stop a lot of those questions that I get, and be able to tell an amazing story and be able to move on with my life. I got an amazing opportunity with Netflix and 'Untold' to be able to do this. And it felt right."