As everyone knows by now, fantasy football never sleeps, and that means that there's always an opportunity to make moves to better your roster.
The benefit of playing dynasty is that you don't have to wait around until football actually starts happening again to make trades or pick up players off of the waiver wire that could dramatically help your team for the upcoming season.
Top Players To Buy in Dynasty Right Now
Here are 10 players that you should consider scooping up for cheap in your dynasty league before the start of the 2023 NFL season.
Tim Patrick, WR, Denver Broncos
Last offseason, the hype train was rolling for Tim Patrick in Broncos camp. Despite having poor QB play for the previous several seasons, Patrick was the player that consistently produced in a WR room over names like Courtland Sutton and Jerry Jeudy.
Unfortunately for Patrick — and his fantasy managers — an ACL injury in early August sidelined the veteran wideout for the entire 2022 campaign.
Patrick is not going to be a buy for every dynasty roster out there. He's 29 years old and coming off of an injury, but the talent is absolutely evident when you put on the tape.
With trade rumors surrounding both Sutton and Jeudy, there's the potential that Patrick is the WR1 for this offense by the time the season gets here. With Sean Payton now in town to — hopefully — fix Russell Wilson, that role could be incredibly valuable for fantasy football.
As the WR97 right now in ECR, Patrick can be acquired for practically nothing, and he could be a valuable asset for a dynasty team that's pushing to win a championship in 2023.
Samaje Perine, RB, Denver Broncos
This list isn't all Broncos players, trust me. Denver signed Samaje Perine early on in free agency this offseason after spending the last several seasons in Cincinnati.
While he never got the chance to put up remarkable production due to Joe Mixon's presence above him on the depth chart, Sean Payton clearly has a plan for Perine in this offense.
Javonte Williams isn't guaranteed to be ready by Week 1 of the 2023 NFL season, which means that Perine could be a top-15 RB for fantasy purposes during that time frame.
MORE: 2023 Dynasty Player Profiles
Even after Williams comes back, though, Payton has shown a tendency to utilize multiple running backs in his system, and that could leave Perine in the weekly RB2 conversation in full-PPR formats.
Dynasty managers that have Perine likely view him as just a depth piece on their roster. If you can send away an early third-round rookie pick to acquire him for a championship run, I'd certainly consider that move.
Zamir White, RB, Las Vegas Raiders
We didn't get to see a ton of Zeus in 2022. After Josh Jacobs re-emerged to take over this backfield completely, Zamir White ran the ball just 17 times all of his rookie season. We shouldn't forget how talented of a player he is, though.
Coming out of Georgia, White was highly touted as a battering ram at running back and a player that was able to handle a significant workload.
After third-round draft capital in the 2022 NFL Draft, it seemed like White could take over this backfield from Jacobs as early as the end of his rookie season, but we know that Jacobs was able to keep the rookie on the sideline.
As Jacobs heads into a contract year, there's no telling what the future holds for him in a Raiders uniform.
We might not get a ton of production from White in 2023, but there's always a need to build depth on your dynasty roster with players that could step into larger workloads if an injury happens above them on the depth chart.
With the added upside that White could be the starter for this offense in 2024, he's worth acquiring now for cheap.
Jaylen Warren, RB, Pittsburgh Steelers
It's shocking to me to see how criminally undervalued Jaylen Warren is in the dynasty community. Warren is currently the RB61 in ECR at the time of writing, and he finds himself behind multiple players that currently don't even have teams!
Yes, Warren is the backup RB in Pittsburgh, but we saw that role have value on dynasty rosters last season. Warren and Najee Harris can both be playable for fantasy football week in and week out, and there's the added upside for Warren if Harris were to miss time with an injury.
This is a shrewd move that fantasy managers can make now before everyone else wakes up and realizes that Warren should be on their roster.
Cade Otton, TE, Tampa Bay Buccaneers
Cade Otton was a favorite of mine coming into the 2022 NFL Draft, and he certainly impressed when he got the chance in his rookie season. It's not an easy task to come in right away and earn the trust of Tom Brady, but that's exactly what Otton did as he managed to get 65 targets that he turned into 391 yards and two touchdowns.
Fast forward to 2023, and the offense certainly looks a lot different now. Brady's retired, and Otton will be catching passes from either Baker Mayfield or Kyle Trask this season.
However, in fantasy football — especially at the TE position — you're looking for players who have an opportunity. That's in front of Otton this year, as he's earned the right to be the team's top tight end.
Currently, he's being valued as the TE32 in ECR, and that is way too low for someone who could be a weekly top-15 option moving forward.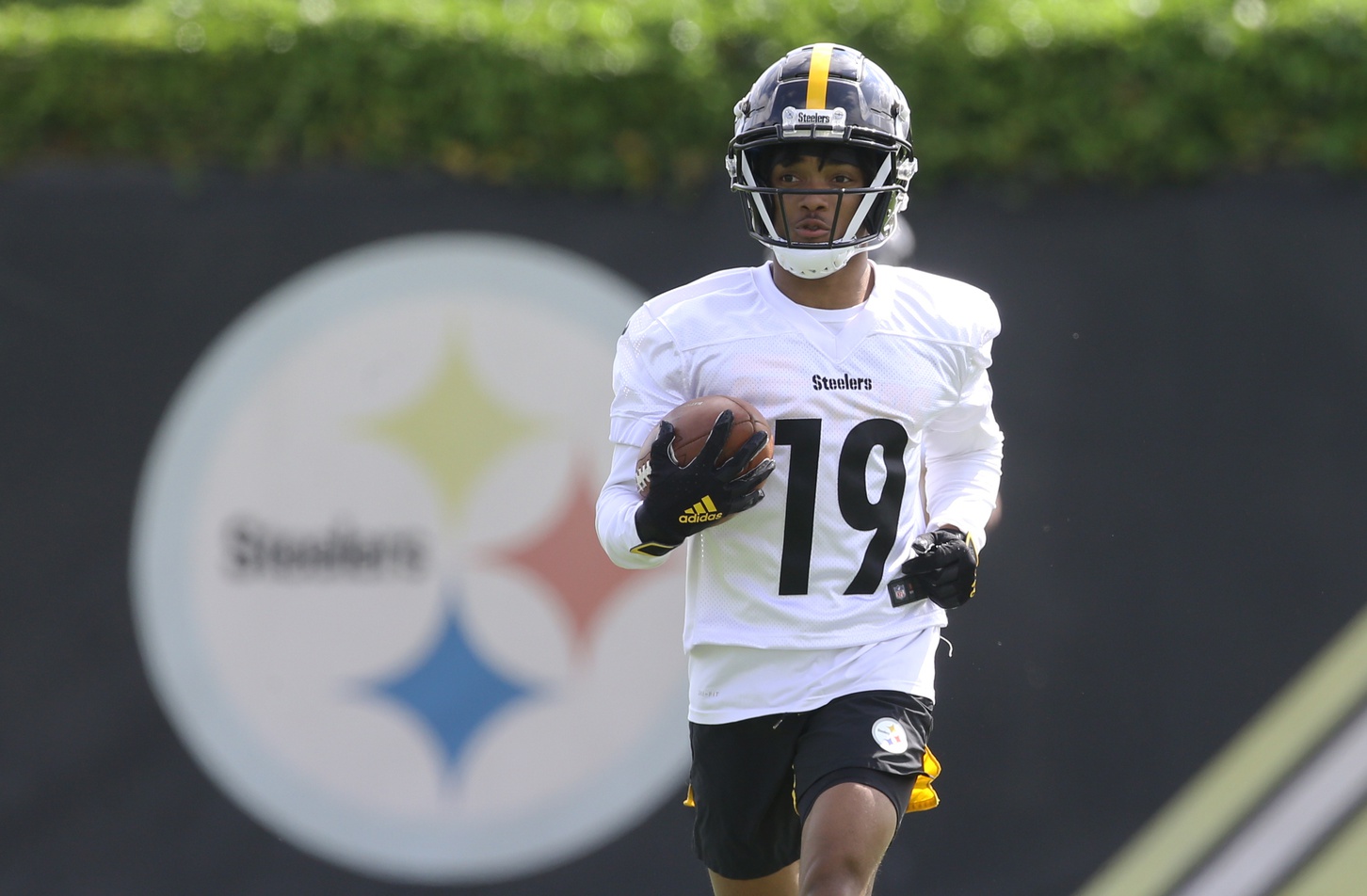 Calvin Austin III, WR, Pittsburgh Steelers
Calvin Austin was one of "my guys" coming into the 2022 NFL Draft. Despite being just 5'9″ and 162 pounds, Austin plays much bigger than his listed size, and he's incredibly shifty at the line of scrimmage.
One of the big concerns with wide receivers at this size is that they can be easily rerouted by defenders in press coverage, but we didn't see many examples of corners getting their hands on Austin at the line of scrimmage in college.
MORE: 2023 Dynasty Rookie Rankings
Unfortunately, Austin dealt with a Lisfranc injury all of last season, and he wasn't able to suit up. Now, the offense is certainly crowded in Pittsburgh, with players like Diontae Johnson, Allen Robinson, George Pickens, and Pat Freiermuth above him on the pecking order.
However, I'm not ready to give up on the talent level of Austin just yet, and I believe he could carve out a role as the slot receiver in this offense as early as this season.
The best part is that you might not even have to send away a draft pick to acquire him. He might just be on your waiver wire.
Kyle Philips, WR, Tennessee Titans
It seemed like we might have a breakout star on our hands after Week 1 of the 2022 NFL season. In just his first NFL game, Kyle Philips reeled in six receptions for 66 yards on nine targets!
His dynasty value shot through the roof, but unfortunately, it wasn't an indication of what was to come for the rest of the year. After that, Philips recorded just two receptions for the rest of 2022, and he didn't play from Week 5 on due to injury.
Looking ahead to 2023, the Titans' depth chart is wide open. The starting slot wide receiver role is Philips' for the taking this season, and we know that he can produce when he's given the opportunity.
Another offseason to get fully healthy and to train with the team should do wonders for Philips, and he could wind up being a weekly Flex option in full-PPR formats.
Right now, he's being ranked as the 300th overall player in dynasty ECR. This is a player that you can acquire for literally nothing and stash on your bench to see how everything plays out.
Hassan Haskins, RB, Tennessee Titans
Let's go right back to the Titans' offense here and discuss Hassan Haskins. His dynasty stock certainly took a bit of a hit when the team drafted Tyjae Spears in the third round of the 2023 NFL Draft, but there's still the potential for significant fantasy production down the road.
In fact, the pairing of Haskins and Spears could work out incredibly well for this offense after the eventual departure of Derrick Henry.
MORE: 2023 Dynasty Superflex Rankings
With all of the rumors surrounding Henry this offseason, it seems like a foregone conclusion that he'll be playing elsewhere in 2024. This means that Haskins could become the main option on the ground for the Titans as early as next season while Spears handles more of the receiving work out of the backfield.
As RB83 in dynasty ECR right now, fantasy managers want nothing to do with Haskins. He's absolutely worth acquiring and stashing for the entire season to see how this backfield plays out going into 2024 and beyond.
Tyler Allgeier, RB, Atlanta Falcons
Tyler Allgeier was incredibly productive in his rookie season for the Falcons. On 210 carries, Allgeier rumbled for 1,035 rushing yards and three touchdowns in an offense that wasn't exactly a top-10 unit in most power rankings last year.
The fantasy managers that had him on their dynasty rosters were banking on him being a consistent RB2 every single week moving forward, and his stock was through the roof.
Unfortunately, that came crashing down with the selection of Bijan Robinson at No. 8 overall in the 2023 NFL Draft. There may not be a player that's experienced more of a drop in dynasty rankings this offseason than Allgeier, but that doesn't mean that we should completely write him off.
The Falcons have proven that they want to run the ball as much as humanly possible under Arthur Smith, and that means that we could potentially see 8-10 carries per game for Allgeier operating behind Robinson this season.
While that may be enough to put him into the Flex conversation, he still holds immense upside for fantasy football as an insurance RB on dynasty rosters. If something were to happen to Robinson this year, we could see Allgeier shoot right back up into the weekly top-15 discussion.
At RB44 right now in ECR, fantasy managers aren't thinking about him that way. This is a time to take advantage of their disappointment and scoop him up for a late second-round rookie pick.
Jerome Ford, RB, Cleveland Browns
Ford is my absolute favorite buy right now in all of dynasty. He was a top-five running back prospect for me going into the 2022 NFL Draft, but he took a bit of a tumble down the draft board and ultimately landed with the Cleveland Browns in the fifth round.
With Kareem Hunt in town last season, Ford didn't get much of an opportunity, and he essentially remained on the sideline all year.
Hunt's now no longer a member of the Browns, though, and Nick Chubb is the only option above Ford on the depth chart.
With Chubb's deficiencies as a receiver out of the backfield, the pass-catching role in this offense is wide open for Ford to step into, and it's a role that he should dominate.
He's a smooth receiver that has the ability to take a screen pass and turn it into a 75-yard touchdown reception with his top-end speed. At just RB69 in dynasty ECR, Ford can be scooped up for super cheap in your league, and there's the potential that he could be a weekly top-30 option in full-PPR formats.
If this offense can get back on track with Deshaun Watson shaking off the rust, the top 30 might be too low.
Listen to the PFN Fantasy Podcast
Listen to the PFN Fantasy Podcast! Click the embedded player below to listen, or you can find the PFN Fantasy Podcast on iTunes, Spotify, and all major podcast platforms.  Be sure to subscribe and leave us a five-star review! Rather watch instead? Check out the PFN Fantasy Podcast on our Fantasy YouTube channel.