Former Georgia defensive coordinator Dan Lanning hopes to continue his national championship-winning ways in Eugene, Oregon. Coming with him is three-year Auburn starting quarterback Bo Nix. Not only is a new staff and signal-caller in place, but — as with any other year — there is turnover all over the roster. Nevertheless, there are several Oregon 2023 NFL Draft prospects to know entering the college football season.
Oregon prospects in the 2023 NFL Draft
Kayvon Thibodeaux (fifth overall) was Oregon's only drafted player in the 2022 class, their fewest since 2011. Prior to that, they were on a three-year streak of having four-plus players selected in the draft. Will they rebound in the 2023 NFL Draft, or will the Ducks endure yet another slump?
Bo Nix, QB
Bo Nix has been a polarizing figure since winning SEC Freshman of the Year over Derek Stingley Jr. in 2019. Across three seasons, he has yet to complete over 62% of his passes or throw more than 16 touchdowns and 2,600 yards. Additionally, his highest yards per attempt came in 2021 at just 7.1.
Now, it's not as if the talent isn't there. Nix is a legitimate threat on the ground and has the arm talent to make impressive throws. A new home could unlock his potential, but with his former Auburn offensive coordinator joining him at Oregon, I have my reservations for his 2022 campaign.
Sean Dollars, RB
After a knee injury robbed Sean Dollars of the entire 2021 season, he put his name into the transfer portal. But the grass isn't always greener, and he decided to return with the Ducks. The former four-star recruit has only carried the ball 15 times in his Oregon career, but he took them for 128 yards. We simply haven't seen enough from Dollars to put a draft range on him. With Travis Dye now a USC Trojan, Dollars should receive a significant workload to prove himself.
Chase Cota and Isaah Crocker, WR
Oregon will have a few sophomores leading the charge in the receiving room. Yet, fourth-year wideout Isaah Crocker and UCLA transfer Chase Cota look to be key contributors. Crocker may be one of the oldest in the WR room, but he lacks experience. Joining Oregon as a four-star recruit in 2018, his only real playing time came in the final two contests last season. He recorded six catches for 91 yards in those games, but that's where his career largely starts and ends. Despite turnover at the position, Crocker may struggle to see meaningful reps yet again in 2022.
On the other hand, Cota joins the fray as a veteran with sure hands. While he may not add much in the open field or after the catch, Cota moves the chains. On 67 career receptions, he scored six touchdowns and gained 34 first downs. Still, Cota will presumably fill a depth role in Eugene, limiting his chances to raise his already sparse draft stock.
Cam McCormick, TE
The new Oregon offense will reportedly feature more vertical passing concepts for the tight end position. That means more for sophomore WR-turned-TE Terrance Ferguson than anyone else. However, veteran Cam McCormick should factor in as well. He has been on campus for six years and dealt with multiple serious injuries. In fact, he hasn't caught multiple passes in a season since 2017 (six). Thus, McCormick is unlikely to feature in the NFL draft conversation.
Steven Jones, OT
The Ducks have one of the best and most experienced offensive lines returning in 2022. Steven Jones spent his first three seasons at left tackle before starting at both right tackle and guard last year. That cross-training is valuable, and his 6'5″ and 330-pound frame holds impressive strength. He plays a bit too upright at times, but new offensive line coach Adrian Klemm should help him refine his game.
T.J. Bass, G
The interior is where the strength of this offensive line truly lies. T.J. Bass leads the unit, providing steady play wherever he lines up. Last year, he dominated from the left guard spot before kicking out to left tackle to accommodate an injury-riddled front. Bass is a mauler in the ground game and is no slouch in pass protection. Given that he already received attention last cycle, another stellar year will only propel Bass up draft boards.
Alex Forsyth, C
Another Oregon lineman who eschewed the 2022 NFL Draft in favor of one more season in the PNW is Alex Forsyth. The pensive pilot of the pivot has allowed less than a dozen pressures the last two years, despite dealing with a lingering back injury in 2021. At 6'3″ and 300 pounds, Forsyth isn't exactly a physical specimen. Regardless, he is a consistent and intelligent center who will play a role near the top of the 2023 center class.
Ryan Walk, G
Ryan Walk returns for his fifth season as a Duck after his 2021 campaign was cut short by a knee injury. He has already displayed sought-after versatility with starts at right guard, left guard, and center under his belt. He can struggle against power at 6'3″ and 293 pounds, but Walk keeps his head on a swivel and works to utilize his natural leverage.
Malaesala Aumavae-Laulu, OT
Malaesala Aumavae-Laulu declared for the 2022 draft but ultimately opted out. The former No. 1 rated JUCO prospect is a certified people-mover. He has no issue using his 6'6″ and 315-pound frame to manipulate defenders against their will. But with great power comes great responsibility, as Aumavae-Laulu was penalized eight times in 2021. Although he didn't allow a sack last year, the Oregon OT can clean up his pass-blocking technique. Nonetheless, the physical ability is there to earn NFL recognition.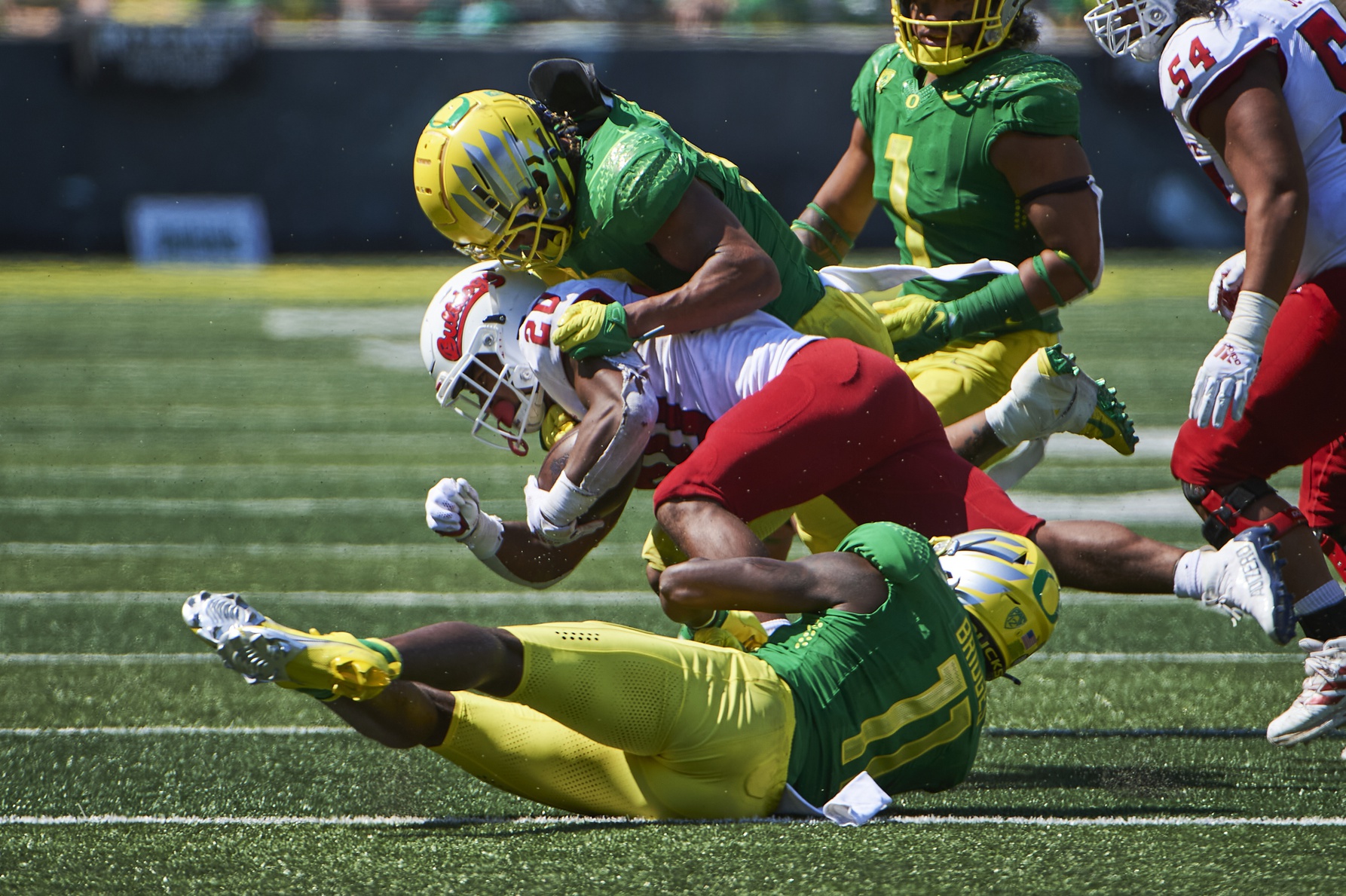 Brandon Dorlus, DL
When you think of Oregon's 2021 front seven, your mind either goes to Kayvon Thibodeaux, Noah Sewell, and Justin Flowe (for one game). But the oft-forgotten Brandon Dorlus is deserving of recognition. His 6'3″ and 285-pound build, along with his excellent lower-body movement skills, have allowed him to play everywhere on the defensive line. With Thibodeaux now a New York Giant, the Ducks will rely heavily on Dorlus to generate pressure up front. Don't sleep on him in the 2023 NFL Draft.
Keyon Ware-Hudson, DT
A four-star recruit coming out of high school, Keyon Ware-Hudson stayed patient until he finally set foot in the DL rotation last season. He has his limitations as a pass rusher but uses his natural leverage (6'2″ and 288 pounds) to hold his own in run defense. Ware-Hudson has untapped potential, and he could feasibly break out in 2022.
Popo Aumavae, DT
Dorlus and Noah Sewell are Oregon's top returning pass rushers, but Popo Aumavae isn't too far behind. The big man in the middle is a solid run defender as well, closing gaps from his nose tackle alignment. His presence makes life easier for those around him, but he gets his all the same. The first-team All-Pac-12 defender looks to increase his draft stock in 2022.
Sam Taimani, DT
Sam Taimani transferred from Washington following a decent campaign in 2021. The 6'2″ and 330-pound defensive tackle fills gaps with ease, but like Ware-Hudson, he isn't much of a pass-rush weapon. The difference is Ware-Hudson has room to grow as he is largely inexperienced. Meanwhile, Taimani has registered 150+ snaps in each of the last three years.
DJ Johnson, EDGE
In 2017, DJ Johnson committed to Miami (FL) as the ninth overall recruit in California. Flash forward to present day, and Johnson is a redshirt senior with little career production. He even flirted with tight end last year. Johnson could thrive in Lanning's defensive scheme, but nothing is certain. He battled injury late last season and has only been a rotational piece. Could he cement himself as a starter off the edge in 2022?
Mase Funa, EDGE
Mase Funa has been a starter at outside linebacker for three years now. More or less, you know what you are getting with him. At 6'3″ and 265 pounds, he is a strong run defender who has improved his tackling with each passing season. He shouldn't be asked to drop back in coverage too often, and his pass-rush ability leaves a bit to be desired. Nevertheless, Funa is a solid college OLB who may struggle to stick in the NFL.
Noah Sewell, LB
The prize jewel of Oregon's 2023 NFL Draft class, Noah Sewell is one of the top linebackers in the nation. His physical playstyle pops off the screen, and he can rush the passer as a blitzer or off the edge. Sewell can dismantle blocks in the ground game and make potential receivers wary over the middle. Still, he missed more tackles than you'd like in 2021, and his coverage ability can improve. But even with those negatives, Sewell shouldn't last passed Day 2.
Justin Flowe, LB
Justin Flowe is all projection. He was an elite high school prospect with outstanding instincts and a nose for the ball. Look up his highlight reel, and you will see him suplexing ball carriers and blowing up backfields. However, he has played just one game of significant snaps at Oregon. If he can remain healthy and live up to expectations, he has first-round potential — whenever he decides to declare (he is listed as a redshirt freshman).
Christian Gonzalez and Dontae Manning, CB
Both of these players are technically listed as sophomores, but Christian Gonzalez (2019) and Dontae Manning (2020) committed three-plus years ago. Standing at 6'2″ and 200 pounds, Gonzalez owns impressive size and an unrelenting motor. He started every game since his redshirt freshman campaign in 2020, and he seems primed to be one of the next Oregon DBs drafted.
Meanwhile, Dontae Manning received his first real-game action last year. He showed promise, though he was beaten multiple times in the Oregon State match. At 5'11" and 190 pounds, he plays corner differently than Gonzalez. But don't get it twisted; the former five-star recruit plays with passion and is athletically gifted.
Jamal Hill and Bennett Williams, CB
Next, we have the nickel corners. Bennett Williams entered 2021 as the starting slot, but a broken fibula cut his season short. That allowed Jamal Hill to secure a stranglehold on the position. Yet, he didn't play well, conceding over 70 yards and three occasions. As a result, Williams once again heads into the season atop the depth chart. The former Illinois transfer snagged three interceptions before going down last year. If he can return to 100%, he has a good shot at earning a late-round selection.
Trikweze Bridges, S
Following a few starts at corner last year, Trikweze Bridges is making the switch to safety. The 6'3″ and 190-pound DB is long and physical, making the change natural. After allowing five receptions for 78 yards in the season opener, Bridges gave up just eight for 70 the rest of the year. Bridges is only a redshirt sophomore and could return in 2023, even with a solid showing. But the tools are there to grow into a productive NFL prospect.
Bryan Addison, S
It's been quite a journey for Bryan Addison. Joining the Ducks as a four-star athlete, he primarily played on the offensive side of the ball his first couple of years. Transitioning from wide receiver to defensive back in 2020, Addison has played in reserve the last two years.
Yet, with veteran Steve Stephens recovering from injury this offseason, the 6'4″ and 185-pound Addison has received first-team reps. He needs to bulk up his frame to withstand the rigors of the NFL, not to mention he must play well this season. Regardless, the physical ability is there for Addison to be a disruptor and enforcer from the secondary. He just has to put it all together.
Steve Stephens IV, S
After starting through Week 9 last season, a hamstring injury held Steve Stephens out for the rest of the year. Now, he is seemingly behind Bridges and Addison on the depth chart. 2021 was Stephens' first campaign of meaningful defensive snaps. However, he is experienced on special teams and is entering his fifth year on campus. If Stephens can clean up his tackling (more than a handful of misses last year) and become a key contributor on special teams, he could earn an NFL camp invite.
Listen to the PFN Scouting Podcast
List to the PFN Scouting Podcast! Click the embedded player below to listen, or you can find the PFN Scouting Podcast on iTunes, Spotify, and all major podcast platforms.  Be sure to subscribe and leave us a five-star review! Rather watch instead? Check out the PFN Scouting Podcast on our Scouting YouTube channel.