After only one Oregon State Beaver was selected in the 2022 NFL Draft (tight end Teagan Quitoriano), who are the prospects you need to know as the 2023 cycle commences? While there may not be any Day 1 or even Day 2 picks, there are a few Beavers who should factor into the 2023 class, especially on the defensive side of the ball.
Oregon State prospects in the 2023 NFL Draft
Entering the fifth season under head coach Jonathan Smith, Oregon State hopes to build off their first winning season since 2013. The depth chart features quite a few underclassmen, but there is still draft-eligible talent looking to improve their standing in the 2022 season.
Chance Nolan, QB
After tearing up the JUCO circuit, Chance Nolan transferred to Oregon State 2020. Since then, he has made 17 starts, compiling 3,214 passing yards, 25 touchdowns, and 12 interceptions. He is also a bit of a dual-threat at 6'3″ and 203 pounds, rushing for 556 yards and four scores. Nolan can add weight to his frame and accelerate his processing speed, but he is one of the more underrated QBs in the Pac-12.
Deshaun Fenwick and Trey Lowe, RB
True freshman Damien Martinez has impressed the Beavers coaching staff, earning first-team reps through the spring. If he maintains his hold on the RB1 role, Deshaun Fenwick and Trey Lowe will battle for the remaining workload as they did last year behind BJ Baylor.
Fenwick and Lowe are very different backs. A South Carolina transfer, Fenwick is 6'2″ and 230 pounds, allowing him to rip through arm tackles and gain yards after contact. He has averaged 5.5 yards per carry in his four-year career and is solid in pass protection. Meanwhile, Lowe is a 5'9″ and 191-pound third-down-type RB who hauled in 23 receptions for 200 yards last season. He owns breakaway speed (reportedly ran a 4.35 40-yard dash in 2020) and a four-star recruit pedigree, so the raw talent is there.
Tre'Shaun Harrison and Tyjon Lindsey, WR
With three of Oregon State's top five receivers gone, Tre'Shaun Harrison and Tyjon Lindsey will need to step up. Harrison was the second-most targeted WR last season, but he also had the most drops. Still, at 6'1″ and 192 pounds with two years of playing experience in the offense, Harrison should begin the year as OSU's WR1. If he can cut the drops and realize the four-star potential he held coming out of high school, he could sneak into the back end of the 2023 NFL Draft.
Despite being three inches shorter and nearly 20 pounds lighter than Harrison, Lindsey doesn't have much after-the-catch ability. And with little to no presence in contested situations, the chances of Lindsey finding a home in the NFL are slim.
Anthony Gould, WR
Anthony Gould is only a redshirt sophomore; even with a breakout campaign, he may return to school. Earning the first real game-time reps of his career in 2021, Gould caught 13 passes for 185 yards and one score. He is primarily a slot receiver due to his slight build (5'8″ and 163 pounds). But don't let his size fool you. He is extremely sudden and has more than enough speed to take the top off defenses.
Luke Musgrave, TE
Quitoriano was Oregon State's only drafted player in 2022, but he wasn't their top TE. That title belongs to Luke Musgrave, who pulled in 22 receptions for 300 yards and a score last year. At 6'6″ and 252 pounds, he shared his time between inline and the slot. He picked up a first down on 14 of his catches and had an average depth of target of 13 yards. Oh, and he is a special-teams contributor, blocking and returning the same punt for a TD in 2021.
Joshua Gray, OT
Oregon State's OL was one of the better run-blocking units in the country but struggled in pass protection and with penalties. Gray was no different, as he was called for six penalties a season ago. But he is only a redshirt sophomore and showed immense promise, even holding his own against Kayvon Thibodeaux. Gray is already one of the better left tackles in the conference. With further refinement and physical growth, he should receive draft consideration (whether this year or next).
Marco Brewer, G
Marco Brewer missed three games last season, but he was the team's best run blocker. After legal issues derailed the beginning of his college career, he took his talents to Laney Community College in Oakland, CA. After a torn Achilles, it looked as if Brewer's football days were over before they began, but an opportunity arose in Corvallis. Now, he enters his second season as the starting LG and should only improve in 2022.
Jake Levengood, C
With Nathan Eldridge, the back-to-back All-Pac-12 first-team center, gone, the Beavers needed a replacement. Jake Levengood is kicking inside after starting games at left guard the last two seasons. He hasn't played center since a couple of dozen snaps in 2019, but reports are he looked good in spring practice. He could stand to put on muscle to his 6'4″ and 294-pound frame, but 2022 will go a long way toward his NFL draft stock.
Brandon Kipper, G
Brandon Kipper is by far the most experienced player on Oregon State's depth chart, playing two years at Hawaii before spending the last three seasons with OSU. He cemented himself as the starting RT for the Beavers in 2019 but is making the switch to right guard in 2022. His wrestling background comes out in the ground game as he has no issue manipulating defenders to create rushing lanes. The move to guard could increase his draft standing because pass blocking on an island isn't his strong suit.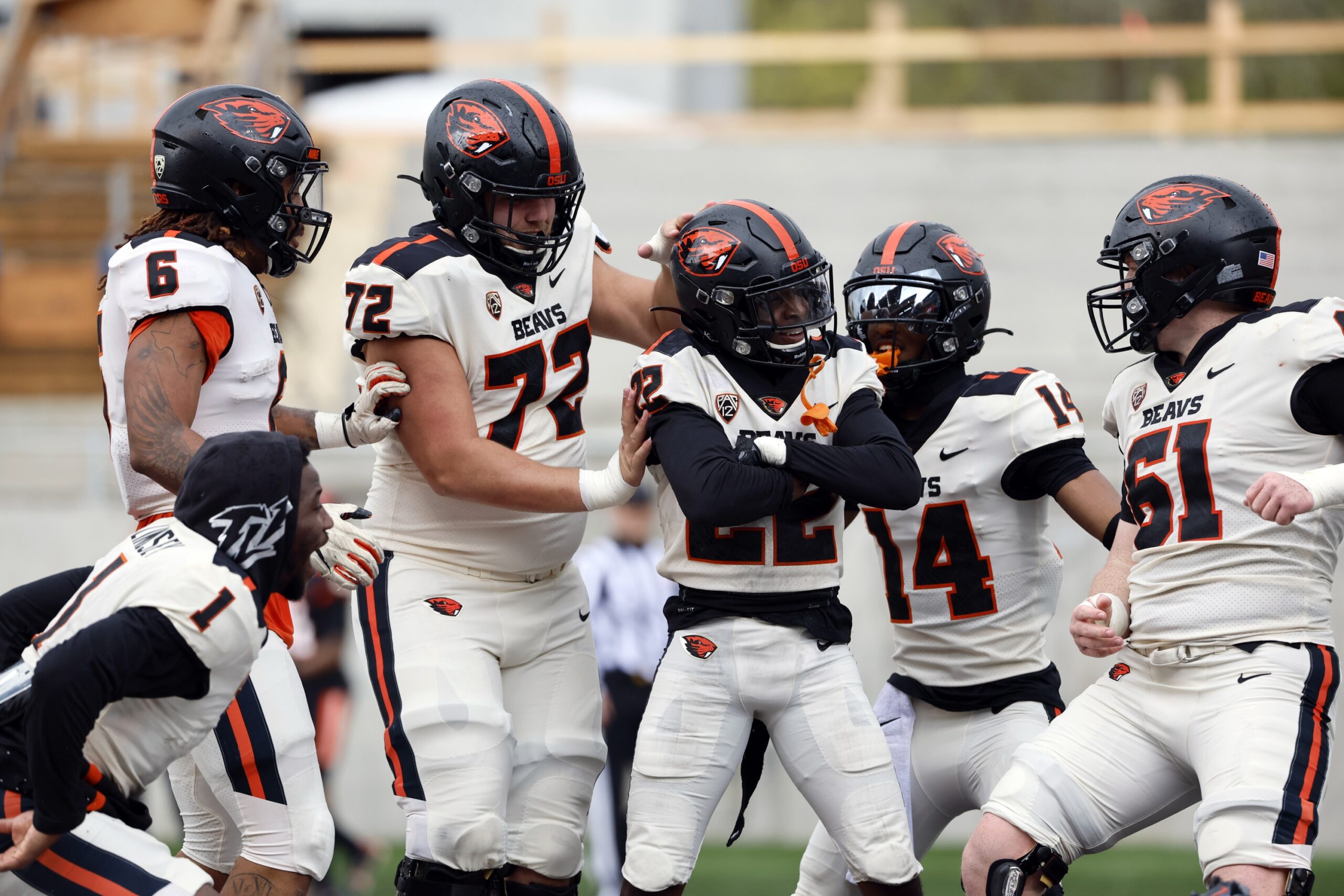 Simon Sandberg, DL
Simon Sandberg has been a staple of the Oregon State defensive line since 2019. Originally from Sweden, Sandberg is anything but neutral, relentlessly attempting to crash the pocket. He has played all along the defensive line but is at his best in the B gaps. He sometimes loses leg drive, but you will rarely see him give up ground, especially in run defense. Overall, Sandberg is a solid college defender who may struggle to receive NFL looks due to underwhelming physical and production profiles.
Tavis Shippen and Thomas Sio, DL
The defensive tackle depth chart for the Beavers is bleak. However, Tavis Shippen looks to make the next step in his development. An offensive tackle and LB/DE in high school, Shippen spent two years in the JUCO circuit before joining OSU in 2020. He hasn't received much playing time, and most likely, we will see Shippen in the orange and black again next fall.
On the other hand, Thomas Sio is a mammoth of a human. At 6'3″ and 365 pounds, he is a monster in the middle. His size naturally allows him to plug gaps with ease, and he can simply push forward to close pockets. Reports are Sio had a stellar spring camp, so he should start at NT/DT this season. What's more, he is just a redshirt sophomore and only transitioned to the DL in college, so there is room for him to grow technically.
Isaac Hodgins and James Rawls, DL
Isaac Hodgins missed all of last season with a foot injury that required surgery. That surgery didn't hold, as he underwent another one this spring. He is aiming for a Week 1 return, but even if he does, it will presumably be in a depth/reserve role. Enter James Rawls. Rawls has steadily gained more playing time since 2019, and if Hodgins can't go to start the year, he should feature as the starter. Nevertheless, it would be surprising if either Rawls or Hodgins was selected in the 2023 NFL Draft.
John McCartan and Riley Sharp, OLB/EDGE
A hamstring tear sidelined John McCartan for all of last year, but he seems to have made a full recovery. He still has two years of eligibility, the same as Riley Sharp. Sharp started in place of McCartan last season and provided a steady stream of pressure off the edge.
It will be interesting to see who begins the year as the starter, though both should receive significant playing time. Sharp (6'6″) and McCartan (6'5″) are long defenders with some pass-rush utility, but based on their careers thus far, it will be difficult for them to crack NFL rosters.
Andrew Chatfield Jr., OLB/EDGE
Following three years of limited reps at Florida, Andrew Chatfield entered the transfer portal and ultimately chose Oregon State. He has gained 40 pounds since high school, now measuring 6'2″ and 260. If his speed off the ball hasn't diminished, there is a very good chance Chatfield breaks out in 2022. He doesn't have to declare for the draft as a redshirt junior, but he has as good a chance to reach the pros as any Oregon State pass rusher.
Omar Speights, LB
Across three years and 25 starts, Omar Speights has generated 225 total tackles, 14 tackles for loss, five sacks, and three picks. At 6'1″ and 237 pounds, he is a bit undersized for the NFL game. Yet, he has the production, special-teams experience, and leadership ability to earn a spot in the league. Speights is the heart and soul of the Beavers' defense and will once again rack up the tackles in 2022.
Kyrei Fisher and Jack Colletto, LB
Avery Roberts is gone, so there is an opportunity for Kyrei Fisher to seize the starting inside linebacker role next to Speights. The former Arkansas LB has played more than 10 snaps in a season just once (2021 – 172), so he is largely an unknown. And with one year of eligibility left, he has a steep climb to be relevant.
Jack Colletto is Oregon State's version of Taysom Hill. He has thrown passes, carried the rock, blocked, lined up on defense, played special teams, and returned kicks in his illustrious career. Where does he fit in the NFL? I have no idea, as he hasn't played enough snaps at any one position (outside of QB, which he hasn't been great at). Still, Colletto is an experienced prospect with unparalleled cross-training. Here's hoping OSU gives him a home in 2022 so he can prove his mettle.
Rejzohn Wright, CB
Brother of former Cowboys third-round pick Nashon Wright, Rejzohn is a superior prospect. He was targeted a ton last season and gave up his fair share. However, Wright snatched two interceptions and 10 pass deflections. He is a difficult matchup with the speed to carry WRs downfield and the length to smother the catch point. He needs to reign in his physicality, as he was called for six penalties last year. But if he can play a more controlled brand of football in 2022, Wright should hear his name called in the 2023 draft.
Alex Austin, CB
After giving up 90+ yards in three of the first seven games of 2021, Alex Austin ended the year conceding less than 10 yards in four straight contests. He registered two INTs and nine PBUs, showcasing his ball skills. If he picks up where he left off, Austin could form a stout outside CB duo with Wright. At 6'1″ and 192 pounds, he also sports the requisite size/length/speed to garner looks in the NFL draft. Although, as a redshirt sophomore, he may not come out in 2023.
Ron Hardge III, CB
Ron Hardge's career took him from Illinois to City College of San Francisco and finally to Oregon State. Since joining the Beavers in 2020, he has played a reserve slot CB role. But with Jaydon Grant moving to a safety full-time, Hardge should see most of the snaps at the nickel position. A former safety himself, the Florida native has the instincts and physicality to thrive with increased reps. Yet, it is all potential with Hardge, and the clock is ticking in his final year in Corvallis.
Jaydon Grant, S
Beaver fans should know the name Jaydon Grant as he returns for his seventh and final season with Oregon State. Grant will move from the slot to safety in 2022 but needs to clean up his tackling and limit yards after the catch. Still, his veteran leadership is crucial, and there isn't much he hasn't seen on the college stage.
Grant would be a 25-year-old rookie, severely limiting his chances of being selected in the 2023 NFL Draft. However, experience has its place in the league, and with seven collegiate years under his belt, prospects don't come much more experienced than Grant. Owning significant snaps in the slot, in the box, as a deep safety, and on "core four" special-teams units will only help his cause.
Kitan Oladapo, S
With Grant moving to safety, Kitan Oladapo will presumably be a backup next season. I believe Oladapo played well enough last year to hold onto the starting job. He crashed in run defense, made his presence felt in the passing game (one INT and 10 PBUs), and even brought pressure on a few blitzes.
His 6'1″ and 209-pound frame can withstand the rigors of the position better than Grant's (6'0″, 193) and allows him to be a better enforcer in the deep middle. Regardless, as a redshirt junior, Oladapo could take a step back in 2022 before returning to the starting lineup in 2023 and possibly playing himself into draft consideration.
Alton Julian and Akili Arnold, S
Alton Julian suffered a torn ACL last year, allowing Akili Arnold to receive first-team reps. However, the two are of different ilks: Julian is a 6'2″ and 210-pound thumper, while Arnold (5'11", 196) is a more versatile chess piece.
Arnold is a former receiver, which shows in how he attacks the football. Julian can track and take down ball carriers in the open field and lay the wood on receivers all the same. Both players should feature on Oregon State's defense this year, rounding out one of the better secondaries in the conference.
Listen to the PFN Scouting Podcast
Listen to the PFN Scouting Podcast! Click the embedded player below to listen, or you can find the PFN Scouting Podcast on iTunes, Spotify, and all major podcast platforms.  Be sure to subscribe and leave us a five-star review! Rather watch instead? Check out the PFN Scouting Podcast on our Scouting YouTube channel.