The Oregon Ducks enter the season with one of the most dangerous offensive units in the nation. Thanks to a return of their top playmakers, Ducks head coach Dan Lanning has the chance to improve upon his 10-3 record from last season. We're taking a look at the Ducks' 2024 NFL Draft prospects, schedule, and roster changes.
Oregon Ducks Roster and Depth Chart Changes
The Ducks lost six players to the 2023 NFL Draft, notably producing first-round cornerback Christian Gonzalez and five trench players taken later on. However, the team loaded back up in the transfer portal and saw their biggest stars return for one more season. That includes senior quarterback Bo Nix, who saw a massive leap in development in his first campaign with the program.
Nix has plenty of speed and firepower around him. Junior receiver Troy Franklin and incoming transfer receiver Gary Bryant Jr. are considerable talents for him to maximize. He also has a two-headed monster in the backfield with juniors Bucky Irving and Noah Whittington.
Oregon wisely added right tackle Ajani Cornelius from Rhode Island and could see at least two other incoming transfers make a difference this fall. The defense also added five potential starters, including edge rusher Jordan Burch from South Carolina.
Oregon NFL Draft Prospects
Bo Nix, QB
It's hard to overstate the jump in play from Nix in 2022. Always a physically gifted talent at Auburn, Nix struggled to build upon his good plays before coming to Oregon, often looking to win the game with one throw instead of taking what defenses gave him until he had to create. That completely flipped last season.
Now, Nix is a possible first-round pick entering the fall. He's a dual threat who has a great arm and a knack for making plays outside of the pocket. Defenses now pay for giving him layups and will also find themselves panicking when Nix starts scrambling to either buy time to throw or rush upfield.
The next step in development for Nix is mastering his pre-snap identification of where to go and anticipating leverage more effectively. Nix sees the field well but is more of a read-and-react player as opposed to knowing what to do as soon as his key read shows their intention. With the benefit of another full season and the all-star circuit, I expect Nix to push for a top-10 pick in April.
Bucky Irving, RB
The more explosive and dynamic back of Oregon's two contributors is Irving. Without a doubt, Irving has breakaway speed that can cover up significant flaws or mistakes. Sometimes that's an issue, as Irving will bounce outside the tackle box when he doesn't need to, but it can still pay off.
Irving is competitive and works to keep plays alive effectively. He keeps his eyes up, scanning for a rushing lane when one isn't obvious. Though Irving has trouble slowing down quickly to change direction and will sometimes run into a blocker, he's decisive and won't take many tackles for loss.
A strong inside-zone or outside-zone team should love Irving's ability to hit big plays and stress defenses. He could become a starter on a pass-heavy team that wants a variance back who is a major receiving threat as well.
Noah Whittington, RB
Like Irving, Whittington is a smaller back who weighs only 190 pounds. However, the two don't share much else in common. While Irving is the explosive playmaker who will break the scheme to provide a spark, Whittington is the inside-zone specialist who uses quickness and leverage more to his advantage. He's able to change direction in a hurry and will pivot out of a situation when needed.
The tough part of Whittington's game is that he's not a powerful back despite playing more like one. He can catch passes out of the backfield, but he struggles in pass protection, so his third-down value is far less than Irving's. Still, he could be drafted in later rounds because he can catch passes and win in short areas.
Troy Franklin, WR
A speedy receiver who can split time as an outside receiver or a slot threat, Franklin projects favorably to other thin but fast playmakers who have been taken on Day 2 in recent drafts. At 6'2″ and 170 pounds, Franklin easily creates separation on his routes and is dangerous after the catch. An offense that can isolate him one on one, especially over the middle of the field, will produce explosive plays.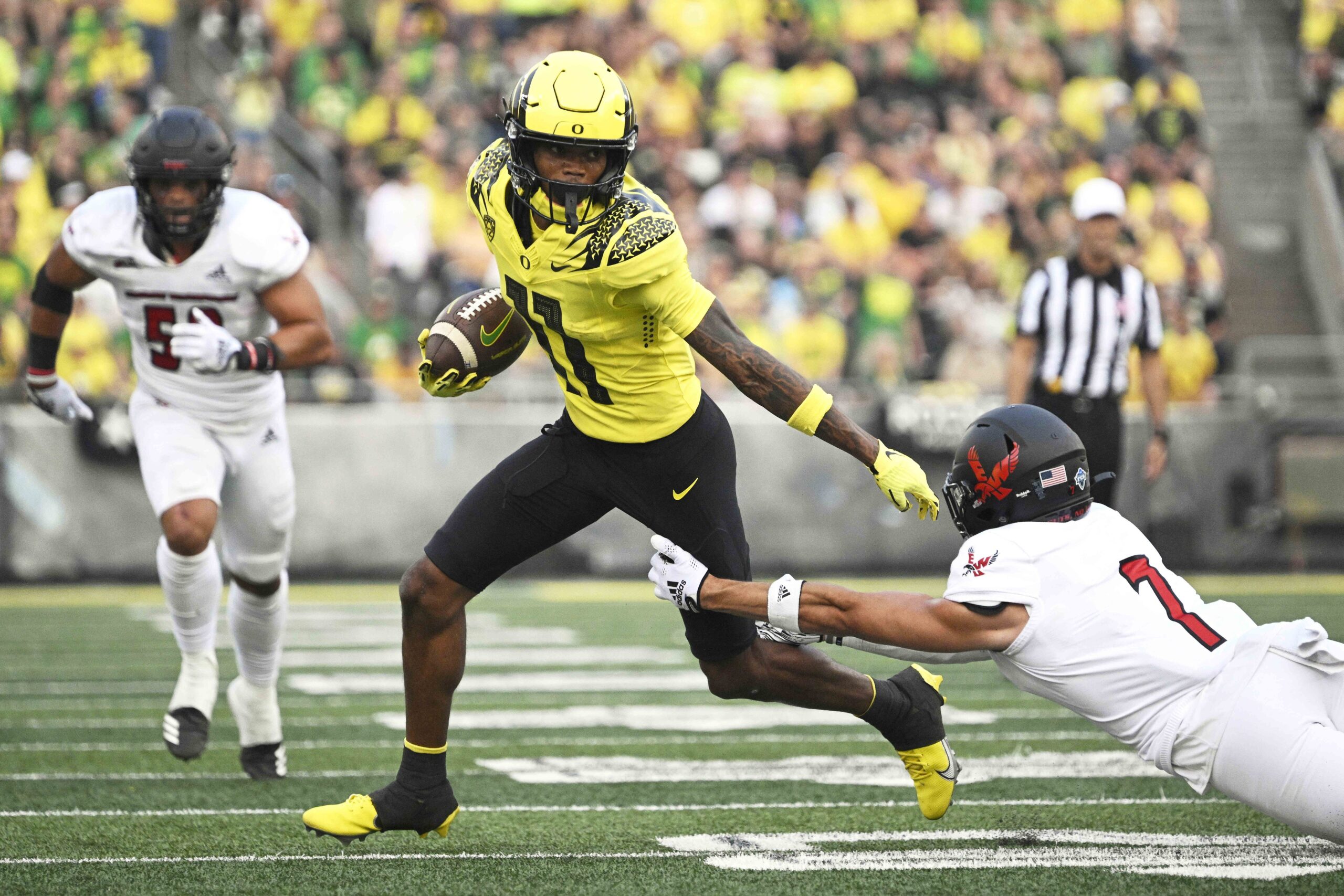 Franklin also has good body control and the ability to bring in difficult catches. He's far from a soft player despite being so light. Of course, his lack of bulk is a concern and limits his overall upside, but Franklin should be a great addition to more spread offenses.
Ajani Cornelius, OT
Expected to start at right tackle, Cornelius has NFL size and athleticism already. He moves extremely well in the run game, in particular, and uses his large upper-body build to throw defenders out of rushing lanes. Cornelius has to prove capable of holding up in pass protection in a tougher conference, but he has the tools to become a Day 2 pick.
Brandon Dorlus, EDGE
Built like a combination between a defensive tackle and edge defender, Brandon Dorlus uses every bit of his 6'3″, 278-pound frame. His strength at the point of attack is excellent, already capable of handling his own at the next level. But the surprising part of Dorlus' game is his agility and well-rounded nature as a technician.
Dorlus is patient in his attack and will exploit the weaknesses of his blocker, whether it's splitting blockers with a sidestep, moving down the line and keeping his gap integrity, or winning with an inside swim move. He brings a high level of activity, and his power should help him see time as a 3-4 end early in his career.
Jordan Burch, DL
Burch uses his huge 6'4″, 291-pound body to occupy tackles and make plays in the open field. His length advantage certainly shows in the run game, where he'll hold his point of attack before swatting a blocker's hands and then proceeding to make a play on the ball carrier. He's surprisingly fluid and capable of stopping a rusher from proceeding further.
Burch isn't a refined or consistent pass rusher, but he'll find occasional success with a spin move or inside rip. He doesn't create much on his own on passing downs, but his movement ability brings opportunities to clean up sacks or create pressure.
Trikweze Bridges, CB
A long corner at 6'2″ and 199 pounds, Trikweze Bridges is primarily an off-ball corner who is comfortable in Oregon's zone approach. He has the physical tools needed to be a plus prospect, including straight-line speed, and his zone reads are consistently good.
However, Bridges has room to improve both his man coverage ability, physicality, and mindset in the run game. He's prone to false steps in his press attempts, which can be cleaned up over time. He's not overly physical in coverage, leading to him being picked on a bit.
Another step forward with his ball production (he had three interceptions and five pass breakups in 2022) and more aggressiveness in run defense would help improve his late-round grade.
Oregon Ducks Schedule
Week 1
BYE
Week 2
Sept. 2: Portland State Vikings
Week 3
Sept. 9: at Texas Tech Red Raiders
Week 4
Sept. 16: vs. Hawaii Rainbow Warriors
Week 5
Sept. 23: vs. Colorado Buffaloes
Week 6
Sept. 29: at Stanford Cardinal
Week 7
BYE
Week 8
Oct. 14: at Washington Huskies
Week 9
Oct. 21: vs. Washington State Cougars
Week 10
Oct. 28: at Utah Utes
Week 11
Nov. 4: vs. California Golden Bears
Week 12
Nov. 11: vs. USC Trojans
Week 13
Nov. 18: at Arizona State Sun Devils
Week 14
Nov. 24: vs. Oregon State Beavers
Week 15
BYE
Listen to the PFN Scouting Podcast
Listen to the PFN Scouting Podcast! Click the embedded player below to listen, or you can find the PFN Scouting Podcast on iTunes, Spotify, and all major podcast platforms.  Be sure to subscribe and leave us a five-star review! Rather watch instead? Check out the PFN Scouting Podcast on our Scouting YouTube channel.