It'll be hard to top a 2022 season that saw the Oklahoma State Cowboys finish as the Big 12 runner-ups and win a bowl game. But can the Oklahoma State 2023 NFL Draft class lead its team to even greater heights?
Oklahoma State prospects in the 2023 NFL Draft
If the Cowboys aim to sustain their success from the previous season, they'll have help from the many veterans who chose to return in 2022 and assist in the efforts. And it all starts at quarterback, with multi-year starter Spencer Sanders.
Spencer Sanders, QB
Sanders has at least been on the NFL draft radar since the 2020 season. Unfortunately, he's shown little year-over-year progression through that span and remains on the fringe of the draft discussion for the 2023 cycle. Sanders is athletic and has a good arm. His creation capacity is impressive, but he's also undersized and extremely volatile. He'll need to kick that volatility in 2022 if he wants to rise up the board.
Braydon Johnson, WR
After losing Tay Martin, someone will have to step up in the Oklahoma State receiving corps. One top candidate to do so would be Braydon Johnson, a sixth-year senior with more left to prove. Johnson's career-best season came back in 2019 when the Cowboys pass catcher hauled in 23 receptions for 491 yards and four touchdowns. He's since declined and missed most of 2021 with an injury. If he can get back to full health, Johnson has good speed and a strong 6'0″, 200-pound frame.
Rashod Owens, WR
While Johnson has the traits and experience to accommodate a late-career rise, he's by no means a guarantee for the Cowboys. Thus it may take more than Johnson to revamp the team's receiving corps. Rashod Owens is another prospect to watch. Although he's just a redshirt sophomore, Owens has traits worth monitoring. Not only is he well-built at 6'2″, 215 pounds, but he was a high school track standout with the No. 11 triple jump in the USA in 2019. Owens got on the board with 17 catches for 257 yards and a score in 2021. He has the talent to keep rising in 2022.
Caleb Etienne, OT
A JUCO product, Caleb Etienne arrived at Oklahoma State last offseason and was a top reserve for the team in 2021. He didn't play much, but in his limited action, he did show promise. He has a massive 6'7″ frame and has reportedly cut down around 30 pounds in weight this offseason. Even at over 350 pounds, Etienne flashed impressive athleticism for his size and displayed excellent power capacity. Trimmed down and looking to prove himself, Etienne is a potential breakout candidate at OT in the 2023 NFL Draft.
Hunter Woodard, G
A redshirt senior, Hunter Woodard has played in 30 games and started 22 for Oklahoma State. He was the full-time starter at right guard in 2021 and earned honorable mention All-Big 12 recognition for his performance. Woodard might be less translatable as an NFL draft prospect. His 6'5″ frame is a bit on the lean side, and he doesn't have elite power or athleticism. But Woodard has at least shown himself to be assignment-sound, and he'll punish defenders in the dirt if they sacrifice leverage.
Cole Birmingham, OL
After missing most of the 2020 season with an injury, Cole Birmingham came back and established himself as a fixture on the Cowboys' blocking unit. The 6'5″ blocker started the first game at right guard, while Woodard was unavailable due to injury. Once Woodard came back, Birmingham shifted over to left tackle and held that position through the end of the season. At the very least, Birmingham's positional versatility may be a valued quality once he hits the NFL draft circuit.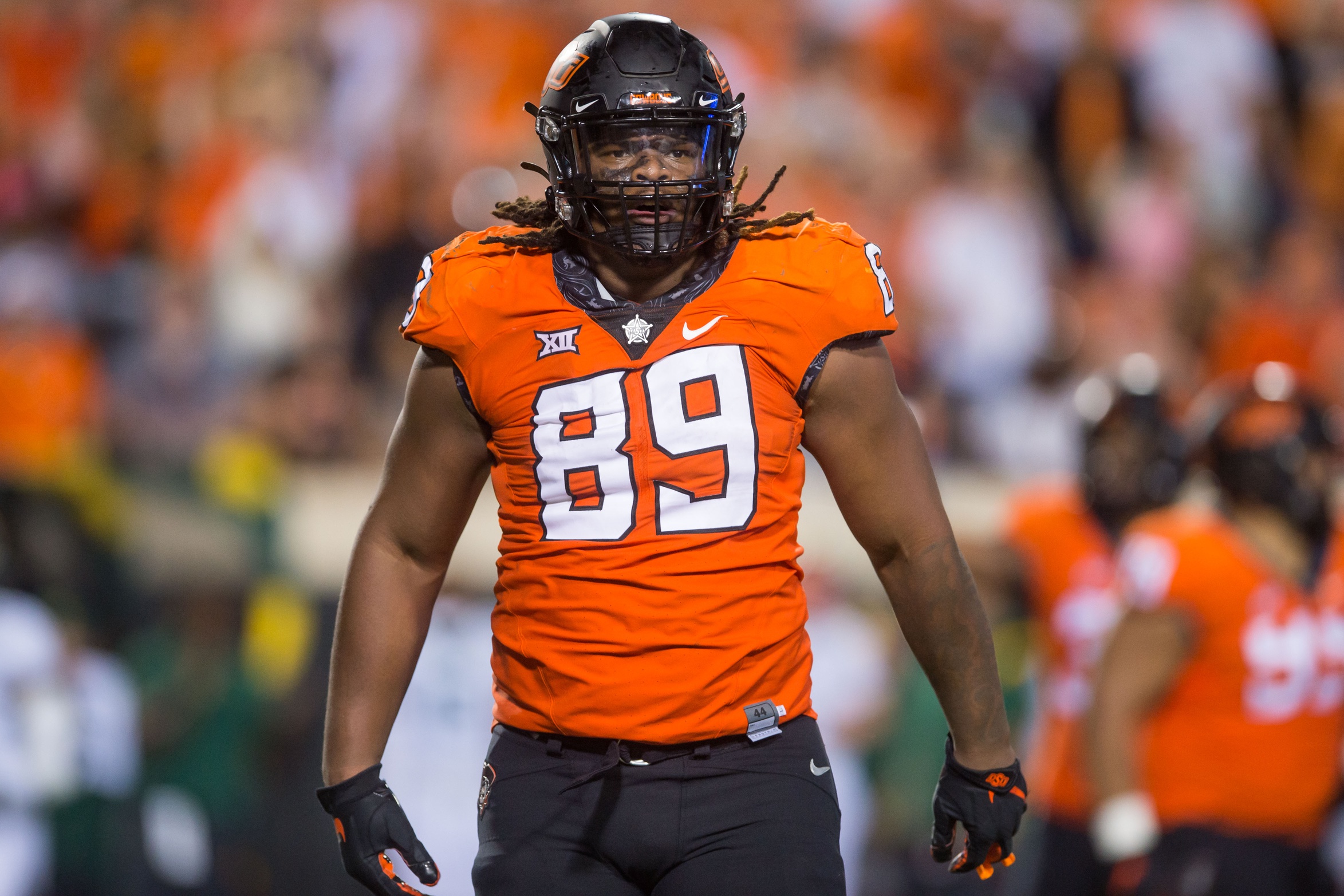 Tyler Lacy, DT
Quietly, Tyler Lacy may be one of Oklahoma State's best 2023 NFL Draft prospects. Lacy has loads of experience. Since his redshirt freshman season in 2019, he's started all of the 35 games he's appeared in. And in each of the past two seasons, he's garnered honorable mention All-Big 12 recognition. But beyond that, Lacy is an enticing talent.
Standing around 6'4″, 280 pounds, Lacy has excellent length and power generation, as well as great burst off the line. He's a picture-perfect match for odd-front rotations in the NFL and has a good chance to be drafted.
Brendon Evers, DT
Part of a veteran-laden defensive front at Oklahoma State, Brendon Evers will be 25 years old before the start of his rookie season. Thus, it's most likely that Evers' main interest comes as a UDFA. In the UDFA circuit, however, Evers should be on the radar for some teams. At 6'2″, 295 pounds, he has a wide frame with good length. And like most Cowboys linemen, you can count on him to give 100% every down.
Brock Martin, EDGE
The Cowboys have one of the stronger EDGE rotations in the country. It's led by the ineligible Collin Oliver, who won Big 12 Freshman of the Year honors in 2021. But opposite him is a player nearly as impactful: Brock Martin. Martin is a veteran leader for Oklahoma State, who logged nine sacks and 14 tackles for loss in 2021. He's a sturdy, well-built defender at around 6'3″, 250 pounds, and he has decent length. While Martin isn't an elite athlete, he has a hot motor, which should earn him fans in the NFL community.
Trace Ford, EDGE
Oliver and Martin figure to remain the top two players at EDGE for Oklahoma State. But Trace Ford is also worth keeping a watchful eye on. Ford comes with very real injury concerns. He's torn his ACL twice, and the latest tear caused him to miss the entire 2021 campaign. Even so, Ford has immense potential if he can return to 100%. Of the Cowboys' edge rushers, he might be the best athlete at 6'3″, 240 pounds. Ford brings excellent short-area burst and pursuit speed and can even drop into coverage.
Xavier Benson, LB
Xavier Benson has had one of the more intriguing career arcs to this point. Benson first emerged as a redshirt freshman at Texas Tech in 2019, when he put up 57 tackles, four TFLs, and a sack. He was trending up, but when the COVID pandemic hit, Benson chose to sit out the 2020 season.
He'd then transfer to Tyler Junior College, where he enjoyed a spectacular JUCO season in 2021, amassing 120 tackles, eight TFLs, and two picks. Now, the 6'2″ linebacker returns to the Big 12, this time aiming to revitalize his draft hype ahead of the 2023 NFL Draft.
Korie Black, CB
In the wake of the departures of Christian Holmes and Jarrick Bernard-Converse, the Cowboys will need reinforcements at the cornerback position. First in line to take on an increased role is Korie Black. Entering his third season and his first year of eligibility, Black has steadily earned more responsibility since his true freshman campaign. At 6'0″, 185 pounds, Black has a good combination of size and athleticism, and he's flashed playmaking ability in spurts.
Jabbar Muhammad, CB
Black isn't the only young cornerback in the wings for Oklahoma State. There's also redshirt sophomore Jabbar Muhammad, who got a few looks on the defensive side in 2021. In limited action, Muhammad managed to produce three deflections, making 2021 a solid tune-up for what could be a breakout 2022 campaign. Muhammad doesn't have the same size as his counterparts, standing at around 5'10", 175 pounds. But his ability to convert at the catch point is something he can expand upon.
Thomas Harper, DB
In need of more playmakers in the secondary, it's possible that the Cowboys could also rely on Thomas Harper to step up his game as a senior in 2022. Harper has very intriguing traits. He's a bit light at 5'11", 180 pounds, but he moves very well and has the versatility to rotate into the slot. He's the younger brother of former Cowboys linebacker Devin Harper, who tested with a 4.5 40-yard dash and a 40.5″ vertical at his 2022 pro day. If the younger Harper has similar athleticism, it could serve him well in the future.
Jason Taylor II, S
One of the most notable losses for the Oklahoma State Cowboys in the 2022 NFL Draft cycle was that of safety Kolby Harvell-Peel. Harvell-Peel will be tough to replace, but the withstanding presence of redshirt senior Jason Taylor II will help matters. Taylor, a 6'0″, 215-pound defender, posted impressive production beside Harvell-Peel in 2021, amassing 48 tackles, 6.5 tackles for loss, 2.5 sacks, two picks, and four deflections. He's able in coverage but also more than willing to roam the box.
Listen to the PFN Scouting Podcast
Listen to the PFN Scouting Podcast! Click the embedded player below to listen, or you can find the PFN Scouting Podcast on iTunes, Spotify, and all major podcast platforms.  Be sure to subscribe and leave us a five-star review! Rather watch instead? Check out the PFN Scouting Podcast on our Scouting YouTube channel.