After going 9-5 in 2022, the North Carolina Tar Heels have their eyes on even more success in 2023. Not only is their roster stronger than it's been most years, but it also has a deep NFL Draft group led by a quarterback who could have franchise upside at the NFL level.
North Carolina NFL Draft Prospects
The most important development for North Carolina was the return of Drake Maye at quarterback — a development that caught no one by surprise. Maye wasn't even eligible for the 2022 NFL Draft, but had he been, he would've already fielded Round 1 consideration.
Maye is the defining player for the Tar Heels, but North Carolina also returns much of its core from a successful 2022 season. They weren't without their losses. On offense, Asim Richards, Josh Downs, and Antoine Green all left for the NFL. And on defense, cornerbacks Tony Grimes and Storm Duck transferred out.
Nevertheless, the Tar Heels kept some of their prime contributors, such as Bryson Nesbit, Spencer Rolland, Cedric Gray, and DeAndre Boykins, and also added several notable names through the transfer portal, including Devontez Walker, Nate McCollum, and Armani Chatman.
It'll be very interesting to see how Maye does without Downs, but there's reason to believe the Tar Heels can make do with the weapons they've acquired. And elsewhere, the roster remains formidable.
Drake Maye, QB
The QB is the most important position on every roster, but Maye is the sole piece keeping North Carolina's contention hopes alive. He's a potential No. 1 overall pick in waiting who couples high-end athleticism, arm talent, and off-platform ability with exceptional touch, trajectory manipulation skills, and field vision. Maye has already shown he can elevate the Tar Heels' roster. In 2023, he'll look to repeat and reaffirm his NFL Draft standing.
Elijah Green, RB
Between Javonte Williams, Michael Carter, and Ty Chandler, the North Carolina offense has produced several NFL RB prospects in recent years. Elijah Green could be next on the conveyor belt after accumulating 558 yards and eight touchdowns on 131 carries in 2022. Green can still be a more efficient and consistent runner, but the flashes of vision are promising, and he brings the long speed to elongate space when he has it.
Devontez Walker, WR
Maye may have lost a lot of explosiveness with Josh Downs and Antoine Green heading off to the NFL, but Devontez Walker — a transfer from Kent State — will give some of it back. Walker, who's around 6'3″, 200 pounds, put up 58 catches for 921 yards and 11 touchdowns last year and added an extra score on the ground. He gave every defense — including Georgia's — fits with his instant acceleration and big-play ability.
Nate McCollum, WR
Walker won't be alone in retooling North Carolina's receiving corps. He'll have help from Georgia Tech transfer Nate McCollum, who racked up 60 catches for 655 yards and three scores in the Yellow Jackets' famously inconsistent passing attack. McCollum, who's listed at 5'9″, 185 pounds, isn't quite as explosive as Downs, but he's a snappy separator from the slot who also brings impressive possession chops over the middle of the field.
Bryson Nesbit, TE
When Maye is your QB, there are bound to be beneficiaries. One of the primary beneficiaries in 2022 was TE Bryson Nesbit, who put up 35 catches for 507 yards and four touchdowns. Nesbit still has room to keep expanding his game, but as it stands, he's already a loose, lean seam threat at 6'5″, 235 pounds, with an appealing mix of long-strider explosiveness, zone awareness, and coordination at the catch point.
Kamari Morales, TE
Nesbit is the seam stretcher in North Carolina's offense, but Kamari Morales also provides respite underneath as a versatile pass catcher. Morales is entering his fifth season and coming off a career year in which he logged 29 catches for 358 yards and four touchdowns. At 6'2″, 245 pounds, he's sized like a hybrid, but he does have some route-running variance to different field levels, and he can convert on tough, contested throws.
Spencer Rolland, OT
Spencer Rolland shined in his first season with North Carolina after transferring over from Harvard in 2022. Rolland immediately slotted in as a starter at right tackle and manned the position for all 13 games. He reprises that role in 2023. Rolland is a veteran who brings good intelligence and football IQ. At 6'6″, 315 pounds, his proportional length is lacking, and he's a bit stiff laterally, but he could be a decent depth tackle at the next level.
William Barnes, OT
North Carolina has produced several quality OL prospects in recent years, with Asim Richards, Joshua Ezeudu, and Marcus McKethan. William Barnes could be next in that middle-to-late round list if he can take the next step in his development. Barnes already has good size and length at 6'4″, 320 pounds, as well as proven versatility between tackle and guard. Improving his balance, leverage, and stamina will be key in the next phase.
Corey Gaynor, C
North Carolina has depth at center with Willie Lampkin, but it'll likely be Corey Gaynor who gets the starting nod. Gaynor, a seventh-year senior and team captain, has more than enough experience to go off of, with 55 games played and 42 starts in his career.
At 6'3″, 305 pounds, he's well-sized and well-leveraged, and though his age and injury history may hurt his NFL Draft prospects, he could field late-round consideration.
Myles Murphy, DT
Not to be confused with 2023 first-round pick Myles Murphy from the Clemson Tigers, this Murphy is considerably more beefy. He's listed at 6'4″, 305 pounds, but sometimes appears heavier with how hard he can be to move.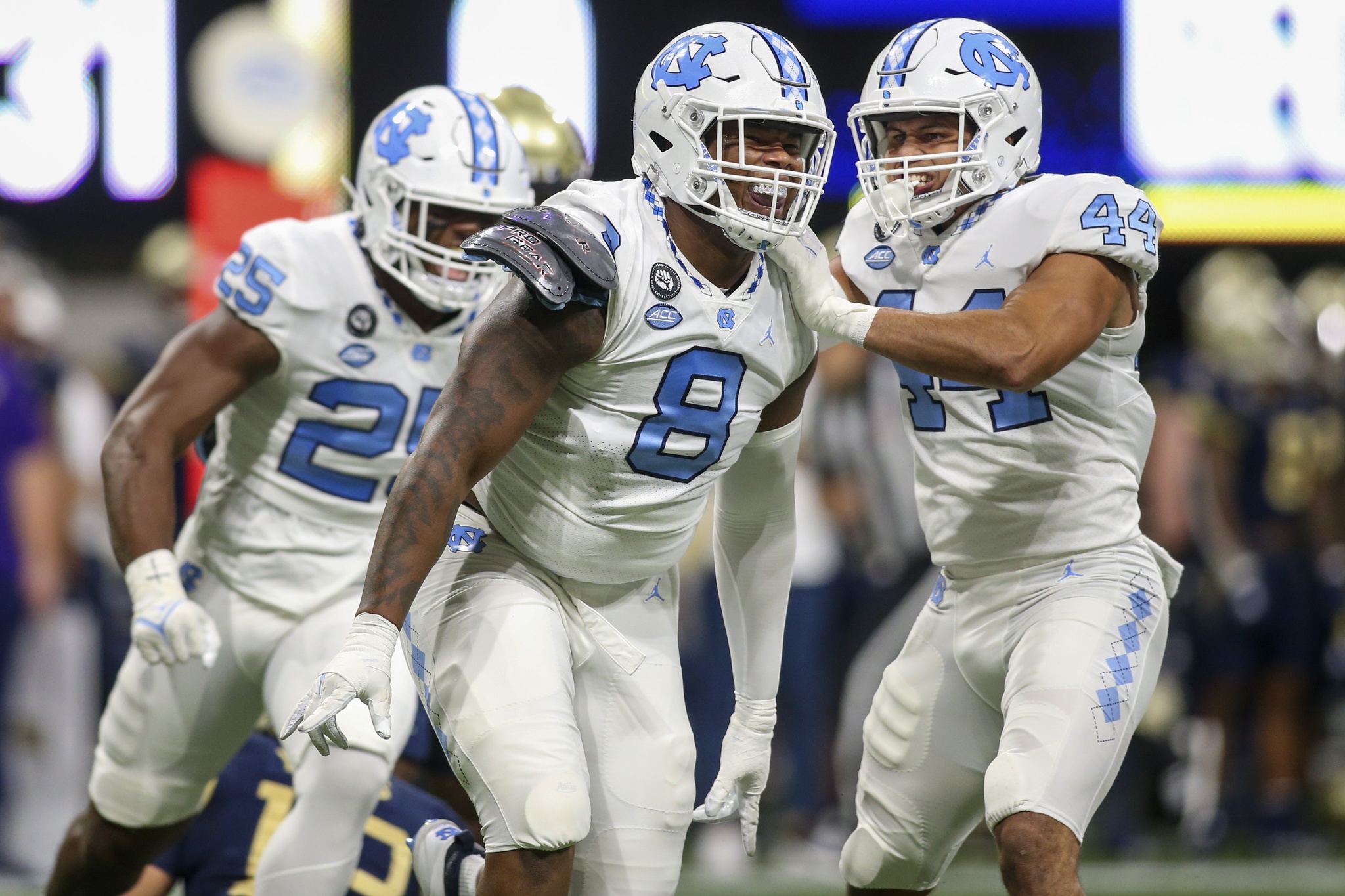 Murphy has also flashed disruptive capabilities before — notching four sacks and nine TFLs in 2022 — but he still needs to work on channeling his burst capacity and hand power more consistently.
Jahvaree Ritzie, DT
At the very least, North Carolina has a degree of depth within its interior defensive line rotation. Murphy is a quality returner, and Jahvaree Ritzie could also be in line for an uptick in production. At 6'4″, 295 pounds, Ritzie has intriguing size as a 3-tech with some overlapping versatility, and in 2022, he notched career-highs in tackles (48) and tackles for loss (2).
Tomari Fox, DT
The younger brother of New York Giants EDGE Tomon Fox, Tomari Fox could also have an NFL future. He flashed promise in 2020, putting up four sacks and six TFLs, but he missed the entire 2022 season due to a suspension when he was deemed to have taken a pre-workout supplement not approved by the NCAA. Now up to 6'3″, 300 pounds, and fresh off a year of rest, Fox could have an opportunity to return to the spotlight on his hands.
Kaimon Rucker, EDGE
Kaimon Rucker's projection to the NFL will be challenging. A JACK linebacker and pass-rush specialist, Rucker is listed at 6'1″, 260 pounds. He's notably undersized as a pass rusher and lacks the elite burst and proportional length that has allowed others to compensate. Nevertheless, Rucker's hot motor helps him stay in the game, and he's shown he can use violent hands to deconstruct blocks and extensions.
Desmond Evans, EDGE
Desmond Evans was a five-star recruit on some platforms during the 2020 cycle. Hopes were high for the Tar Heels' signee, but now, entering his senior season, the 6'6″, 275-pound Evans has just 5.5 career TFLs and one career sack to his name. He was lauded for his rare blend of athleticism, length, and bend coming out of high school. Many will be watching to see if he makes a jump toward his ultimate ceiling in 2023.
Cedric Gray, LB
Cedric Gray was one of the most productive linebackers in all of college football last year, putting up 145 tackles, 12 TFLs, a sack, two picks, six deflections, and three forced fumbles. At around 6'2″, 235 pounds, his size/athleticism combination is clearly a strength, and he's not afraid to surge forward, get his hands dirty, and encumber blocks to muck up run plays. He's still growing in both phases, but the early returns have been promising.
Power Echols, LB
Alongside Gray, Power Echols also proved to be a competent defender for North Carolina in 2022, with 103 tackles, five TFLs, two sacks, a pick, and two deflections on the year. Gray's athleticism is more translatable in coverage, but Echols is still an explosive closer who — true to his first name — can absolutely lay the wood as a tackler coming downhill. He's undersized but energetic and knows how to flow to the football.
Amari Gainer, LB
One of North Carolina's more intriguing additions via the transfer portal is Amari Gainer, formerly of Florida State. Gainer has, at times, gained traction as a potential NFL Draft prospect by virtue of his size and athleticism at 6'3″, 235 pounds, but he's still looking for things to click. In 2023, there are indications that North Carolina will weaponize his burst and bend more at the JACK linebacker spot, making Gainer a must-watch sleeper.
DeAndre Boykins, S
The North Carolina defense hasn't always been a factory for NFL talent in recent years, but there are several prospects on an upward trajectory. In the secondary, DeAndre Boykins is one such safety prospect. The 5'11", 205-pound defender put up 67 tackles, 5.5 tackles for loss, two sacks, a pick, and seven pass deflections in 2022 and will be on a mission to showcase his all-around playmaking ability and versatility even more in 2023.
Armani Chatman, S
In Armani Chatman, the Tar Heels got one of the more underrated intra-conference ACC transfers in the portal this cycle. The 6'0″, 200-pound veteran played for four seasons at Virginia Tech, piling up 89 tackles, four tackles for loss, a sack, two picks, and 20 pass deflections over that span. As one might expect from his experience, Chatman is a heady player with some role flexibility, and he's shown he can force incompletions.
Giovanni Biggers, S
Rounding out the Tar Heels' talented safety grouping is Giovanni Biggers, who's been a steady contributor since 2021. Biggers was one of North Carolina's leading tacklers in 2022, racking up 69 total takedowns. He's not the most effusive playmaker in coverage, but Biggers has carved out a role as a reliable tackler and support defender in the box at 6'1″, 200 pounds.
North Carolina Tar Heels Schedule
Week 1
BYE
Week 2
Sept. 2: vs. South Carolina Gamecocks
Week 3
Sept. 9: vs. Appalachian State Mountaineers
Week 4
Sept. 16: vs. Minnesota Golden Gophers
Week 5
Sept. 23: at Pittsburgh Panthers
Week 6
BYE
Week 7
Oct. 7: vs. Syracuse Orange
Week 8
Oct. 14: vs. Miami Hurricanes
Week 9
Oct. 21: vs. Virginia Cavaliers
Week 10
Oct. 28: at Georgia Tech Yellow Jackets
Week 11
Nov. 4: vs. Campbell Camels
Week 12
Nov. 11: vs. Duke Blue Devils
Week 13
Nov. 18: at Clemson Tigers
Week 14
Nov. 25: at NC State Wolfpack
Week 15
BYE
Listen to the PFN Scouting Podcast
Listen to the PFN Scouting Podcast! Click the embedded player below to listen, or you can find the PFN Scouting Podcast on iTunes, Spotify, and all major podcast platforms.  Be sure to subscribe and leave us a five-star review! Rather watch instead? Check out the PFN Scouting Podcast on our Scouting YouTube channel.