In this week's NFL Week 10 Recap, we break down all the news, notes, highlights, and storylines, including Tua and the Miami Dolphins, DeAndre Hopkins leading our Studs 'n Duds, our Week 10 awards, what Nick Chubb's return means for the Cleveland Browns, and more.
Editor's Note: Be sure to check back on Monday morning as we will be adding more segments and highlights from Mike Tanier in this week's NFL Week 10 Recap.
[sv slug=mocksim]
[su_note note_color="#f1f0f0″ text_color="#000000″ radius="3″ class="" id=""]NFL Week 10 Recap & Highlights: Drew Brees' injury, Russell Wilson's slump cloud the NFC playoff picture[/su_note]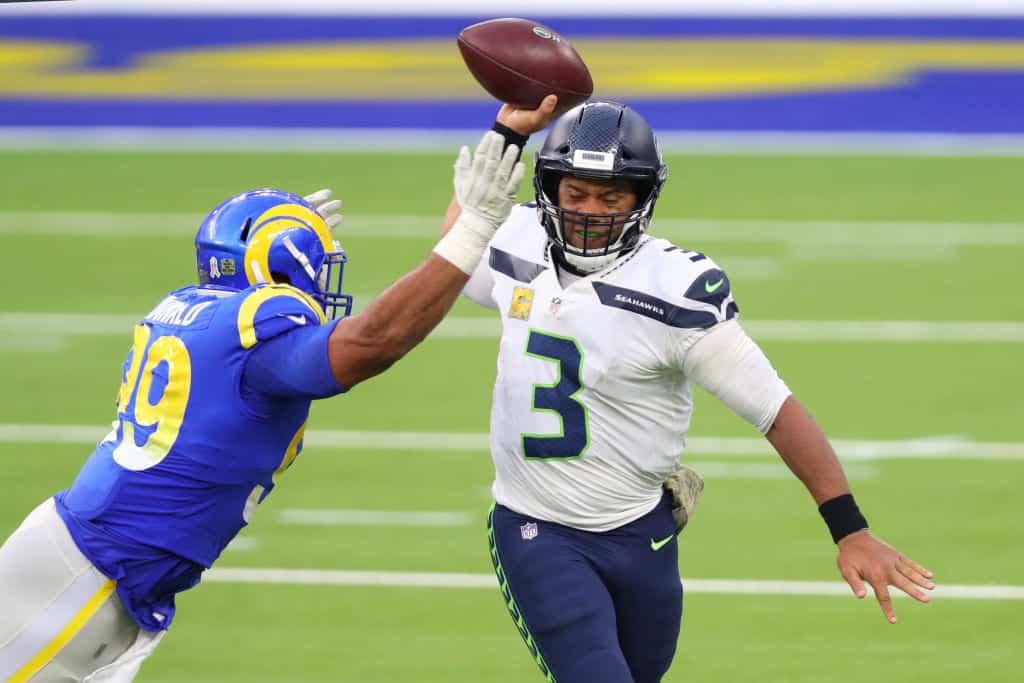 The Arizona Cardinals are surging after Sunday's Hail Mary miracle. Russell Wilson is slumping and taking the Seattle Seahawks with him. Drew Brees' rib injury could cause a crisis in New Orleans. The Green Bay Packers are maddeningly inconsistent. The Los Angeles Rams refuse to go away. And there's one less playoff berth than there should be because the winner of the Division of Regret and Failure is guaranteed a spot.
NFL Recap will do our best to sort out the NFC playoff picture entering Monday night after Week 10, but the following power rankings are highly provisional: We'll know a little more tomorrow and a lot more next week, but we won't know as much as we need to know until the season is over.
New Orleans Saints (7-2)
The Saints won five games with Teddy Bridgewater at quarterback last season. But the Jameis Winston-Taysom Hill platoon looked nothing like Bridgewater as the Saints held on for dear life after Brees' rib injury in Sunday's 27-13 victory over the San Francisco 49ers. Winston looked uncomfortable and imprecise executing a Brees-style game plan, and he was dangerously loosey-goosey with the football when trying to scramble.
Hill was Hill, taking over on 3rd-and-medium and getting stuffed because everyone knows he's not going to throw the ball in a critical situation at this point. The Saints needed a Malcolm Jenkins interception and some special teams miscues to beat what amounted to the 49ers scout team offense.
Related | NFL Injury Report Week 11 for Fantasy: Teddy Bridgewater, Drew Brees headline
The Saints face the Falcons twice and the Broncos over the next three weeks. They should be able to win all three games with Lasik Man and Fake Tebow at quarterback, though the Falcons have sobered up lately and the Broncos defense makes them a tough out. After that, they'll need a healthy Brees. By the time you read this, the MRI results on Brees' ribs may be back, and we will know whether or not the Saints will return in time.
Tampa Bay Buccaneers (7-3)
The Buccaneers might be the NFC's best team, but they face the conference's worst tiebreaker dilemma.
Brady's Heroes put their Week 9 blowout loss to the Saints in the rearview with Sunday's 46-23 romp over the Carolina Panthers. The Buccaneers overcame a sluggish start to overwhelm the Panthers in all three phases. Ronald Jones, Mike Evans, and others made huge plays that allowed Tom Brady to operate like a desk general while Jason Pierre-Paul and others shut down Bridgewater in the second half and the special teams blew up a fake punt. No NFC team is as complete or deep as the Buccaneers.
And now the bad news: A sweep at the hands of the Saints traps the Buccaneers firmly in the Wild Card field unless the Saints fall off the race because of Brees' injury. Furthermore, their blowout of the Packers was the Buccaneers' only victory over a top opponent this season, and they face the Los Angeles Rams and Kansas City Chiefs over the next two weeks, a pair of teams that can do many of the things the Saints can do, some of them better.
The December schedule is soft — for some reason, everyone in the league seems to be playing the Atlanta Falcons twice at the end of the season — and a 12-4 final record seems very possible. But 12-4 could mean second place and a tough playoff road trip where anything can happen.
Green Bay Packers (7-2)
Chalk Sunday's flat performance and narrow 24-20 escape from the Jacksonville Jaguars up to the high winds and the unfamiliar, easy-to-look-past opponent. Write off the early-game three-and-outs, Davante Adams' fumble, Keelan Cole's punt return touchdown, and other blunders as isolated incidents. Scoff at yet another weak effort by the run defense as if it's no big deal, even though it's not like the Packers defense had to respect Jake Luton's arm. The fact remains that Sunday's tight victory was the Packers' third substandard performance in five weeks, and a decent opponent would have made them pay for it. 
Watch NFL Week 10 Highlight | Brutal Aaron Rodgers interception
The upcoming Packers schedule is full of middleweights like the Chicago Bears (twice), Indianapolis Colts, Philadelphia Eagles (more like a flyweight that sometimes beats up Depression-era hobos under railroad trestles), and the Tennessee Titans. They'll inevitably stumble a few times down the stretch — Derrick Henry will probably run for three million yards against their defense — but a division title appears safe, and a first-round bye looks likely. 
That said, the 2020 Packers look too much like other Packers teams which fell apart in the playoffs to get excited about them right now.
Seattle Seahawks (6-3)
Russell Wilson has committed seven turnovers in the last two games. Jamal Adams has mixed huge plays (3.5 sacks, a fumble recovery) with huge mistakes (coverage lapses, penalties) in the two games since his return. The Seahawks offense has tailed off just as the defense has started to look respectable, and the net result has been three losses in the last four games after a 5-0 start built on cliffhanger victories against a lot of second-tier competition.
The 2020 Seahawks look like a very slight variation on the 2019 Seahawks, but a late-season slate of games against three teams from the Division of Misery and Despair, plus the New York Jets, should allow them to coast into the playoffs. 
This is the part where Recap would write a sentence about no one wanting to face Wilson in the playoffs, except that no one wants to face Brees, Rodgers, or Brady either, and they are probably not too thrilled about facing Kyler Murray. 
Arizona Cardinals (6-3)
The Cardinals are in first place in the NFC West thanks to their 2-0 divisional record. They also now occupy the Seahawks' traditional place in the NFC ecosystem: the highwire-act team with the unpredictable quarterback, roller coaster offense, and defense that isn't as great as its big names would lead you to believe.
Watch NFL Week 10 Highlight | Kyler Murray doing Kyler Murray things
It's easy to get hyped up about the Cardinals after DeAndre Hopkins' Red Sea touchdown and last-second 32-30 win on Sunday. It's also easy to forget that we would be talking about Stefon Diggs' game-winning touchdown if any Buffalo Bills defensive back could jump half an inch higher. And the Cardinals' upcoming schedule is tough: Rams twice, Seahawks, the resurgent Patriots in Foxboro, the still-feisty 49ers and Eagles. It's not hard to find three losses on the late schedule for a team that lost to the Carolina Panthers and Detroit Lions earlier in the season.
The Cardinals have the look of a one-and-done playoff team. That's fine because unlike the Saints, Buccaneers, and some other NFC playoff hopefuls (we're looking at you, Eagles), they are laying an impressive groundwork for 2021.
Los Angeles Rams (6-3)
The Rams are flying under the radar because their early-season schedule was Clemson-level easy, they suffered losses to the first quality teams they faced, and there's no new stars or interesting personalities to talk about, making it easy to write them up as two-year-old freezer-burned Super Bowl leftovers.
But a 6-1 NFC record and recent wins over the Bears and Seahawks mean that we need to take the Rams seriously. They're steadier and more balanced than the Cardinals and Seahawks, exceptionally well coached, and have assets (namely Aaron Donald) that make them dangerous to the Buccaneers, whom they face next week.
Watch NFL Week 10 Highlight | Jared Goff connecting with Tyler Higbee
As mentioned above, the Rams face the Cardinals twice after they visit Tampa Bay, and the Jets are the only real gimmie left on the upcoming schedule. Recap thinks the Rams are destined to finish third in the NFC West and may need their head-to-head tiebreaker to take a Wild Card spot away from the Bears. But with so many hot-and-cold teams in both the division and conference, it would be foolish to write off the slow-and-steady team with lots of big-game experience.
Chicago Bears (5-4)
They play on Monday night, which is a perfect excuse to not have to write about them or (ugh) break down their tape again.
[su_note note_color="#f1f0f0″ text_color="#000000″ radius="3″ class="" id=""]NFL Week 10 Recap & Highlights: Tua Tagovailoa and the Dolphins have found a formula for success[/su_note]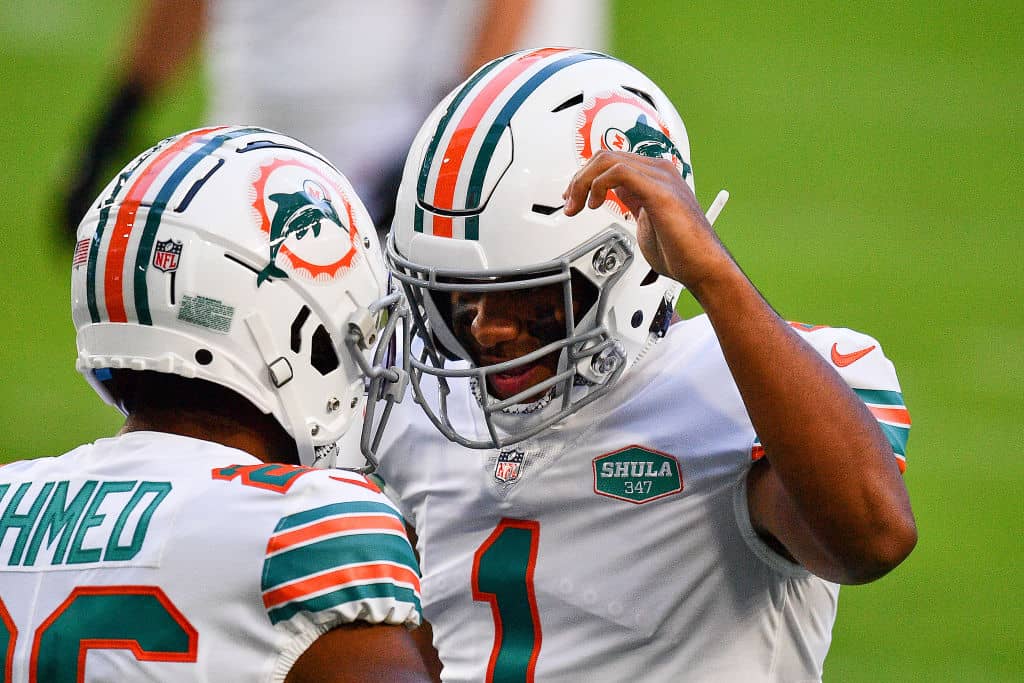 Maybe you have Tua Tagovailoa Fever. Maybe you maintain a healthy skepticism about a rookie quarterback who has looked a little more like a game manager than the second coming of Dan Marino in his first three starts. But there's no denying that the Miami Dolphins have developed a new identity during their five-game winning streak, and that can only benefit Tua as his on-the-job training continues.
NFL Recap breaks down the 29-21 Dolphins victory over the Los Angeles Chargers in Week 10, examines the secrets to the Dolphins' sudden success, and determines just how far Tua can take the Dolphins in 2020.
NFL Week 10 Recap and Highlights: Miami Dolphins vs. Los Angeles Chargers
Legendary big-play machine Andrew Van Ginkel blocked a punt after the opening Chargers' possession to give the Dolphins the ball on the one-yard line, where household-name Salvon Ahmed punched in a short touchdown.
A long Dolphins drive after the second Chargers series nearly ended in a field goal, but Brian Flores took points off the board after a Chargers penalty, setting up a short Tagovailoa touchdown pass to Jakeem Grant to give the Dolphins a 14-0 lead.
Watch NFL Week 10 Highlight | Tua throws touchdown to Jakeem Grant
The Chargers fought their way back into the game on Justin Herbert rushing and passing touchdowns, but Xavien Howard's interception at the start of the fourth quarter gave the Dolphins offense another short field, and Tua capitalized with a two-yard touchdown toss to Durham Smythe to give the Dolphins a 26-14 lead. The Dolphins defense then clamped down on the Chargers offense, before giving up a garbage-time touchdown late in the fourth quarter.
What Sunday's win means for Tagovailoa and the Dolphins
There's a real danger of attributing magical qualities to a rookie quarterback after a few victories while overlooking his fumbles, misfires, and near-interceptions, and giving him too much credit for things that his teammates accomplished.
Recap isn't here to gush about how Tagovailoa is guaranteed to win four Super Bowls and six MVP awards based on what we've seen through 77 pass attempts. Tua has been fine: a few big plays, very few negative plays, some flashes of the unique talent we saw at the University of Alabama, no red flags. Anyone who claims to be seeing much more is exaggerating to get attention.
It's the whole Dolphins team that's so impressive right now, not (just) their rookie quarterback.
The Dolphins defense has intercepted six passes and forced seven fumbles (recovering four) during their five-game winning streak. The Dolphins special teams have been outstanding: Sunday's blocked punt, Grant's punt return touchdown against the Los Angeles Rams in Week 8, Jason Sanders' 20-of-21 record on field goals.
Watch NFL Week 10 Highlight | Miami blocks a punt vs. Chargers to set up a touchdown
Plus, with their backfield ravaged by injuries and wide receiver Preston Williams out for the year, the Dolphins are getting production from guys like Ahmed, Smythe, Grant, Patrick Laird, and Mack Hollins; that's a sign that Flores' program is developing the whole roster and preparing bit-part players to handle significant roles each week.
The Dolphins have acquired an identity this season as a team with a turnover-happy defense and high-precision special teams that find a way on offense: think vintage Baltimore Ravens, but with brighter uniforms. They've also created a winning formula that doesn't ask much of Tagovailoa.
Turnovers, field goals, and short drives won't make them a Super Bowl team this year, but the Dolphins should reach the playoffs while putting Tua in positions where he won't be expected to lead comebacks or force lots of passes in unfavorable down-and-distance situations until he gains more experience.
And that is how you develop a quarterback of the future.
What's next for Tagovailoa and the Dolphins?
The Dolphins could be 9-3 after a three-game stretch which includes the Denver Broncos, New York Jets, and Cincinnati Bengals. The Tua Hype Train will be barreling through the countryside at about 150 mph on a maglev track by then, whether you choose to climb aboard or not.
[su_note note_color="#f1f0f0″ text_color="#000000″ radius="3″ class="" id=""]NFL Week 10 Recap & Highlights: DeAndre Hopkins, Drew Lock headline Studs 'n' Duds[/su_note]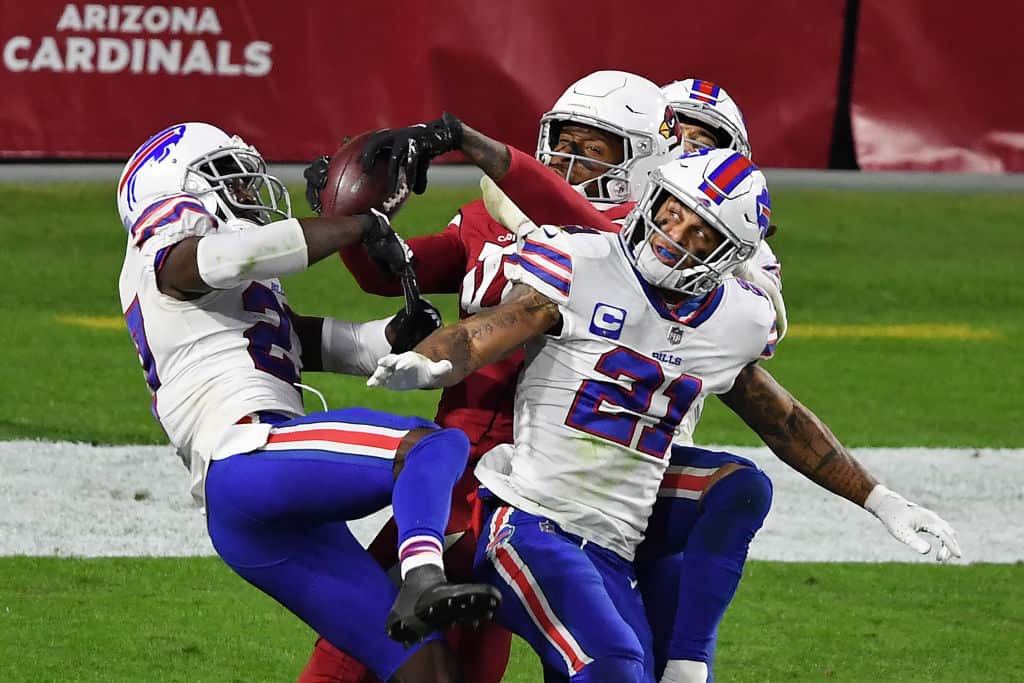 Drew Lock had another rough game. Ronald Jones made life easier for Tom Brady. Andrew Van Ginkel is emerging as a leader of the Miami Dolphins all-new No Name Defense (and special teams). And DeAndre Hopkins made a catch we may be talking about for years to come. It's all here in NFL Recap's Week 10 Studs 'n' Duds.
Stud: DeAndre Hopkins, WR, Arizona Cardinals
Hopkins' 43-yard last-second highlight touchdown catch, in which he leaped and plucked a Hail Mary away from three Buffalo Bills defenders (for posterity's sake: Tre'Davious White, Micah Hyde and Jordan Poyer), was the sort of unforgettable play that changes the course of a franchise's history and has the potential to mark the beginning of an NFL dynasty.
Watch NFL Week 10 Highlight | DeAndre Hopkins hauls in a Hail Mary to win the game for the Cardinals
It wasn't the first Kyler Murray-to-Nuk highlight, and it is far from the last, but it's hard to imagine what a play that tops it would look like.
Dud: Drew Lock, QB, Denver Broncos
Lock threw three interceptions on Sunday, air-mailing the football over his receiver's head on the first and telegraphing passes into tight middle-of-the-field coverage on the other two. When he wasn't turning the ball over, he led four three-and-out drives before padding his stats with a late fourth-quarter touchdown drive when the 37-12 Broncos loss to the Las Vegas Raiders was out of hand.
Watch NFL Week 10 Highlight | Raiders intercept Drew Lock to seal the victory
Lock has thrown six touchdowns and nine interceptions in the five games since his return from a shoulder injury. It's time for the Broncos to stop patiently waiting for him to develop into a capable starter and start doing something they are all-too accustomed to doing: planning and searching for next year's quarterback solution.
Stud: Ronald Jones, RB, Tampa Bay Buccaneers
Jones' 98-yard touchdown run broke the 46-23 Bucs win over the Carolina Panthers wide open after the Bucs spent the first half playing down to their fiesty opponent.
Jones finished the game with 23 carries for 192 yards and one touchdown. To put that in perspective: Jones, a third-year veteran, increased his career rushing total by 14.7% on Sunday. He's come a long way since his rookie season when he couldn't even crack 2.0 yards per carry.
Dud: Doug Pederson, Head Coach, Philadelphia Eagles
The Eagles should have been well-rested after their bye, healthier than ever, and ready to finally reach .500 (hooray!) to take a commanding lead in the Division of Sorrow and Shame on Sunday. Instead, they looked totally unprepared in the first half of their 27-17 loss to the New York Giants.
Pederson made lots of head-scratching decisions throughout the game: giving ever-injured, often-disgruntled wide receiver Alshon Jeffrey snaps instead of breakout star Travis Fulgham; abandoning the run when it was the only thing working (but calling a 3rd-and-18 draw play while trailing in the fourth quarter), and attempting a two-point conversion when an extra point would cut the Giants lead to a field goal.
Pederson is trying to scratch out a 7-8-1 record and a playoff berth with a veteran-heavy team instead of auditioning more youngsters so he can position the Eagles to cut some payroll and rebuild quickly in 2021. He's likely to fall short of both objectives if he's not careful.
Stud: D'Andre Smith, RB, Detroit Lions
Swift hurdled Landon Collins on an early-game run that will be on some NFL highlight reels. He steamrolled Jimmy Moreland on his way into the end zone. He powered his way for first downs when the Lions thought they were running out the clock in the fourth quarter. Swift carried 16 times for 81 yards and caught five passes for 68 yards and one touchdown in a 30-27 Lions win over the Washington Football Team that was far more difficult than it should have been.
Watch NFL Week 10 Highlight | D'Andre Swift barrels his way into the end zone
Has Lions coach Matt Patricia finally figured out that Swift deserves far more carries than Adrian Peterson (who rushed just four times on Sunday)? Perhaps. But Peterson will keep getting carries until Peterson realizes that he shouldn't be getting the ball anymore. That could take a while.
Thud: Andrew Whitworth, Offensive Tackle, Los Angeles Rams
Whitworth, a 15-year pro and likely Hall of Famer, was carted off the field in the second quarter of the Rams victory over the Seahawks with what looked like a serious knee injury. Joseph Noteboom played well in relief, but Whitworth is an indispensable member of an offensive line that has played outstanding football all season to keep the Rams in the thick of the Super Bowl chase. Let's hope we haven't seen Whitworth on the field for the last time.
Stud: Chase Claypool, WR, Pittsburgh Steelers
Claypool caught three touchdown passes in the Steelers rout of the Cincinnati Bengals. It was Claypool's second three-plus touchdown game of the year. Never forget that some experts thought Claypool should switch to tight end before the scouting combine because they didn't think (chuckle) he was fast.
And now for the NFL Recap Week 10 Awards and Highlights …
Defender of the Week
Leonard Floyd sacked Russell Wilson three times, twice within the course of three plays on one third-quarter series, and scooped up a bad snap in the fourth quarter of the 23-16 Los Angeles Rams win over the Seattle Seahawks.
Offensive Line of the Week
Since the Cleveland Browns got their own segment in this week's NFL Recap, let's give this award to the Las Vegas Raiders patched-together offensive line of Brandon Parker, Denzelle Good, Rodney Hudson, Gabe Jackson, and Sam Young for dominating the Denver Broncos.
Josh Jacobs and Devontae Booker provided NFL highlights while combining for 193 rushing yards and four touchdowns, Derek Carr was not sacked and rarely pressured, and the Raiders had possession of the ball for 36 minutes and 38 seconds, though Drew Lock's ineffectiveness contributed heavily to that last figure. Not bad for a unit loaded with backups.
Special Teamer of the Week
Andrew Van Ginkel is a big-play machine! (Now there's a sentence we never imagined typing). Van Ginkel scooped and scored in the Miami Dolphins victory two weeks ago. On Sunday in Week 10, he appeared on the NFL highlight reels again after blocking a first-quarter punt that gave the Dolphins the ball on the one-yard line, setting up a Salvon Ahmed touchdown.
The Dolphins aren't exactly loaded with household names. But we'd better get used to some of these guys because they are going to be sticking around for a while.
Best Supporting Actor in Someone Else's Highlight
Give JK Scott of the Green Bay Packers some credit: most punters/kickers just give up and jog to a stop or flick the dive stick when they realize they are the last defender between the return man and a touchdown. Scott at least tried to make a play on Jaguars punt returner Keelan Cole after he knifed through the rest of the Packers coverage unit.
Watch NFL Week 10 Highlight | Keelan Cole's start-stop juke
But when Cole executed a simple start-stop juke, Scott's legs immediately tied themselves into a sheepshank knot, and his body lolled backward like someone briefly losing consciousness while climbing a steep staircase. Scott looked silly, but not as silly as the 10 teammates who barely appear in the frame for Cole's touchdown will feel when they are called out in a team meeting on Monday.
[su_note note_color="#f1f0f0″ text_color="#000000″ radius="3″ class="" id=""]NFL Week 10 Recap & Highlights: Nick Chubb's return has the Browns looking like a playoff team[/su_note]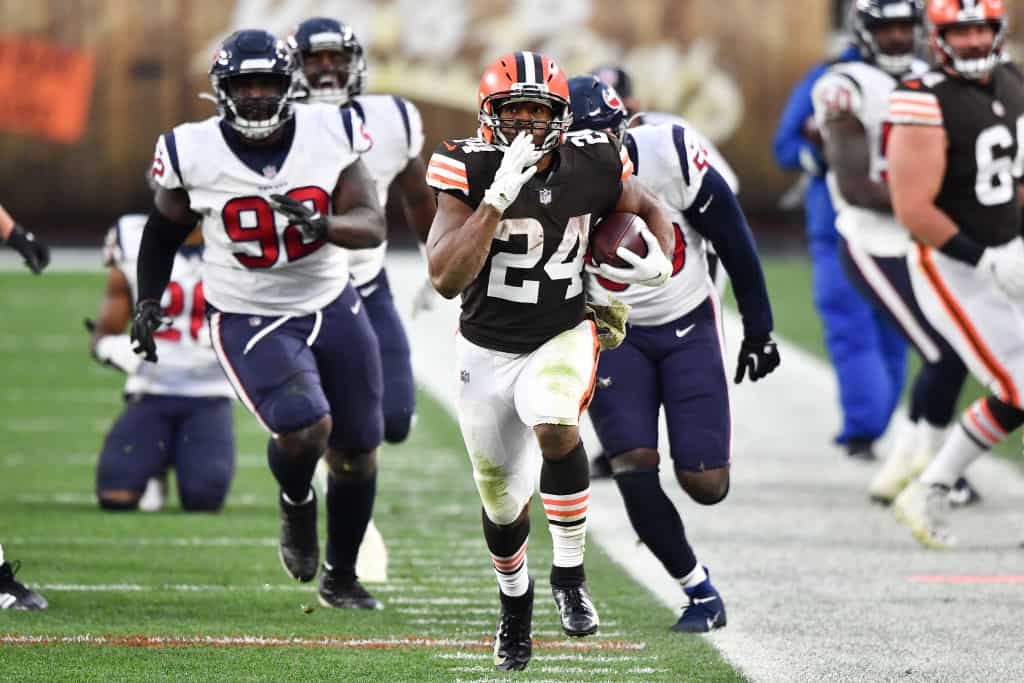 Nick Chubb's decision to run out of bounds on purpose instead of scoring a touchdown in the final moments of the 10-7 Cleveland Browns victory over the Houston Texans was either the smartest dumb play or the dumbest smart play of the 2020 season.
But forget about whether or not Chubb made the right decision by going out of bounds (he didn't) or what havoc his non-touchdown caused in fantasy leagues (those were the six points you needed to beat your doofus brother-in-law): Chubb's return, coupled with the return of guard Wyatt Teller, has the Browns poised to reach the playoffs for the first time since 2002. NFL Recap has the skinny on whether Chubb and Teller returning can transform the Factory of Sadness into the Factory of Cautious Optimism.
Cleveland Browns vs. Houston Texans Recap
Howling winds and sideways rain-delayed kickoff by about half an hour as both teams ran back to their locker rooms after the opening ceremonies. Both offenses then played like they really wanted to stay inside for a few more hours.
Chubb and Kareem Hunt did most of the grunt work as the Browns drove for an early field goal. But drive after drive stalled following that as the Browns got almost nothing from Baker Mayfield and their passing game. The Texans, being the Texans, just waited around all afternoon for Deshaun Watson to win the game single-handedly.
Watch NFL Week 10 Highlight | Deshaun Watson makes an absurd throw
When Chubb ran untouched for a 9-yard touchdown early in the fourth quarter, the Browns' 10-0 lead looked insurmountable. But Watson led a 90-yard touchdown drive capped by a Pharaoh Brown touchdown late in the fourth quarter. Hunt then carried five straight times and picked up two first downs to force the Texans to burn their final timeout before giving way to Chubb, who only needed to convert on third-and-3 to ice a victory.
Chubb swept left and appeared to be bottled up in the backfield, but he broke free and raced up the sideline for what appeared to be a 60-yard touchdown to punctuate the win. But he stepped out of bounds on purpose at the 1-yard line so the Browns could kill the clock to prevent the Texans from getting the ball back. Even though the touchdown would have given the Browns a two-score lead. And falling to the ground inbounds would have made much more sense than going out of bounds. And … never mind.
Watch NFL Week 10 Highlight | Nick Chubb races up the sideline and runs out of bounds
After coming off injured reserve because of a knee injury, Chubb finished with 19 carries for 126 yards and a touchdown. Hunt added 19 carries for 104 yards. Teller, who has been out for weeks with a strained calf, could be seen blasting open holes for both backs on their best runs. And the Browns upped their record to 6-3 (third place in the AFC North), putting them in position for just their second playoff berth and third winning record of this century.
What Nick Chubb's return means for the Browns
Browns fans can be forgiven for not wanting to plan any playoff parties (even virtual ones) just yet. The Browns reached 6-3 and then 7-4 back in 2014, when Brian Hoyer was the starting quarterback, Johnny Manziel the backup, Mike Pettine the head coach, and Kyle Shanahan the offensive coordinator. But everything went kablooie down the stretch when the Browns lost five straight games for reasons that should be obvious based on all of the names NFL Recap just mentioned except for Shanahan.
That should not happen this season. With an upcoming schedule that features the Philadelphia Eagles, Jacksonville Jaguars, New York Jets, and New York Giants, the Browns can win 10 games without beating a truly challenging opponent, just by following a defense and ball-control formula.
And with Teller upgrading the offensive line while Chubb and Hunt provide mix-and-match opportunities, the Browns should continue to beat the lesser competition while asking little of Mayfield, except for some play-action rollout completions. At head coach Kevin Stefanski's last stop, that was called the Kirk Cousins Formula for Success, and it generally was good enough for a wild card berth and a road playoff game.
The Browns have much more work to do before they become Super Bowl competitors. They have a tough decision to make after this season about Mayfield (who gets a partial pass because of the conditions this week). But at least they are heading in the right direction and creating some success worth building upon. In Cleveland, that's cause for a parade.