The NFL top 100 player rankings heading into the season are always a controversial list. Each fandom believes 5-10 of their players deserve a spot, but there aren't 150+ spots to give out.
It is always bittersweet to discuss the top players because so many great talents are left off the list. But when the list cuts off at D.J. Reader, and we start thinking about snubs, it puts into perspective just how much talent exists in professional football.
Note: Positional value was NOT a part of the ranking process. We are not discussing value but talent relative to the player's position and his standing amongst peers.
Pro Football Network's Top 100 Players of the 2023 NFL Season
100) D.J. Reader, DT, Cincinnati Bengals
D.J. Reader missed a chunk of the 2022 NFL season, but that isn't enough to bump him from the top 100. Reader has never splashed with high sack totals – he's made a career collapsing the pocket while also being one of the most consistent run-defending defensive tackles in the NFL. No. 98 makes Logan Wilson and Germaine Pratt's jobs easier. And because Reader's got enough pass-rushing juice to emit danger, he helps the edge rushers in their pursuit of the QB by occupying multiple defenders.
99) Saquon Barkley, RB, New York Giants
The NFL and many of its fans seem to agree that running backs aren't necessarily difference-making enough to pursue long-term, high-dollar contracts. Barkley is known for his unparalleled elusiveness at 230 pounds and the explosiveness he possesses in a straight line when he opens up his stride. Barkley has always been a bit boom or bust in his rushing style, which is partially why he sits in the middle of the pack in yards per carry while being second in 15+ yard runs.
98) Charvarius Ward, CB, San Francisco 49ers
Although it's not a hard and fast rule, it's probably easier for most cornerbacks to play in a DeMeco Ryans defense than a Steve Spagnuolo defense. Ryans' has a bit of a K.I.S.S. nature with how he calls coverages, and his Cover 3 base is a good fit for many CBs. Charvarius Ward is still a bit prone to penalties, but he put together his second consecutive season playing consistently in a different environment. That versatility and overall development from the formerly undrafted player has been a delight to witness.
97) Penei Sewell, OT, Detroit Lions
Many of us rightfully scoffed when the Detroit Lions decided they were going to throw Penei Sewell on the right side of the offensive line. But in the end, Sewell must have been willing to make the move, because after a short development curve, he's right back to being an incredibly dominant bookend blocker. He provides physical dominance on the field with his massive frame and impressive athleticism, and since making the move, he has steadily improved his hands and feet playing on the other side.
96) Talanoa Hufanga, S, San Francisco 49ers
Talanoa Hufanga's 2023 NFL season will be fascinating to keep track of. It certainly wasn't a fluke seeing Hufanga flourish in the role he played in Ryans' defense, but it will be interesting to see how things change with Steve Wilks calling the defensive plays. Hufanga is a playmaker on the back end, but it will be a different challenge for him should the 49ers turn a bit more man-heavy in coverage.
95) Christian Wilkins, DT, Miami Dolphins
Few players have more fun or show more personality on the football field than Christian Wilkins. The 300-pound defensive tackle is a menace to society in the defensive backfield, particularly against the run.
He led the league in defensive stops a season ago among defensive tackles, meaning he made plays that matter around the line of scrimmage more often than anyone. But when we discuss linebackers, we usually talk about their sideline-to-sideline ability. Wilkins is a sideline-to-sideline defensive tackle, making plays barrelling toward the sideline.
94) DK Metcalf, WR, Seattle Seahawks
DK Metcalf is so close. If it weren't for a few head-titling sore spots in his game, he'd look similar to a modern version of Calvin Johnson on the field. His three-cone drill at the NFL Combine gets a ton of run, but he's a much better route runner than that poor agility drill would suggest.
Although he has two double-digit TD seasons, where he may be most underwhelming is in contested situations and above the rim, which takes away from his red-zone value. Overall, Metcalf is a big, physical possession receiver with outrageous explosiveness that complements Tyler Lockett incredibly well.
93) Wyatt Teller, G, Cleveland Browns
The Cleveland Browns' offensive line is a bunch of bullies. Bill Callahan is one of the best in the business, and Cleveland's ability to move the ball on the ground in zone and gap concepts makes them versatile and dangerous. Wyatt Teller is a mauler on the interior, but he's not just a menacing run blocker, either. While his intermittent gaffes in pass protection keep him from improving upon or maintaining his top-60 status from a season ago, he deserved recognition for three straight seasons of impressive interior line play.
92) Terry McLaurin, WR, Washington Commanders
If there was a ranking of the most underrated player at each position, Terry McLaurin might win amongst WRs. The speedy Ohio State receiver has never had good quarterback play to feed off, and he's consistently – and quite literally – gone out of his way to make plays nobody has any business making on bad balls. McLaurin is an intermediate route-running savant, and that shows in his high aDOT and yards-per-catch averages. But he has also consistently been outstanding in contested situations, making him a very trustworthy target.
91) Jamel Dean, CB, Tampa Bay Buccaneers
Jamel Dean was one of the 10 best cornerbacks in the NFL a season ago. He also had a better individual campaign than his running mate Carlton Davis. But the top 100 is about the entire picture, and we need to see Dean do it again in 2023. Last season wasn't out of nowhere. Dean's talent has been evident since entering the league, but he came into his own last year in Todd Bowles's zone-heavy MOFC defense. His 6-foot-1, 200-pound frame also makes him one of the best tacklers in the game at his position.
90) DeAndre Hopkins, WR, Tennessee Titans
The Titans might be putting a Band Aid over a bullet hole with Hopkins, considering the offensive line they'll be fielding, but it at least makes Tennessee more interesting than they were before the move. Hopkins was once almost unanimously viewed as the best receiver in the game, but others have passed by the 31-year-old pass catcher. Injuries and suspensions have zapped his production overall, but his per-game numbers from 2022 looked similar to his 2020 season with the Cardinals.
89) Marlon Humphrey, CB, Baltimore Ravens
Cornerback might have the highest variance of any position in the NFL. The top of the cornerback rankings is often a revolving door because of the difficulty of the position. Marlon Humphrey has been one of the most consistent defensive backs in the NFL since 2017.
His 2019 and 2020 seasons were among the best in the entire league, and he was doing it in a scheme that asked him to do every hard job. That changed with a change in defensive philosophy, but Humphrey showed how versatile his skill set is in 2022 with Mike Macdonald calling the defensive plays.
88) Von Miller, EDGE, Buffalo Bills
When Von Miller was healthy, he was on a torrent pace. The veteran pass rusher with a ghost move that would make Casper jealous had eight sacks in just 11 games a season ago, all while remaining one of the best run defenders in the NFL. But the 33-year-old is now coming off a second torn ACL after missing all of 2020 with a broken ankle. While still incredibly productive, durability has dropped Miller down from 48 to 88 in PFN's Top 100.
87) Christian Darrisaw, OT, Minnesota Vikings
It was only ever a matter of time for Christian Darrisaw. Penei Sewell and Rashawn Slater vacuumed up most of the buzz surrounding the 2021 OL class, but Darrisaw had that same kind of ability coming from Virginia Tech. Darrisaw played well but was very obviously a rookie in 2021. He was excellent at protecting Kirk Cousins a season ago, and he's one of the most dominant run blockers in the NFL at the position.
86) Za'Darius Smith, EDGE, Cleveland Browns
Imagining Za'Darius Smith and Myles Garrett together on the same defensive line should horrify offensive coordinators. Smith has played part in a few particularly potent pass-rushing pairs in his time as a pro, but Garrett has not necessarily shared that luxury.
Smith's technical prowess and power in his hands should take some of the pressure off of Garrett while also potentially snatching some production from the All-Pro. Smith isn't one of the smaller, bendier rushers on the list. However, he boasts the ability to consistently win inside, through, or outside of offensive linemen because he is such a well-rounded threat.
85) Kenny Clark, DT, Green Bay Packers
The entire Packers defense struggled in 2022. Kenny Clark had more sacks in 2022 than 2021, but he didn't have the same overall impact we've come to expect from the nose tackle.
But as one of the league's few true noses that can actually be a pass-rushing threat, Clark deserves his rightful spot on the list. His club-and-rip move still devastates blockers, especially when he's crossing their face to bend around the arc.
84) CeeDee Lamb, WR, Dallas Cowboys
Few players have the ability to improve their stock in 2023 as much as CeeDee Lamb. His route-running prowess and post-catch ability make him one of the most dangerous receivers in the NFL. The problem with Lamb has been consistency.
Giving up on routes, running the wrong ones, and suffering a few concentration drops hurt what could have been an insanely productive 2022 despite the lack of help around him in the passing game. Brandin Cooks could open things up, and if Lamb can come out in 2023 the way he finished in 2022, he'll be one of the most productive pass catchers in the NFL.
83) Brian Burns, EDGE, Carolina Panthers
Being a well-rounded defender who can rush the passer and defend the run will always be worth more than a one-trick pony. But if that one-trick pony has arguably the best bend in the NFL, along with a plethora of pass-rush moves that make him one of the most dangerous rushers in the league, well, that pony is worth quite a lot.
It's a passing league, and Brian Burns does exactly that. He'll go from being a defensive end to an outside linebacker in Ejiro Evero's defense. However, that should only help Burns, who was always a better fit in that role as an athletic and undersized defensive end.
82) Josh Jacobs, RB, Las Vegas Raiders
Josh McDaniels is a wizard. He may or may not be worth his salt as a head coach, but nobody can question his ability to carefully craft a running game in such a way that maximizes the talent in the backfield. He did it with retreads for years in New England and finally got to show off with Josh Jacobs.
Before McDaniels, Jacobs was a volume rusher who scored at a good clip but didn't show off the elusiveness or tackle-breaking ability to be consistently efficient. That changed in 2022, resulting in Jacobs' best season as a pro.
81) Micah Hyde, S, Buffalo Bills
Flip a coin for who you prefer on the back end of Buffalo's defense. Micah Hyde and Jordan Poyer are practically a single being split into two. They're the married couple of the NFL, finishing each other's sentences and bickering over supper. Together, they're easily the best safety duo in the NFL and have been for some time now. Poyer is slotted ahead of Hyde heading into 2023 because he was on the field more a season ago.
80) Jordan Poyer, S, Buffalo Bills
The advantage Poyer and Hyde give the Buffalo secondary is practically unfathomable. They both have outstanding range and are entirely interchangeable. Each can play on the back end or come forward into the box as a run defender or robber. Their versatility allows the defense to be multiple between open and closed coverages.
79) Carlton Davis, CB, Tampa Bay Buccaneers
We cannot allow the Carlton Davis erasure to go unpunished. While Dean certainly stole the show a bit a season ago, Davis has been the better player throughout the two players' careers, and he didn't have a bad season in 2022. Like Dean, he's an outstanding fit for Bowles' defense, although Davis is a bit more fluid in the way he processes information in front of him. On many occasions, the CB will run the route for opposing WRs.
78) A.J. Terrell, CB, Atlanta Falcons
A.J. Terrell didn't have the same year in 2022 that he had in 2021, and he's dropped over 50 spots in the top 100 because of it. His season proved how unforgiving the cornerback position can be, particularly on a roster with little help rushing the passer. But the addition of Ryan Nielsen could have Terrell looking like prime Marshon Lattimore, who didn't crack the list because he missed so much time a season ago, and others played well enough to deserve credit for their efforts.
77) Tyler Lockett, WR, Seattle Seahawks
A graphic floating around this offseason asked who the best No. 2 receivers were in the NFL, and the graphic had Tyler Lockett on it. And while he doesn't command the same attention as Metcalf does, he's both more efficient and more explosive in his targets. He posts a higher catch rate, yards per target, yards per reception, and yards per route run nearly every year.
Lockett is the best tracker of downfield passes in the NFL. A QB can lay the ball up, and Lockett will find a way to pace himself while tracking to separate late. And there's no reason to believe his efficiency would drop at all if featured the same way Metcalf is.
76) Roquan Smith, LB, Baltimore Ravens
The linebacker position is somewhat akin to the RB position in its value and dependency on defense. If your team has a weak front seven, it's incredibly difficult to be a productive linebacker near the line of scrimmage. We saw it late in Roquan Smith's tenure with Chicago, and we saw those issues fade away into the distance as Smith moved to Baltimore. He's a heat-seeking missile with playmaking chops and the athleticism to thrive in coverage.
75) Budda Baker, S, Arizona Cardinals
Budda Baker is in a tough spot. The Arizona Cardinals' defensive depth chart is unfortunate, and there may not be a word strong enough to describe the state of the secondary outside of himself.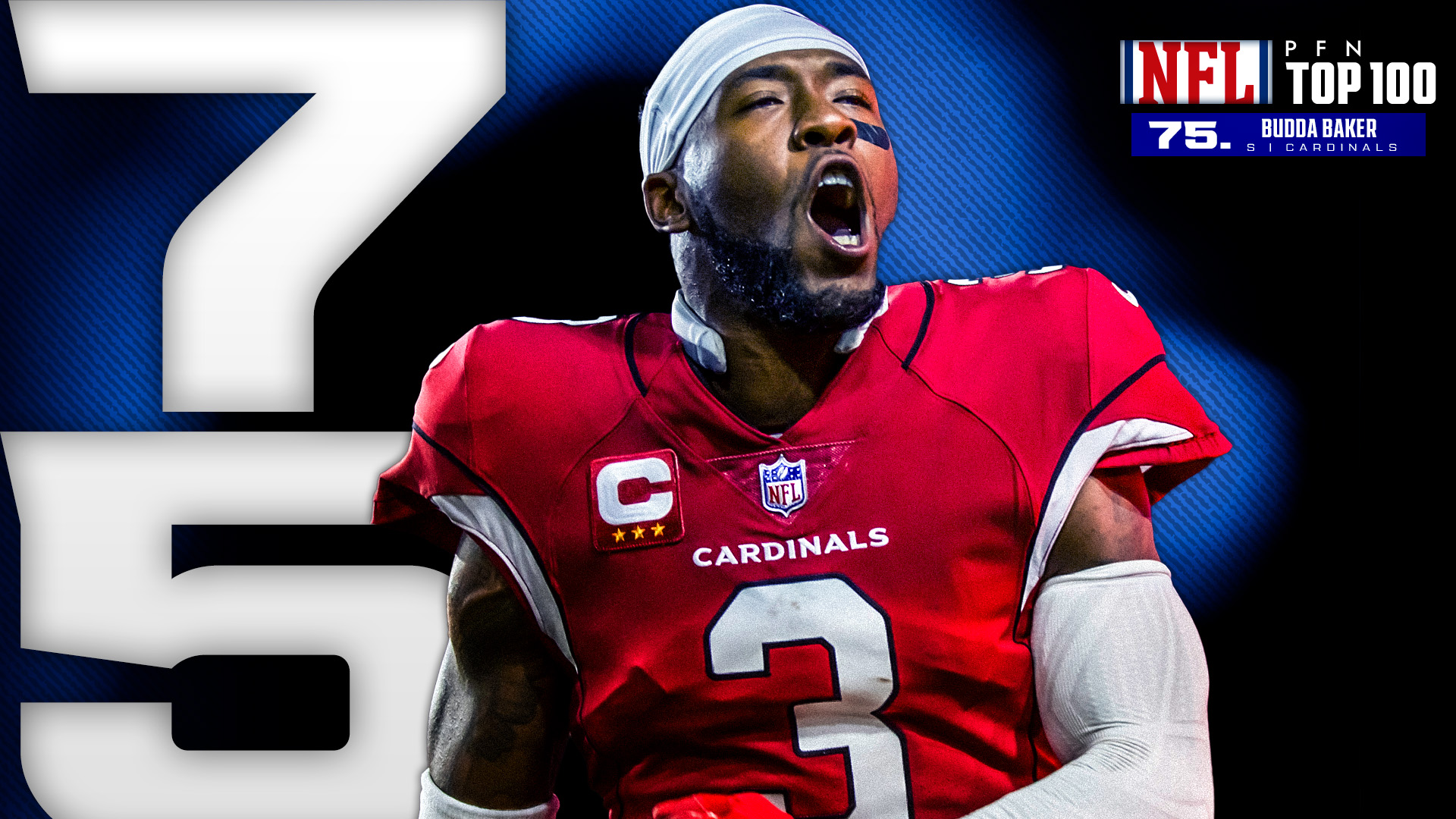 After being a huge reason why the 2021 Cardinals' defense overachieved, the situation became untenable a year later. His versatility allows him to line up and produce anywhere.
74) Antoine Winfield Jr., S, Tampa Bay Buccaneers
Antoine Winfield Jr. proved his worth a season ago when he moved from the back end of the defense in his first two seasons with Tampa Bay to playing most of his snaps in the slot a season ago as the Buccaneers' strong safety. Despite not having a ton of experience playing in the slot – even dating back to his days in Minnesota – Winfield Jr. was outstanding in some incredibly difficult situations a season ago, covering some of the best receivers in the league from the inside.
73) James Bradberry, CB, Philadelphia Eagles
James Bradberry was absolutely fantastic in 2020 and again in 2022. After a bit of a down season that resulted in Bradberry being a cap casualty for the Giants, he found his way to Philadelphia, where he hit the ground running. Few cornerbacks were as consistently productive in coverage as Bradberry was last year, making it two out of three seasons where he's looked like one of the best cornerbacks in the league.
72) Austin Ekeler, RB, Los Angeles Chargers
Austin Ekeler's production might look a little different with a new offensive coordinator in town. Joe Lombardi featured Ekeler in the passing game, and the back has never rushed for over 1,000 yards in his career, despite leading the league in touchdowns in each of the past two seasons.
Ekeler has topped 1,500 all-purpose yards in three of the last four campaigns. He's a phenomenal receiver, but it will be fascinating to see if he continues seeing the same receiving volume he did in the past.
71) Matthew Judon, EDGE, New England Patriots
The NFL loves length and leverage. And while height plays a part in many positions, being on the shorter side of the spectrum can be beneficial if the player has a good reach relative to their height. Matthew Judon is a bit shorter than most of the top pass rushers, but his length and the violence he possesses in his hands make up for any size concerns the league may have had about him.
The veteran was already rounding into form in Baltimore but has come alive in New England with Bill Belichick. Judon finished with 69 pressures and ranked fourth among edge rushers with 15.5 sacks in 2022.
70) Lamar Jackson, QB, Baltimore Ravens
Lamar Jackson might be the most dangerous player in the NFL. Still, he's been unable to play a full season over the last two years, and the Ravens haven't been able to remain healthy enough or surround him with enough receiving talent to flourish the way he had in 2019. Todd Monken and Odell Beckham Jr. will help the Ravens offense, but if Jackson can remain healthy in 2023, the Ravens could be real AFC contenders alongside the Chiefs.
69) Dak Prescott, QB, Dallas Cowboys
Dak Prescott hasn't had much better luck with injuries than Jackson has since 2020. The veteran QB broke his ankle in 2020 and his thumb in the first game of 2022. Although he went 8-4 as a starter last season, Prescott had a down year. While many of his interceptions were the product of poor communication or bad luck, he was more inconsistent as a passer last season. But with the addition of Brandin Cooks and, more importantly, speed to the offensive attack, expectations haven't been this high for a Cowboys team in some time.
68) Jordan Mailata, OT, Philadelphia Eagles
We don't often see seventh-round picks outplay first-rounders so thoroughly, but that's exactly what we got from Jordan Mailata. The Eagles' Australian pass protector is a man with as much off-field talent as he has on it, and he's already one of the best left tackles in the game. The athleticism he possesses fo his size is terrifying, and it's even scarier to think about how good he could still be, considering he never played the game before 2018.
67) Deebo Samuel, WR, San Francisco 49ers
Things weren't always pretty for Deebo Samuel in 2022. Brandon Aiyuk, who could very well find his way on this list heading into next season, ascended as a pass catcher, and Samuel admittedly had a down year. But Samuel is still arguably the most dangerous player in the league with the ball in his hands, and his versatility and the thought of potentially seeing a rushing attack with Trey Lance (either situationally or as the starter), Christian McCaffrey, and Samuel is as terrifying a three-headed threat as we've ever seen.
66) Justin Simmons, S, Denver Broncos
Justin Simmons has been one of the league's premier free safeties for some time now. He's remained productive as a ball hawk throughout his tenure, despite playing in a few different defensive philosophies, with another new face calling the unit in 2023. Only JC Jackson has more interceptions (22) than Simmons (20) has over the last four NFL seasons. It seems no matter the situation, Simmons will be getting around five picks each season.
65) Shaquille Leonard, LB, Indianapolis Colts
Shaq Leonard is to linebackers what Trevon Diggs is to cornerbacks. Leonard can get over his skis from time to time, but his playmaking ability does more than make up for the gambles he takes and cannot make. His playmaking ability in coverage will only shine more with a full season playing in Gus Bradley's defense, which allows him to play an attacking style against the run while using him as a weapon in coverage over the middle.
64) Darius Slay, CB, Philadelphia Eagles
"Darius Slay shouldn't be here. The 31-year-old cornerback was presumed washed in 2019 and practically pronounced dead as an upper-echelon cornerback after his first season with Philadlephia. It's incredibly difficult to get back on track at such a reactive position after age 30. And yet, here we are!"
That was written in last year's entry when Slay came in at No. 95. He only got better within Jonathan Gannon's scheme in 2022. Losing their safeties could have a negative impact on both cornerbacks, and that age cliff is always looming. But Slay didn't look outmatched on the outside a season ago as an athlete, and Sean Desai should be able to maximize these last moments with the Eagles' two outside CBs.
63) Matt Milano, LB, Buffalo Bills
Everyone wanted Tremaine Edmunds to be the guy in Buffalo, but that never came to fruition. Edmunds was improving his game in Years 4 and 5, but Matt Milano was the top dog on the second level of Buffalo's defense. He's such a productive player in coverage that his ability to defend the run goes largely unnoticed.
62) Demario Davis, LB, New Orleans Saints
Unlike running back, linebackers usually become better with age. It's the difference between an $80 bottle of 30-year-old Port wine and a $500 50-year-old bottle. That seasoning only makes it better. The more snaps a linebacker sees while still able to maintain his functional strength and athleticism, the better they'll become.
That has been the case for many of the top linebackers over the last few years. It's even allowed someone like Bobby Wagner, who has clearly lost a few steps, to produce at an All-Pro level in the right situation. Davis is an instantaneous run defender and an outstanding player in the intermediate areas of zone coverage.
61) Jalen Hurts, QB, Philadelphia Eagles
It's time to start putting some respect on Jalen Hurts. Is he one of the best pure passers in the NFL? Not yet, but give it some time. In player evaluation, there's a saying that "progress is not linear." For Hurts, it sure seems like it is. He's gotten steadily better as a passer every single offseason we've seen him play the game, dating back to his time early at Alabama.
Brian Johnson is new as the Eagles OC, but Hurts has known him since he was a child, so there shouldn't be any concerns about a regression from him heading into 2023. In fact, it would be foolish of us to assume that he'll do anything but continue to sharpen his tools as a passer while remaining one of the most intelligent and efficient runners in the league.
60) Derrick Henry, RB, Tennessee Titans
Running backs don't matter. Guys who can't catch the ball out of the backfield are less valuable to a team. They fall off a cliff after 1,800 touches!
Derrick Henry tests all these theories. He is the exception to the rule. There is nobody else like him. And while we continue to wait for the cliff to come after accumulating over 1,300 touches over the past 55 games, we may not actually get to see him have a fair shot to prove us wrong. The Titans' offensive line looks as weak as we've seen an NFL unit look over the past decade or so. And as good as Henry is, he won't be able to maintain efficiency if he's getting hit before his 250+ pounds of momentum gets moving forward.
59) Minkah Fitzpatrick, S, Pittsburgh Steelers
Minkah Fitzpatrick's calling card at Alabama was his versatility. It's the reason why Brian Flores and the Miami Dolphins came calling with the No. 11 overall pick in the 2018 NFL Draft. But Fitzpatrick knew in his heart that he was a free safety, and he's proven to be one of – if not the – best free safeties in the game since 2020. But he also had his most productive season since that rookie year as a downhill run defender, proving to everyone that his game is rounding into complete form heading into Year 6.
58) Jonathan Allen, DT, Washington Commanders
If Jonathan Allen was a more consistent run defender, he might push the trio of Dexter Lawrence, Quinnen Williams, and Jeffery Simmons. Allen might be a more productive pass rusher than the lot, but the inconsistencies against the run hold him back. While philosophy and scheme matter in that regard (Washington's DL plays very aggressively), there are also far too many gaffes from the unit against the run – Allen included. But Allen's insane quickness and power generation make him an incredibly difficult defender to maintain blocks on.
57) Mark Andrews, TE, Baltimore Ravens
Mark Andrews might catch 120 passes in 2023. Few offensive coordinators at the college level even think about utilizing a tight end in the passing game. Monken built a passing attack around Brock Bowers in 2022, and he'll do the same thing for Andrews in Baltimore. It helps that Jackson is more comfortable passing over the middle than outside of the numbers. As long as Andrews minimizes drops, he should remain one of the most prolific pass catchers at the position.
56) Trevon Diggs, CB, Dallas Cowboys
Diggs was more consistent in coverage last season than he was when he earned All-Pro honors the year before, but he didn't have double-digit INT numbers to boast. The Cowboys cornerback actually disappointed a season ago in that department, as the once sure-handed defensive back dropped multiple attempts a season ago, possibly proving to us all why he switched from WR to CB at Alabama. With Stephon Gilmore on the opposite side for 2023, Diggs has an opportunity to cement his ball-hawking legacy as he likely sees an uptick in targets against this year.
55) Cooper Kupp, WR, Los Angeles Rams
Speaking of Brock Bowers at Georgia, here is the 200-pound version of the tight end. That's not a slight to either player. When it comes to Cooper Kupp, every single white-receiver cliché comes to mind, and by golly, they all hit the nail on the head with him.
He plays as a sniffer blocking defensive ends. He routes up anybody that stands in his way, and he's surprisingly adept after the catch for not being the biggest, fastest, or quickest guy on the field. There are few better pure football players in the NFL, and hopefully we get to see him fully healthy again in 2023.
54) Stephon Gilmore, CB, Dallas Cowboys
The thought of pairing Gilmore with Diggs and Dan Quinn has Cowboys fans buzzing. While the "it's our year" narrative is often an overplayed media trope and less about how fans actually feel, they actually have high hopes for 2023. Gilmore is coming off a fantastic year with Gus Bradley, and while there is more nuance in Quinn's defense, there will be a heavy dose of man coverage and Cover 3 that plays with match principles.
53) Jessie Bates, S, Atlanta Falcons
Jessie Bates hasn't been able to replicate what made him a second-team All-Pro defender in 2020, but he will have every opportunity to reclaim the throne as the top pure free safety in the NFL once again in 2023. He'll play more on an island as a single-high safety in Atlanta, where he can comfortably sit back and let his third-level prowess make him a menace. And with Terrell on another side of the deep third for Atlanta, they should be able to survive downfield defensively this season.
52) George Kittle, TE, San Francisco 49ers
George Kittle is a bit of an awkward evaluation. He obviously holds the potential to put up 1,300-yard receiving seasons, but he doesn't do it. His overall route participation is among the best in the league for TEs, but he doesn't see the targets he once did. San Francisco's offense simply doesn't need him to be that guy at this point. He remains the standard for two-way tight ends who can block well and be a receiving threat, but he hasn't seen 100 targets since 2019!
51) Joey Bosa, EDGE, Los Angeles Chargers
Very few rankings hurt more than Joey Bosa's. Despite clearly being one of the best players in the NFL when he's on the field, the eldest Bosa simply hasn't been able to maintain his health throughout his career. We've caught some nice runs of production, but injuries continue to pile up for the former Buckeye who has played more than 12 games only twice over the past five seasons.
50) Chris Lindstrom, G, Atlanta Falcons
The Atlanta Falcons' passing attack is centered around play action. And while play action is great for slowing down edge rushers, it puts more emphasis on the interior holding their anchors in pass protection because these concepts usually take more time to develop.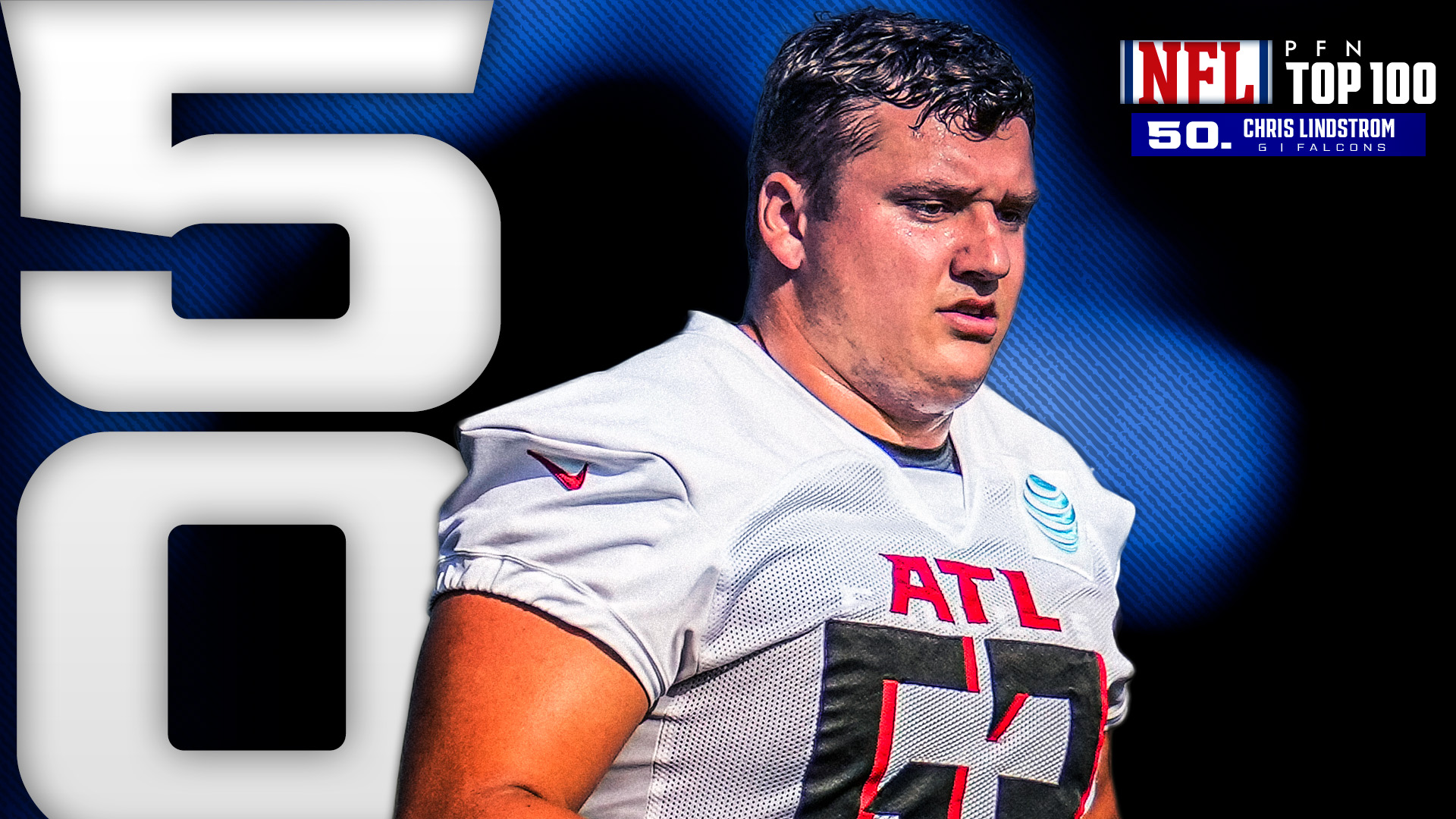 Chris Lindstrom has been an unbelievable presence at right guard for the Falcons over the past two seasons, allowing just two sacks over that time and allowing only nine pressures a season ago. And he's a particularly good fit for Arthur Smith's offense because he's an incredibly technical and fluid run blocker.
49) L'Jarius Sneed, CB, Kansas City Chiefs
L'Jarius Sneed is one of the most underrated players in the NFL. Spagnuolo moves him around the defense depending on certain matchups, and the lack of specificity means that Sneed is often put at a disadvantage.
Few players can migrate to and from the slot to the outside to the box to being a rusher. Sneed is a playmaker in each situation. He's been a menace against the run the past few seasons from the slot, which is likely part of the reason the Chiefs frequent him there. Because of his role, he's targeted often by opposing passers, and while Sneed isn't completely locking down opposing receivers, he does a fantastic job of avoiding the big plays.
48) Justin Herbert, QB, Los Angeles Chargers
What has Justin Herbert done to deserve such a high ranking in PFN's NFL Top 100? At the risk of sounding like a crotchety old-timer, just watch the damn game.
With his arm, Herbert can do a few things that no other passer in the league can do, but he's also a fantastic athlete. Hebert's been hamstrung by a lack of speed on the offensive roster, injuries on the offensive line, and an underwhelming play-caller. With Kellen Moore now calling the shots, we'll get to see Herbert show off his physical gifts even more.
47) Ja'Marr Chase, WR, Cincinnati Bengals
Ja'Marr Chase is already one of the best wide receivers in the NFL today, and he's still not nearly as clean a player as he could be. Chase has a long way to go as a route runner and nobody would confuse his hands for DeAndre Hopkins, but he's a big-play threat every time he touches the ball.
Chase proved that he can be a high-volume target as well as a downfield savant. He actually saw six more targets in 12 games in 2022 than he did in 2021 in a full 17 games. If he continues to sharpen his technical side, Chase could end up being as unguardable as anybody in recent memory.
46) A.J. Brown, WR, Philadelphia Eagles
A.J. Brown feels like an old-school possession receiver on steroids, except he's not really taking any performance-enhancing substances. The Ole Miss product was built like a big running back coming out of college, and his technical ascendence has been a treat to witness.
Brown began as a great player with the ball in his hands and was able to translate that to his route running, something that often goes undone at the NFL level. Brown's arrival in Philadelphia helped create comfort for Hurts over the middle of the field, which allowed his QB to progress as a passer.
45) Andrew Thomas, OT, New York Giants
Andrew Thomas was one of the best left tackles in the NFL a season ago and has the ability to pursue that crown over the next decade, although it won't be easy with the number of talented tackles in their mid-20s.
Two seasons ago, Thomas figured it out, and by last season, was well in form. He's allowed only five sacks over the past two years after allowing 10 as a rookie, a time that is well behind him now. New York will hope Evan Neal sees the same progress in 2023.
44) Rashawn Slater, OT, Los Angeles Chargers
"Their tags are touching" is a common saying in the scouting world. It's just one way to convey that we can't really choose between two players so we pretty much flip a coin or make some arbitrary thing be the tie-breaker.
For Rashawn Slater and the aforementioned Thomas, it was practically impossible to decide between the two. Thomas has done it for two years now compared to Slater's one-plus, but Slater has been an absolute machine since entering the league, never putting out bad tape and having only one truly "bad" game, which came against someone very, very high in the top 100.
43) Denzel Ward, CB, Cleveland Browns
Like the rest of the Browns' secondary, things didn't go swimmingly for Denzel Ward a season ago. He wasn't as consistent finishing tackles, allowed more big plays than ever before in his time as a Cleveland Brown, and also gave up a career-high in yards.
But the addition of Jim Schwartz should simplify Cleveland's defensive backfield, which should help the players involved play as a unit instead of five or six individuals. Ward is a gnat in coverage who plays with a tenacity and physicality that is necessary in an "undersized" player.
42) Lavonte David, LB, Tampa Bay Buccaneers
That place you just thought about going to on the field has already been occupied by Lavonte David. He's that quick as a processor, both versus the run and pass. He's not the same spring chicken he once was, but any loss of athleticism has been more than made up for with his insanely fast instincts on the second level.
41) Kevin Byard, S, Tennessee Titans
It's difficult to properly evaluate the impact that good safety play has on a team. Oftentimes, their impact doesn't necessarily show up in the box score, but in how they take away opportunities at the third level.
Kevin Byard is an example of a free safety who isn't only a free safety. Although he struggled to consistently finish tackles in 2022 the way he had the years before, Byard remained a high-level coverage player, despite all of the injuries Tennessee sustained on the defensive side of the ball.
40) DeForest Buckner, DT, Indianapolis Colts
DeForest Buckner is one of the most unique defensive players in the NFL. His frame and density don't make sense for an interior defender, but he's continuously causing chaos among interior blockers. Height is often a good thing for athletes, but there comes a point of diminishing returns. Buckner is an outlier, and his height actually makes his go-to swim move all the more dangerous.
39) Jaire Alexander, CB, Green Bay Packers
The NFL's resident gnat. There are bigger cornerbacks in the NFL. There are more physical cornerbacks in the NFL. And there are faster cornerbacks in the NFL. But none possess the attitude of Jaire Alexander.
Alexander is the epitome of the crap-talking, trolling defensive back, a trait that has followed him from his days in college. Even though the Packers' defense produced underwhelming results in 2022, Alexander was one of the few aspects that did not drop off.
38) Cameron Heyward, DT, Pittsburgh Steelers
It should come as no surprise that Cameron Heyward's father was a professional football player. Although Heyward doesn't possess the same athletic advantages many other defensive tackles have, he's as technically proficient as any player in their given role. But what's even more impressive is his unrivaled run of consistency.
Aside from an injury-shortened 2016, one can almost guarantee that Heyward will approach 60 pressures and double-digit sacks. And when he doesn't win reps, nobody is better at getting their hands up and batting down passes.
37) Maxx Crosby, EDGE, Las Vegas Raiders
Nobody is more dangerous as an arc rusher than Maxx Crosby. His ability as a run defender continues to improve to the point where we're going to have to start mentioning him alongside the current Mount Rushmore of pass rushers.
Additionally, Crosby played over 100 more snaps than any other edge rusher in the league a season ago. That hurt his overall efficiency, a number that analytics nerds would love to see be back where it was when he was playing fewer snaps. However, maintaining production despite being absolutely gassed only bolsters Crosby's case among the league's best.
36) Haason Reddick, EDGE, Philadelphia Eagles
Why yes, this is another situation in the top 100 where the tags are touching. Haason Reddick's continued production, despite arriving in his third city in as many seasons, is incredibly impressive. And while there's no denying his surrounding in Philadelphia helps ease the burden on him, Reddick's game is tailor-made for the NFL. He's instantaneously agile, stronger than he should be for his size, and a beautiful technician on the outside.
35) Joe Thuney, G, Kansas City Chiefs
There might not be a better pass-protecting offensive guard in the NFL. In each of his seven NFL seasons, Joe Thuney has played over 980 snaps. Yet, the interior blocker hasn't allowed 20 pressures in a season since 2018.
Thuney ranked just inside the top 100 in 2021 before skyrocketing up to 38 in 2022. It's funny to look back and see how many people looked on in disgust when Thuney's deal was announced. It doesn't look like an overpay anymore.
34) Derwin James, S, Los Angeles Chargers
Derwin James is what everybody wanted Jamal Adams to be. That's not a slight against Adams. It's incredibly difficult to wear the hat of a back-end coverage defender, a slot player, a linebacker, and an edge rusher. The jack of all trades is often a master of none, and specialization is imperative to success at the highest levels of the profession.
But James actually can do it all. And while he may not be elite in a single area, he's massively productive in each phase. He affects the QB, plays the run well from the box, is a strong split-field presence, and survives in the slot against some of the best in the game.
33) Tristan Wirfs, OT, Tampa Bay Buccaneers
If Tristan Wirfs seamlessly transitions to the left side, we may have to consider lowering the presidential age cutoff. Wirfs barely played on the left side in college and has not done so at the NFL level.
This is not Madden. Moving from right to left is practically playing a different position. But Wirfs is an athletic phenom with outrageous technical prowess as a blocker. Although it will be difficult to continuously compete with the best in the game on the left side, we shouldn't be surprised if Wirfs rattles off an All-Pro nod at both positions throughout his career.
32) Davante Adams, WR, Las Vegas Raiders
Despite his brand new situation, the three-time All-Pro remained the top touchdown-scoring threat of all wide receivers in 2022. Davante Adams' efficiency dropped during the move, but the way he was used changed as well. He was being targeted farther downfield, and it showed in his reception average, which was the highest of his career by nearly two yards. Adams is still the standard when it comes to releases, and his ability to uncover instantly makes him such a threat in the red zone.
31) Quenton Nelson, G, Indianapolis Colts
The 2022 NFL season was not great for anybody on the Colts' offensive line, Quenton Nelson included. The sturdy left guard allowed more sacks last season (5) than he had over his previous four seasons combined (4). He also allowed pressure more often than ever.
But the addition of Shane Steichen and Anthony Richardson could be exactly what the doctor ordered for the left guard. Nelson will get to show off his absolute power in the downhill rushing attack, and a likely rise in RPO usage and play-action should help bring his pass-protecting production back up.
30) Jason Kelce, C, Philadelphia Eagles
You may not be able to teach an old dog new tricks, but you can keep the old dog healthy enough to keep them running around in the backyard well past its prime. Whether it be Super Bowl parade speeches, singing, podcasting, or snapping the ball and blocking 300-plus-pound DTs, Jason Kelce is elite. The crown has been handed off to a newer model, but Kelce is still deserving of accolades for his performance alongside Landon Dickerson and Isaac Seumalo a season ago.
29) Jalen Ramsey, CB, Miami Dolphins
Jalen Ramsey very well may still be the best cornerback in the NFL. He can play anywhere on the field, cover nearly anybody who aligns opposite of him, and will absolutely finish the tackle if he gets his hands on you.
There's a reason why the Cowboys wanted Ramsey to play safety for them back in the day despite him being a lockdown CB. Adding Ramsey to a Vic Fangio defense should be a great fit. The only reason he's dropped in the rankings from last season is the ascendance of younger cornerbacks.
28) Joel Bitonio, G, Cleveland Browns
The hype surrounding the left guard position in the NFL (if you can call it that) has been focused on Nelson, but Joel Bitonio has silently been the best left guard in the NFL over the past half-decade.
Pro Bowls aren't often good indicators of a player's ability, but their popularity. However, Bitonio boasts five consecutive All-Pro nods, claiming AP2 from 2018-2020 and AP1 in each of the previous two seasons. The Browns' offensive line is among the best in the NFL, and Bitonio is a big reason for that. He's one of the best run blockers in the league.
27) Dexter Lawrence, DT, New York Giants
We've reached peak cowardice. We've taken touching tags too far over the next three rankings, but the truth is depending on what you're looking for on your roster may decide which of the three players one would choose.
Dexter Lawrence is freaky. At 6-foot-4, 340 pounds, one would expect to see Vince Wilfork 2.0 on the field. But despite being a nose tackle in appearance (and alignment, most often), Lawrence is far from simply being a space eater. What makes each of these players special is the wholeness of their games. Lawrence finished second in total pressures, but what may be most impressive are the over 850 snaps he played at his size.
What keeps him from ranking above the next two players is consistency throughout the course of their careers so far. But if Lawrence replicates his 2022 production in 2023, it'll be hard to argue against him.
26) Quinnen Williams, DT, New York Jets
Quinnen Williams has seen his share of ups and downs playing for the Jets, but a season ago, he showed exactly why he was the third pick in the 2019 NFL Draft. Williams and the next player on the list may be listed at nearly identical sizes, but it's clear he's a bit more finesse overall. Yet, despite his appearances as a pass rusher, Williams also showed that he can be a difference-maker against the run by making splash plays and being gap sound, which is often a tough balance.
25) Jeffery Simmons, DT, Tennessee Titans
It took Lawrence and Williams years to round into form at the NFL level. Defensive tackle is a position not often discussed when talking about tricky transitions from the college to the NFL level, but they can often be very different games.
Jeffery Simmons didn't have that issue, and his overall consistency is what currently keeps him ahead of his contemporaries. Simmons may only be 300 pounds, but he defends the run like a true nose while also bringing power and explosiveness as a pass rusher.
24) Stefon Diggs, WR, Buffalo Bills
Offseason "drama" aside, Stefon Diggs could make the argument that he's the best wide receiver in the NFL. In fact, any of the top four on this list could, although it's difficult to argue against the top two after last season.
Diggs is a dog. His 149 targets a season ago weren't enough. He wants more. And when one catches 72.5% of those targets, one can start to realize that maybe he's onto something. Diggs' route running is special because he has a special amount of fluidity and flexibility in the way he moves, which allows him to uncover against anyone.
23) Laremy Tunsil, OT, Houston Texans
There are quite a few outstanding young left tackles taking the league by storm, but Laremy Tunsil stands in their way. Hopefully, the Texans' franchise can turn things around a bit so Tunsil can receive the recognition and accolades he deserves for how great he's been as a pro. It's up to new OC Bobby Slowik to put the offense, and Tunsil, in a situation similar to what we've seen from Trent Williams in San Francisco.
22) Jonathan Taylor, RB, Indianapolis Colts
The thought of Jonathan Taylor in the same backfield as Anthony Richardson in a run game crafted by Shane Steichen is devastating for opposing defensive coordinators. That puts two 230-pound humans in the backfield with 4.4 speed and power for days. But injuries and a bad showing by the Colts' offense in 2022 keeps Taylor grounded as the third running back listed in the top 100.
21) Creed Humphrey, C, Kansas City Chiefs
Creed Humphrey is the perfect example to point to when someone tries to tell you, "that's why you're writing about football in your mom's basement and not making decisions for teams." The Chiefs' center is proof that NFL executives and coaches can sometimes be really, really stupid. Humphrey burst onto the scene as a redshirt freshman on an outstanding line at Oklahoma, played another season out of his mind as a sophomore, and then tested as literally the most athletic center of all time at the NFL Combine.
But because he's a left-handed heretic, the NFL thought it prudent to let him fall to the end of the second round on a team with a superhero QB and arguably the best offensive mind in league history. We should all be so shocked that Humphrey ended up being this good in the league.
20) Christian McCaffrey, RB, San Francisco 49ers
The San Francisco 49ers are weird. They've thrown rocks at the wall recently hoping they'd somehow stick at the position, but Kyle Shanahan and Co. hadn't had much success after finding it with late-round picks for years before. If there is one offense where the running back could really, really matter, it might be in San Francisco. After struggling to stay healthy in 2020 and 2021, CMC turned on the afterburners in 2022, accumulating 1,880 all-purpose yards for the 49ers.
19) Sauce Gardner, CB, New York Jets
One could argue that Sauce Gardner was more impressive a season ago than Patrick Surtain. One could argue he deserves to be recognized as the top cornerback in the NFL. But as the gatekeeper of these rankings, let's see him do it again in Year 2. That's not to doubt his abilities but to acknowledge that Surtain has done it in consecutive seasons. Still, falling inside of the top 20 after just one season is an incredible accomplishment.
18) Patrick Surtain II, CB, Denver Broncos
This will be Surtain's third NFL season, and he'll see his third different defensive coordinator calling plays. That is a lot of turnover, and Vance Joseph will likely bring a very different look defensively than what we saw with Ejiro Evero. Surtain will never get the same media attention as Gardner because he doesn't seek it.
Like Champ Bailey before him, Surtain is a bit … boring. But boring at CB is a good thing, as it means there isn't much happening on that side of the field. Surtain is scheme-diverse already, and Joseph's defense will likely be more man-heavy, meaning Surtain will get to continuously show off his fluidity and mirror ability.
17) Zack Martin, G, Dallas Cowboys
Zack Martin is the best guard in the NFL – he has been since 2014 – and is barely even beginning to slow down. He's made first or second-team All-Pros in eight of his nine seasons, six being of the first-team variety. If the Terminator was a football player, he would be Martin. He is a machine on the right side for the Dallas Cowboys, and the only blemish on his record comes from his 10-game season in 2020 when he was forced to move to right tackle and ended up missing six games.
16) Josh Allen, QB, Buffalo Bills
Josh Allen is the kid at the playground who hit puberty before everyone else. Rob Gronkowski and Derrick Henry were/are bullies at their respective positions. We don't often think of QBs being bullies on the field, but Josh Allen is exactly that.
In fact, he's such a physical presence that he understands he needs to take a step back and stop unnecessarily risking his bodily function for an extra two yards. He also boasts one of the greatest arms we've seen in the game and the ability to play big in the biggest moments.
15) Fred Warner, LB, San Francisco 49ers
What Fred Warner does for the 49ers defense is unique. The NFL has seen a Tampa 2 revolution of sorts recently to combat the way teams attacked traditional Cover 3 and Cover 2. Although teams mix their looks up and don't simply make their MIKE run the pole, it behooves the 49ers to do so because Warner can carry the best receivers in the NFL vertically from his position at the second level. He is a menace in coverage and has continuously improved his ability against the run since his time at BYU.
14) Nick Bosa, EDGE, San Francisco 49ers
A ranking outside of the top 10 seems disrespectful to the reigning DPOY, but there are about four top 10 players in the NFL at the moment, with six of them playing defensive end or outside linebacker. Nick Bosa plays with outstanding power and grace on the outside, winning consistently as a pass rusher and run defender for the 49ers.
13) Nick Chubb, RB, Cleveland Browns
Nick Chubb is special. Nobody in the game since Adrian Peterson has boasted the type of vision, contact balance, and explosiveness of Chubb. Playing behind a Brian Callahan-coached offensive line filled with talent simply makes his production unrivaled. Over his five NFL seasons, he has never averaged fewer than five yards per carry, and he's done enough to make everyone forget about the knee concerns from Georgia.
12) Chris Jones, DT, Kansas City Chiefs
Chris Jones finally sealed in his first All-Pro nod from voters after his 15.5-sack campaign, but he's been breathing down Aaron Donald's neck for a few seasons now. Jones has quietly and continuously improved as a run defender in KC over the years while being one of the five-most productive interior rushers in the game.
11) Joe Burrow, QB, Cincinnati Bengals
Although it's probably unfair to consider Joe Burrow a pocket passer from a traditional perspective, he is one of the few who fit the modern mold of a pocket passer. Statues don't exist anymore. The Mannings and Bradys and Riverses are no more. Burrow can still get himself into trouble against the rush, but he's a wizard at escaping pressure, and his continued improvements in the quick-passing game have made that offense more efficient over the past few seasons. He's deadly accurate and has enough gunslinger in him to allow his elite receivers to make plays.
10) T.J. Watt, EDGE, Pittsburgh Steelers
Find you someone who would light an entire forest down to defend your honor the way Pittsburgh Steelers fans defend T.J. Watt. The veteran pass rusher deserves the cult-like following he has because he embodies the attitude of the city.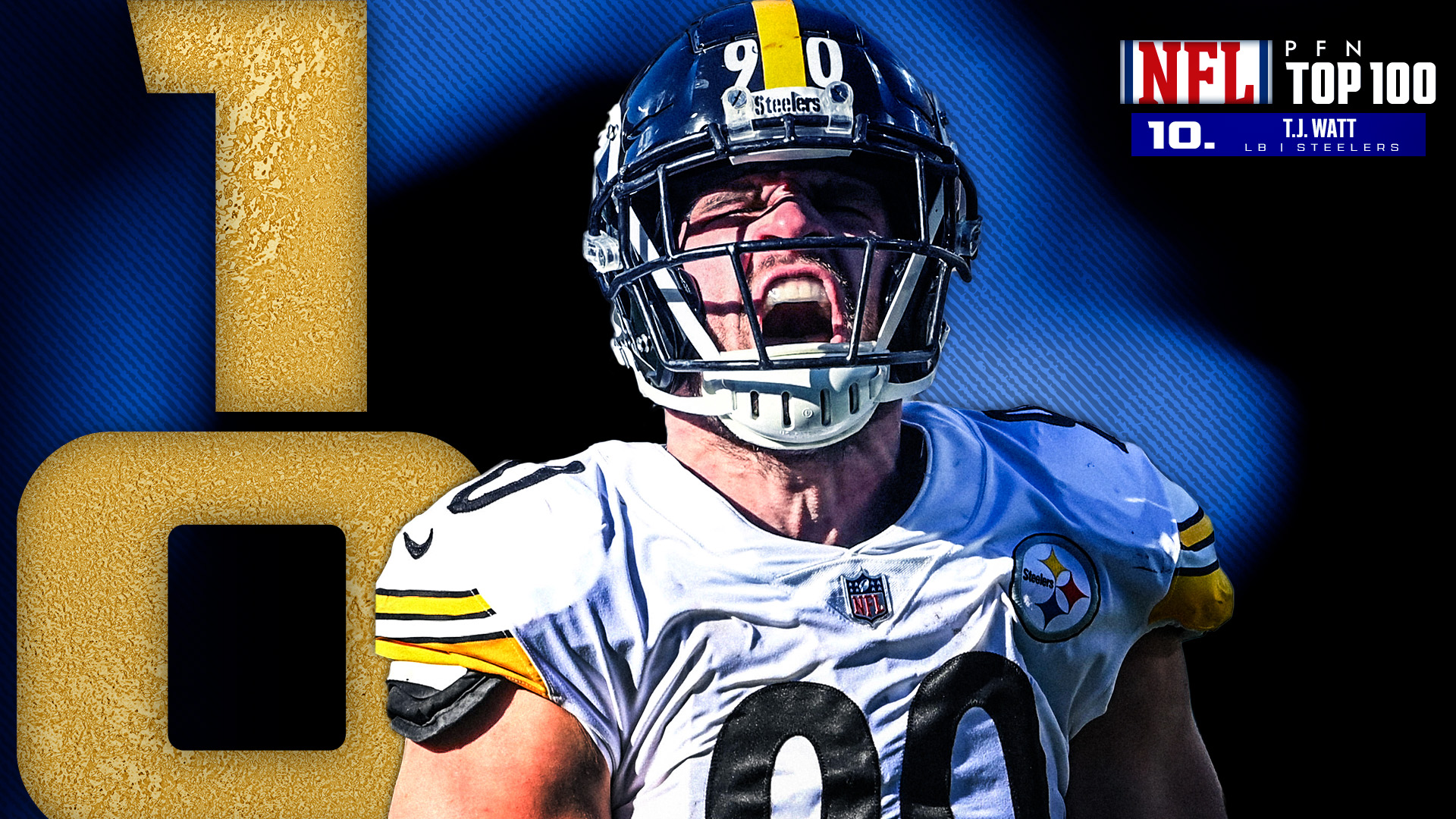 Despite being handsomely compensated, Watt continues to play like his pants are on fire on every down, which is quite an accomplishment considering how many snaps he and Alex Highsmith are asked to play. Watt missed a good chunk of last season and wasn't 100% himself upon his return, but he should be back to his dominating self in 2023.
9) Tyreek Hill, WR, Miami Dolphins
Tyreek Hill wants to break the receiving record in 2023, and it shouldn't really surprise anyone if he does. The 17th game certainly helps his cause, and a fully-heathy Tua Tagovailoa would also go a long way.
Hill is arguably the most dangerous offensive weapon in the NFL. He's endlessly explosive while remaining underrated in his traditional WR abilities because of his athleticism. But what separates Hill from others is his ability to play six inches bigger than his height would suggest.
8) Justin Jefferson, WR, Minnesota Vikings
Think about Diggs for a second. He's one of the best wide receivers in the NFL, and the Minnesota Vikings simply replaced him with a more athletic version of himself.
Justin Jefferson is the best receiver in the NFL. He glides on the field, and his ability to manipulate defenders with pacing and stride length while attacking leverage is unmatched. But Jefferson can also go up and get the ball and makes no qualms going over the middle. He's a three-level threat who should have an easier job in 2023 with a bit of help coming his way offensively in Jordan Addison and a full season of T.J. Hockenson.
7) Lane Johnson, OT, Philadelphia Eagles
The Eagles' right tackle may have been the most, or second-most, dominant player in the NFL a season ago. If one were to build an offensive tackle in a lab, they would stand 6-foot-6, 320 pounds, and run a 4.72 in the 40. They would maul opposing defensive ends and outside linebackers in pass protection and devastate second-level defenders in the run game. And that's precisely how dominant Johnson is. He hasn't allowed a sack since 2020 and has only allowed 20 pressures over the past two seasons.
6) Myles Garrett, EDGE, Cleveland Browns
Speaking of lab-built entities, we have Browns defensive end Myles Garrett, everybody! Seeing photos of Garrett on the field when he was at Arlington Martin (high school) are some of the most hilarious in history. At 270+ pounds, he shouldn't be able to bend the way he does. And while we can all argue who is the "best" pass rusher until we're blue in the face, none can produce the amount of impressive snaps that Garrett does.
5) Trent Williams, OT, San Francisco 49ers
Imagine going from having Trent Williams playing tackle for Oklahoma to Johnson doing the same on his way to also being the fourth overall pick in the NFL Draft. Williams has had a few more hiccups from a production perspective than Johnson over the past few seasons, but nobody has been more dominant in the trenches than Williams has since his ugly divorce from the Commanders. There are probably members of opposing secondaries that have to talk to therapists because they have nightmares seeing Williams in the open field.
4) Travis Kelce, TE, Kansas City Chiefs
It may not be possible for Travis Kelce to rip Gronk's crown, but we certainly can't fault Kelce for trying. The 33-year-old tight end is aging like a fine wine. His consistency is otherworldly. He's posted seven consecutive seasons of over 1,000 yards and has been a first or second-team All-Pro in each of the past six seasons. Despite clearly being the best tight end in football and one of the loudest personalities, Kelce's athletic ability has somehow gone underrated by many.
3) Aaron Donald, DT, Los Angeles Rams
Aaron Donald had an underwhelming campaign by his own standards in 2022. The Rams have completely retooled the roster, boasting by far the most young players in the league at key spots along the depth chart. But until we've seen Donald look human for multiple seasons, he must remain at the top of the IDL rankings and among the league's best.
"There's an old saying in Tennessee – I know it's in Texas, probably in Tennessee – that says, fool me once, shame on – shame on you. Fool me – you can't get fooled again."
2) Micah Parsons, EDGE, Dallas Cowboys
Yes, that's right. Nobody is more valuable to their defense than Micah Parsons. And while Garrett was the top EDGE in the positional rankings, Parsons is not simply a one-trick pony. While his days on the second level are fleeting, and he's added a little bulk to handle a full-time EDGE role, Parsons does it all on defense. In Year 3 of Dan Quinn's defense, and with a great secondary behind him, Parsons has the chance to accomplish something special in 2023.
Who Is the Best NFL Player in 2023?
1) Patrick Mahomes, QB, Kansas City Chiefs
The best quarterback in the NFL is Patrick Mahomes. The second-best quarterback in the NFL is Patrick Mahomes on one ankle to win a second Super Bowl. Seriously, if you believe in your heart of hearts that there is a better QB in the NFL, please seek a different sport for your fandom because you don't get football.
I'm looking at you, Mr. Executive that voted Mahomes as No. 2 in the ESPN poll! Burrow and Allen's own mothers wouldn't argue this! The highlights of his game deservedly get the publicity, but his play on a down-to-down basis is silly. And if you want to get a really nice belly laugh going, check out Mahomes' performance on third and fourth down on rbsdm.com compared to his peers.
He just vibes on early downs and decides to turn on his controller for money downs.