Every year across the NFL, training camp position battles provide a preview for the season, telling us which teams are uncertain about their players or foolishly confident in their draft picks. No battle is more important — or more enticing — than at the quarterback position.
Sometimes, teams will avoid the competition altogether. The Carolina Panthers named Bryce Young the starter on the first day of training camp, cutting the conversation short. Other times, competitions genuinely ask which player will end up starting the season. And in some cases, there's a bit of in-between.
We look at the top quarterback competitions across the NFL to see which players might genuinely have a chance to start at the league's most important position.
Biggest NFL Training Camp Quarterback Battles
Tampa Bay Buccaneers: Baker Mayfield vs. Kyle Trask
Baker Mayfield and Kyle Trask alternated reps with the first team, as expected, through the first couple of practices in Tampa Bay Buccaneers training camp. The competition between the two will run into the preseason, according to head coach Todd Bowles. Bowles indicated that he has an internal timetable that he discussed with the coaching staff.
While acknowledging they have different leadership styles — Trask has "inner confidence," while Mayfield has "wear-it-on-your-sleeve" confidence — what matters more is "execution and control of the offense," according to Bowles.
As camp opened, general manager Jason Licht said, "This is really the first time since I've been here, and I'm going on Year 10, of a true quarterback competition. One thing I'm looking forward to is just how hyper-focused we're going to be in those practices here at the beginning of camp for the first few weeks."
"People can have in their head, 'Well, it seems like it's for sure going to be this person or it's not going to be this person,' but until we're out there, anything can happen," said Licht. It seems like there's no early indication of who the leader in the clubhouse is. One thing seems certain, however: They're going to dial back their pass attempts.
As Bowles said, "I wouldn't be comfortable leading the league in pass attempts [again]. Obviously, we're going to win however they let us win." He added that if they have to throw to win, they will. But it seems clear that there will be a new offensive approach.
Indianapolis Colts: Anthony Richardson vs. Gardner Minshew
Early on in training camp, the Indianapolis Colts had Gardner Minshew take the first-team reps, with Anthony Richardson working with the second team. That won't be the case throughout camp, according to ESPN's Stephen Holder, who said that the two will "split the first-team reps."
As the fourth overall pick, it seems like it will be a matter of time before Richardson ends up taking over, but that could be as late as next year. For now, Minshew has a tentative hold on the starting job until Richardson can prove he deserves it. Holder indicated that the spring practices weren't definitively in Minshew's favor, so Richardson could be given the nod sooner rather than later.
The Colts are treating it like a true competition, too. Minshew told the media, "I don't want an easy competition. I want it as hard as possible."
If Minshew wins the competition, that doesn't mean Richardson stays on the bench the entire time. Before camp started, Jim Irsay said on the Pat McAfee Show that "Gardner could play better early on, him just being a veteran. But we have to get Anthony on the field. That's [head coach] Shane [Steichen] 's call when he decides."
"Eventually, he'll play," said general manager Chris Ballard in a pre-camp press conference. "But until he's ready, we'll make that determination. And when the coaching staff thinks he's ready to go, then we'll play him."
The competition is seemingly more about Week 1 than it is about the entire season.
Washington Commanders: Sam Howell vs. Jacoby Brissett
Head coach Ron Rivera has never been shy to talk about uncertainty at the quarterback position. Last year, when asked why the other NFC East teams had constructed a 4-1 record while the Washington Commanders were mired in a 1-4 struggle, Rivera said, "quarterback."
His point was more about the time those teams had to put systems around their quarterback than it was about Carson Wentz, but it's pretty clear that the team lost confidence in Wentz by the time the season ended. They're optimistic about Sam Howell, who they drafted in the fifth round of the 2022 draft, and they've built their offseason around catering to him.
But they haven't anointed him the starter, either. At the NFL Combine, Rivera said, "[Sam Howell] is not our starter. He's coming in as the QB1. He'll get a great opportunity to be our starter. But we do want to find a veteran quarterback."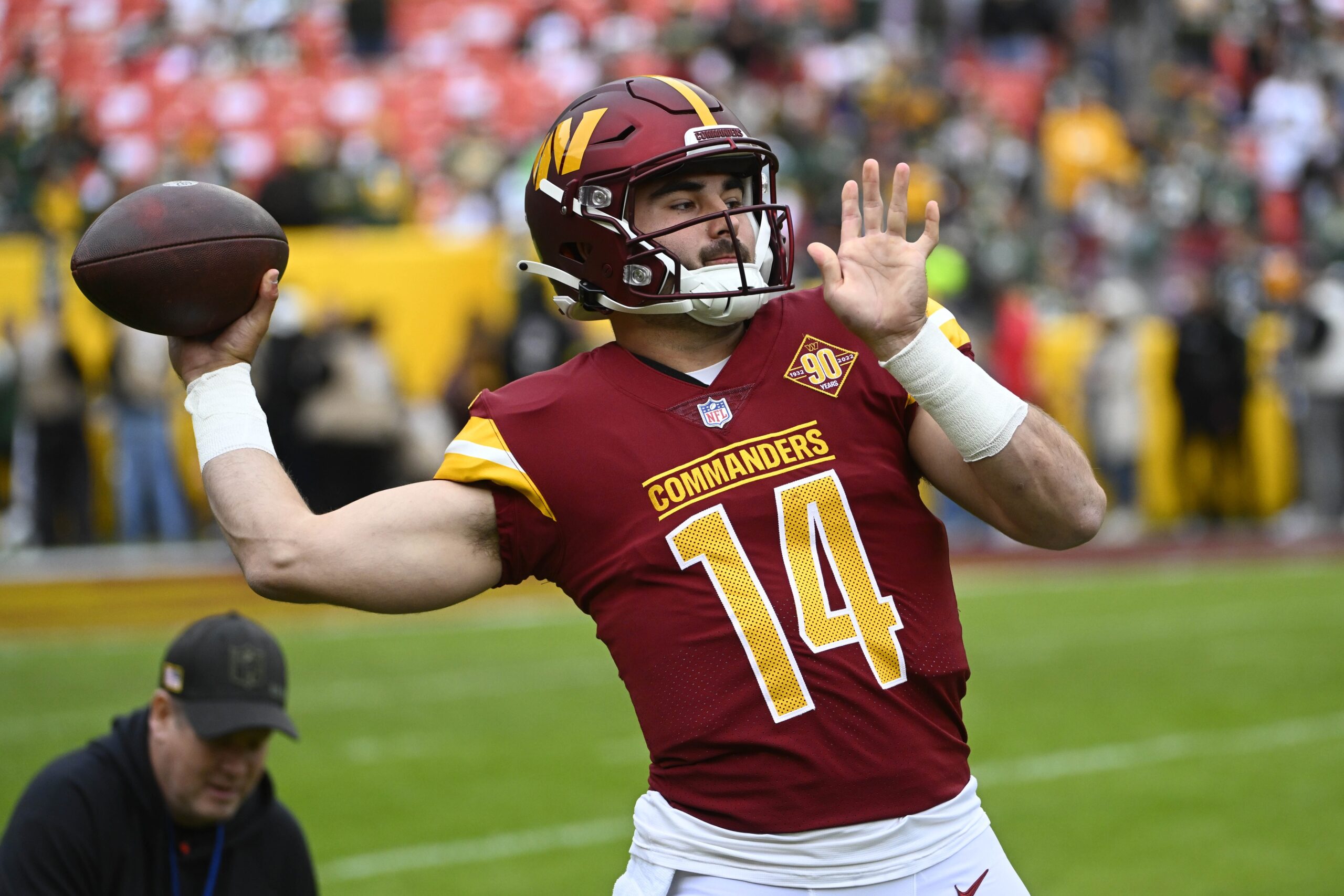 The Commanders signed Jacoby Brissett later in the offseason after Brissett posted surprisingly efficient numbers for the Cleveland Browns last year.
At the beginning of training camp, Rivera said, "[The quarterback position] is about as big a question as it gets. Has Sam [Howell] grown and developed enough to help us take the next step? Is Jacoby [Brissett] ready to go and compete, and if he gets that chance, will he take us up to the next level? It's a big broad question, but it does start with that position which is the biggest thing."
That said, it very much seems as if Howell will become the starter barring a surprising discrepancy in camp performances — Howell is essentially being asked to earn the job he's been slated for instead of given the job outright. True to that feeling, Howell took all the reps with the starting unit in Washington to begin camp.
San Francisco 49ers: Brock Purdy vs. Trey Lance vs. Sam Darnold
Brock Purdy's health has been a constant question for the 49ers this offseason, and there was a general expectation that he would begin training camp on the Physically Unable to Perform (PUP) list. He didn't, indicating that he's ahead of schedule in his rehab and could participate immediately, even if it's as a limited participant.
General manager John Lynch told media that Purdy had been "cleared and ready to go" but that they would stick to their plan and put him on a "pitch count," one that they've added to as he's recovered. When Purdy does practice, he'll take reps with the first team, according to head coach Kyle Shanahan, but that it won't mean he'll be continuously present, adding, "He won't go three days in a row."
Purdy did not throw in Wednesday's practice. He is expected to practice on Thursday and Friday, according to Cam Inman of the Bay Area News Group.
Given the 49ers' stated preference for Purdy as the starter, the stakes for the competition between Trey Lance and Sam Darnold are a bit lower — competing to be the primary backup instead of the Week 1 starter. Those NFL reps could have been valuable at the beginning of the season, even if the starter would have eventually been benched for Purdy.
Lance started out with the first reps of practice on Wednesday, according to Nick Wagoner at ESPN, and kept that primary position throughout the day as the 49ers cycled between him, Darnold, and Brandon Allen. They could very well switch that order up on days Purdy doesn't practice. For now, there isn't a leader for that backup role.
Tennessee Titans: Will Levis vs. Malik Willis
The competition for the Tennessee Titans' backup job isn't as exciting as many of the other ones around the league but could be impactful in the long term if the Titans don't see a future with current starter Ryan Tannehill.
In that sense, there is some substance to the fact that Willis looked more consistent throughout spring practices, according to Julian Basena at the Nashville Tennessean. Vrabel's comments on the matter focus on Willis' improvements and Levis' potential, statements that imply that the on-the-ground reality might be that Willis is ahead of Levis.
At the moment, Willis is taking the bulk of the second-team reps, but that could change at any time.