Jalen Hurts is dominating the advanced metrics and his team is reaping the rewards. The Philadelphia Eagles aren't just an undefeated team and atop the NFL standings, but they're also dominant in the passing game, combining their offensive and defensive performance in the passing game to stand out from the rest of the NFC.
NFL QB Rankings: Is Jalen Hurts joining the elites?
There are several elements driving this dominance, and some won't hold up once the playoffs come around. They have fantastic turnover luck on defense, benefit from an easy schedule, and have had more of their starters available than many of the teams across the conference.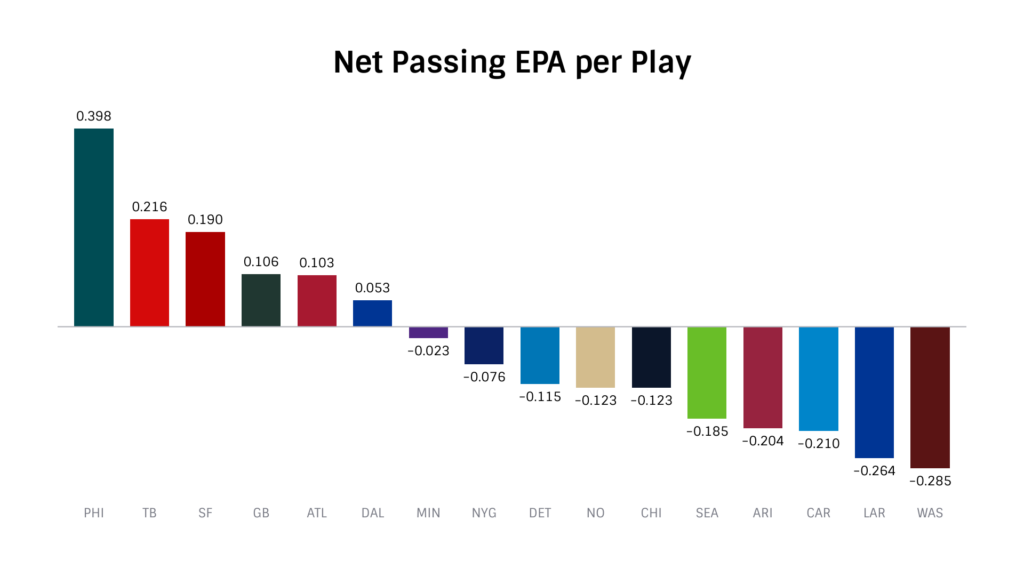 But one factor that continues to play a role is the play of their quarterback. By the metrics that best predict future wins — PFF grade, completion percent over expected, expected points added per play, big-time throw to turnover-worthy play ratio, adjusted net yards per attempt – Hurts places among the elites, alongside players like Patrick Mahomes, Josh Allen, and Lamar Jackson.
In fact, if one were to average his ranks in those categories, Hurts comes out ahead of every quarterback.
Quarterback
CPOE
EPA
BTT:TWP
ANYA
Average
Jalen Hurts
4
4
6
2
2
3.6
Patrick Mahomes
3
6
1
7
3
4
Geno Smith
1
1
5
14
7
5.6
Tua Tagovailoa
5
6
2
24
1
7.6
Lamar Jackson
9
16
4
7
8
8.8
Justin Herbert
10
5
7
9
4
7
Josh Allen
2
13
3
12
10
8
Aaron Rodgers
7
3
19
1
15
9
Tom Brady
8
13
17
3
12
10.6
This isn't just a product of Hurts' excellent supporting cast or the weak schedule of opponents. Even when accounting for those factors, his metrics exist in a league of their own.
At some point, one has to make a decision on when a player begins playing at a completely different level. When do we play it cautious and worry about a stretch of play being fluky? How long before we throw out everything we already learned about a player before? We know that most players will regress to their career average performance, even after hitting elite levels of play. So when do we dispense of that default state?
When it came to Josh Allen in 2020, that point for me was after Week 4. After four weeks of elite play, I had to bite the bullet and acknowledge that he wasn't just playing above his means — he was telling us what his new baseline would be. Right now, we might be in the same spot with Hurts.
The film demonstrates that Hurts has been playing magnificent football. It's clear that he's improved his accuracy, not just in terms of getting the ball to the receiver, but in placing the ball in spots to make it easier for the receiver to catch, keep the ball away from opponents and enable yards after the catch.
MORE: Week 5 NFL OL Rankings
He's also been more decisive in the pocket. Hurts is more often throwing the ball within the timing of the offense, delivering at the top of his drop to receivers coming out of their breaks. While that's still an area he can improve on, that change alone has led to a big shift in the passing game's quality. The numbers back this up, too. Hurts' time to throw has dropped every year he's been in the league. While it's still one of the longer dropback times in the NFL, it's significantly faster than it was in his rookie year.
More than his aggregate time to throw — which improved from slowest in the league at 3.39 seconds on average to a long, but not excruciating 2.97 seconds, 20th in the league — is the percentage of throws he's gotten rid of the ball quickly. That has moved up to about half of his dropbacks this year, an improvement over only seeing a third of them come out quickly when he was a rookie two years ago.
As a result, Hurts has decreased his likelihood of throwing the ball deep in favor of a more consistent intermediate passing game. That, along with improvements in accuracy, has resulted in him hitting big plays at the same rate as before while taking care of all of the housekeeping downs in between big plays — hitting the four- or five-yard chunks to keep the offense on schedule and on the field.
Add in Hurts' capabilities as a runner — a genuine draft candidate at running back before he improved as a passer at Oklahoma — and the Eagles have a deadly package in their third-year quarterback.
NFL QB Rankings | Tier 1: Elite
Count on these players not just to be in the MVP race, but for their teams to lean heavily on them in the playoffs.
Josh Allen, Buffalo Bills
Finally, a come-from-behind win! I was getting sick of him winning outright.
Patrick Mahomes, Kansas City Chiefs
An alien that is getting better at imitating human speech. And getting better at quarterback.
Lamar Jackson, Baltimore Ravens
My current favorite for MVP given what he's doing and who he's doing it with.
Jalen Hurts, Philadelphia Eagles
I have to stop being skeptical and learn to embrace what he's done.
Tier 2: Holding Pattern
As frustrating as it is several weeks into the season, it still feels like we don't have enough information on some quarterbacks, whether that's because of a small sample, anomalous play, or an unusual teammates situation.
Tom Brady, Tampa Bay Buccaneers
Getting receivers back meant the world to his performance, but I'm still not sure he's a high-level player yet.
Aaron Rodgers, Green Bay Packers
Rodgers is putting together great stretches of play, but we need more full-game performances of consistent high-level quarterbacking.
Justin Herbert, Los Angeles Chargers
It feels like we're seeing last year's phenom re-emerge after his performance against Houston.
Tua Tagovailoa, Miami Dolphins
Right now, he's more of a lightning rod for what's happened to him than his play, but when he's on the field, it's been electric.
Trevor Lawrence, Jacksonville Jaguars
The rain game shouldn't hurt him, but that would have been a nice punctuating moment.
NFL QB Rankings | Tier 3: Lead by Following
Quarterbacks in this tier have performances defined more by what their team can do around them than what they can do to get the most out of their team, but they still play well. Any of these quarterbacks could lead a playoff run, so long as the team around them is talented enough to let that happen.
Geno Smith, Seattle Seahawks
Lighting up box scores, Smith still isn't the center of the offense, but he's good.
Joe Burrow, Cincinnati Bengals
A lot can be placed on Burrow's offensive line, but he's also holding himself back this year.
Kirk Cousins, Minnesota Vikings
The Vikings aren't the most unsteady 3-1 team in the league by any stretch, but it's definitely not smooth sailing.
Ryan Tannehill, Tennessee Titans
Tannehill has improved on his rocky start, but it's come about by feasting on some bad teams.
Jimmy Garoppolo, San Francisco 49ers
Garoppolo has started slinging it a bit more after his reintroduction to the starting job, but I'm not sure it will remain consistent.
Tier 4: Teases
The quarterbacks in this tier have shown flashes of good play and can tease an NFL fanbase (or coaching staff) that there's something to be had there. They might be right, but for the moment, it's mostly low-level play mixed in with some highlights.
Russell Wilson, Denver Broncos
Maybe if he could throw to the middle of the field, he could energize that offense. But for now, that's not happening.
Jacoby Brissett, Cleveland Browns
He finally had a letdown game, but there were some very fun moments.
Jared Goff, Detroit Lions
It's not often that the quarterback for the league leader in points is mediocre, but there's not much disagreement on that front with Goff.
Cooper Rush, Dallas Cowboys
He's playing well, all things considered. But he's clearly limited.
Marcus Mariota, Atlanta Falcons
This Falcons offense could be so much more with a more complete quarterback.
Matthew Stafford, Los Angeles Rams
It's tough to watch Stafford and think he's no longer a high-level passer, but the results aren't there.
Kyler Murray, Arizona Cardinals
Murray has had some of the most exciting moments of any quarterback in the NFL, but there has been no consistency.
Derek Carr, Las Vegas Raiders
Carr is not pulling his weight on a team that went all-in on what he could do.
NFL QB Rankings | Tier 5: Skeptical, but With an Open Mind
Rookies and players who have a lot of room to grow but aren't necessarily immediate values are good candidates for this fifth tier. That doesn't mean that it's bad for teams to have these quarterbacks. It may even be preferable to have these players than those in tiers above them, but their value this week isn't extraordinary.
Jameis Winston, New Orleans Saints
Wrong quarterback for the Saints system; he can still succeed in the right environment.
Kenny Pickett, Pittsburgh Steelers
Pickett didn't have a pass hit the ground and the picks weren't his fault, but that doesn't mean he played well.
Zach Wilson, New York Jets
It was not a remarkable return for Wilson, and nearly a quarter of his passes should have been picked off.
Mac Jones, New England Patriots
We might be seeing more of Bailey Zappe or Brian Hoyer soon, but right now we'll grade Jones — who's been disappointing.
Davis Mills, Houston Texans
The Texans got more out of Mills than anyone expected, but he still has a ways to go.
Tier 6: Liabilities
We don't have to go into detail on these quarterbacks. They're holding their teams back.
Matt Ryan, Indianapolis Colts
Daniel Jones, New York Giants
Carson Wentz, Washington Commanders
Baker Mayfield, Carolina Panthers
Justin Fields, Chicago Bears