The Houston Texans suffered their third-straight season with four or fewer wins in 2022, leading to the franchise overhauling its coaching staff for the second consecutive offseason. After hiring head coach DeMeco Ryans and adding quarterback C.J. Stroud and pass rusher Will Anderson Jr. with the second and third overall picks in the 2023 NFL Draft, the Texans have a buzz around them.
With that in mind, we dive into what the best and worst-case scenarios are for the Texans in 2023.
Predicting the Best-Case Scenario for the Houston Texans' 2023 NFL Season
The best-case scenario for any team that has combined for 11 wins over the last three seasons isn't going to be significantly impressive. Ryans has already admitted he's adjusting to being a head coach and not solely focused on the defense. There will be many other first-time hurdles and growing pains along the way.
MORE: Houston Texans 2023 Season Preview
Some first-year head coaches see immediate success, but those hopes should be tempered even if Ryans was an excellent hire. He's already setting his sights on developing a culture for 2023, noting they have to "prove they belong" before focusing on other goals. General manager Nick Caserio admitted he doesn't expect the hiring of Ryans to be a "quick fix."
Houston's win total at DraftKings Sportsbook is 6.5, and they're -700 to miss the playoffs. While it could help that the Texans have the fifth-easiest schedule in the league, this is a young coaching staff and roster. Baby steps should be expected.
C.J. Stroud Proves Ready Immediately
The best case for the Texans' season revolves around the development of Stroud and the passing game. Incumbent Davis Mills was unable to create any sort of impact in the two years he started under center.
While part of that was the lack of great scheme, blocking, and playmaking around him, the Texans should've done better than to finish 30th in scoring in 2022, considering they had a star rusher in Dameon Pierce and a solid receiver in Brandin Cooks.
Though Ryans has been emphatic that he's not expecting Stroud to be a savior, he's been quick to praise his "eye-opening" progress thus far. Even with Cooks now in Dallas, the Texans should see growth on offense with Pierce set to star in a San Francisco-style running game and Stroud as a much more dynamic and accurate playmaker than Mills under center.
No one will be scared of the Texans' receiving corps right away, but it's a deeper group than it was last year. Young players Nico Collins, John Metchie III, and Tank Dell have good skill sets that can stand out in a West Coast offense. But they're young, so there's an unknown factor with each.
At best, Metchie will bounce back from his bout with cancer and become a solid contributor. Dell's lightning-fast quickness will make him a slot star, and veteran Robert Woods can be Stroud's safety valve when the team has to move the chains.
Pierce will be a focal point in a very friendly run scheme behind an improved offensive line, so this offense could be average after being putrid for three years.
DeMeco Ryans Maximizes Young Defensive Talent
Of course, Ryans' impact on the defense matters as well. He already has made plans to move Anderson to a 4-3 end full-time after the No. 3 overall pick played as a 3-4 edge rusher through most of his career at Alabama. Considering how much the Texans traded for Anderson, he has to be a foundational piece for the defense quickly and for a long time.
The rest of the defense can fall in place around an impactful Anderson. Secondary pass rushers like Jonathan Greenard and Dylan Horton have to step up as well. Second-year middle linebacker Christian Harris has to look like a long-term asset for the team as well.
MORE: Best NFL Offenses | Best NFL Defenses
Veterans like Sheldon Rankins, Maliek Collins, Denzel Perryman, and Cory Littleton help raise the floor of the unit to be respectable even if they're not transformative. The same can be said for defensive backs Jimmie Ward, Steven Nelson, and Desmond King. Ward was the most notable addition this offseason, as he's already earned the defensive captain role from Ryans.
The focus on the back end will be the continued development of second-year defensive backs Derek Stingley Jr. and safety Jalen Pitre. Both showed flashes last year, and if both can continue to become plus or star-level performers, the Texans can become an average defense faster than expected.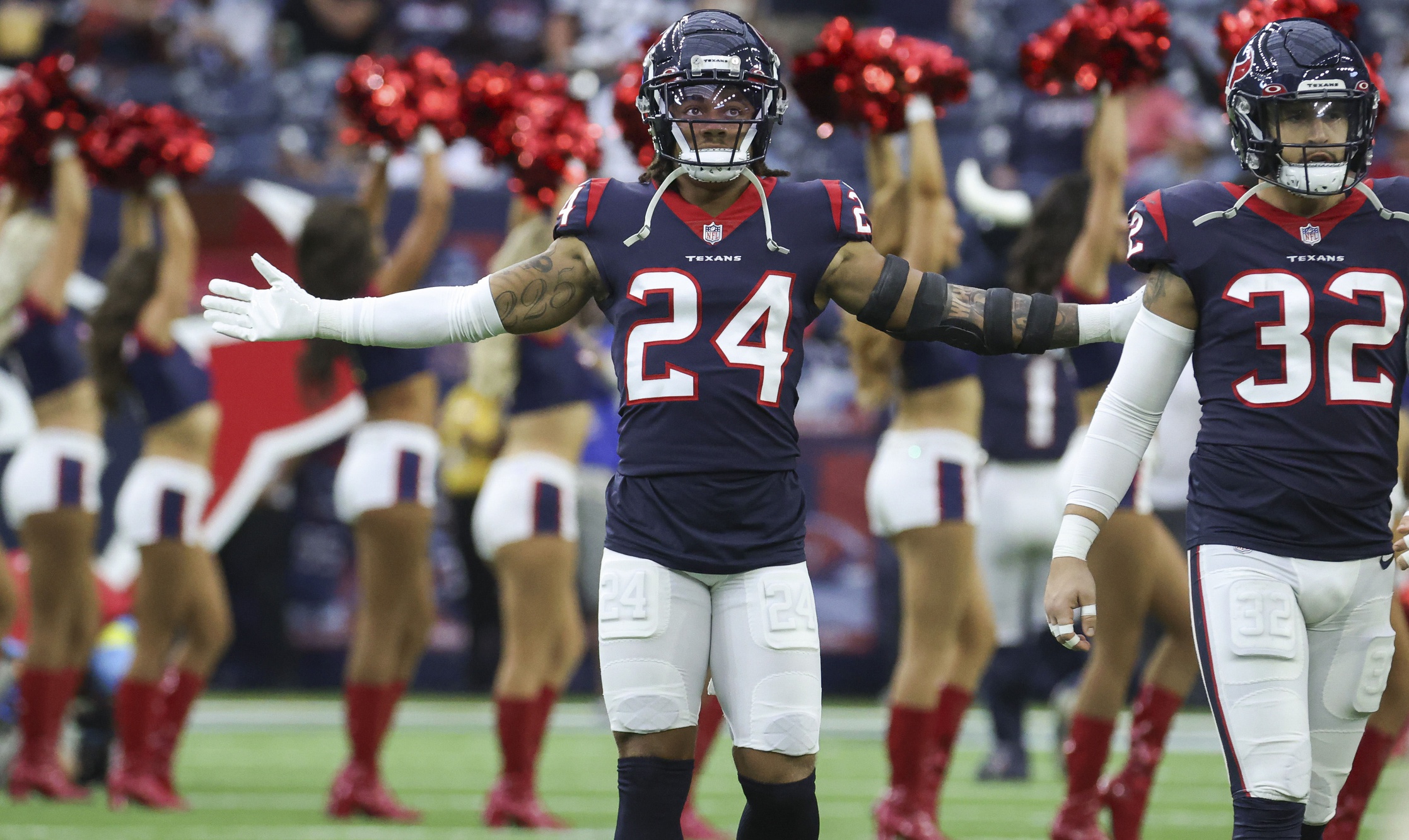 Predicting the Worst-Case Scenario for the Texans' 2023 NFL Season
There's a lot of pressure not only on young players to make an early impact on Houston in 2023 to reach their best-case scenario but also on journeymen veterans. Houston has seen very little quality production from veterans since Caserio was hired in 2021. A new coaching staff can help get more out of returning veterans, but it's not as if Houston has high-upside veterans.
Free agent signings like Woods and Littleton may prove to be complete busts, considering how slow each looked in 2022. Perryman is a productive tackler, but neither he, Nelson, King, or Rankins are individuals who produce turnovers or negative plays for the offense. Each is a role player who merely raises the competence within a unit slightly.
The Offense's Youth Shows
The weight of improvement really comes down to very young playmakers who have either done little or nothing. Tight end Dalton Schultz is a good pass catcher but is coming off a down season where he failed to step up for a Dallas team that was desperately needing his contributions. The interior offensive line has to be much better after trading for Shaq Mason and drafting Juice Scruggs.
At worst, the Texans' offense will simply be too young to be drastically better. Either Stroud won't be ready to play for some time or will play poorly as he struggles to adjust to a bad receiving corps.
MORE: Houston Texans 2023 Schedule
The offensive line, which has struggled with injuries to tackle Laremy Tunsil, could fail if Kenyon Green doesn't show competence in his second year and if Mason's play continues to dip as he ages.
The Texans simply don't have much offensive depth. Losing Pierce for any amount of time will thrust Devin Singletary into the starting RB role — a role he's mediocre at. Plus, the lack of another star-level talent could bite the team in key moments.
The Defense Hasn't Improved
Houston allocated more assets to the offensive side of the ball this offseason, avoiding a splurge on long-term investments. Ryans is an excellent coach but doesn't have the deep array of talent that San Francisco handed him. If Anderson isn't a star right away, it's hard to see a path to this unit being better than below average.
The only other notable long-term players on it are Pitre and possibly Stingley. Greenard and Harris have to prove themselves, but the rest of the unit is built on stopgaps. There's a real risk of injury or subpar play from each of the veteran fliers added.
If the defense doesn't uncover a star or play to the collective ceiling of each individual, it will be bad.