With next week's 53-man roster deadline looming, let's go inside some of the decisions on the horizon and some other key stories that are making headlines in our latest NFL News and Rumors Notebook.
Latest News and Rumors Around the NFL
Denver Broncos
With starting WR Jerry Jeudy (hamstring) likely to miss time with his recent injury, rookie WR Marvin Mims Jr. is headed for an extended role, at least for the short term.
The second-round pick (Oklahoma), a favorite of multiple receiver coaches Pro Football Network spoke with leading up to this year's NFL Draft, is known in scouting and coaching circles for his body control and good hands.
And as one veteran coach recently said, "he's fearless and can make contested catches at our level."
Not only is Jeudy dealing with an injury, but they lost veteran WR Tim Patrick (ACL) for the second straight year, and fourth-year WR KJ Hamler will not play this season due to a heart issue and was released by the team early in training camp — the Broncos have interest in re-signing him once he is cleared to play.
Joe Lombardi talking about how other WR will have to step up in Jeudy's absence. Thinks rookie Marvin Mims is a guy who is capable. #BroncosCountry pic.twitter.com/0EnAc3s44x

— Taylor Kilgore (@TaylorKilgore33) August 24, 2023
It was thought when the Broncos drafted Mims that he would likely be, at best, their fourth receiver behind Jeudy, veteran Courtland Sutton, and Hamler, but now he'll get a chance to show what he can do in Sunday night's final preseason tilt against the visiting Los Angeles Rams.
Veteran WR Marquez Callaway, who played under new head coach Sean Payton for most of his career with the New Orleans Saints, signed a one-year, $1.1 million deal ($302,500 fully guaranteed).
The Broncos pursued signing him due to his familiarity with Payton's offense, but a source said there were other teams trying to sign Callaway, so their persistence in signing him in the end paid off.
Callaway, Mims, and fourth-year WR Kendall Hinton could play more than first expected due to the team's injury situation at the position, and because they have good depth at the tight end, it's very possible that the offensive coaches dial more "12 personnel" sets (2 TEs, 2 WRs) until they get much healthier at the wide receiver.
This means more pass targets could go to second-year TE Greg Dulcich, who is known in scouting circles for his outstanding athleticism and ability to make plays down the field.
Houston Texans
When former University of Houston OT Josh Jones was selected in the third round of the 2020 NFL Draft by the Arizona Cardinals, there were rumors that he might be as high as a second-round pick due to his outstanding showing during Senior Bowl week practices.
But, a few personnel sources said Jones never really showed that well on tape in college as he did in Mobile, Ala., that week in 2020.
MORE: Are the Cardinals Preparing for Life Without Kyler Murray?
With the Cardinals, he showed solid versatility and played LT, RT, and RG during his first three years of play, but there were questions as to whether he's a starting-level player or if he's just a good, versatile backup.
Jones, who was acquired by the Houston Texans earlier this week, started 21 games over the past two seasons at multiple positions with the Cardinals and should get a chance to be at least one of his new team's top backup players due to his versatility.
New York Giants
The New York Giants, unlike last year at this time, are well-stocked at the wide receiver position — especially inside. So, after the team plays the New York Jets in the preseason finale on Saturday evening, some veterans may not stick around after Tuesday's initial 53-man roster deadline.
With the addition of former Colts WR Parris Campbell, who signed a one-year, $4.7 million deal, veteran WRs Cole Beasley and Jamison Crowder, the team is overstocked at the slot position.
Campbell, who can play inside or outside, is a lock to make the team, but Beasley and Crowder's status on the roster is less certain.
Second-year WR WanDale Robinson, meanwhile, who is on the active/PUP list, will play mostly inside once he returns. And veteran WR Sterling Shepard, who came off the PUP list early in training camp, also mostly plays inside.
Defensively, new defensive player Isaiah Simmons, who moved to safety in recent weeks with the Arizona Cardinals before this week's trade, could play a specialized role in defensive coordinator Don "Wink" Martindale's scheme.
Isaiah Simmons was the 8th overall pick in the 2020 Draft, he's now traded for a 7th round pick to the #Giants

Simmons is truly one of the freakish atheltes in NFL combine history.

He ran 4.39 at 6'4, 238 pounds with 20 bench reps.

Big upside for NYG.https://t.co/f3J4lohfT3 pic.twitter.com/qSbGNKAZO8

— Dov Kleiman (@NFL_DovKleiman) August 24, 2023
The Cardinals' previous defensive staff lined him up mostly at ILB and OLB, but Simmons could be used as a chess piece with his new team.
A personnel source said if he's used correctly, the former first-round pick out of the 2020 NFL Draft should be used to cover athletic tight ends due to his size (6'4", 240) and speed (4.39 during the 2020 NFL Combine) as a pass rusher, and inside linebacker.
Simmons clearly was not comfortable playing safety with his former team, which is one of the main reasons why they traded him.
Philadelphia Eagles
One of the better stories of training camp for this team has been the addition of veteran ILB Zach Cunningham. The eighth-year pro signed a one-year, $1.8 million deal with just $25,000 fully guaranteed during the second week of training camp.
Cunningham, who was once seen by NFL personnel evaluators as one of the top players at his position in the NFL, signed a four-year, $58 million extension ($14.5 million per season) with the Texans shortly before the 2020 season started.
A former second-round pick (2017) of the Texans, Cunningham is known in personnel circles for his size (6'3", 235) and tackling ability. He led the NFL in combined tackles (164 total — 93 solo, 53 assisted) for the 2020 season.
Nice rep by Zach Cunningham.#Eagles pic.twitter.com/vgTyhWiFQF

— Thomas R. Petersen (@thomasrp93) August 21, 2023
However, with the team changing defensive schemes from a 3-4 to a 4-3 in 2021 under then-head coach David Culley and defensive coordinator Lovie Smith, Cunningham's role would eventually become expendable. The team then moved on from him late during the 2021 season, and he was claimed off waivers by the Tennessee Titans.
Vested veterans are subject to waivers each year after the NFL's trade deadline.
Cunningham was limited to just six games with the Titans last season due to injury but has looked healthy so far with the Eagles and again appears headed for a starting job, but this time at weakside linebacker.
Second-year pro Nakobe Dean will start at MLB inside the team's 3-4 defensive scheme.
Another nice story for the team's defense has been the re-emergence of veteran S Justin Evans.
Evans, a former second-round pick of the Tampa Bay Buccaneers out of the 2017 NFL Draft, signed a one-year, $1.6 million deal ($600,000 fully guaranteed) with the Eagles.
He spent parts of three seasons on injured reserve with the Buccaneers (2017-2019) and landed on reserve/PUP in 2020, then did not play a down of football for three seasons (2019-2021).
However, to his credit, Evans was able to overcome all of those injury issues. Last season with the New Orleans Saints, he played in 15 games and started four.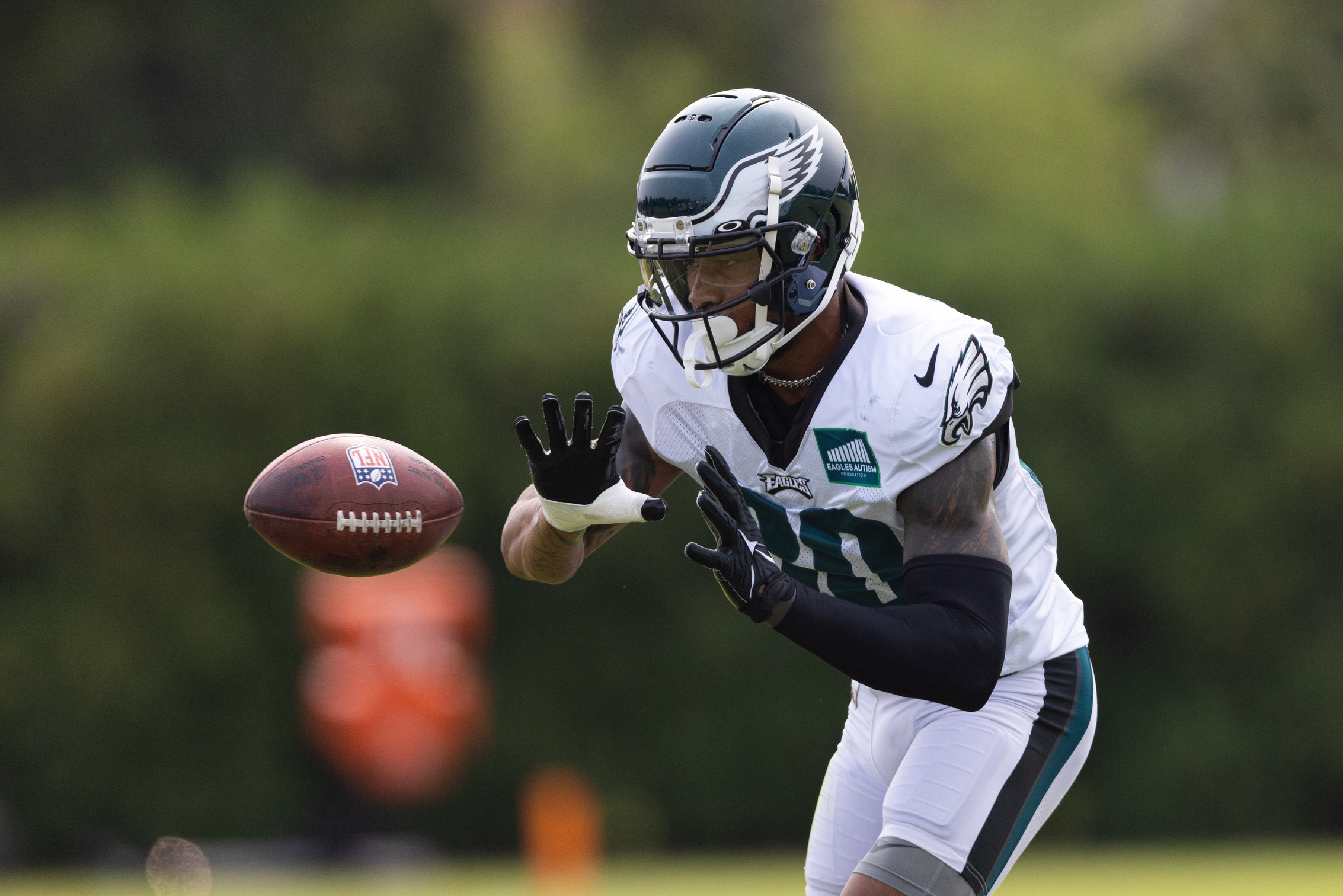 With the Eagles searching for a starting safety to play next to second-year veteran Reed Blankenship, Evans saw more time with the first-team defense over the last two weeks.
Eventually, the team is expecting third-round rookie S Sydney Brown to start opposite Blankenship, but for now, Evans is making his move. And it would certainly be a surprise at this point if he isn't on the team this season.
MORE: Philadelphia Eagles 53-Man Roster Projection 2023
Elsewhere, one of the few trouble spots for Philadelphia over the past few years has been at the punting position.
The Eagles already recently waived UDFA P Ty Zentner, and while third-year pro Arryn Siposs was doing well last season before suffering a serious ankle injury during a Week 14 game against the host New York Giants, the team has tried to bring in competition not just with Zentner, but they placed a waiver claim for former Jets P Braden Mann back in April.
So should the Pittsburgh Steelers — who were the team awarded Mann — cut him, keep an eye on the Eagles potentially for his services through waivers once again.
Pittsburgh Steelers
One of the most interesting developments for Pittsburgh's defense has been the performance of fourth-round OLB Nick Herbig.
Herbig, who scouting sources around the NFL were mixed on for this year's NFL Draft, has arguably been one of the best players on either side of the ball through training camp practices and the team's preseason games.
"I wasn't knocked on the ass by him," one AFC scouting source said through his team's tape study for this year's NFL Draft. "Some of our guys (scouts) probably had lower grades than other teams (on Herbig)."
The source said that while Herbig's sack numbers (20 total) and tackles for loss (30) over his final two years at Wisconsin were impressive, the tape did not show the type of explosion that is often associated with high sack numbers.
However, with the Steelers, a source with knowledge of the situation said Herbig has been mostly unblockable in practice with power and leverage. During Pittsburgh's Week 2 preseason game against the visiting Buffalo Bills, the Bills had to help LT Dion Dawkins with an extra blocker to help prevent Herbig from getting to the quarterback.
The team signed starting OLB Alex Highsmith to a four-year, $68 million extension recently, so Herbig is certain to be a backup for at least a few years. But as a subpackage rusher, Herbig still may be able to find a role over time if he can carry over his outstanding performances in July and August.
San Francisco 49ers
When the San Francisco 49ers traded with the Miami Dolphins prior to the 2021 NFL Draft in order to select QB Trey Lance, it sent shockwaves in personnel circles.
Lance, according to a high-ranking NFC personnel executive, was seen as being very talented but also very raw, so it came as a surprise around the NFL that the 49ers gave up significant draft compensation (four picks — swap of first-round picks, two future first-round picks, and a third-round pick) in order to select him.
"Our (scouting) staff was at his pro day workout (at North Dakota State), and we got a chance to talk with him, be around him. You loved his size, athleticism, good person. But you also knew he was a project, and we were certain that he wouldn't play for a while," the personnel executive said.
The 49ers were also linked to QB Mac Jones, who would be selected by the Patriots in the first round (15th overall), but they chose to go with Lance's upside.
From talking to various scouting sources this week, they seemed to be in agreement in a few areas of Lance's game:
Good size for the position (6'4", 225)
Very good arm strength
Passing mechanics needed major refinement
Lack of playing experience (only 17 starts)
Lance, who has been relegated to No. 3 on the depth chart at the position, has a very small base salary contract to trade ($940,000 in 2023, $1.1 million in 2024). Yet, the 49ers would take on over $10 million in dead money should they cut or trade him.
In other news at the position for San Francisco, veteran QB Sam Darnold, who now will handle the No. 2 spot on the depth chart, signed a one-year, $4.5 million deal with the team back in March. The contract includes $6.5 million with incentives, which are based on playing time, playing performance, and team achievement.
Journeyman QB Brandon Allen would earn a $152,500 roster bonus for being on the game-day roster for the first game of the season against the host Steelers, a source said.