We've reached the second full week of training camp and the first full slate of preseason games, so let's continue to go inside some camps around the NFL.
Latest on Cowboys Tony Pollard, Mazi Smith, and Deuce Vaughn
While some people questioned whether starting RB Tony Pollard (broken left leg, high ankle sprain) would look like himself at the start of training camp after having surgery in late January, those concerns were alleviated once he started practicing.
In fact, a source said Pollard has looked explosive and not tentative at all, but who plays behind him still remains an issue.
The team has worked in three UDFAs from three out of the past four drafts; Rico Dowdle (2020), Malik Davis (2022), and Hunter Luepke (2023), along with rookie Deuce Vaughn (sixth round), and veteran Ronald Jones so far in training camp.
However, Jones will miss practice time due to a groin injury and is also suspended for the first two regular-season games for violating the NFL's policy on performance-enhancing drugs.
Vaughn, who is known in scouting circles for his shiftiness and short-area quickness, fell in the NFL Draft due to his diminutive size (5'5", 179). Though he handled a lot of carries (651 in 37 games/17.6 per game) during his three-year career at Kansas State, some NFL scouting sources still questioned the volume of carries he could handle at the next level.
While Vaughn, Dowdell, Davis, and Luepke have had their good moments in camp, none of them have yet to establish that they could be Pollard's long-term backup.
Pollard, for his outstanding talent and versatility, has yet to show he can handle a high volume of carries. He only had four games in the regular season of 2022 with 15+ carries, which is why some personnel sources believe they need to add an experienced running back with size by the time the regular season starts.
The best available free agents who would fit this profile are Ezekiel Elliott, Leonard Fournette, Dalvin Cook, and Kareem Hunt. Dallas can clearly afford to wait as the list of available veteran running backs is still deep at this point, which could help to explain why they haven't signed anyone yet.
Defensively, while he's not known for his pass-rush skill, first-round pick DT Mazi Smith should eventually become a better-than-average pass rusher, an NFL scouting source said.
Smith, who is known for his run-stopping ability and physical strength, which has shown up in training camp so far, projects down the line to be able to get to the passer, the scouting source added.
The source added once he masters the "techniques" of the position at the NFL level, he'll be able to use his physical strength and outstanding short-area quickness for a player of his size (6'3," 323) to leverage interior offensive linemen more effectively.
Smith, who was the 26th player selected overall, only registered a half sack during his three-year career at the University of Michigan.
Los Angeles Chargers Will Look Very Different with Kellen Moore
The team's offense will look very different under new offensive coordinator Kellen Moore.
Moore, who held the same title with the Dallas Cowboys for the previous four seasons, will bring his "fast break" style of play-calling to the West Coast.
Under previous OC Joe Lombardi, some team observers thought the offensive scheme was a little bit too conservative with more two tight end sets and featured a short to intermediate passing game.
Word around the team has been that Moore will use way more "11 personnel" sets (3 WR, 1 TE) than his predecessor did, and the passing game will take on a much more vertical approach. That has been the case so far in training camp.
The aggressive nature of Moore's play-calling, an offensive coaching source from another NFL team said, will fit in really well with fourth-year QB Justin Herbert, who possesses one of the NFL's best arms.
Defensively, the team got very good, but surprising news when veteran CB J.C. Jackson (patellar tendon surgery) was cleared to practice right away at the start of training camp.
The type of knee injury that Jackson suffered back in Week 7 of last season against the visiting Seattle Seahawks is seen typically in the medical profession as worse than an ACL injury, which is why it was a surprise that he was back on the field this early and has looked healthy in drills.
It should be noted that Jackson, however, struggled a bit performing in the defensive scheme last season before suffering his injury — a scheme which was different than the one he played in with the New England Patriots over the previous four seasons.
With the Chargers, they're running mostly "mirror match" coverage, which is a zone coverage where the cornerback will trail and carry the wide receiver to a specific area.
Van Jefferson Breakout Year?
Last season, the third season of 2020 second-round pick WR Van Jefferson's NFL career, was marred by a knee injury.
Jefferson had knee surgery, which caused him to miss the first six games of the 2022 season. Even after he came back, Jefferson clearly didn't play at the level that was expected of him before the injury. It also didn't help that starting QB Matthew Stafford missed eight games due to his own injury.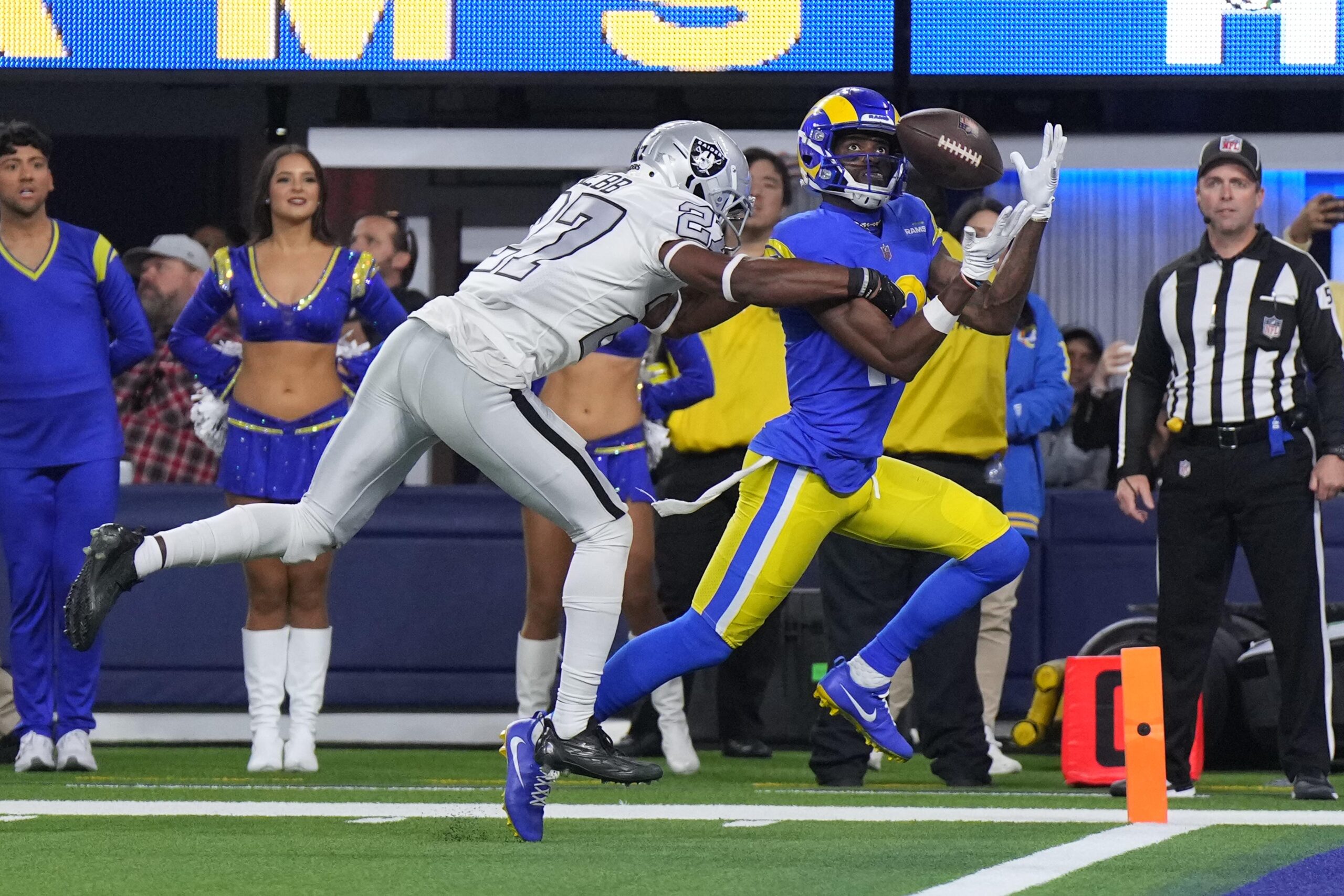 But some with the team thought the 2022 season would be a breakout for Jefferson due to the outstanding offseason he put together. Plus, a coaching source said he was quickly becoming the team's best deep threat at the position before his injury.
Jefferson, the son of former NFL WR Shawn Jefferson and current Carolina Panthers wide receivers coach, will enter this season in the final year of his rookie deal, but many with the Los Angeles Rams still believe he is poised again for a breakout season.
Kenny Pickett and the Steelers' Offensive Line
As Pro Football Network recently noted, the Pittsburgh Steelers thought second-year QB Kenny Pickett's arm strength had improved, and that continued to be the case through the first full week of training camp.
Just in last Saturday's practice, the right-handed passer made several throws that called for him to drive the ball off his back foot and deliver it to his intended pass target with velocity.
From talking to multiple people within the organization, they pointed to how Pickett built up his upper body strength in the offseason and how that manifested itself into what we've seen on the field in late July/early August.
While Pickett got knocked by some NFL personnel evaluators before last year's NFL Draft for being too much of a touch or finesse thrower, he certainly looks like that's not going to be the case this season. He won't be ever called a power thrower, but Pickett clearly can make any throw.
Elsewhere on offense, Pittsburgh is not only excited about the depth on their offensive line but with the upgrades at different positions up front, with the left side likely to look different.
Over the past two seasons, the coaches went with Dan Moore at left tackle and Kevin Dotson at left guard. This season, Moore and first-round pick Broderick Jones are competing for the LT job. Obviously, Jones will be the long-term starter, but whether he'll be ready to start in Week 1 against the host Houston Texans remains to be seen.
And at left guard, veteran Isaac Seumalo, who signed a three-year, $24 million deal back in March, has already been installed as the starter at that position.
Seumalo, multiple sources said, also drew interest from the Chicago Bears in free agency. The 2016 third-round pick of the Philadelphia Eagles started at right guard last season but has also logged nearly 2,700 snaps at left guard over his previous seven seasons of play.
"I think he's one of the best guards in the NFL, and I think he has been," Eagles C Jason Kelce told reporters during the team's offseason program in May.
"I think he's one of the most consistent players I've ever been around, one of the most consistent people I've ever been around. So, we're not going to replace Isaac, there's going to be someone new in there, and they're going to have their attributes that they're going to excel with, and I'm looking forward to seeing who does a really good job with that."
Some personnel evaluators around the NFL thought the Steelers overachieved last season and somehow were able to overcome their issues on their offensive line and wide receiver by winning six of their final seven games.
Not only have the Steelers addressed offensive line, but the trade for veteran WR Allen Robinson has been lauded within the team plenty since the acquisition back in April.
As second-year WR Calvin Austin told Pro Football Network recently, Robinson adds that "veteran presence" and "calming influence" to the position.
Robinson figures to play more inside than outside with his new team, and as one former assistant coach with one of the teams he played with in the past told Pro Football Network recently, "he's actually very explosive in the short area. He really does get off (the line) quickly."
Meanwhile, rookie TE Darnell Washington has gotten off to a good start. While he moves incredibly well for a player of his size (6'6", 264), it's his blocking and movement that has caught the eyes of coaches and members of the front office during the early going in camp.
Word around the team is Washington has held his own against just about everyone in 1-on-1 blocking drills as well as against star pass rusher T.J. Watt. He also hasn't hit the rookie wall in training camp that typically sets back first-year players.