With NFL training camps starting in less than two weeks, let's go inside some of the top NFL news and rumors that we'll be watching going forward.
NFL News and Rumors: Optimism for the Cleveland Browns?
While the Cleveland Browns were disappointing last season, there's plenty of room for optimism.
Veteran QB Deshaun Watson, who struggled mightily during his six starts last season after missing the first 11 games due to suspension, put together a strong offseason, a source with knowledge of the situation said.
The source said the areas of improvement were better command of the offensive scheme and accuracy — and both areas were clearly issues last season.
The time away from football clearly contributed to his rustiness.
Combine missing those 11 games with not playing during the 2021 season while still a part of the Houston Texans, and no one should be surprised that Watson didn't play well during his first year with the Browns.
And the Browns clearly knew they had to help the veteran signal-caller with an upgraded pass-catching group.
While the team added highly regarded third-round WR Cedric Tillman and veteran WR Marquise Goodwin, one of the fastest players at his position in the NFL, the prize acquisition in free agency was former Jets WR Elijah Moore.
The third-year pro, who was acquired along with a third-round pick from the New York Jets for the Browns' second-round pick, was one of the stars of the team's OTA practices.
Moore, who is expected to be the team's "Z" receiver, was used in a variety of ways this spring.
A source said the team really wanted to improve the team's speed at the wide receiver position, and Moore, who is expected to start opposite veteran WR Amari Cooper, ran a 4.35 40-yard dash during his pro day workout in 2021. Some teams had him clocked as high as 4.32.
Multiple college scouting sources said his versatility to play inside or outside, plus his top-end speed, was a big reason why Moore had second and late first-round grades from some teams.
Carolina Panthers Running Back Situation
When the Carolina Panthers signed former Eagles RB Miles Sanders to a four-year, $25.4 million deal ($6.4 million per season, $13 million fully guaranteed at signing) back in mid-March, there was no question he would take over as the starter at the position.
But the Panthers felt that he could for the first time in his career, be a three-down player, which some personnel executives around the NFL weren't so sure about.
Sanders, who is coming off his best season as a professional with 1,269 yards on the ground to go along with 11 rushing touchdown (he didn't score in the previous season), played in a full season after missing 10 games over the previous two campaigns.
But even with posting those lofty rushing and TD numbers, Sanders only played in 57% of the offensive snaps last season, despite appearing in all 17 games. Third-year RB Kenny Gainwell turned out to be the Eagles' passing-down back for most of 2022.
So, why do the Panthers believe Sanders can do something that the Eagles clearly didn't think he was capable of?
His position coach, Duce Staley, worked with Sanders during his first two seasons (2019 and 2020) with the Eagles, and sources said Staley and head coach Frank Reich made it known during free agency meetings that the 2019 second-round pick was capable of doing much more in the passing game with his new team.
Sanders, who only caught 32 passes during his three seasons at Penn State, surprisingly caught 50 passes on 63 targets during his rookie year in 2019.
A personnel source said that Sanders seemed to be a natural hands catcher during his rookie season from watching his game tape but seemed to fight the ball a bit in future seasons.
What Led to the Darren Waller Trade?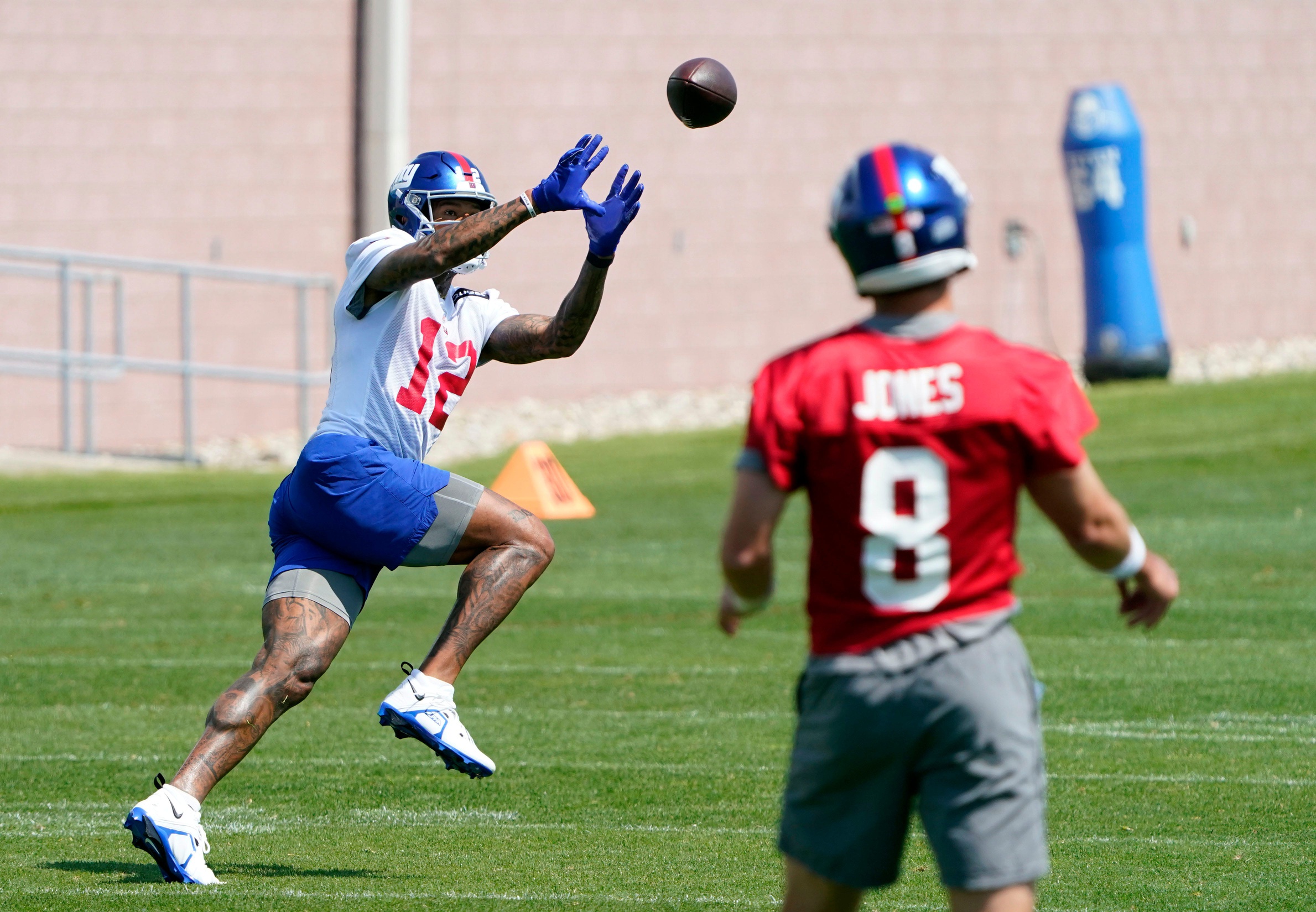 One of the biggest surprises of free agency was the trade of veteran tight end Darren Waller.
Considering the Las Vegas Raiders traded him away just six months (in March) after he signed a three-year, $51 million extension, the move drew some curious eyes around in personnel circles.
Some personnel sources said the Raiders were clearly trying to move the talented but aging pass catcher, and the Giants clearly saw him as a chess piece on offense.
But why would the Raiders decide to move on from him so quickly? Teams rarely re-sign players and trade them away six months later unless there's some type of issue or issues going on that were not known at the time.
While getting a third-round pick was seen by multiple league sources as good compensation for the Raiders, considering Waller turns 31 this fall, league sources said some in the club got wary of Waller missing significant time over the last two seasons (14 games).
There were no off-the-field concerns, it should be noted, but as a pro personnel source added, you want to move away from older players who have trouble staying healthy before it's too late.
The Raiders, another source said, did try to re-sign veteran TE Foster Moreau, but the New Orleans Saints wound up signing him to a three-year, $12.2 million deal ($8 million fully guaranteed). To replace Waller, the team selected Michael Mayer in the second round of this year's NFL Draft.
Elsewhere in Giants news, it was reported by a few media outlets (ESPN.com, New York Post) that veteran ILB Jarrad Davis had knee surgery, which will keep him out of action for a prolonged period of time.
Davis, who re-signed with the Giants back in early March for $1.2 million ($1.1 million base salary, $75,000 roster bonus if active in first regular-season game, $25,000 workout bonus), could be replaced by second-year ILB Darrian Beavers.
Beavers, who a source close to the situation said was pushing for serious playing time as a rookie last season before suffering an ACL injury late during the preseason, was one of the team's biggest surprises of training camp.
The former on-ball defender (who played closer to the line of scrimmage) dropped all the way to the sixth round because personnel sources said he was playing out of position, and the Giants, one source said, were smart to move him to a pure linebacker position to take of advantage of his size (6'4″, 255 pounds).
The source added that his very strong pro day workout helped get him drafted despite the questionable game tape.
Latest Surrounding RB Dalvin Cook
There has been talk in personnel circles over the last few weeks that the Jets have an interest in former Minnesota Vikings running back Dalvin Cook.
Multiple league sources said the team clearly has some level of interest, but no deal is imminent.
As a personnel source from another team discussed with PFN this week, can the team be 100% sure that second-year RB Breece Hall (left ACL recovery) will be ready for Week 1's game against the visiting Buffalo Bills?
And the source added that he was aware of the reports that Hall is on target to play against the Bills but added that it would be hard for the coaches to assess how much work he could handle for the season without seeing him practice for at least a few weeks in training camp or leading up to the first regular-season game after camp ended, which would help to explain the Jets looking for potential help at the position.
Another source said that third-year RB Michael Carter, who showed great promise in his first season in 2021 but had a reduced role last season, has put together a good offseason and is the favorite, as of now, to handle the backup job to Hall if the team doesn't sign Cook or another veteran.
In other team news, fourth-year left tackle Mekhi Becton, who has dealt with weight problems frequently during his time with the Jets, recently weighed in at the low 340s, PFN has learned.
The mammoth offensive lineman weighed in the 380 to 390-plus range in previous years, so this has to be considered very good news.
Becton will compete against veteran LT Duane Brown for the starting job at that position while second-year pro Max Mitchell and versatile veteran OL Billy Turner will compete for the right tackle job.