One of the most underrated free agents this NFL offseason is Kansas City Chiefs wide receiver Byron Pringle. Relatively speaking, Pringle is a bit player for the Chiefs. However, the advanced metrics clearly show that he was a vital component of Kansas City's offense last season.
2021 was the most productive season of Byron Pringle's career
After Pringle signed with Kansas City as an undrafted free agent back in 2018, he spent several seasons playing an extremely minor role. This past season, though, he saw a significant increase in production.
Pringle caught 42 passes for 568 yards and 5 touchdowns. And while that isn't close to making Pringle the featured player in a Kansas City offense that is bursting with talent, each of those numbers is better than his totals from the previous two seasons combined. Clearly, this was a breakout year for the wide receiver.
Pringle's advanced metrics make him a crucial free agent during this NFL offseason
Although Pringle's statistics improved significantly last season, his real impact on Kansas City's offense was even higher than they would indicate. To really understand just how important he was, we need to use the Offensive Value Metric (OVM). The OVM is a grading system created by the (Bx) Movement to measure how much of a player's statistical production they were actually responsible for.
According to the OVM, Pringle was one of the most effective wide receivers in the league. He earned a grade of 39.32, the second-highest of any WR in 2021.
Such an impressive grade implies that Pringle was one of the most effective players at his position, even if his box score numbers didn't necessarily match that status.
Examining performances throughout the season
To provide some more context regarding Pringle's performance in 2021, let's look at his grades from each week of the regular season, marked by the black dots. For comparison, the yellow line represents the regular-season average grade for wide receivers last season.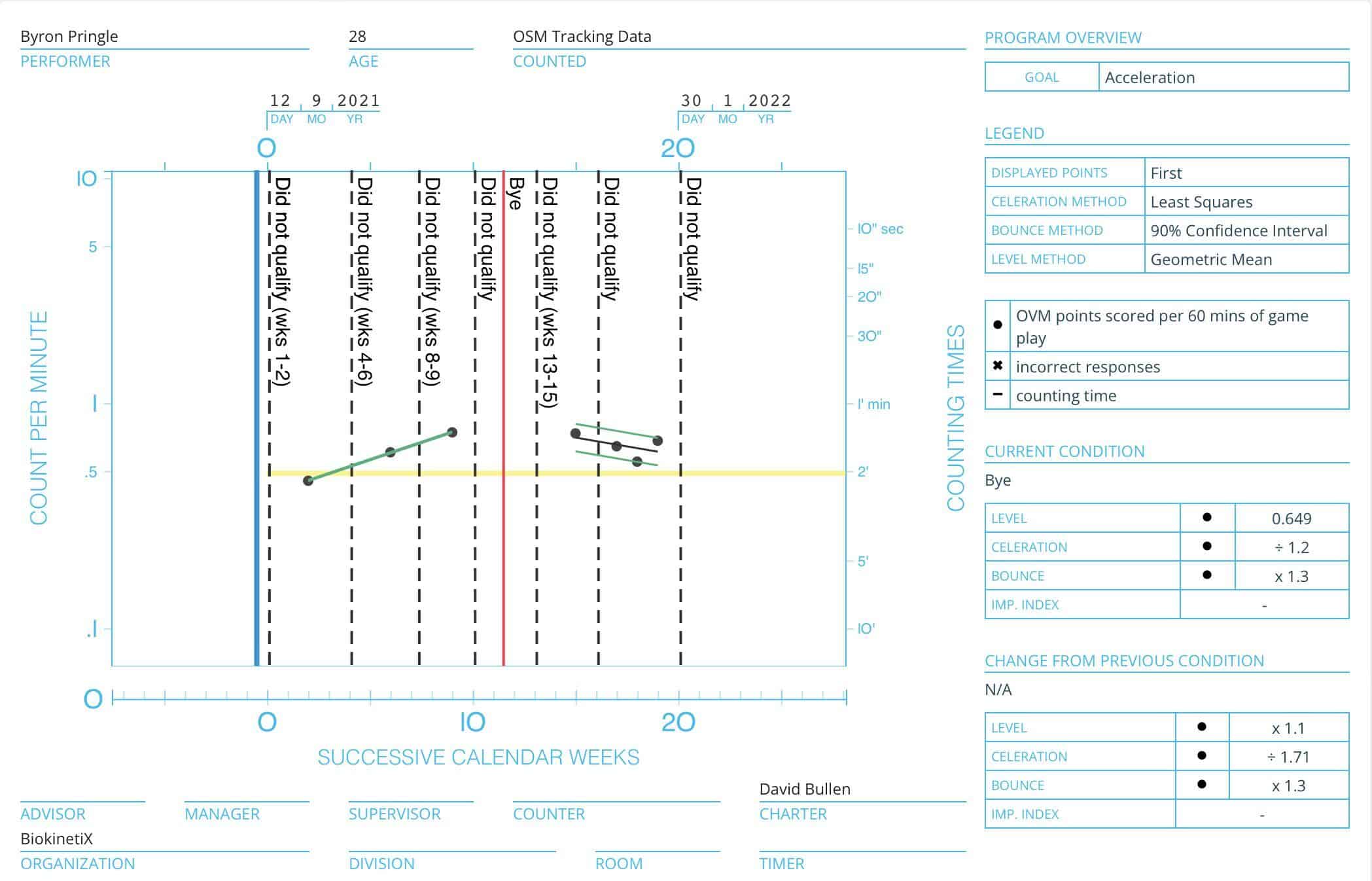 Thanks to his relatively low usage rate, Pringle didn't always earn a grade. However, the grades he did receive were extremely impressive.
His worst grade of the season was the first one he earned, a 27.12-point performance in Week 3. That was just barely below the league average. As it turned out, that would be his only week below that mark. After that, all six of his grades were above 30 points, and three of them were above 40 points.
While Pringle wasn't always called upon to take a prominent role for the Chiefs, he stepped up to the challenge when that did happen.
The statistics behind his grades
Explaining why Pringle, only the fourth-most productive receiver on his own team, graded so highly will require some additional work. In order to see the answer and find why Pringle's grade was higher than almost everyone else in the league, we need to look at the advanced statistics involved in calculating his grade.
To start with, Pringle had a relatively high catch percentage. He caught 70% of his targets, which ranked 20th among 98 qualifying players. Pringle also had solid yards-after-the-catch numbers, once again ranking in the top half of the NFL. He averaged 4.8 yards, tied for 32nd in the league. According to the NFL's projections, that number was 0.8 yards higher than expected, tied for 33rd.
Those metrics rank highly but aren't anything special. On their own, they would result in a grade that was above average. However, it wouldn't be truly spectacular, as it was in reality.
To find the reason behind Pringle's high grade, we need to examine his separation numbers. He averaged 4.1 yards of separation when targeted, tied for second in the NFL.
That number looks even more impressive when you take into account the amount of cushion he was given by defenders. At just 5.3 yards on average, it was tied for 10th with many other players.
On the whole, Pringle performed well in many areas and was one of the best players in the NFL at creating separation, even though he was covered more tightly than most of his counterparts.
The Chiefs should make Pringle a priority free agent
Despite his humble origins, Pringle has become a crucial part of the Chiefs offense. He isn't the most impactful player, but he's filled his role exceptionally well.
If the Chiefs decide not to re-sign Pringle, they might find replacing him significantly more difficult than an outside observer would expect. It seems it is in their best interest to bring him back next season. That said, if they do decide to move on from Pringle, I'm sure another team could benefit from a receiver of his caliber.