The NFL coverage map for Week 9 is back. No London this week, and there are six teams on a bye. CBS has the doubleheader, with FOX showcasing just five games, including one in the late window.
NFL Coverage Map for Week 9
The folks at 506 Sports provide this week's NFL TV and coverage map. The color codes and what games they correspond to are listed below.
Listings include FOX, CBS, NFL Network, and prime-time games on Amazon Prime, NBC, and ESPN. These maps are subject to change throughout the week.
CBS Early-Game NFL TV Coverage Map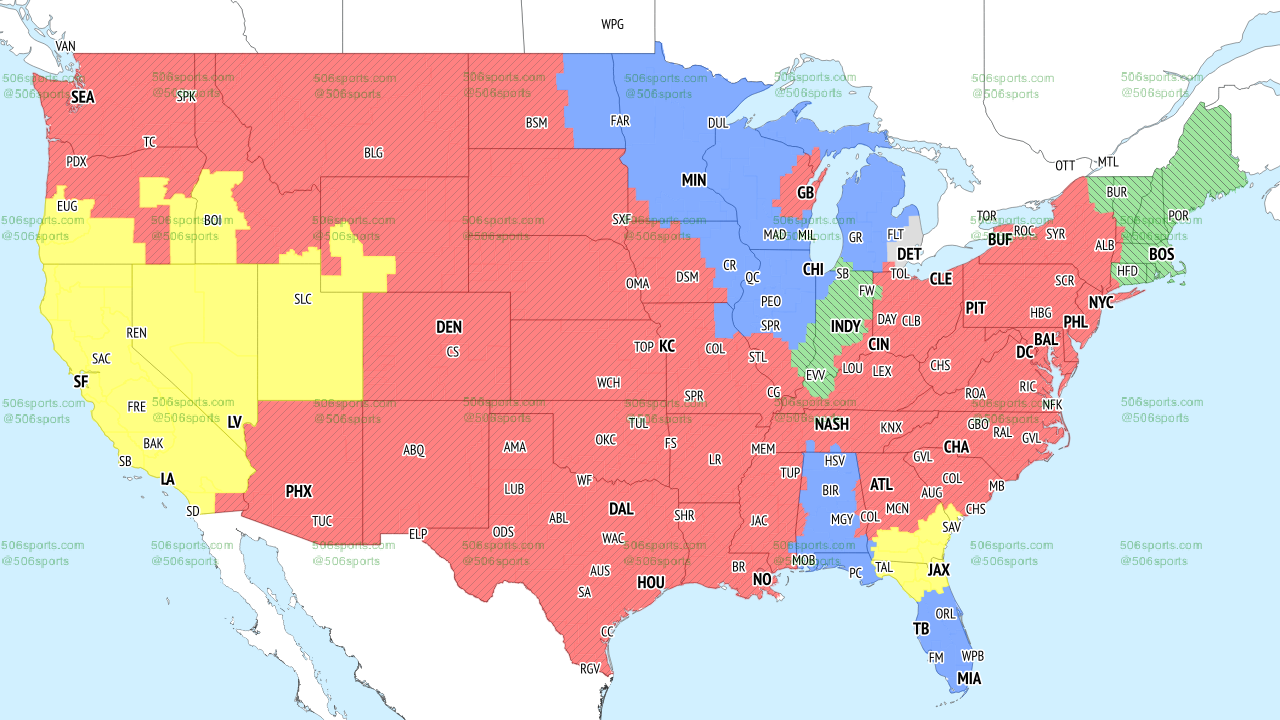 Red: Buffalo Bills @ New York Jets
Ian Eagle and Charles Davis
It's been a while since the Jets played in a meaningful November game, but they have one in Week 8. The current NFL playoff picture has them seeded fifth. A win over the top team in the AFC would go a long way for the franchise and their trust in Zach Wilson under center.
Blue: Miami Dolphins @ Chicago Bears
Kevin Harlan and Trent Green
It was busy for both the Dolphins and Bears at the NFL trade deadline this year. The Dolphins acquired both Bradley Chubb and Jeff Wilson, while the Bears acquired Chase Claypool. How much these three will see the field for their new teams in Week 9 is unknown, but if they hit the field, it will make for a fun matchup to watch on CBS.
Yellow: Las Vegas Raiders @ Jacksonville Jaguars
Andrew Catalon and James Lofton
It's safe to say you can trust your DoorDash driver to deliver more on a weekly basis rather than either the Raiders or Jaguars this season. To make matters worse for the Jaguars, they used the trade deadline to trade for a suspended Calvin Ridley. It doesn't help them now. It might help them later. We'll see.
Green: Indianapolis Colts @ New England Patriots
Greg Gumbel and Adam Archuleta
15 years ago, this was the matchup to watch. Now it's Mac Jones vs. Sam Ehlinger, and the enthusiasm has fallen, with the coverage map this week covering primarily the local Indianapolis and New England areas.
CBS Late-Game NFL TV Coverage Map
Red: Los Angeles Rams @ Tampa Bay Buccaneers
Jim Nantz and Phil Sims
It's been a rough season for these two teams that were expected to compete for the playoffs. The Rams and Buccaneers sit at 3-4 and 3-5, respectively, and desperately need to win this week to keep their heads above water.
There's no coverage map here as it's the lone CBS broadcast on Sunday afternoon and will be shown everywhere you don't see blue on the map below.
FOX Single-Game NFL TV Coverage Map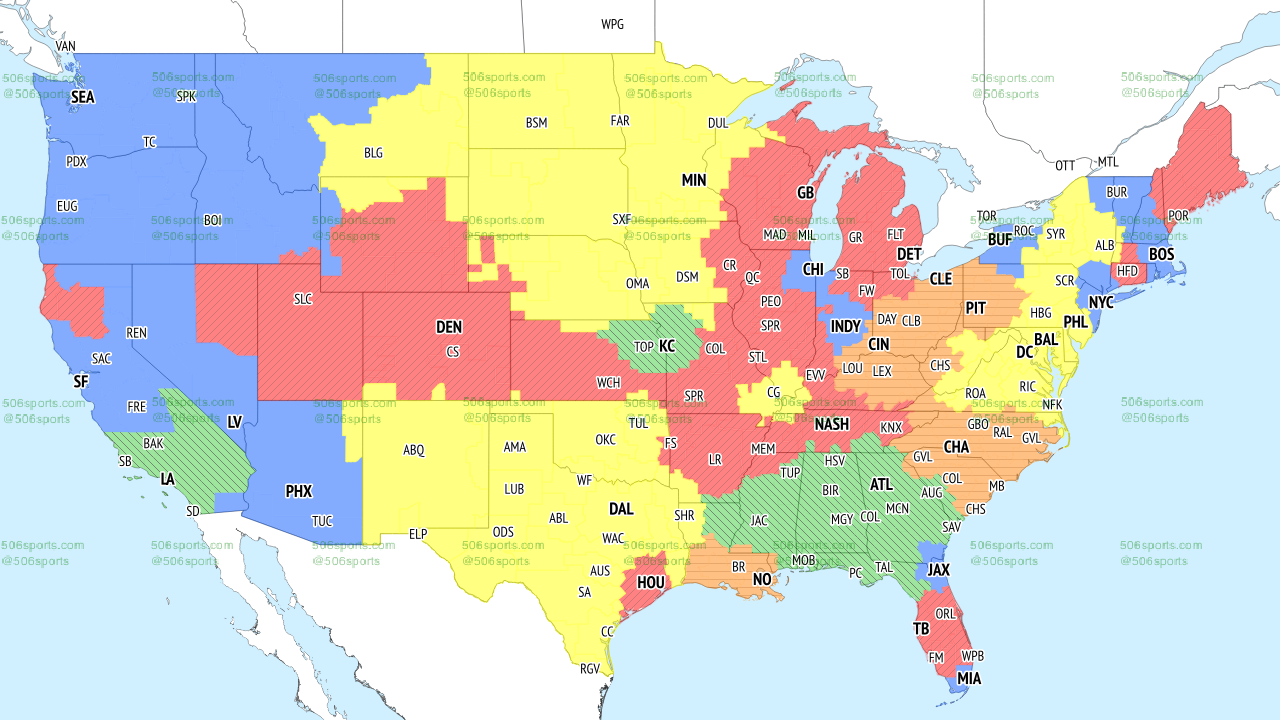 Red: Green Bay Packers @ Detroit Lions
Kevin Burkhardt and Greg Olsen
It's been a long-losing stretch for Green Bay and the Packers fans, but with the Lions on tap, the cheeseheads have something to look forward to in Week 9. The over/under is currently set at 49.5, so the folks over at the Barstool Sportsbook expect a lot of points to be scored.
Green: Los Angeles Chargers @ Atlanta Falcons
Kenny Albert and Jonathan Vilma
Coming off a bye, Los Angeles needs a win not only to stay in the AFC Wild Card race but within reach of the Chiefs in their division. The Falcons won't be an easy beat, however, leading the NFC South division.
Yellow: Minnesota Vikings @ Washington Commanders
Chris Myers and Mark Schlereth
The Vikings won on Sunday and on Tuesday this week, acquiring TJ Hockenson in a trade with the Lions. A big move that proves they're all-in to make a run to the Super Bowl, but they need to handle business against the Commanders in Week 9.
Brown: Carolina Panthers @ Cincinnati Bengals
Kevin Kugler and Mark Sanchez
It's the battle of jungle cats Sunday on FOX. Cincinnati is in the hunt for a playoff spot and a game behind the Ravens in the AFC North, while Carolina is just two games back to the Falcons in the AFC South.
Blue: Seattle Seahawks @ Arizona Cardinals (Late)
Adam Amin and Daryl Johnston
The Seahawks keep exceeding expectations, leading the NFC West heading into Week 9. The Cardinals, however, had their best week of the season last week, scoring 42 points with Deandre Hopkins leading the offense. This might be the trap game Seattle is trying to avoid.
NFL Week 9 National TV Broadcasts
Thursday Night Football
Philadelphia Eagles @ Houston Texans (Amazon Prime)
The best part of the Week 9 Thursday Night Football matchup is if you haven't been able to watch the Eagles play football this year, you finally get to. They're a great football team, and they get to showcase their talent against a struggling Texans team.
Sunday Night Football
Tennessee Titans @ Kansas City Chiefs (NBC)
While their records both say 5-2, Kansas City and Tennessee truly feel like two different football teams. Regardless, the Titans play in a poor division and are likely to be in play for one of the top three seeds in the AFC this year, so this matchup on Sunday Night Football has playoff-seeding implications.
Monday Night Football
Baltimore Ravens @ New Orleans Saints (ESPN)
Baltimore's been hit-or-miss thus far. They've found more ways to win than lose, however, which has them atop the AFC North. Meanwhile, the Saints, who enter Week 9 with a 3-5 record, have been competitive each week, never losing by more than 10 points thus far.