The NFL is back in London, and we're back with the Week 8 NFL coverage map. For the second-consecutive week, CBS has single-game coverage and FOX gets the doubleheader with the usual three prime-time games on Thursday, Sunday, and Monday night.
NFL Coverage Map for Week 8
The folks at 506 Sports provide this week's NFL TV and coverage map. The color codes and what games they correspond to are listed below.
Listings include FOX, CBS, NFL Network, and prime-time games on Amazon Prime, NBC, and ESPN. These maps are subject to change throughout the week.
CBS Single-Game NFL TV Coverage Map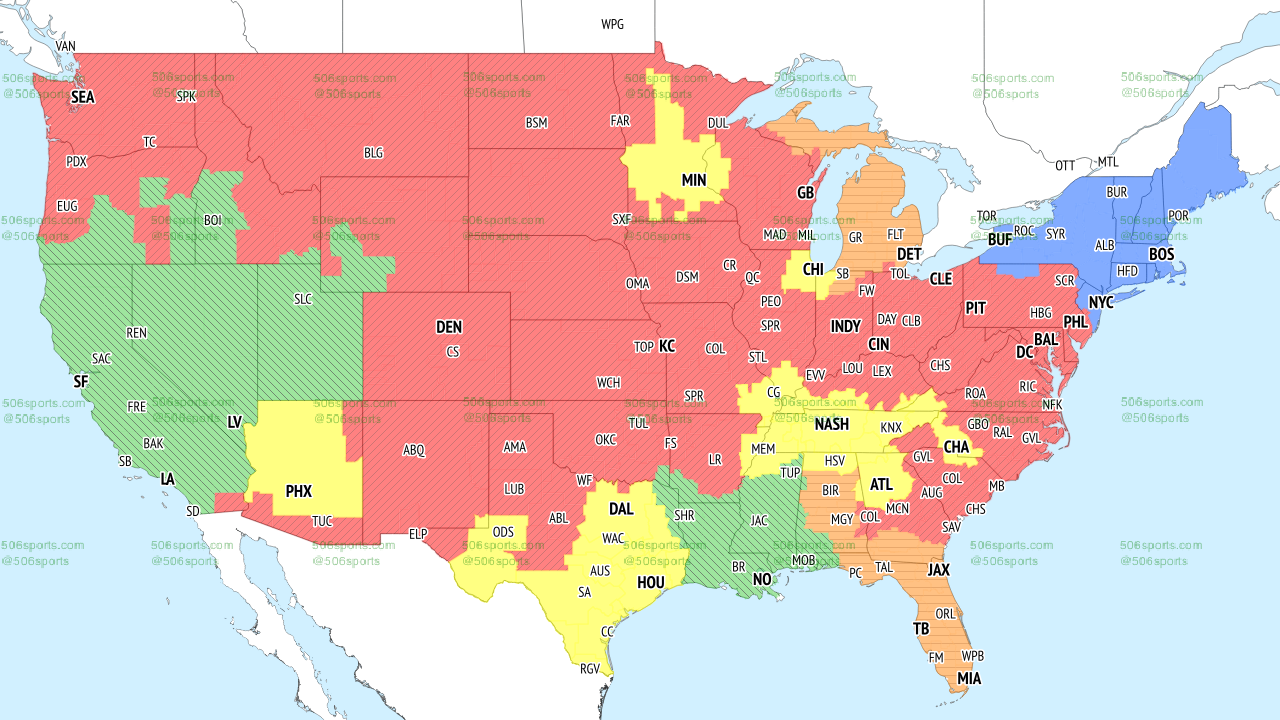 Red: Pittsburgh Steelers @ Philadelphia Eagles
Jim Nantz and Tony Romo
The State of Pennsylvania is split this fall, the Steelers riding the struggle bus while the Eagles are flying high with the only undefeated record in pro football. While the Steelers have been competitive more times than not, the task at hand against the entire Eagles team will be their toughest of the season. This game will be shown on most local CBS stations across the entire coverage map.
Green: Las Vegas Raiders @ New Orleans Saints
Kevin Harlan and Trent Green
Both the Raiders and Saints enter Week 8 with just two wins. With that being said, both squads rank in the top 10 across the entire NFL for points scored so it should be a fun game to watch.
Blue: New England Patriots @ New York Jets
Ian Eagle and Charles Davis
Following Breece Hall's ACL tear this last week, the Jets responded by trading for RB James Robinson. How much he'll be involved in New York's offense on Sunday is unknown as is the Patriots' QB situation. Big implications for both AFC East teams on CBS this week.
Orange: Miami Dolphins @ Detroit Lions 
Andrew Catalon and James Lofton
The Lions might enter Week 8 with a 1-5 record but everyone's collectively holding their breath for the week where they pull every facet of the game together. Over on BETMGM, they're just three-point underdogs to a Dolphins team that hasn't scored over 20 points in over a month.
Yellow: Tennessee Titans @ Houston Texans (Late)
Greg Gumbel and Adam Archuleta
The lone CBS game this Sunday takes place in Houston with their AFC South foes coming to town. The Texans caught the Titans looking ahead in 2021, can they do the same this year?
FOX Early-Game NFL TV Coverage Map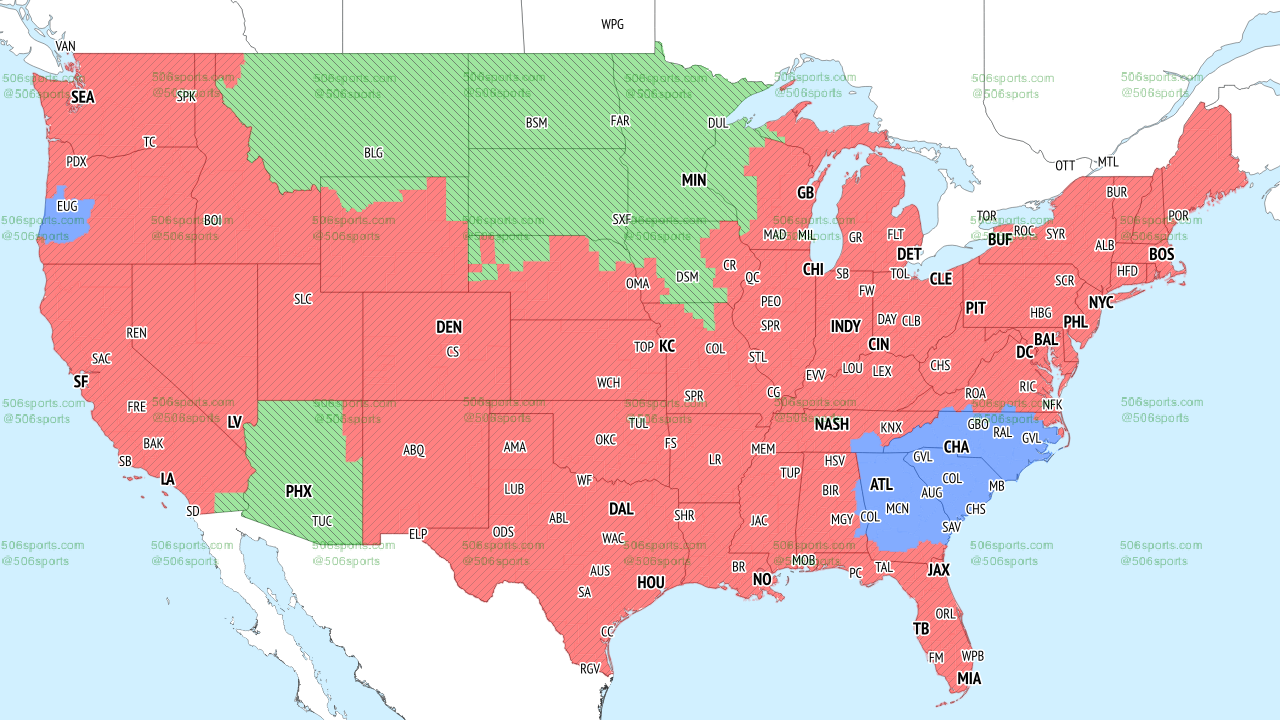 Red: Chicago Bears @ Dallas Cowboys
Adam Amin and Daryl Johnston
How 'bout them Bears? A road win on Monday Night Football against the Patriots has to have Chicago fans excited, but they face a much tougher test against the Cowboys on FOX in Week 8.
Green: Arizona Cardinals @ Minnesota Vikings
Chris Myers and Mark Schlereth
Through seven weeks of the season, the Vikings are not only looking at a shot at the NFC North but are set to fight for home-field advantage down the stretch. The Cardinals need a win to both stay within spitting distance of the NFC West and to save Kliff Kingsbury's gig for another week.
Blue: Carolina Panthers @ Atlanta Falcons
Kenny Albert and Jonathan Vilma
Two months ago this contest held less value for FOX. Now, with the Panthers a game out of the division and the Falcons tied for the division lead, there are realistic implications on the line.
FOX Late-Game NFL TV Coverage Map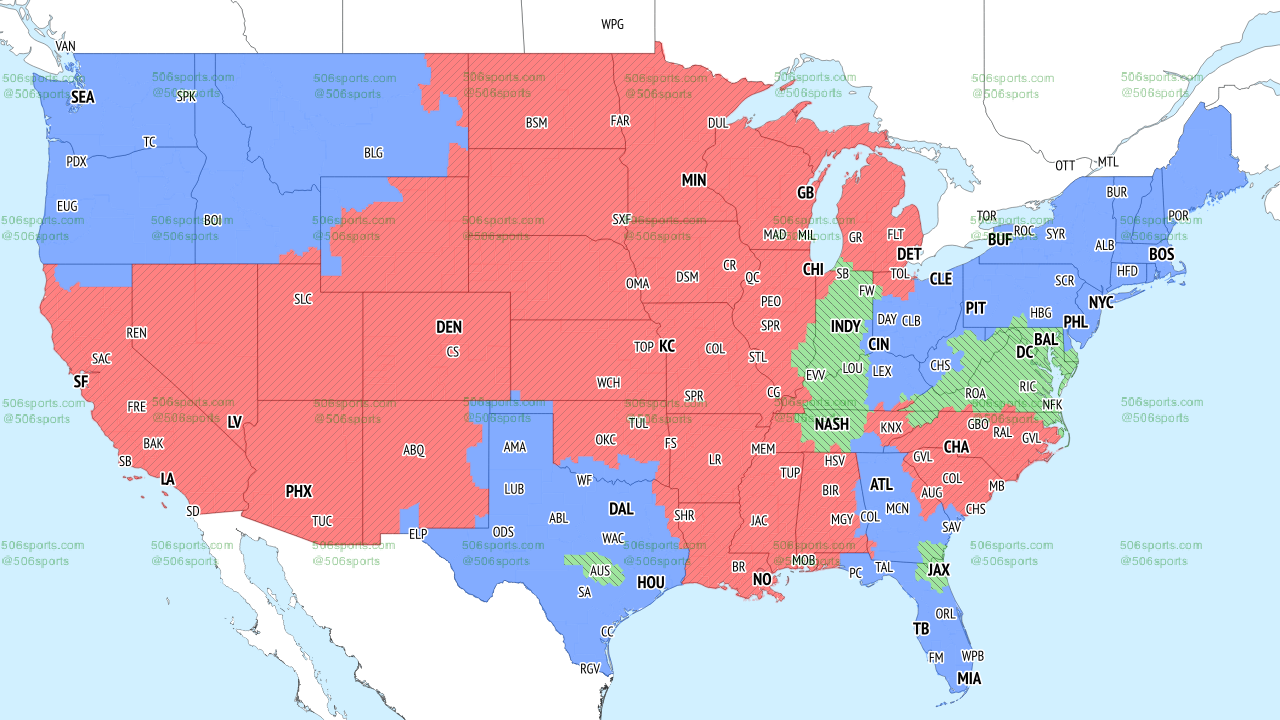 Red: San Francisco 49ers @ Los Angeles Rams
Kevin Burkhardt and Greg Olsen
It's safe to assume when the league was putting together the 2022 NFL schedule that FOX anticipated a much more competitive Rams team. However, these two NFC West rivals typically play each other tough, so we should get a treat for the Week 8 game-of-the-week.
Blue: New York Giants @ Seattle Seahawks
Kevin Kugler and Mark Sanchez
The Giants and Seahawks are both doing things no one expected this season: winning. There are playoff implications in play here for both teams.
Green: Washington Commanders @ Indianapolis Colts
Brandon Gaudin and Robert Smith
This was supposed to be Carson Wentz' revenge game with Matt Ryan on the other sideline proving his worth. Instead, we have Taylor Heinicke vs. Sam Ehlinger, and it's all of a sudden turned into a more exciting game.
NFL Week 8 National TV Broadcasts
Thursday Night Football
Baltimore Ravens @ Tampa Bay Buccaneers (Amazon Prime)
Have we ever seen a worse version of Tom Brady? The Buccaneers' offense only scored 3 points against a struggling Panthers squad. Brady will want revenge on primetime, and it'll be up to the Ravens to halt the ship.
Sunday Morning Football
Denver Broncos vs. Jacksonville Jaguars (London on NBC)
This will be the fifth game the Broncos have had national TV coverage this season although this kickoff is at 9:30 am ET. In those games, Denver has failed to score over 20 points. On behalf of the United States, we're sorry.
Sunday Night Football
Green Bay Packers @ Buffalo Bills (NBC)
It's a struggle for the Packers' offense right now and it won't get any easier heading to Buffalo on Sunday night. For the first time in his career, Rodgers is a double-digit entering a game, currently 10.5 dogs to the Bills on the Barstool Sportsbook.
Monday Night Football
Cincinnati Bengals @ Cleveland Browns (ESPN)
If the Browns want a realistic shot at the playoffs this season they need to win on Monday Night Football. It won't be an easy task with Joe Burrow and the Cincinnati offense, who looked unstoppable against the Falcons last week, coming to town.