The NFL coverage maps have been released for Week 5. There are four nationally broadcasted games this week, with the NFL making its second trip to London on the young season. CBS will broadcast nationally in just one window on Sunday, while FOX will have a game in both early and late windows this week.
NFL Coverage Map for Week 5
The folks at 506 Sports provide this week's NFL TV and coverage map. The color codes and what games they correspond to are listed below. Listings include FOX, CBS, NFL Network, and prime-time games on Amazon Prime, NBC, and ESPN. These maps are subject to change throughout the week.
CBS Single-game NFL TV Coverage Map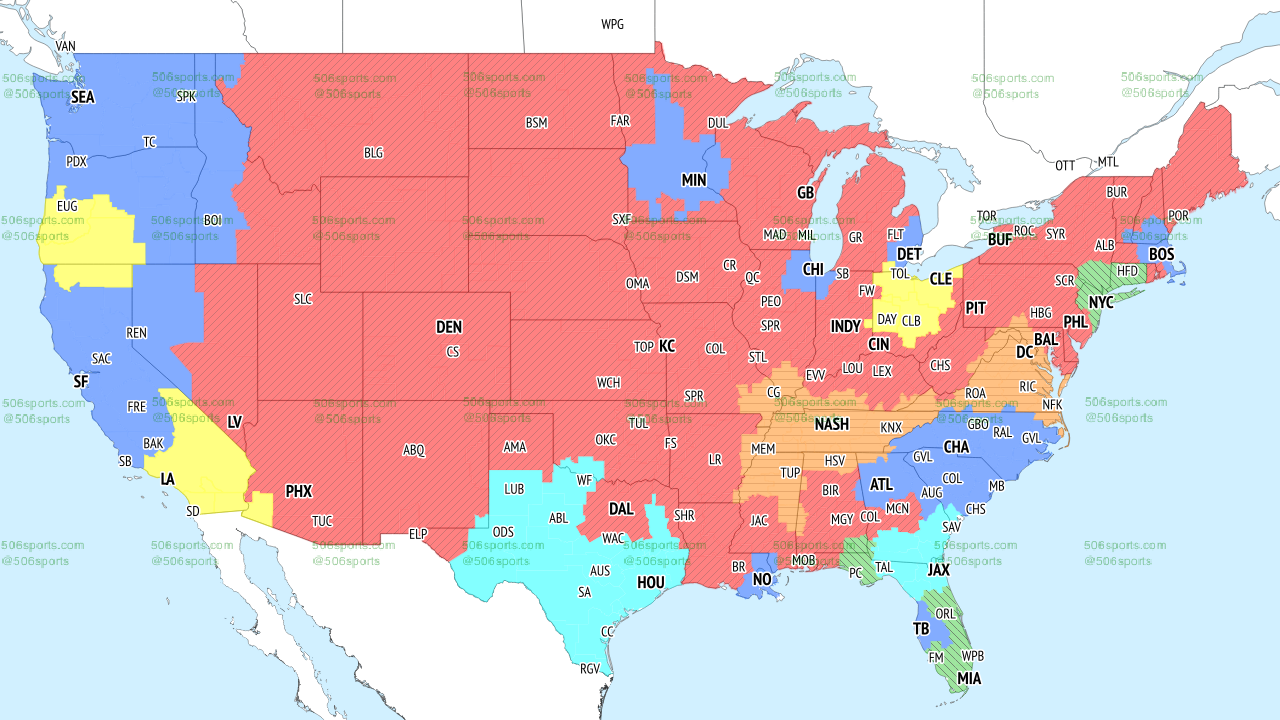 Red: Pittsburgh Steelers @ Buffalo Bills
Jim Nantz and Tony Romo
CBS sends their top crew to Buffalo as Kenny Pickett makes his first start at QB against a daunting Bills defense. Unless Pickett has some of that Josh Allen magic in him, this may be a lopsided matchup on Sunday.
Green: Miami Dolphins @ New York Jets
Kevin Harlan and Trent Green
Following Tua Tagovailoa's scary injury last Thursday night, Teddy Bridgewater makes the start for the 3-1 Dolphins. Meanwhile, Zach Wilson makes his second start of the year. A Jets win would put these two rivals at a 3-2 logjam near the top in the AFC East standings.
Yellow: Los Angeles Chargers @ Cleveland Browns
Greg Gumbel and Adam Archuleta
If there was a Super Bowl for the teams that find the best ways to lose, this would be the matchup. Both teams find themselves with a 2-2 record through the first four weeks of the season, and kickoff is at 1 p.m. on CBS and Paramount+ this Sunday.
Orange: Tennessee Titans @ Washington Commanders
Andrew Catalon and James Lofton
The Titans and Commanders have a combined -60 point differential heading into Week 5. Not having won since Week 1, the Commanders need their defense to step up before losing all ground in the NFC West and NFC Wild Card conversations.
Teal: Houston Texans @ Jacksonville Jaguars
Spero Dedes and Jay Feely
The Texans record may be 0-3-1, but they've shown a lot of fight this season. Like them, the 2-2 Jaguars have struggled to hold onto leads when they have them. Currently, the DraftKings Sportsbook has the Jaguars at -7, one of the widest spreads available for week 5 as of Wednesday afternoon.
Blue: San Francisco 49ers @ Carolina Panthers (Late)
Ian Eagle and Charles Davis
Unless Baker Mayfield and the Panthers offense dig deep in the bag of gimmicks Sunday afternoon, the 49ers defense should handle their own. They'll be the lone game on CBS in the later slate, primarily available in local markets.
FOX Early-game NFL TV Coverage Map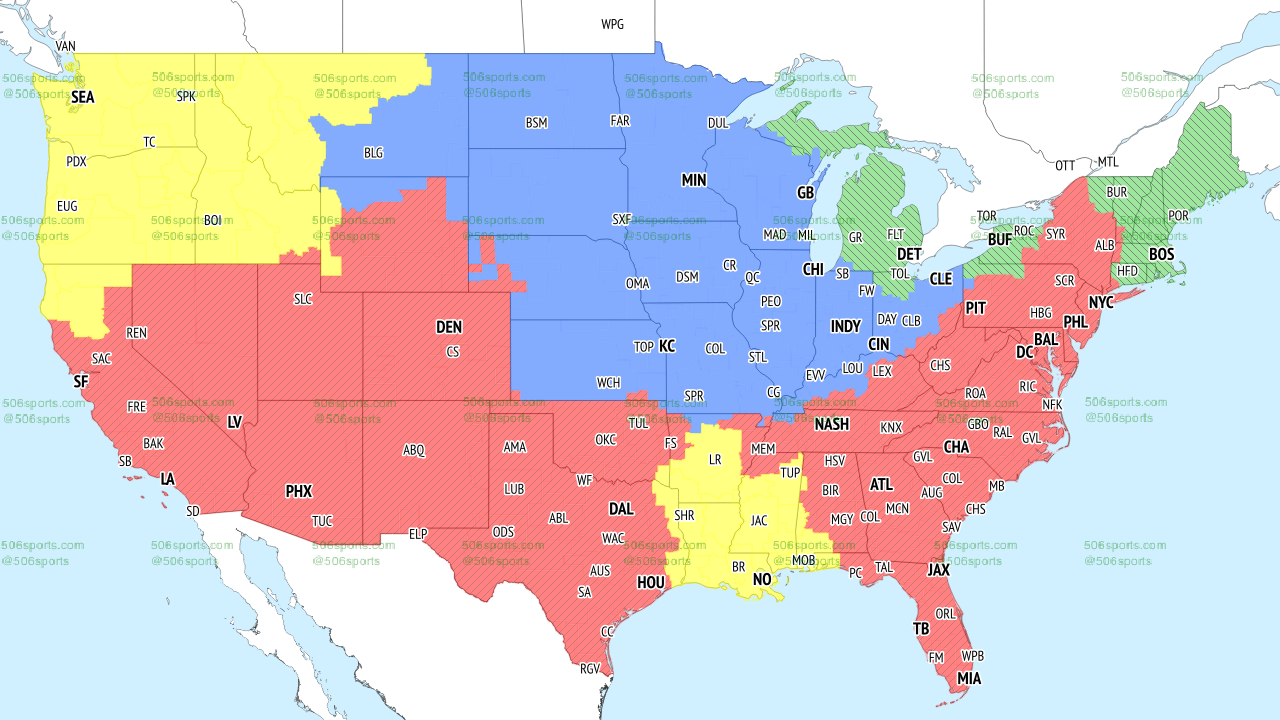 Red: Atlanta Falcons @ Tampa Bay Buccaneers
Joe Davis and Daryl Johnson
Believe it or not, the winner of this matchup will find themselves atop the NFL Standings in the NFC South after Week 5. Much of the south, outside of Louisiana, Arkansas, and Mississippi, will have the option to watch in the early Sunday window.
Blue: Chicago Bears @ Minnesota Vikings
Adam Amin and Mark Schlereth
The Vikings needed a 4th-quarter comeback in Week 3 and a double doink in London in Week 4 to get their 3-1 record. Now the Bears come to town; is this a trap game for Minnesota?
Green: Detroit Lions @ New England Patriots
Kenny Albert and Jonathan Vilma
The Lions' number-one scoring offense in the NFL, led by Jared Goff, travels to Foxborough to face Bill Belichick and the 1-3 Patriots. Just let that sentence sink in for a second.
Yellow: Seattle Seahawks @ New Orleans Saints
Brandon Gaudin and Matt Millen
The FanDuel Sportsbook has the Saints as -6 favorites coming off a tough loss in London last Sunday morning. Meanwhile, Geno Smith has been one of the more consistent quarterbacks in the NFL this season, including in a shootout win against the Lions last week.
FOX Late-game NFL TV Coverage Map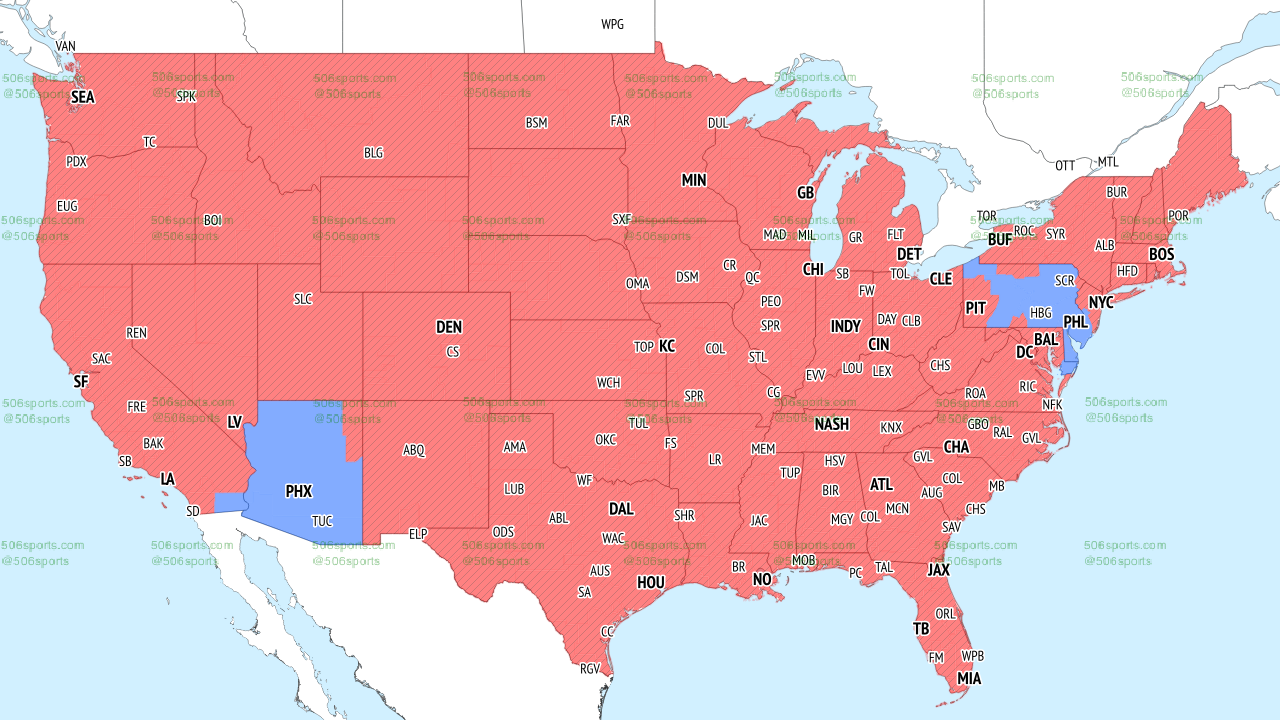 Red: Dallas Cowboys @ Los Angeles Rams
Kevin Burkhardt and Greg Olsen
FOX has the doubleheader this week and will showcase the Cooper Rush-led Cowboys against the defending Super Bowl Champion Los Angeles Rams.
Blue: Philadelphia Eagles @ Arizona Cardinals
Chris Myers and Robert Smith
This may be the better afternoon game, but few will have the opportunity to tune in unless you have NFL RedZone.
National TV Broadcasts for Week 5
Thursday Night Football
Indianapolis Colts vs. Denver Broncos (Amazon Prime)
The most entertaining moment during Thursday Night Football might be watching your DoorDash driver pull up with your food. The only question is: pizza or wings?
Sunday Morning Football
New York Giants vs. Green Bay Packers (NFL Network)
Our friends across the pond got a great game last week. The Giants have been playing above expectations while Aaron Rodgers keeps doing his thing with an inexperienced receiving core. Kickoff is at 9:30 a.m. Sunday morning.
Sunday Night Football 
Cincinnati Bengals vs. Baltimore Ravens (NBC)
The Bengals came off a great win on Thursday Night in Week 4, while the Ravens found themselves on the losing end in another late-game collapse. Thankfully for both teams, the Browns hadn't found a way to take advantage of both teams' slow starts.
Monday Night Football
Las Vegas Raiders vs. Kansas City Chiefs (ESPN)
We all thought the AFC West would be wide open this season with a plethora of talent going everywhere but Kansas City. However, the Chiefs continue to show us why they're one of the top teams in the NFL every year. Can the Raiders prove us wrong on Monday Night Football?