The NFL season has started with a bang, and things are starting to take shape around the league. With the NFL standings having some eye-opening numbers on them right now, what does Week 4 bring us? Let's take a look at the Week 4 coverage maps across CBS and FOX and what we might expect to see from the games.
From the current NFL standings to team depth charts to coverage of every game in the 18-week NFL schedule, we have all the news from around the league to keep you up to speed!
NFL Coverage Map for Week 4
As always, huge credit must go to 506 Sports, who compile the fantastic NFL coverage maps that tell us which games will be shown live on local stations across America. This week sees FOX with the doubleheader once again, so you will only have the option of one CBS game in Week 4.
The maps below are correct as of Friday morning and could be subject to change.
CBS Single-Game NFL TV Coverage Map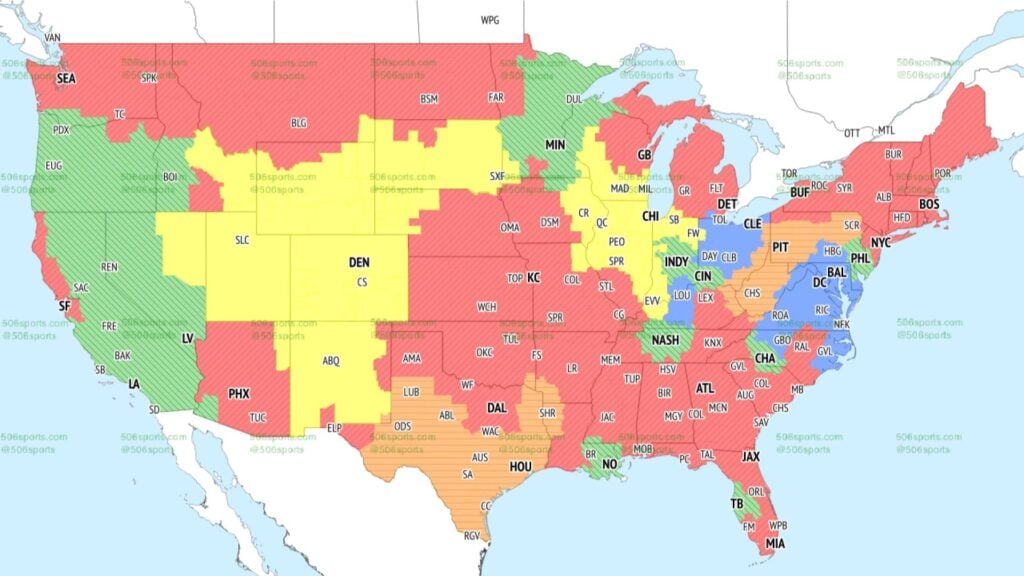 Red: Miami Dolphins at Buffalo Bills
Jim Nantz and Tony Romo
When CBS set this as the top game on their single-game coverage, they could only have dreamt of this scenario. A 3-0 Miami Dolphins team that scored 70 points last week and has one of the most high-octane offenses we have seen in recent memory against one of the best AFC teams in recent years.
MORE: Have the Miami Dolphins Ruined Football for America?
This has the makings to be the game of the day, Week 4, and perhaps even the entire season. Deservedly, this Dolphins vs. Bills game is occupying a huge portion of the CBS NFL Week 4 coverage map.
Blue: Baltimore Ravens at Cleveland Browns
Ian Eagle and Charles Davis
This game also has the makings of being a corker in what has quickly become a very entertaining AFC North. The Ravens, Browns, and Steelers are tied at 2-1, with the Bengals just behind them at 1-2. The winner of this one will ensure they stay at least one game clear of the Bengals heading into Week 5.
Yellow: Denver Broncos at Chicago Bears
Andrew Catalon, Tiki Barber, and Matt Ryan
A game between two teams who lost by a combined 81 points last week may not seem like a thriller. However, at 0-3, both teams are on the precipice of, for all intents and purposes, being eliminated from the playoffs.
Their one realistic hope of avoiding that is to win this week and avoid falling to 0-4. This game might not be the highest quality, but it should be played with even more passion than your average NFL game.
Brown: Pittsburgh Steelers at Houston Texans
Spero Dedes and Adam Archuleta
A matchup between the 2023 Steelers and Texans will not grab many headlines this week, but it could be important when we get to January. The Steelers have somewhat limped to 2-1, but they're right in the thick of a middling AFC, and the last couple of playoff spots could come down to the final weeks.
Equally, the Texans have shown more fight than we perhaps expected from them and their rookie QB. At 1-2, in a very weak-looking AFC South, they have a chance to defy expectations and be in contention for the division.
Green: Las Vegas Raiders at Los Angeles Chargers (Late)
Kevin Harlan and Trent Green

The Chargers and Raiders have had a bumpy first three weeks, but despite two losses, both are within a single game of the division-leading Kansas City Chiefs. A win in Week 4 will ensure that remains the case and will allow them to get back to an even record. In a middling late-afternoon slate, this could easily be the game of the session.
FOX Early-Game NFL TV Coverage Map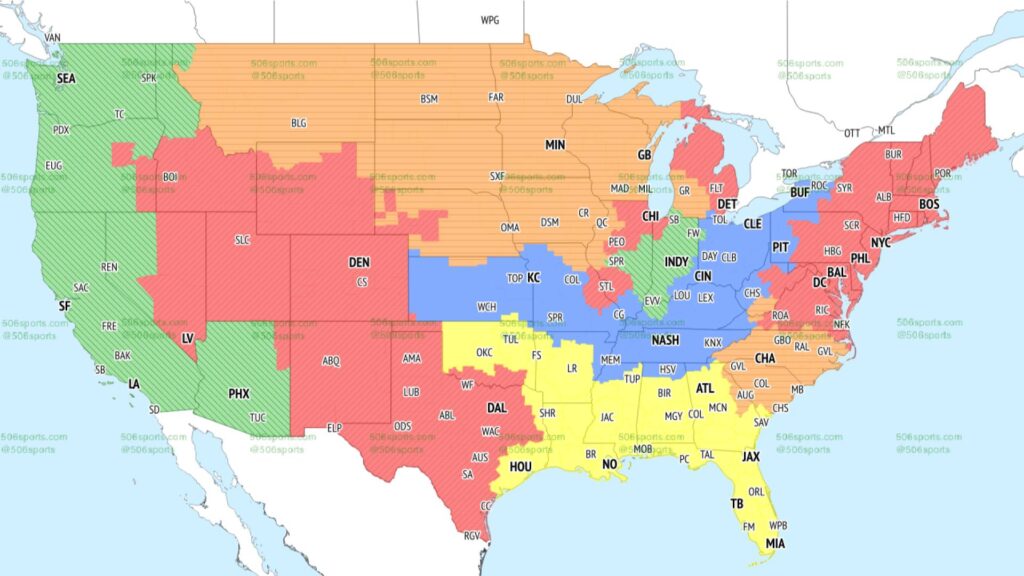 Red: Washington Commanders at Philadelphia Eagles
Joe Davis and Daryl Johnston
A week ago, this game looked somewhat more enticing. The Eagles had limped through the first two weeks, and the Commanders were 2-0.
However, Week 3 saw the Commanders crash back to earth against the Bills, while the Eagles put in a solid performance on the road in Tampa Bay. Based on what we saw this week, this game might not live up to the billing it has gotten on the Week 4 NFL FOX coverage map.
Blue: Cincinnati Bengals at Tennessee Titans
Adam Amin and Mark Schlereth
With both the Bengals and Titans starting at 1-2, this match will likely have huge implications in the AFC playoff picture. Dropping to 1-3 leaves little room for error over the next couple of months, while a 2-2 record relieves some of that pressure.
MORE: Making History and Breaking Streaks, 10 Stats To Know From the Bengals' Week 3 Win
The Bengals got a big win at home on Monday Night Football and now need to back that up on the road in Nissan Stadium.
Green: Los Angeles Rams at Indianapolis Colts
Kenny Albert and Jonathan Vilma
The Colts somewhat surprisingly find themselves atop the AFC South, but with the division lacking a standout team, belief will be growing that they can be division champions in 2023.
Meanwhile, the Rams will not want to let themselves fall any further behind the Seahawks (2-1) or 49ers (3-0).
Yellow: Tampa Bay Buccaneers at New Orleans Saints
Chris Myers and Robert Smith
The NFC South is set up beautifully, with three teams at 2-1. The Buccaneers, Saints, and Falcons will all believe they have a shot at winning the division, and these head-to-head matchups will be crucial. This game may not command much respect on the FOX NFL coverage map in Week 4, but it could be one that has major implications down the line.
Brown: Minnesota Vikings at Carolina Panthers
Alex Faust and Brady Quinn
Week 4 sees not one but two de facto playoff elimination games. The Vikings and Panthers both find themselves at 0-3, with dropping to 0-4 essentially a death sentence for their Super Bowl hopes based on historical context. Again, this game may not be the highest quality but expect to see plenty of passion in a must-win game for both teams.
FOX Late-Game NFL TV Coverage Map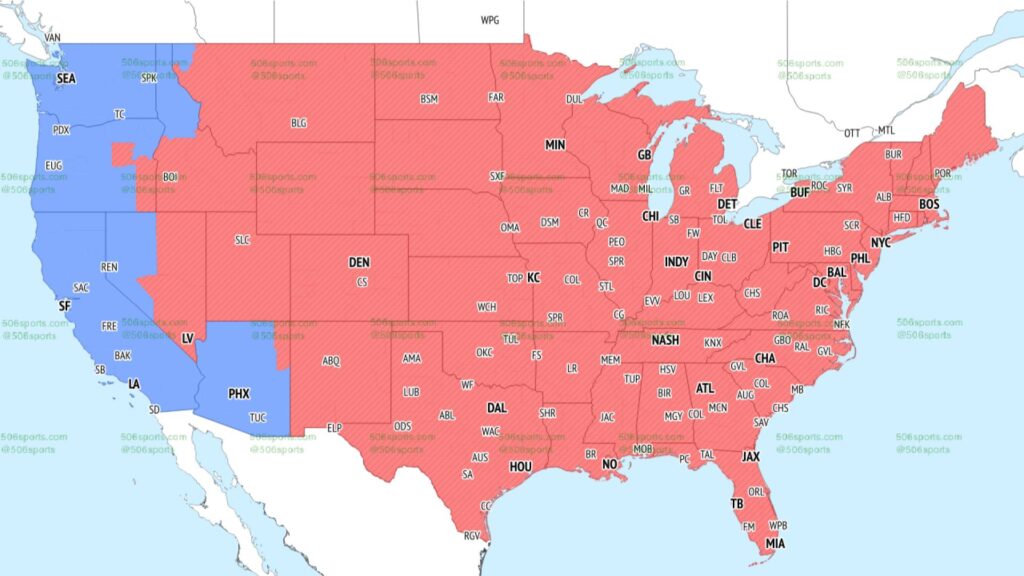 Red: New England Patriots at Dallas Cowboys
Kevin Burkhardt and Greg Olsen
These two teams come into Week 4 on a contrasting trajectory. The Patriots got a scrappy win over the New York Jets after some narrow losses. Meanwhile, the Cowboys were brought back to earth against the Arizona Cardinals last week.
Dallas should be the superior team here, but Bill Belichick will not make things easy, and the Cowboys proved that soft underbelly could still be an issue.
Blue: Arizona Cardinals at San Francisco 49ers
Kevin Kugler and Mark Sanchez
The Cardinals will be hoping to take out another undefeated team in Week 4 after putting one in the loss column of the Cowboys. The 49ers will feel quietly confident that they can get to 4-0 on 10 days rest, but they shouldn't underestimate the Cardinals in this one.
NFL Week 1 National TV Broadcasts
Thursday Night
Detroit Lions at Green Bay Packers (Amazon)
The sole lead of the NFC North is up for grabs on Thursday as the Packers and Lions face off in Lambeau. The Lions will potentially see this as somewhat of a free shot at the Packers, given that they are on the road, while Green Bay will not want to give up a home loss to their main divisional rivals.
Sunday Morning
Atlanta Falcons at Jacksonville Jaguars (ESPN+/Disney+)
Sunday morning football from Europe is back for the first of five across the next couple of months. The first game from London sees the Falcons and Jaguars looking to bounce back from Week 3 losses.
MORE: NFL International Games 2023
Jacksonville has made Wembley home, and they will hope to have the majority of the support in this one.
Sunday Night
Kansas City Chiefs at New York Jets (NBC)
When this game was billed as Patrick Mahomes vs. Aaron Rodgers (despite the pair never being on the field at the same time), it was a much more enticing game than it looks right now. The Jets have scored just 20 points in the past two weeks, while the Chiefs have begun to click in the last six quarters of football.
This one has the potential to get ugly fast.
Monday Night
Seattle Seahawks at New York Giants (ESPN/ABC)
The Giants will be desperate to put to bed the demons of that opening prime-time game at MetLife stadium. A Monday Night Football game against the Seahawks offers that opportunity, but while they stutter, the Seahawks are growing into this season. This game could sneakily be one of the best of the week.