The NFL coverage map is here for Week 15 games. We see a tripleheader on NFL Network on Saturday (all nationally televised games). Meanwhile, for Sunday, CBS gets the doubleheader while FOX has just a single broadcast.
NFL Coverage Map for Week 15
The folks at 506 Sports provide this week's NFL TV and coverage map. The color codes and what games they correspond to are listed below.
Listings include FOX, CBS, NFL Network, and prime-time games on NBC and ESPN. These maps are subject to change throughout the week. For the Thanksgiving Slate, scroll to the bottom of the article for more information.
CBS Early-Game NFL TV Coverage Map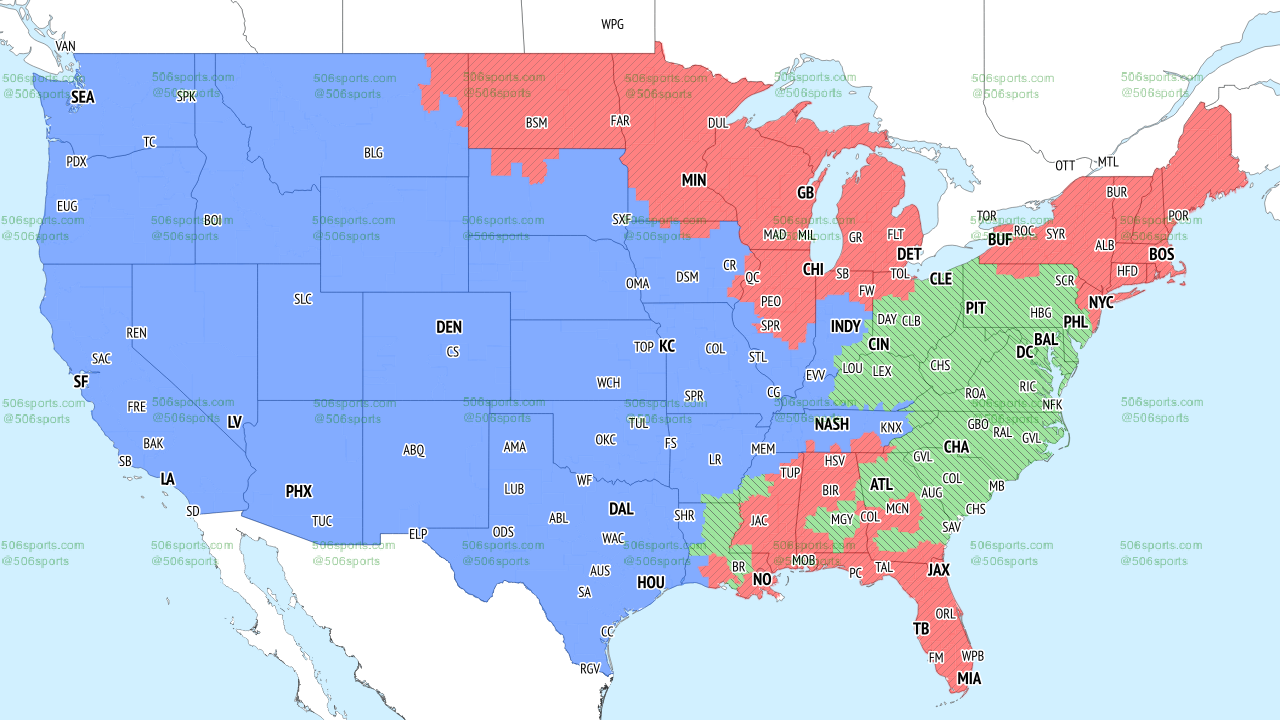 Blue: Kansas City Chiefs vs. Houston Texans
Kevin Harlan and Trent Green
Houston may be on the road to the first overall pick in the 2023 NFL Draft, but they're still playing tough, taking the Cowboys down to the wire last week. In Week 15, they welcome one of the top teams in the league to town, the Kansas City Chiefs. You can expect a fight, but Kansas City is the more talented team right now.
Red: Detroit Lions @ New York Jets
Ian Eagle and Charles Davis
Who expected the Lions to be within reach of the NFL playoff picture a month ago? Dan Campbell's squad has been handling business over the holiday season. They have a chance to not only help themselves but make the road tougher for the Jets with a win this Sunday on CBS.
Green: Pittsburgh Steelers @ Carolina Panthers
Greg Gumbel and Adam Archuleta
The NFC is weird, but the NFC South is really weird. Carolina's fired their head coach, traded their top running back, and released a former first overall pick they traded for in the offseason but still have a shot to win their division at 5-8. On the other hand, the Steelers, who are also 5-8, have nothing but pride to play for at this point.
CBS Late-Game NFL TV Coverage Map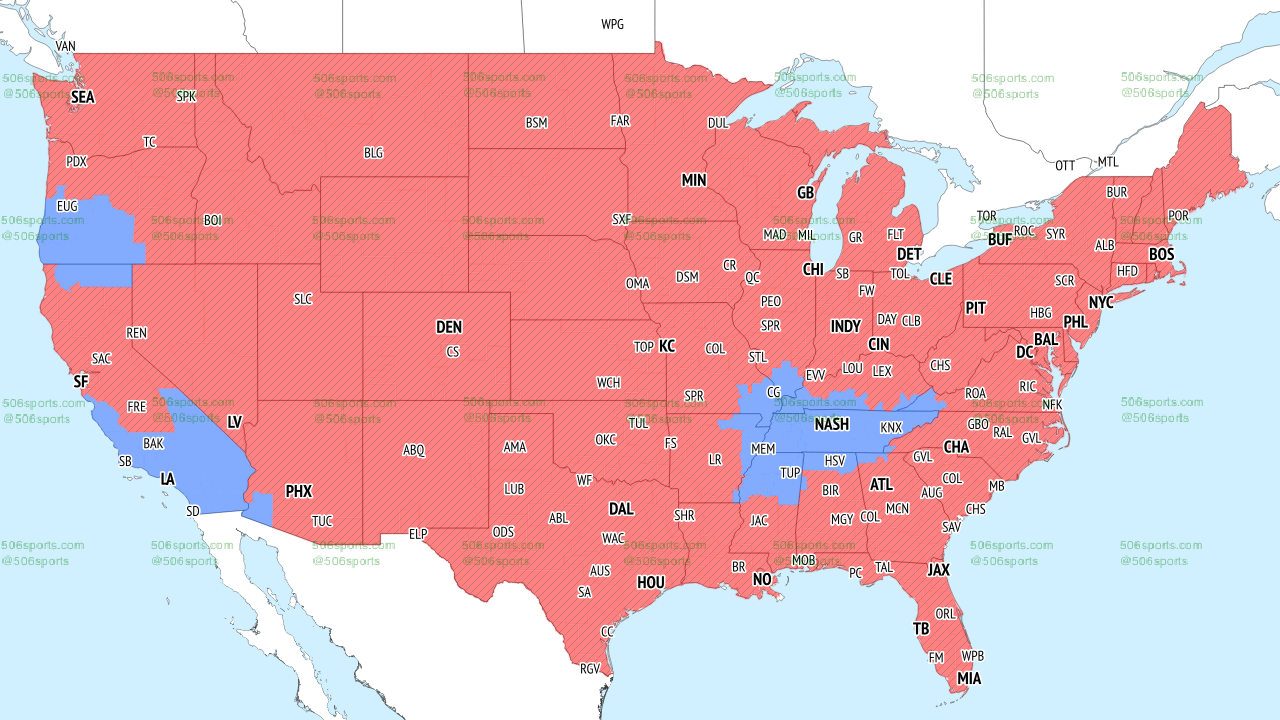 Red: Cincinnati Bengals @ Tampa Bay Buccaneers
Jim Nantz and Tony Romo
Right back to an NFC South team, this time the division's leader. Tampa Bay got embarrassed in Sunday's late window by the Brock Purdy-led 49ers team and get another tough matchup by way of Cincinnati on CBS this week.
Blue: Tennessee Titans @ Los Angeles Chargers
Andrew Catalon and James Lofton
Can the Chargers go on a late-season run and make the playoffs? They took a strong game plan into last week's game against the Dolphins. They'll need another against the AFC South-leading Titans on Sunday afternoon.
FOX Single-Game NFL TV Coverage Map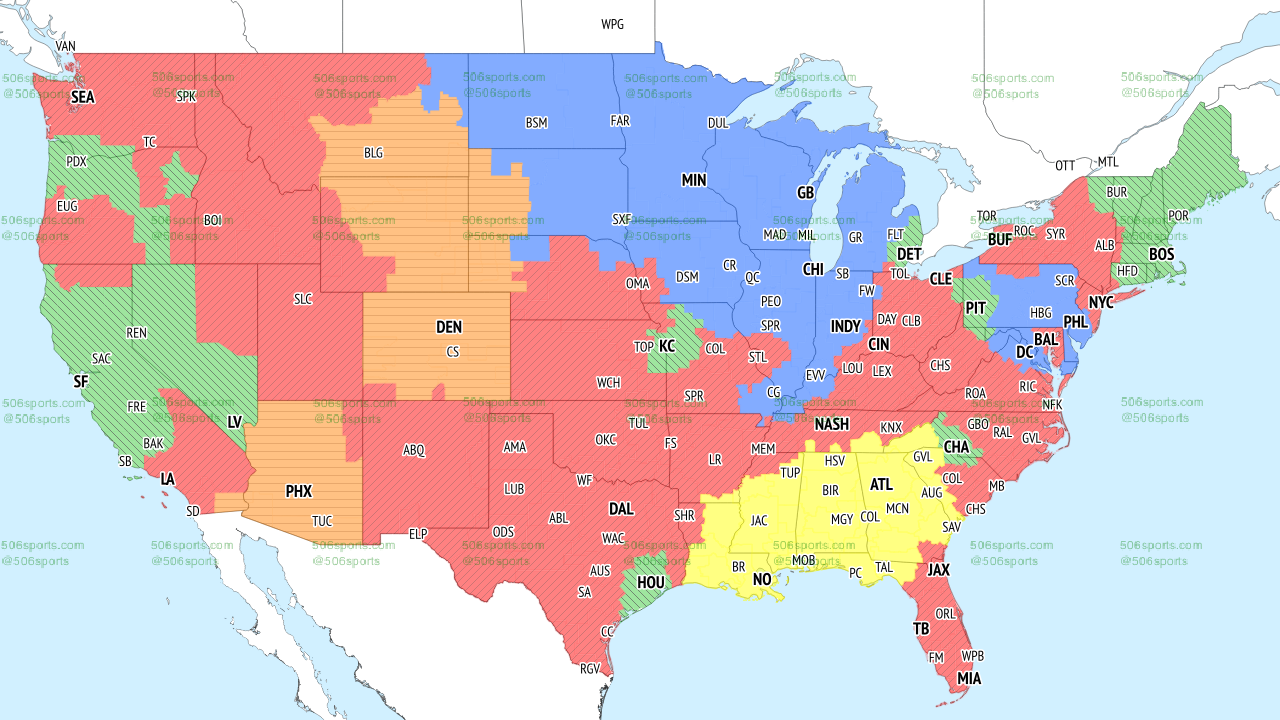 Blue: Philadelphia Eagles @ Chicago Bears
Joe Davis and Daryl Johnston
It may have taken 14 weeks of convincing, but after the beatdown on Tennessee last week, the Eagles proved they're the best team in the league, ranking first in our Week 15 NFL Power Rankings. They'll face the Bears on FOX this Sunday.
Red: Dallas Cowboys @ Jacksonville Jaguars
Kevin Burkhardt and Greg Olsen
If the Texans can give the Cowboys a big scare, the Jaguars certainly have a chance. Jacksonville isn't yet out of the race for the AFC South, so a win over the NFC East-leading Cowboys would be a big momentum builder.
Yellow: Atlanta Falcons @ New Orleans Saints
Adam Amin and Mark Schlereth
If you've been waiting to see rookie QB Desmond Ridder start for Atlanta, this is the week. With the Falcons one game behind and the Saints 1 1/2 games back from the NFC South division lead, this may be an elimination game for either team.
Green: New England Patriots @ Las Vegas Raiders (Late)
Kenny Albert and Jonathan Vilma
New England handled business on Monday night to put themselves back in a Wild Card spot, but a familiar face hosts them in Week 15: Josh McDaniels. He'll push all his chips to the middle of the table to get a win over his former boss.
Orange: Arizona Cardinals @ Denver Broncos (Late)
Chris Myers and Robert Smith
Kyler Murray's injury is just the latest blow to an already struggling Cardinals team. The Broncos are dealing with health issues at their quarterback position as well with Russell Wilson sustaining a concussion in their loss to Kansas City. Both coaches have a lot more riding on the line than just another tick in the loss column.
NFL Week 15 National TV Broadcasts
Thursday Night Football
San Francisco 49ers @ Seattle Seahawks (Amazon Prime)
Can Brock Purdy keep things rolling for the 49ers? He looked unstoppable in San Francisco's beat down against Tampa last week in his first start. However, traveling to Seattle and playing in front of the 12s will be a completely different environment for the rookie.
Saturday Early
Indianapolis Colts @ Minnesota Vikings (NFL Network)
Welcome to Saturday NFL football! With college football season officially concluding last week, the NFL steals the show the next couple of weekends. Each Saturday game in Week 15, including the first between the Colts and Vikings, will be nationally broadcasted on NFL Network.
Saturday Afternoon
Baltimore Ravens @ Cleveland Browns (NFL Network)
Baltimore didn't look great last week — but a win is a win. Regardless, the Ravens are 9-4 right now. A win against them would give some confidence to a Browns team looking for a light at the end of the tunnel.
Saturday Night
Miami Dolphins @ Buffalo Bills (NFL Network)
The Dolphins are leaving a rough West Coast swing, dropping two games to playoff contenders. Now they travel to Buffalo for their third road game in a row and face a possible snow storm. Buffalo certainly has the momentum as they look to avenge their loss to Miami from Week 3.
Sunday Night Football
New York Giants @ Washington Commanders (NBC)
These two just matched up a couple of weeks ago and neither wanted to win, ending the game in a 20-20 tie. With both having a serious shot at the NFL playoffs, which kick off in four short weeks, it'll make for a great Sunday night matchup.
Monday Night Football
Los Angeles Rams @ Green Bay Packers (ESPN)
Baker Mayfield stole the show on Thursday night last week, leading a great fourth-quarter comeback after spending just a couple days in Los Angeles. Can he keep the momentum on the road in Green Bay? Expect Aaron Rodgers to have something to say about it.