The NFL coverage map returns for Week 10. The NFL travels to Munich for an early Sunday morning game, and there are four teams on a bye this week. FOX has the doubleheader, with CBS showcasing just five games, including one in the late window out in Las Vegas.
NFL Coverage Map for Week 10
The folks at 506 Sports provide this week's NFL TV and coverage map. The color codes and what games they correspond to are listed below.
Listings include FOX, CBS, NFL Network, and prime-time games on Amazon Prime, NBC, and ESPN. These maps are subject to change throughout the week.
CBS Single-Game NFL TV Coverage Map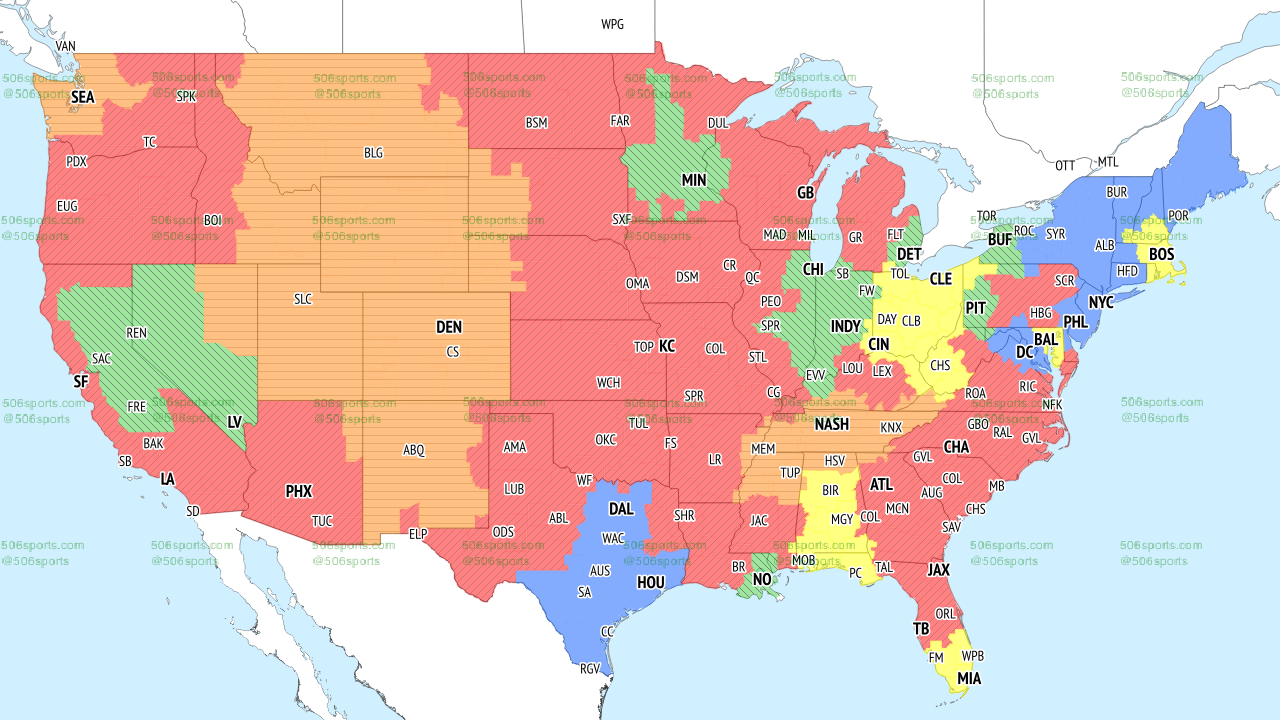 Red: Jacksonville Jaguars @ Kansas City Chiefs
Jim Nantz and Tony Romo
This year, the Chiefs' offense has struggled against AFC South opponents, scoring 17 and 20 points against the Colts and Titans, respectively. They host the Jaguars, who currently have the only positive point-differential in their division, yet find themselves with a 3-6 record anyways.
Orange: Denver Broncos @ Tennessee Titans
Andrew Catalon and James Lofton
If this season has taught us anything as of yet, don't expect an offensive explosion from either Denver or Tennessee in Week 10. Wherever you find yourself on this week's coverage map, we hope it's not in the orange.
Yellow: Cleveland Browns @ Miami Dolphins
Greg Gumbel and Adam Archuleta
Coming off a bye week, the Browns are one week closer to getting Deshaun Watson under center following his suspension. Owning a record of 3-6 if they lose to Miami this Sunday on CBS, it may be too little, too late for a late-season playoff push in a stacked AFC. Meanwhile, the Dolphins are primed for 7-3 with how their offense has been playing since Tua Tagovailoa returned from injury.
Blue: Houston Texans @ New York Giants
Ian Eagle and Charles Davis
The Giants are a surprising 6-2 and dread facing a situation where they could lose to a 1-6-1 Texans squad. If New York is legit, they have to win at home against Houston on Sunday. Currently, the Barstool Sportsbook has the Giants favored -286.
Green: Indianapolis Colts @ Las Vegas Raiders (Late)
Kevin Harlan and Trent Green
This may be one of the most intriguing games on the slate following the firing of Head Coach Frank Reich in Indianapolis, with former Colts' Center Jeff Saturday taking over. If the Raiders find a way to lose and fall to 2-7 on the season, Head Coach Josh McDaniels' hot seat will be nearly unbearable.
FOX Early-Game NFL TV Coverage Map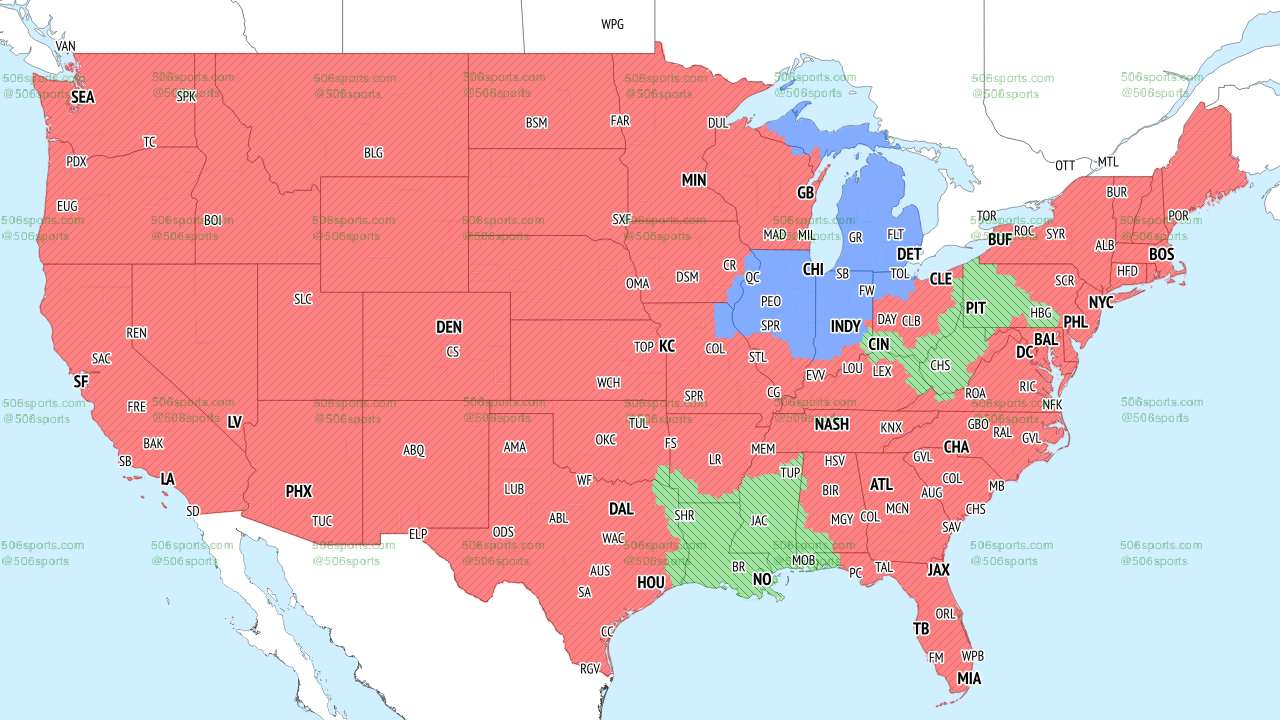 Red: Minnesota Vikings @ Buffalo Bills
Joe Davis and Daryl Johnston
Is this a possible Super Bowl matchup? The Bills (6-2) sit first in the AFC, while the Vikings (7-1) find themselves in second in the NFC. The big question mark will be whether or not the injury Josh Allen suffered in the loss to the Jets last week keeps him from playing. If he's a healthy go, this will be one of the better games across the coverage map in Week 10.
Green: New Orleans Saints @ Pittsburgh Steelers
Adam Amin and Mark Schlereth
Only local areas surrounding New Orleans and Pittsburgh will get to see Andy Dalton face Kenny Pickett this Sunday.
Blue: Detroit Lions @ Chicago Bears
Kevin Kugler and Mark Sanchez
While they lost due to a couple of questionable missed calls late on Sunday, the Bears saw their franchise quarterback take over the game and make some great plays. The Lions, on the other hand, did what the Bears can't seem to do and that's beat the Packers. Both squads will do what they need to do to make sure Green Bay finds the cellar in the NFC North.
FOX Late-Game NFL TV Coverage Map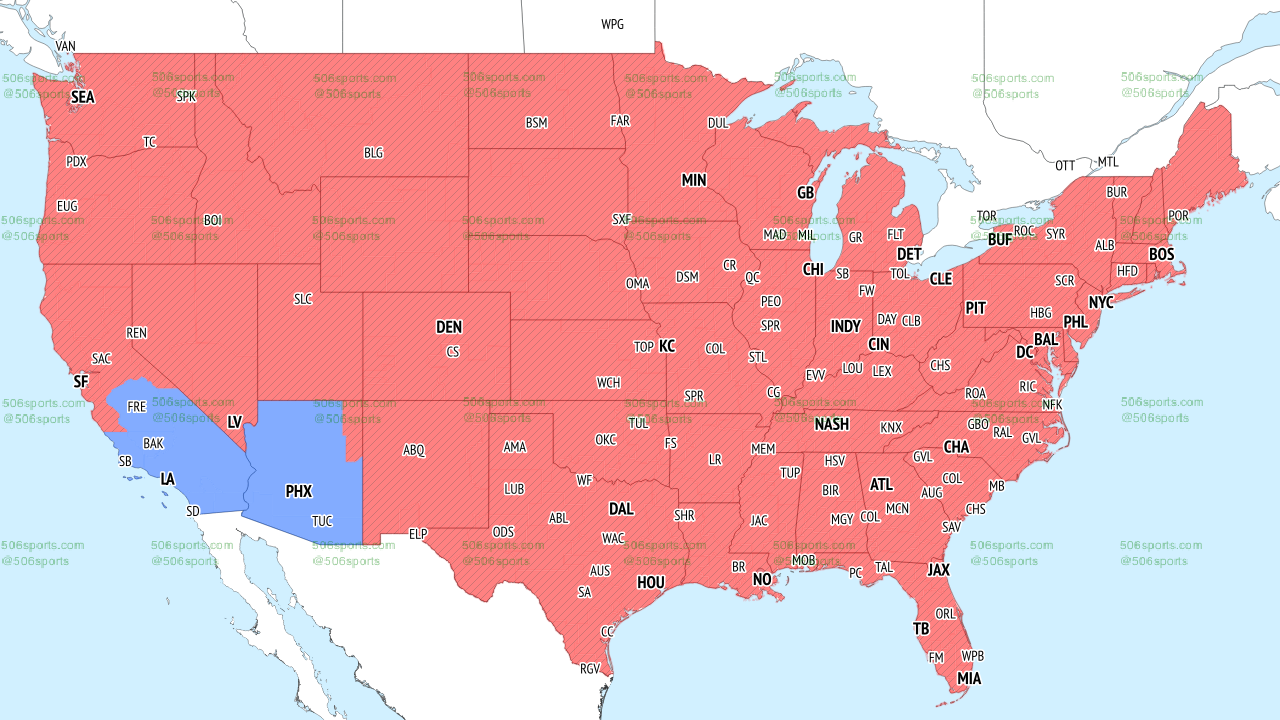 Red: Dallas Cowboys @ Green Bay Packers
Kevin Burkhardt and Greg Olsen
Is it even worth the Cowboys' time to watch the Packers tape from Detroit last week? Nobody wanted to trade Green Bay a wide receiver at the NFL trade deadline, and Aaron Rodgers is playing the worst football of his career. He and Dak Prescott will have the national stage on FOX's game of the week.
Green: Arizona Cardinals @ Los Angeles Rams
Kenny Albert and Jonathan Vilma
Few would've predicted both the Cardinals and Rams enter Week 10 with three wins each. Kyler Murray is finding someone new to yell at each week (on the sidelines, not in the COD lobby) while the Rams' offense looks out of touch with the rest of the league.
NFL Week 10 National TV Broadcasts
Thursday Night Football
Atlanta Falcons @ Carolina Panthers (Amazon Prime)
(Insert joke about a bad Thursday Night Football matchup here)
Sunday Morning Football
Seattle Seahawks @ Tampa Bay Buccaneers (Munich, NFL Network)
This is the NFL's first-ever game in Germany, so of course, the league sent the best quarterback to ever play in Tom Brady. However, Munich is getting the old version while they get the new-and-improved version of Geno Smith in Seattle. Kickoff is set for 9:30 a.m. ET.
Sunday Night Football
Los Angeles Chargers @ San Francisco 49ers (NBC)
The Chargers continue to be the least predictable team in the NFL, winning last week off the leg of Dicker the Kicker. The 49ers come off a bye, with Christian McCaffrey getting his first shot on primetime with his new team.
Monday Night Football
Washington Commanders @ Philadelphia Eagles (ESPN)
Can the Eagles continue their bid for 17-0? The Commanders come in with a Wild Card spot in their sights, even with Taylor Heinicke under center and the team on the market to sell. They'll put up a fight on Monday night.