The NFL coverage map has been released for the NFL Week 16 schedule. This Sunday, CBS will air a national broadcast in both the early and late windows, while you'll get a FOX TV broadcast just once, depending on where you fall on the NFL TV map. There are, however, fewer options this week as there are two NFL Christmas Day games on Saturday.
NFL Coverage Map for Week 16
NFL TV broadcast and coverage maps are courtesy of 506sports.com. The color codes and what games they correspond to are listed below.
Listings include CBS, FOX, and prime-time games on NFL Network, NBC, and ESPN. These maps are subject to change throughout the week.
CBS Early NFL TV Broadcast Coverage Map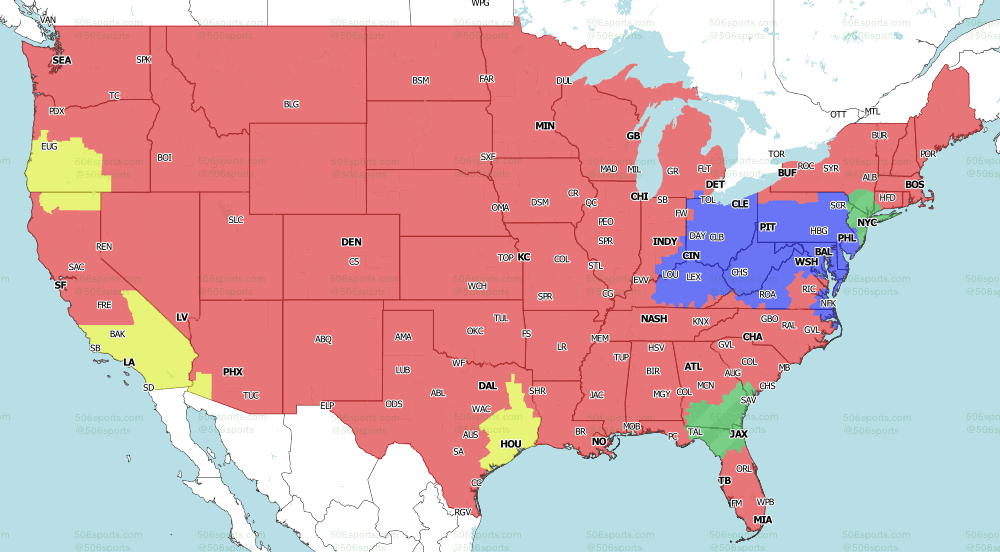 Red: Buffalo Bills vs. New England Patriots
Ian Eagle and Charles Davis
There are several great NFL games across the broadcast map this week. The Bills traveling to take on the Patriots is just one of them, with the Ravens traveling to the Bengals during the same early window on CBS.
Both games have large playoff implications, including within their respective divisions. The Bills will look for revenge after falling to the Patriots just a few weeks ago when Patriots quarterback Mac Jones threw just 3 passes.
Yellow: Los Angeles Chargers vs. Houston Texans
Andrew Catalon and James Lofton
Purple: Baltimore Ravens vs. Cincinnati Bengals
Kevin Harlan and Trent Green
Green: Jacksonville Jaguars vs. New York Jets
Spero Dedes and Jay Feely
CBS Late NFL TV Broadcast Coverage Map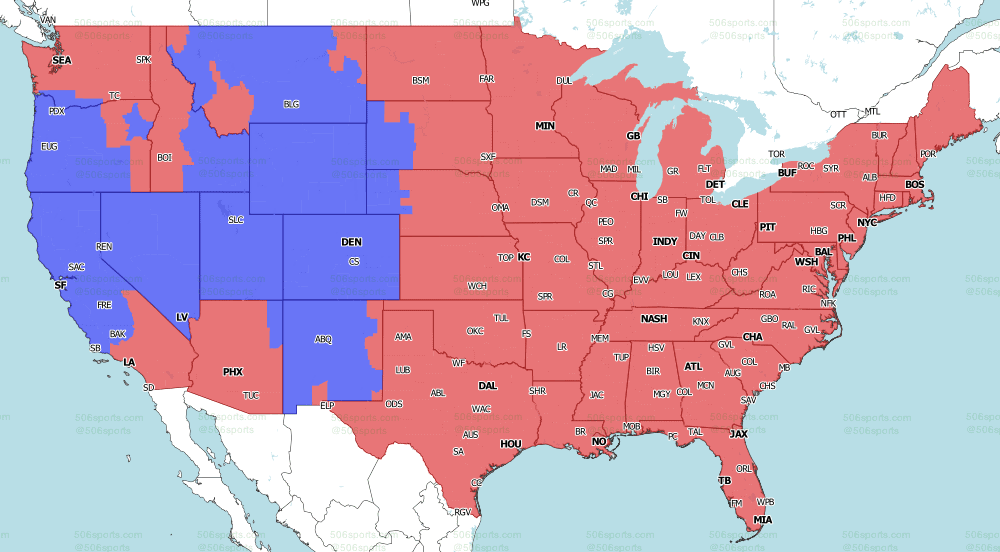 Red: Pittsburgh Steelers vs. Kansas City Chiefs
Jim Nantz and Tony Romo
CBS chose the Steelers vs. Chiefs for their Game of the Week. Kansas City comes into Week 16 on a seven-game winning streak while the Steelers are vying to keep their spot in the NFL standings.
There's a chance for the AFC North title, but the Steelers have a more realistic shot at a Wild Card spot, which they currently sit outside of in the NFL playoff picture.
Purple: Denver Broncos vs. Las Vegas Raiders
Greg Gumbel and Adam Archuleta
FOX Single NFL TV Broadcast Coverage Map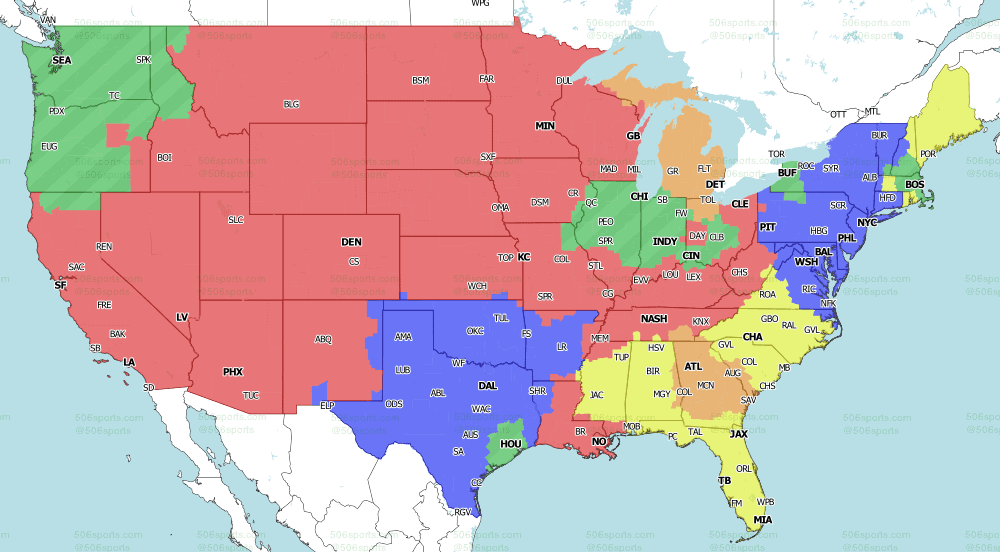 Red: Los Angeles Rams vs. Minnesota Vikings
Adam Amin and Mark Schlereth
There are not many matchups on FOX this week with playoff implications, but the Rams vs. Vikings game certainly fits the bill. Both teams currently hold a Wild Card spot, yet three games separate the two in the win column.
It'll feel like a must-win battle for each side as the Rams keep pace with the Cardinals in the NFC West and the Vikings hold off teams like the Eagles and Saints for the seventh and final seed in the Wild Card.
Purple: New York Giants vs. Philadelphia Eagles
Kenny Albert and Jonathan Vilma
Yellow: Tampa Bay Buccaneers vs. Carolina Panthers
Kevin Kugler and Mark Sanchez
Orange: Detroit Lions vs. Atlanta Falcons
Chris Myers and Robert Smith
Green: Chicago Bears vs. Seattle Seahawks (LATE)
Aaron Goldsmith and Aqib Talib
National Broadcasts
Thursday Night Football
San Francisco 49ers vs. Tennessee Titans (NFLN)
Saturday Football
Cleveland Browns vs. Green Bay Packers (FOX/NFLN)
Indianapolis Colts vs. Arizona Cardinals (NFLN)
Sunday Night Football
Washington Football Team vs. Dallas Cowboys (NBC)
Monday Night Football
Miami Dolphins vs. New Orleans Saints (ESPN)