Quarterbacks are the single greatest variable related to success for an NFL team. But the gladiatorial nature of professional football means there is no guarantee for the health and safety of the starting QB. These NFL backup quarterback rankings are based solely on the talent of the player, independent of the situation surrounding them.
In 2017, the Philadelphia Eagles did the unthinkable. They won the Super Bowl with backup QB Nick Foles. Which quarterbacks could potentially keep their teams competitive while they're forced into action?
Ranking the NFL's Top Backup Quarterbacks in 2023
Note: The players' individual talent is what matters in these rankings. Cooper Rush went 4-1 as a starter a season ago while filling in for Dak Prescott, but it was the Cowboys' defense that carried the burden during that time. 
Players will have a "bucket" that they fit into. Backup QBs come in all shapes and sizes, and the situation of a specific team could call for a different type of passer to take over the reins. The overall rankings are somewhat important, but a quarterback's rank inside its own bucket tells more of a story than their overall positioning.
Bucket 1 | Exciting, But Inconsistent
Bucket 2 | Bus Drivers
Bucket 3 | Young Unknowns
Bucket 4 | Carson Wentz(s)
32) Matt Corral, Carolina Panthers
Bucket 3
Out of all the young and inexperienced quarterbacks further along the list, Matt Corral has the most unlikely path toward success. Based on his college game, Corral could fit neatly into the Wentz bucket, but the hope is that he's been able to slowly digest an NFL playbook. Corral possesses the kind of athleticism and arm talent to survive in the NFL, but everything else needed molding when he left Ole Miss.
31) Mason Rudolph, Pittsburgh Steelers
Bucket 2
Mason Rudolph is a wizard. Despite his large "he just looks like a QB" frame, the veteran backup possesses very underwhelming arm talent. He's the QB version of American V8 engines during the 1970s. Rudolph's 5-4-1 record as a starter could very well have fans tilting their head like a confused dog, and that would be a deserved reaction.
But it's imperative to note that despite that, his backup role in Pittsburgh was given to Mitch Trubisky. In related news, Mike Tomlin simply can't seem to field a losing team, but it's hard to believe Rudolph could replicate his 2019 success again.
30) Colt McCoy, Arizona Cardinals
Bucket 2
Colt McCoy has a ton of experience as far as NFL backups go. He's started 36 games and has played in 56. McCoy even went 3-1 in 2021 as a starter while looking somewhat impressive, navigating Kliff Kingsbury's Air Raid offense.
But the nearly 37-year-old QB has consistently struggled to stay healthy during his NFL career. So while he may maintain a level of play offensively, a team practically needs to have three capable quarterbacks on the roster because there's no guarantee McCoy can remain upright. That can be an unnecessarily expensive endeavor.
29) Carson Wentz, Free Agent
Bucket 4
A beautiful disaster. Carson Wentz and the Wentz-like passers are at the extremes of Bucket 1. While Bucket 1 shows less talent or more inconsistencies than their starting peers, they're not always leaning over the side of the mountain.
In 2017, before his injury, Wentz was on his way to being the MVP. But his need to make every play the play opened a set of French doors and magnified his bad habits, which ultimately led to his demise as a starter.
28) Zach Wilson, New York Jets
Bucket 4
The only difference between Zach Wilson and Wentz is that there may still be some hope that Wilson can turn things around. But since entering the NFL from BYU, it's been clear that what made him successful with the Cougars wasn't translatable to the NFL level.
27) Drew Lock, Seattle Seahawks
Bucket 4
There were reports last offseason that there was a real battle in Seattle for the starting job. That was probably rubbish, considering what we ended up seeing from Geno Smith in the regular season.
Drew Lock fits in the Wentz bucket because, despite possessing all the physical tools necessary to start in the NFL, the game is more cerebral than the average person could comprehend. Lock hasn't been able to cut down those mental errors, which makes him incredibly volatile.
26) Cooper Rush, Dallas Cowboys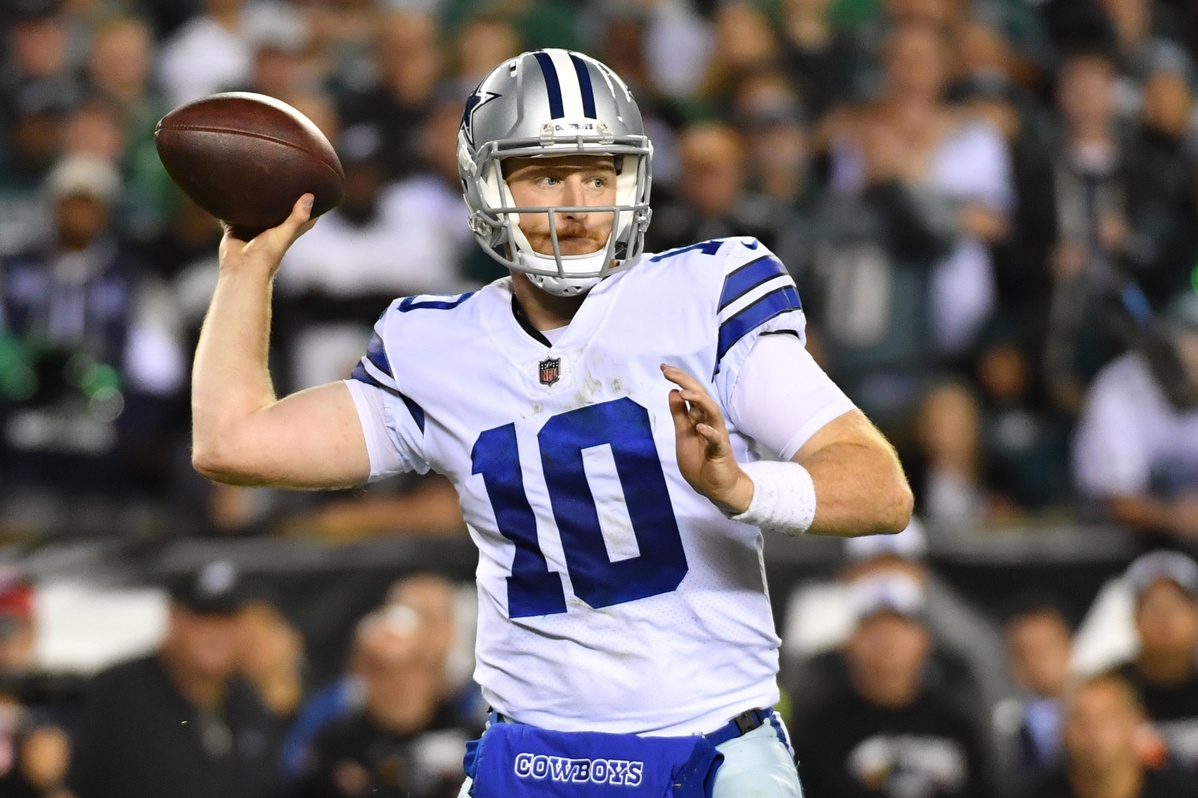 Bucket 2
Yes, Cooper Rush went 4-1 as the Dallas Cowboys starter a season ago. But Rush did more to hurt the Cowboys during that run than he did to actually lead them to victory.
Only Baker Mayfield had a lower CPOE among passers with at least 150 gradable plays, and only Zach Wilson had a lower completion rate. Nevertheless, he did take care of the ball until the Eagles' game, and that helped the Cowboys' defense keep games low-scoring.
25) Kyle Trask, Tampa Bay Buccaneers
Bucket 3
The idea of Kyle Trask has always been better than reality. He was overdrafted by the Tampa Bay Buccaneers in 2021, and the fact that it appears unlikely he'll edge out Mayfield for the starting job in 2023 is even more evidence of that.
Trask doesn't have the physical upside of many of the young players elsewhere on this list, but if he's able to mentally master the Buccaneers' offense, he could provide a stable option behind whoever they end up securing as their long-term starter.
24) Skylar Thompson, Miami Dolphins
Bucket 3
Skylar Thompson raised eyebrows when he took Mike McDaniel's new-look Dolphins offense for a spin in the preseason. He threw for 450 yards, five TDs, and no INTs during that time, and he did it in exciting fashion.
But the regular season against opposing starters told a much different story. Thompson is still only going into his second NFL season, but what he showed as a rookie was not so good that Miami decided not to pursue other backup options in case Tua Tagovailoa goes down again.
23) P.J. Walker, Chicago Bears
Bucket 1
P.J. Walker teeters on the line between Bucket 1 and Bucket 4, but he's been effective enough to somehow secure a winning record in three seasons as a backup, despite playing on an underwhelming Panthers roster. Walker's athleticism makes him difficult to defend, but he needs to become far more consistent as a passer if he wants to take the next step and become one of the league's best backups.
22) Joshua Dobbs, Cleveland Browns
Bucket 2
Joshua Dobbs was put in an impossible position with the Tennessee Titans a season ago. The offensive line was offensive, and the receiving corps was undeserving of receiving praise.
It wasn't pretty for the veteran, but Dobbs will continue to get backup jobs because of his intelligence and professional nature. If forced into action with the Browns, he should fare better, given the situation is more conducive to success.
21) Sam Ehlinger, Indianapolis Colts
Bucket 3
Sam Ehlinger is still young and inexperienced, but he's played enough snaps to get a feel for what he could be in the NFL. Although he'll be third on the Colts' depth chart, Shane Steichen is the kind of offensive architect that could squeeze the most out of Ehlinger. He still has a long way to go as a passer, but his rushing ability could make him a package player as the third-string QB if Anthony Richardson has to miss time.
20) Blaine Gabbert, Kansas City Chiefs
Bucket 2
Blaine Gabbert hasn't seen much success when thrust into action. However, he's spent the past three seasons playing behind Tom Brady, which certainly couldn't be a bad thing for the veteran.
The former first-round pick has already shown growth since his younger years. Gabbert's shed his schizophrenic nature in the pocket, and although we've only seen him sparingly in the past few seasons, he was good when thrust into action for Tampa Bay.
19) Malik Willis, Tennessee Titans
Bucket 3
Quarterbacks don't come much rawer than Malik Willis was coming from Liberty, so he was never going to be successful as a rookie. The 2022 NFL season was a perfect example of how important the cerebral aspect of the game is. Between Willis and Wilson, their playmaking ability outside of structure matters little when they cannot function on a down-to-down basis as passers.
18) Jarrett Stidham, Denver Broncos
Bucket 2
Jarrett Stidham is on his third team in as many seasons, but he played relatively well for the Las Vegas Raiders a season ago. It's often clear when young guys have "it" or they don't. Stidham showed that he has enough talent to survive this league as a backup. And if Russell Wilson remains a shell of his former self with Sean Payton in 2023, it shouldn't surprise anyone if Stidham ends up starting a few games and playing relatively well in them.
17) Hendon Hooker, Detroit Lions
Bucket 3
Hendon Hooker is an older rookie and is recovering from a torn ACL, but there's a lot to like about the young man's game. Hooker possesses good natural accuracy, has more than enough athleticism to use his legs as a weapon, and has the luxury of learning behind an entrenched starter in Jared Goff. His ability to learn will be tested at the NFL level, as Tennessee's offense is as different from an NFL offense as a cat is to a dog.
16) Mike White, Miami Dolphins
Bucket 2
Mike White burst onto the scene in 2021 as the Jets' backup, but the Western Kentucky product has been an NFL QB since 2018. His impressive outing against the Bengals in 2021 still seems to carry around some weight, and as a talent, he possesses the arm to survive as an NFL backup.
While Miami hopes they don't have to see White on the field in 2023, they should feel okay about handing him the football for a short period of time, given the flashes we've seen from him in less-than-stellar surrounding conditions.
15) Bailey Zappe, New England Patriots
Bucket 2
Bailey Zappe is the definition of a gamer. The Western Kentucky product put up one of the most prolific passing performances in college football history in his final season, throwing for an astonishing 5,967 yards — an FBS record.
However, Zappe barely has an NFL arm, he's undersized, and is not particularly athletic. Still, he competes like crazy and even had a little success as a rookie in a pathetic situation with Matt Patricia as the Patriots' OC.
14) Mitch Trubisky, Pittsburgh Steelers
Bucket 2
Mitch Trubisky is the perfect backup quarterback for Kenny Pickett if your football team likes to have a similar-styled backup to the starter. The former first-round pick never lived up to his draft status, but Trubisky's a mobile passer who, while underwhelming from the perspective of starting QB play, has shown development enough to survive if hurled into action by injury.
13) Marcus Mariota, Philadelphia Eagles
Bucket 2
Marcus Mariota's exit from Atlanta was peculiar. Although Desmond Ridder was a rookie third-round selection, it was clear from 30,000 feet that the organization was eventually going to turn to the Cincinnati product. But when they did, Mariota magically caught a knee injury and then just left the team altogether.
The Eagles will give Mariota a chance to run an offense that he's comfortable in. Should Jalen Hurts have to miss any time, the weapons surrounding him should allow for some success.
12) Tyrod Taylor, New York Giants
Bucket 2
Tyrod Taylor is one of the few backups with legitimate starting experience, and he's been effective when thrust into action. Taylor has a winning record as a starter and has been good throughout his career at protecting the football. He's also a solid stylistic fit behind Daniel Jones, as his athleticism can allow him to make plays outside of structure.
11) Davis Mills, Houston Texans
Bucket 2
Davis Mills is as much a statue as can exist in a modern-day pocket. We've seen Mills have some success in the quick passing game, and Bobby Slowik bringing in some flavor from Kyle Shanahan can't be a bad thing for the Texans' backup. Although C.J. Stroud appears ready to start as a rookie, if it takes him more time than expected, we could see Mills take Slowik's offense for a test drive before Stroud gets his chance.
10) Teddy Bridgewater, Free Agent
Bucket 2
Teddy Bridgewater had an awful go of things as Miami's backup in 2022. But he's young enough and has played enough good football to remain in the top half of the backup QB rankings.
There have been many a school bus driver over the years, but none have been as obvious as Bridgewater, who has teetered on the starting/backup level since returning from his horrific leg injury in 2016. In the right situation, Bridgewater should be able to contribute solid backup play in a system he has experience with once he does get a phone call he wants to take.
9) Sam Darnold, San Francisco 49ers
Bucket 2
There's no way to sugarcoat it; Sam Darnold has been a disaster as a starting quarterback in the NFL. Maybe 2022 could have been the turning point for the five-year veteran, but injuries kept him off the field for most of the season, and the Panthers ended up securing the top pick through a trade.
Darnold had a type of Romo-esque escapability in the pocket that was mesmerizing at USC. Unfortunately, he got stuck in an awful situation in New York, and it clearly did a number on his ability to develop into a starting-caliber QB at the NFL level. However, Darnold's ability in the quick passing game should work well in San Francisco, and despite likely being third on the depth chart, he plays for the 49ers. He'll end up playing at some point this season.
8) Tyler Huntley, Baltimore Ravens
Bucket 2
There's no such thing as a perfect backup, but Tyler Huntley is as perfect a style fit as is possible for the Baltimore Ravens. They get to keep most of their playbook intact when Lamar Jackson goes down with injuries because Huntley is a fantastic athlete.
In fact, it wouldn't be shocking to see more players like Huntley become more of the norm for NFL backups. Teams may prefer quarterbacks who don't have the passing prowess to be consistent starters but possess the kind of athleticism that makes defensive coordinators squirm. It's not easy to get a complete read on Huntley because by the end of the past two seasons, Baltimore has been incredibly beaten up.
7) Gardner Minshew, Indianapolis Colts
Bucket 2
Gardner Minshew is likely the best bus driver in the NFL. He doesn't have the athletic ability or arm talent to be a difference-making starter, but for the most part, he'll do everything within his power to make sure he doesn't lose the game for his team. There's also a bonus associated with Minshew because he has legitimate starting experience. He's also following Steichen from Philadelphia, so even in his new home, he'll know the offense inside and out.
6) Taylor Heinicke, Atlanta Falcons
Bucket 1
Taylor Heinicke is the backup quarterback to end all backup quarterbacks. He's this generation's Ryan Fitzpatrick.
Fitzmagic left his body and transported to Heinicke's when they spent time together in 2021. Heinicke is undersized with an underpowered right arm, but he's the ultimate gamer. He's tough and athletic, and although his accuracy is underwhelming, Heinicke has an innate playmaking ability that can make him dangerous as a short-term starter.
5) Jameis Winston, New Orleans Saints
Bucket 4
How is a guy from Bucket 4 all the way up in the top five? Well, because aside from one half of football over the past two seasons, the Jameis Winston that threw 30 INTs in a single NFL season was gone. The Saints' offensive attack had shown us a different version of the former top pick, and when at his best, there are few players in the NFL with more dangerous arm talent.
4) Will Levis, Tennessee Titans
Bucket 3
Will Levis found himself in a really nice situation, but only if the Tennessee Titans are able to rebuild their offensive line in short order. Although Ryan Tannehill is the starter for 2023, he's in the final year of his deal, and Levis will almost certainly be the starter heading into 2024.
Levis needs seasoning at the NFL level, but he's already proven proficient throwing over the middle. He's also a solid play-action passer, which makes his scheme fit in Tennessee quite good.
3) Trey Lance, San Francisco 49ers
Bucket 3
We still don't know much about Trey Lance. He played in awful conditions last year in Week 1, then promptly broke his ankle in Week 2. Now, Lance heads into Year 3 behind Brock Purdy and with Darnold biting at his heels for the QB2 job.
There's a chance that Lance is a complete flop. There's also a chance that his mechanics are actually improved to a point where he can find more consistent ball placement and that more time in the league has sped up his process. The problem is, without seeing live-action, it's difficult to get a gauge for how quickly Lance has picked things up. Either way, playing quarterback for the 49ers means you need to be ready, even if you're fourth on the depth chart.
2) Andy Dalton, Carolina Panthers
Bucket 1
Andy Dalton's highs still mimic a starting quarterback. However, a closer look at his performance from 2022 shows a QB who rightfully feated on bad defenses while underwhelming against better competition.
Dalton simply lacks the playmaking ability with his arms and legs to be a consistent weapon under center. Nevertheless, he's started 162 games, with 2023 being the first time in his career that he's not the starter.
1) Jacoby Brissett, Washington Commanders
Bucket 1
A season ago, Jacoby Brissett couldn't have sniffed the top spot on this list. In fact, he was sixth on this list last year, and based solely on what he did in Miami, he could have been even farther down it.
But 2022 was a banner year for Brissett, who had the Browns in playoff contention during his time as the starter. Cleveland's defense let him down, and while there's no questioning Deshaun Watson's talent far exceeds Brissett's, there's also no questioning who was better in the same offense a season ago.
In Washington, Brissett is in a battle with Sam Howell for QB1, although all indications point to Howell winning the job. But if he does, it'll be because he performed at a level exceeding Brissett, and NFL teams may have to take notice of what Howell might bring to the table for Washington.