The second half of the 2019 season sees the New York Jets heading towards 2020 with some optimism, but that optimism reflected in their projected win totals with sportsbooks. After winning six of their final eight games, the Jets finished 2019 at 7-9, banishing the memories of a tough start, which saw them go 1-7.
With Sam Darnold entering his third season in the NFL, and second with offensive head coach Adam Gase, is he ready to take the next step as a quarterback? Other questions surrounding this team include whether Le'Veon Bell can improve in his second season in New York and whether the defense can improve on a middle of the pack performance last season. Let's break down the Jets offseason, their addition, losses, and 2020 strength of schedule, before analyzing whether their 2020 win totals with the sportsbooks offer any value.
[sv slug=mocksim]
New York Jets
Offseason Breakdown
Additions
It was an interesting offseason for the Jets in terms of bringing players in to try and bolster their team. Their main focus was the offensive line, as they added Greg Van Roten, Alex Lewis, Connor McGovern, George Fant, and Josh Andrews to provide new starting options and veteran knowledge to a group that ranked 31st in the run game and 30th in the passing game. They then draft Mekhi Becton in the first round to further boost the influx of talent, which will hopefully help both Darnold and Bell in 2020.
The Jets also addressed the running back and wide receiver positions in the offseason. They added Frank Gore to provide a hard-runner to take some short-yardage carries away from the legs of Bell. They also brought in both Josh Doctson and Breshad Perriman at wide receiver in an attempt to provide Darnold with more weapons in the passing game.
Defensively they added Brian Poole, Pierre Desir, and Arthur Maulet, who could all be starters at the cornerback position in the 2020 season. On top of that, they brought back Jordan Jenkins to provide continuity at the outside linebacker position. The Jets will be hoping that these four players can help their pass defense to perform at the same level as their run defense in 2019.
Losses
The Jets losses have been relatively small in terms of crucial contributors. Robby Anderson is arguably the most significant loss among the group, as he ranked second behind Jamison Crowder in both touchdowns and receiving yards in 2019. Beyond that, the effect of the offseason on the Jets is mostly a case of lost depth as opposed to losing key pieces.
Defensive Changes
The addition of the three new faces at cornerback should help the Jets defensive improve in their second year in Gregg Williams's scheme. The long-time NFL coach presided over the second-best run defense in terms of yards per attempt and the ninth-best in terms of touchdowns allowed. The success of their defense in 2019 has meant that the Jets decided to retain their front seven from last year.
Early Round Rookies
The Jets focused their early-round 2020 NFL Draft picks on their offense, but they did address their defensive depth in both the third and fourth rounds. Safety Ashtyn Davis has the potential to be a high upside starter if he can out-compete incumbent safety, Marcus Maye. Davis' athleticism from his time as a track athlete should serve him well in terms of making plays on the ball, but his relative lack of experience at the position could mean he makes mistakes early.
Fourth-round draft pick Jabari Zuniga provides the Jets with some offensive line depth. However, his impact will likely be felt more in a rotational role or years down the line as opposed to being a key contributor in the 2020 season.
[sv slug="betsocial"]
Offensive Changes
The offense saw the majority of the turnover in the past offseason. After an abysmal performance by the offensive line in 2019, it was no surprise that the Jets brought in a number of new faces, which could even lead to a completely brand new starting five in front of Darnold in 2020.
Early Round Rookies
Part of that offensive line revamped was spending the 10th overall pick on offensive tackle, Mekhi Becton, out of Louisville. Becton is a massive player at 6'7" and 364 pounds, but ran an incredible 40-yard time of 5.1, giving him a relative athletic score which ranked second among the 2020 offensive line class. Becton's addition should be a considerable boost for Bell and the running game, but his potential in the passing game still needs to be fully proven at the next level.
In the second round, the Jets added a third new face to their wide receiver group for 2020 as they took Denzel Mims out of Baylor. Mims is another highly athletic player, with a RAS that ranked third among wide receivers. Mims has a real chance to be the Week 1 starter on the outside opposite other new acquisition Perriman, with Jamison Crowder in the slot making a formidable combination.
Strength of Schedule Breakdown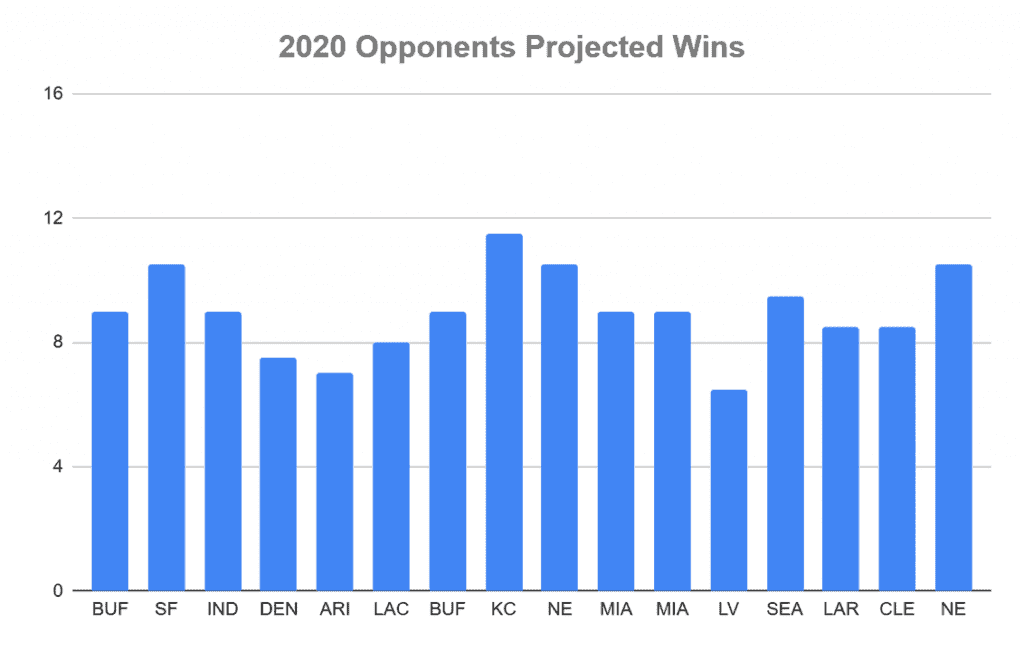 As the graph above demonstrates, the Jets schedule in 2020 is absolutely brutal. The face a total of 12 teams who have a projected win total above eight games. Of the four teams with a projected total of eight or below, the lowest is the Las Vegas Raiders at 6.5 projected wins. In my last article, I broke down the Giants' strength of schedule, and the Jets join their cross-city rival in having a schedule that ranks among the five hardest in the league in 2020.
If you glance across the graph, there is only one apparent soft spot that stands out, the run between Week 4 and 6 when they face three teams projected to win eight games or less. However, this also means that there are three stretches on this schedule where they have three or more games against teams projected to be above .500, and therefore, in the playoff race come seasons end.
Key points of emphasis on the schedule
One positive for the Jets on their schedule is that they have more advantage points of emphasis than disadvantage points. Unfortunately, two of those advantageous spots are somewhat negated.
Their first advantage spot comes in Week 5 when they get to face an Arizona Cardinals team on back-to-back road games, in a 1 pm EST kickoff, with the Jets coming off a Thursday Night Football game in Week 4 so with a rest advantage. Frustratingly, the advantage is negated by the Cardinals' previous week road game also being on the East coast, meaning they will likely remain on the East coast for that week. That will mean that the Cardinals body clocks will have adjusted for the early kickoff, and they will come into the game off the back of a team bonding week. At least the Jets still have the extra three days rest though.
There other two advantage spots come in the form of games against the Las Vegas Raiders, Week 13, and Cleveland Browns, Week 16, in the second of back-to-back road games for those two teams. However, once again, the Raiders' previous road game is also located on the East coast, meaning they might choose to remain on the East coast for the week as well. Even the game against the Browns has its advantage somewhat negated by the fact the Browns will be playing their Week 15 game in the same stadium against the Giants.
As for the disadvantage spots, the first comes in Week 7 when they have to face the Buffalo Bills with the Bills having an extra three days rest from a Thursday Night Football game in Week 6. Then in Week 15, they have to face the Los Angeles Rams on back-to-back West coast road game, with the Rams coming to the game with an extra three days rest off of a Week 15 Thursday Night Football game. The Jets will likely negate some of that advantage by staying out on the West coast, but there is nothing they can do to negate the Rams extra rest.
A final point of note is that the Jets bye week is somewhat negated, as they face the Miami Dolphins who will also be coming off a bye. In fact, the Jets and Dolphins meet either side of their bye, with the Week 10 game in Miami, Week 11 a bye for both teams, before meeting in New York in Week 12.
Suggested Bets
Current Win Total: 6.5
As discussed above, this schedule is incredibly tough for the Jets and is in stark contrast to the end of their 2019 campaign. In their 6-2 run to end the season, they faced just two teams with a winning record, Buffalo and the Baltimore Ravens, losing to the Ravens and only beating Buffalo in Week 17 because they had nothing left to play for in terms of the playoffs.
The other six games saw them lose to a five-win Miami Dolphins team and beat teams that finished with a grand total of 24 wins, for an average of under five wins per team. Unless we see some massive underperformances in 2020, the Jets will most likely not face a schedule with a run of games against competition anywhere near that bad. Within their own division, the Bills and Dolphins are both on the rise, and while the Patriots are not what they once were, they are still the New England Patriots coached by Bill Belicheck, which is never an easy proposition.
My colleague Cole Thompson is higher on the Jets than I am, predicting an 8-8 record in his recent article. With this schedule, eight wins feel like an absolute ceiling with seven wins a more realistic ceiling. If you can find the Jets at seven wins with a sportsbook, even if they come with a slightly worse line than the +110 available for 6.5 wins, then that to me is worth a two-unit bet with the safety of getting your money back if they win seven and push.
Ultimately, this is a line I may look to bet with more conviction in the preseason, once we get an idea for how their brand new offensive line is gelling together. If they look good, then I will lay off putting any more money down against them, but if they appear to be struggling, then I may go in, even more, looking for a slow start when the 2020 season opens.
What this ultimately comes down when looking to bet the Jets' win totals this season is whether you think Adam Gase can coach them to seven or more wins. While he has managed that in three of his four seasons as a head coach, his teams have been massively outplayed in all four seasons. Last year, a 7-9 finished flattered a team that had a projected Pythagorean record 1.4 wins lower. Therefore, given the new offensive line, the mediocre head coach, and the tough schedule, I am going to place one unit on under 6.5 wins when it comes to the Jets win totals in 2020.
1u – New York Jets under 6.5 wins | +110
Ben Rolfe is a betting analyst at the Pro Football Network (@PFN365). Follow the betting group @PFNBets and Ben @benrolfe15