For the most part, the New York Jets have had a good week. After agreeing to a one-year deal with free agent Dalvin Cook on Monday, Gang Green officially activated fellow running back Breece Hall from the physically unable to perform (PUP) list on Tuesday.
While the Jets have solidified their RB room, they still need to figure out how they'll align their offensive line in front of Aaron Rodgers and those running backs. As New York approaches its second preseason game, their front five has to be top of mind.
The New York Jets Have an Offensive Tackle Problem
Who will New York play at offensive tackle in Week 1? The Jets themselves probably don't even know.
Duane Brown is still on the PUP list, and while head coach Robert Saleh has consistently said the veteran is close to returning, he's been nowhere to be found.
Mekhi Becton, who's missed most of the past two seasons with injuries, played seven snaps against the Cleveland Browns in the Hall of Fame Game before departing. Against the Carolina Panthers, he was able to stay in for 28 plays at left tackle but allowed two pressures, including a sack.
Free agent addition Billy Turner, who spent time with new Jets offensive coordinator Nathaniel Hackett in Green Bay and Denver, played LT against Carolina but is also competing for time at right tackle with Max Mitchell.
Aaron Rodgers shared his thoughts on the Jets offensive line #PMSLive pic.twitter.com/O7DPsddM4i

— Pat McAfee (@PatMcAfeeShow) August 10, 2023
New York has several moving parts at tackle, but fortunately, its interior offensive line situation appears to be somewhat settled.
Laken Tomlinson is locked in at left guard. Connor McGovern is the favorite to return at center but is facing competition from Wes Schweitzer, while Alijah Vera-Tucker — the Jets' best offensive lineman — is penciled in at right guard.
"My optimistic side will say we have time," Saleh said of New York's offensive line configuration. "But as a coach, you want it done yesterday. We want these guys rolling, we want confidence, we want to start humming."
As the regular season gets closer, what options do the Jets have up front?
Will the Jets Move Alijah Vera-Tucker to Right Tackle?
Assuming Brown returns from the PUP list before the regular season, he's likely still the favorite to start on Rodgers' blindside.
"With Duane, he's going to play well," Rodgers said last week. "We got to figure out who the first five is going to be. So, a lot of guys in competition right now. It seems like they're switching the tackles left and right, just about daily with Max and Billy, just looking for consistency with those guys."
In that scenario, the Jets could theoretically move Vera-Tucker to right tackle. He played there for two games and change last season when injuries up front necessitated a position change and mostly held his own.
However, AVT hasn't practiced at RT during training camp, and NFL teams are generally wary of moving linemen around, especially this close to live action.
Shifting Vera-Tucker to the right side might allow New York to get its best five linemen on the field together, but it would also potentially create a hole at center or guard.
If AVT is on the right side, New York might move McGovern to right guard and start rookie Joe Tippmann at center. Alternatively, they could keep McGovern at the pivot and put Schweitzer at left guard.
Can New York Sign or Trade for an Offensive Tackle?
Signing an offensive tackle this late in the offseason is essentially a no-go. The Jets got lucky that Brown, a five-time Pro Bowler, was available at this time last year. There are no such options available on the free agent market this season.
If New York were desperate to sign a tackle, their best options would probably be Jason Peters or Ty Nsekhe, both of whom are at least 38 years old. The Jets already have one OT nearing AARP status and probably don't want to add another.
Gang Green could have better luck trading for an OT, although options around the league aren't exactly prevalent. Plus, New York can't deal their first or second-round picks in 2024 because they're both conditionally attached to the Rodgers trade.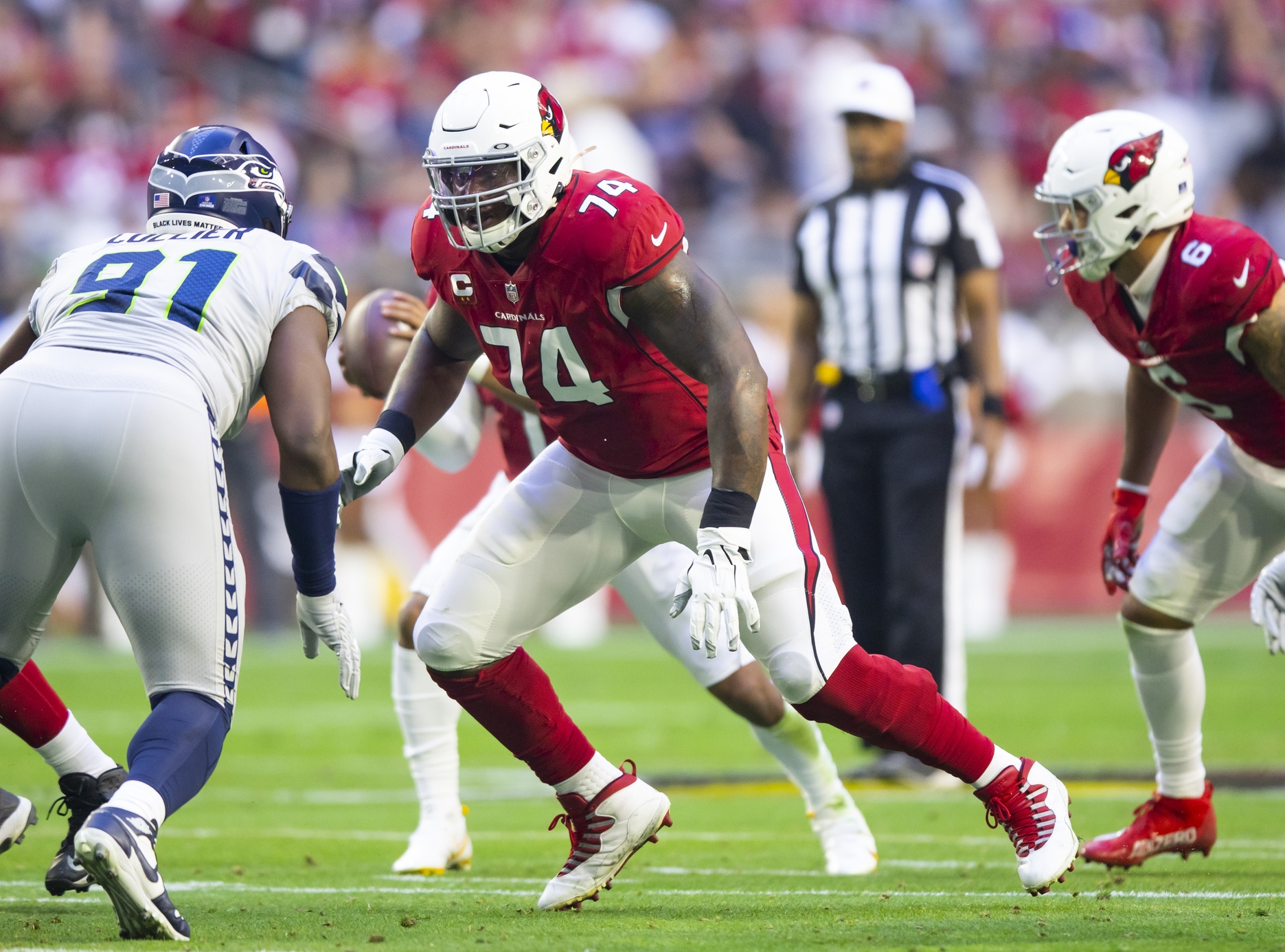 Two potential difference-makers stand out. The Cardinals used their first-round pick on Paris Johnson Jr., which could theoretically make incumbent left tackle D.J. Humphries available. Humphries played right tackle his rookie season but has stuck on the left side since.
The Jets have the cap space to take on Humphries' salary (just $5.5 million in 2023) and would essentially hold club options for 2024 and 2025.
Alternatively, could the Packers make Yosh Nijman available if he fails to win their starting RT job? Nijman is a restricted free agent this year and will reach the open market this year.
Green Bay likes having OL depth (who doesn't), but if they decide to play Zach Tom at right tackle, they might want to get something for Nijman now before he potentially departs next offseason.
Making a trade at this point in the offseason is still relatively unlikely, but there are few NFL teams as "all-in" as the Jets in 2023. If they can find a deal that makes sense, no avenue should be off the table.