Historically Black Colleges and Universities (HBCUs) have a history of producing high-end NFL talent. Jerry Rice, Walter Payton, Mel Blount, and Shannon Sharpe are just a few NFL Hall of Famers that have come out of HBCUs. More recently, Tytus Howard, Darius Leonard, and Javon Hargrave are some of the talents that have been produced by these esteemed programs. In the 2021 NFL Draft, NC A&T running back Jah-Maine Martin could be the next HBCU prospect to make it big in the NFL.
After transferring from Coastal Carolina due to some legal issues, Martin lit up MEAC in 2019 rushing for 23 touchdowns and over 1,400 yards on the ground. With his breakout year past him, he is directly on NFL radars.
Not too late to get the PFN 2021 NFL Draft Guide!
Want to find out what PFN Chief Draft Analyst Tony Pauline had to say about prospects who were drafted by your favorite team? It's not too late to download the PFN 2021 NFL Draft Guide.
Click here to download for free!
Martin's standout tape
In his second year at NC A&T, Martin smashed Tarik Cohen's school record of touchdowns in a season. His film shows that it is no fluke. This guy has specific skills that allow him to take advantage of his tools and gifts to find the end zone with his ease.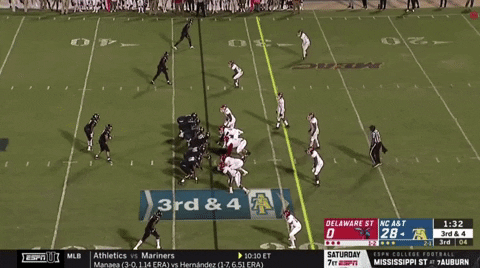 One of those key traits that Martin possesses is short-area burst. Arguably more important than speed, Martin has some impressive explosiveness when he is flying through holes and trying to get around the bend as he does here. That will allow a lot of these plays to translate to the NFL level.
He can be a dynamic runner. Something that Martin does well here is read the leverage of the end. He keeps his footwork steady and stays patient until he can get the inside crease and burst through it. That is savvy running and processing.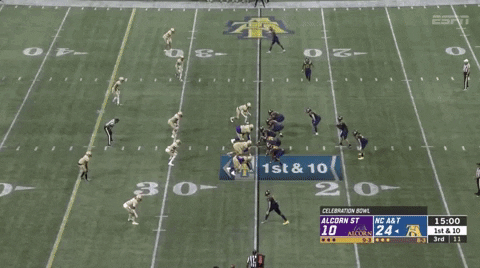 This is a very similar play, but it goes a whole lot further than the one before it. Just as before, Martin is processing the leverage off the edge well and staying patient with his blockers to allow them to set up.
However, it is not his burst that does a ton of work on this play. Martin instead breaks off a few wimpy tacklers and uses some build-up speed that he possesses to take this the entire way. It is not a blazing speed by any means, but it's more than adequate.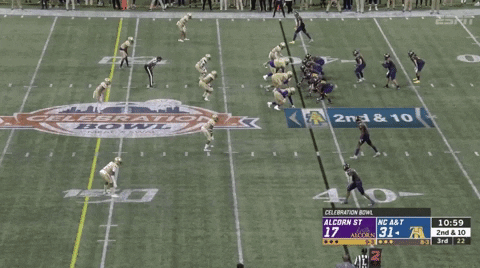 Martin is quite shifty as well. With his running style, Martin runs low, and with those quick feet, he can change directions on a dime. There is no wasted movement here, it is all quick, calculated, and smooth. That cut shows off some of that lateral agility that he possesses as a strength, which is another vital trait that will allow him to break off big runs in the NFL. The two big athletic traits are burst and quickness, and Martin has both. Speed is nice, but it is not essential.
I love the nifty adjustment by Martin on the fly here. He recognizes the blitzing safety coming off the edge and immediately diverts back inside and hits the hole at full speed to get as many yards as possible. That shows high football IQ and a fast processing level at the second level of the defense. Martin consistently showcases good vision and decision making.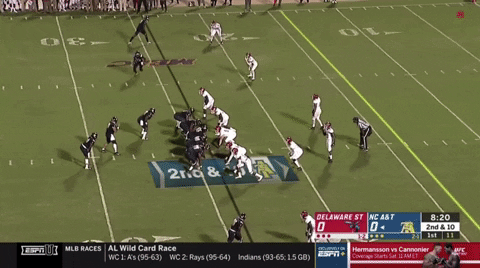 One thing I have not talked about enough yet is Martin's contact balance and physicality. His frame is strong, especially his lower body and center of gravity. There is a reason he can grind out so many yards on a lot of plays. Casually stiff-arming a defender away fits Martin's physical run style. He has no problem lowering his shoulder into defenders.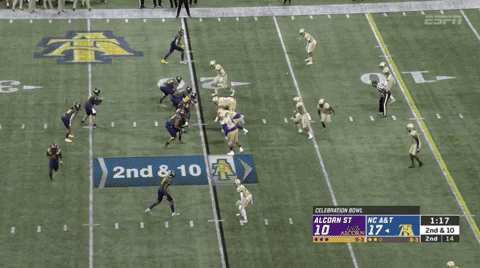 Here, some receiving ability is shown by Martin. He did not catch a ton of passes last year, and that is a concern to have about his game. However, he does make an excellent play here, adjusting to a pass that went behind his frame. There is potential to expand upon his role here. After the catch, he breaks a few tacklers and shows off that contact balance once again.
Running back Jah-Maine Martin's outlook
I do like what Martin brings to the table. He is a prospect that has terrific burst and lateral agility and has other traits that allow him to do dynamic things in the open field. That, however, does not make him a great running back prospect. Martin can be up there in the top 10 running back discussion at this point, but his limitations in the receiving game and pass protection will limit that upside for now. Of course, anything can change heading into his senior season.
As a pure runner, Martin is very talented. There is no denying what the tape shows. The character concerns are something that the NFL will look into, but on the field, there is no doubt Martin has NFL-level talent.