Mike Leach, the head coach of the Mississippi State Bulldogs and one of the architects of the "Air Raid" offense, passed away on December 12 following complications from a heart condition.
The Leach family released a statement saying, "Mike was a giving and attentive husband, father and grandfather. He was able to participate in organ donation at UMMC as a final act of charity. We are supported and uplifted by the outpouring of love and prayers from family, friends, Mississippi State University, the hospital staff, and football fans around the world. Thank you for sharing in the joy of our beloved husband and father's life."
Oft-described as a national treasure, Leach's passing has left the college football community in shock. As well-known for his large off-field personality as his on-field success, the loss of the Mississippi State head coach leaves a substantial hole in the heart of the sport. He was unique and sometimes controversial, that rare breed that could command a room of people, holding their attention as well as he could direct a college football offense to greatness on the field.
Born Michael Charles Leach in Susanville, California, the Mississippi State head coach was a standout academic at BYU in the early 1980s. While playing Rugby for the Cougars, he was also inspired by the BYU football passing offenses led by Steve Young and Jim McMahon.
Through the '80s, Leach achieved multiple academic accomplishments. The Mississippi State head coach graduated from BYU with a bachelor's degree in American Studies, earned a doctorate from Pepperdine University, and had a Master in Sports Science from the Alabama-based United States Sports Academy. One of the most intelligent men in football, Leach continued his academic standing throughout his football journey, teaching a class in "Insurgent Warfare and Football Strategy" right up to his untimely death.
While Leach's coaching career began in 1987, the origin of the success that defined him can be traced back to 1989 and Iowa Wesleyan University. It was there, as offensive coordinator, that Leach met Hal Mumme. The pair concocted the "Air Raid" offense that would revolutionize college football, changing the way the game was played forever.
After incredible success as an offensive coordinator that included setting numerous SEC and program records at Kentucky, Leach embarked on a 21-year, multi-stop, head-coaching career that saw multiples controversies but can be deemed extremely successful in terms of pure win-loss record and with a number of entries into the record books at each stop.
At Texas Tech, Leach presided over 10 consecutive winning seasons, including eight consecutive seasons with eight wins. His pass-happy offense broke NCAA, Big 12, and program records for fun. He was named the 2008 Big 12 Head Coach of the Year after leading the Red Raiders to an 11-2 record and ended his time at Tech 84-43. Leach made household names of Graham Harrell, Wes Welker, and Michael Crabtree on his way to being the winningest coach in Texas Tech history.
During an almost three-year coaching hiatus, Leach developed his off-field personality with appearances on CBS Sports Network and Sirius XM. The charismatic coach also released a book in 2011, "Swing Your Sword: Leading the Charge in Football and in Life," a reference to his fixation with pirates. The fascination seeped into his coaching career, with press conference references to pirates becoming a commonplace and much-loved part of Leach's appeal.
His arrival at Washington State in 2012 saw Leach rejuvenate a Cougars team that hadn't managed a winning season since 2003. During his eight-year tenure in Pullman, Leach became the first Washington State head coach to win 11 games. That campaign saw him named the 2018 Pac-12 Coach of the Year, adding to an award he also won in 2015. The quarterback of that 2018 Cougars team, Gardner Minshew, became the second quarterback to win the Johnny Unitas Golden Arm Award in Leach's high-volume passing attack.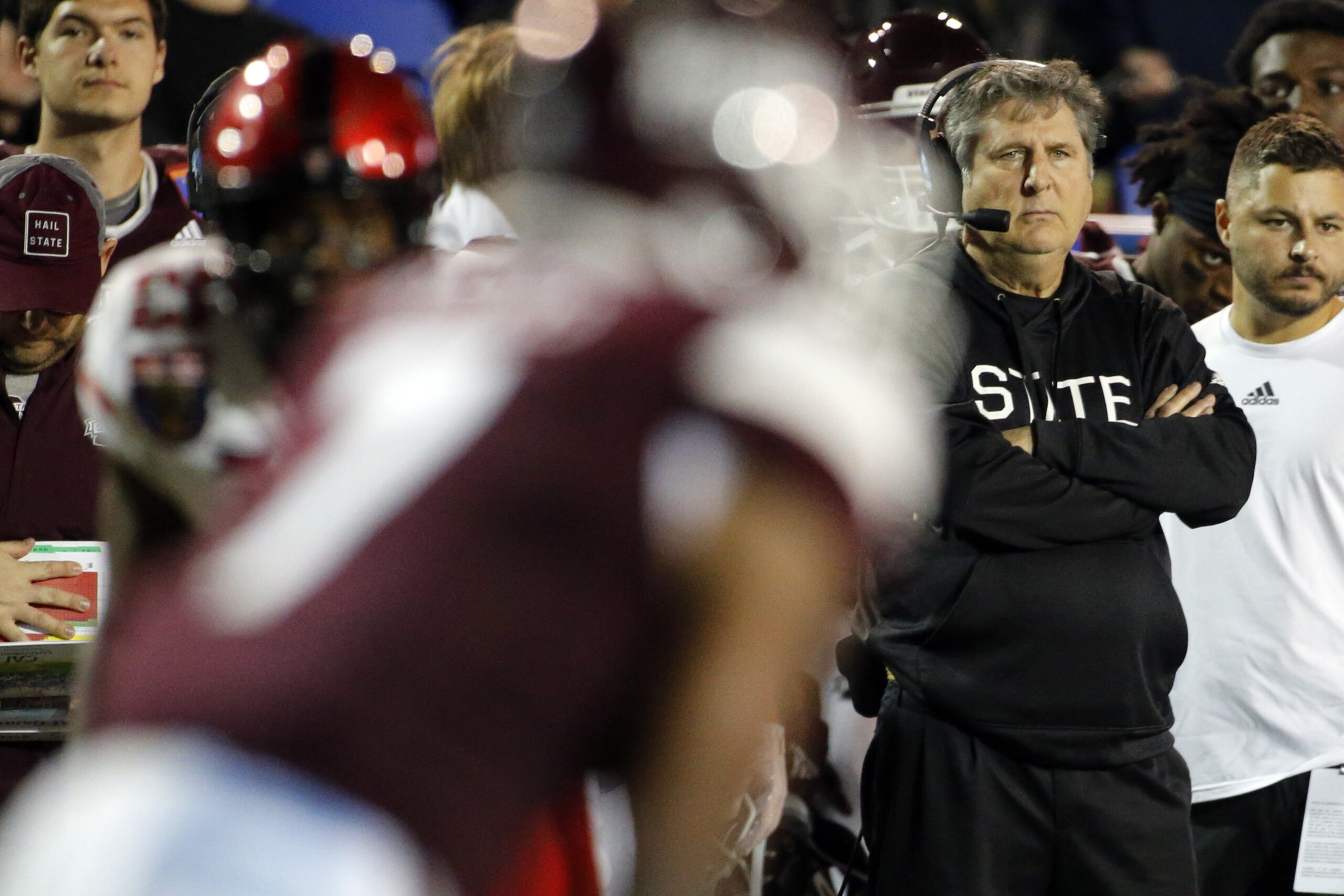 Despite the opinion that his offensive style wouldn't work in the SEC, Leach headed to Starkville ahead of the 2022 season to take over as the head coach of Mississippi State.
While shocking reigning national champions LSU on opening day, K.J. Costello set an SEC single-game passing record, throwing for 623 yards on the Tigers' defense. However, the disrupted 2020 season saw disappointing results as the Bulldogs' offense only ranked 110th nationally while finishing with just three wins in the regular season. The doubters appeared to be proven right, but Leach remained steadfast in his approach.
It bore fruit in 2021, with a 7-5 regular-season record before blossoming into a Top-25 challenger this last season. Leach has helped Mississippi State quarterback Will Rogers break various SEC and program records, while the Bulldogs finished the 2022 college football season with an 8-4 record and were preparing for the ReliaQuest Bowl at the time of Leach's death.
Leach, the oldest of six siblings, is survived by his wife Sharon, his four children Janeen, Kimberly, Cody and Kiersten, and three grandchildren.
Leach will be remembered for his high-volume, hugely successful passing offenses. He will be remembered for his rambling soliloquies about pirates, mascot fights, and marriage advice. You might even remember him for his brief cameo in the hit television show Friday Night Lights. However you remember Leach, the most important thing is that he will be remembered — as a coach, as a teacher, as a personality, and as a college football revolutionary.
Listen to the PFN Scouting Podcast
Listen to the PFN Scouting Podcast! Click the embedded player below to listen, or you can find the PFN Scouting Podcast on iTunes, Spotify, and all major podcast platforms.  Be sure to subscribe and leave us a five-star review! Rather watch instead? Check out the PFN Scouting Podcast on our Scouting YouTube channel.