The Miami Dolphins enter their 58th training camp with their most complete roster in recent memory. But Mike McDaniel has some lingering questions that need to be answered between now and their Week 1 showdown with the Los Angeles Chargers.
With the caveat that most of their lineup has been set since the second week of free agency, here are the top three Miami Dolphins training camp battles of 2023.
Top Miami Dolphins Training Camp Battles To Watch
No. 3 Wide Receiver | Robbie Chosen vs. Cedrick Wilson Jr. vs. Erik Ezukanma
The Dolphins were far from a balanced passing attack in 2022. Of the 562 receiving targets last year, more than half went to Tyreek Hill and Jaylen Waddle.
That made the Cedrick Wilson Jr. contract — three years, $22 million — look foolish in retrospect.
But Wilson has the opportunity to make Chris Grier look a bit wiser in 2023, particularly with Mike Gesicki (32-362-5 receiving line in 2023) and Trent Sherfield (30-417-2) lost to free agency.
Wilson won't be gifted the job, however.
Expect Robbie Chosen nee Anderson to push him hard for playing time. Anderson signed a one-year, $1.4 million prove-it deal after first falling out of favor in Carolina in 2022 and then failing to launch in Arizona following a trade.
The Dolphins are betting that one of those two regains his form from 2023 or that former fourth-round pick Erik Ezukanma responds to a pointed challenge from McDaniel in Year 2.
"I was on the phone with him before this offseason, just checking in on how he was doing, just knowing that it was going to be a big year," McDaniel said. "You go zero to 60. You know, he did get active at the very end of the season, but for the most part, it almost feels like a redshirt year for him. Which it's not. You have to learn a ton, and he knew that we have a very talented receiving corps.
"All those learning lumps that really every rookie incurs, but specifically wide receivers that are hearing huddles for the first time. He knew he was going to have to be on his stuff at not just one but multiple positions. And he's probably made the biggest gains from last year to this year and ownership of the offense. So what that does; that allows him the opportunity to try to carve out a specific role for himself because otherwise, he wouldn't have a shot.
"There's too many — specifically, the receiving corps that he's practicing within is competitive and deep with bona fide NFL players that I've been around, so the challenge is real, but he's put himself in a position to really compete for opportunities — I'm happy for him as it stands and moving forward I can't wait to see what he does."
No. 3 Cornerback | Kader Kohou vs. Keion Crossen vs. Cam Smith vs. Noah Igbinoghene vs. Trill Williams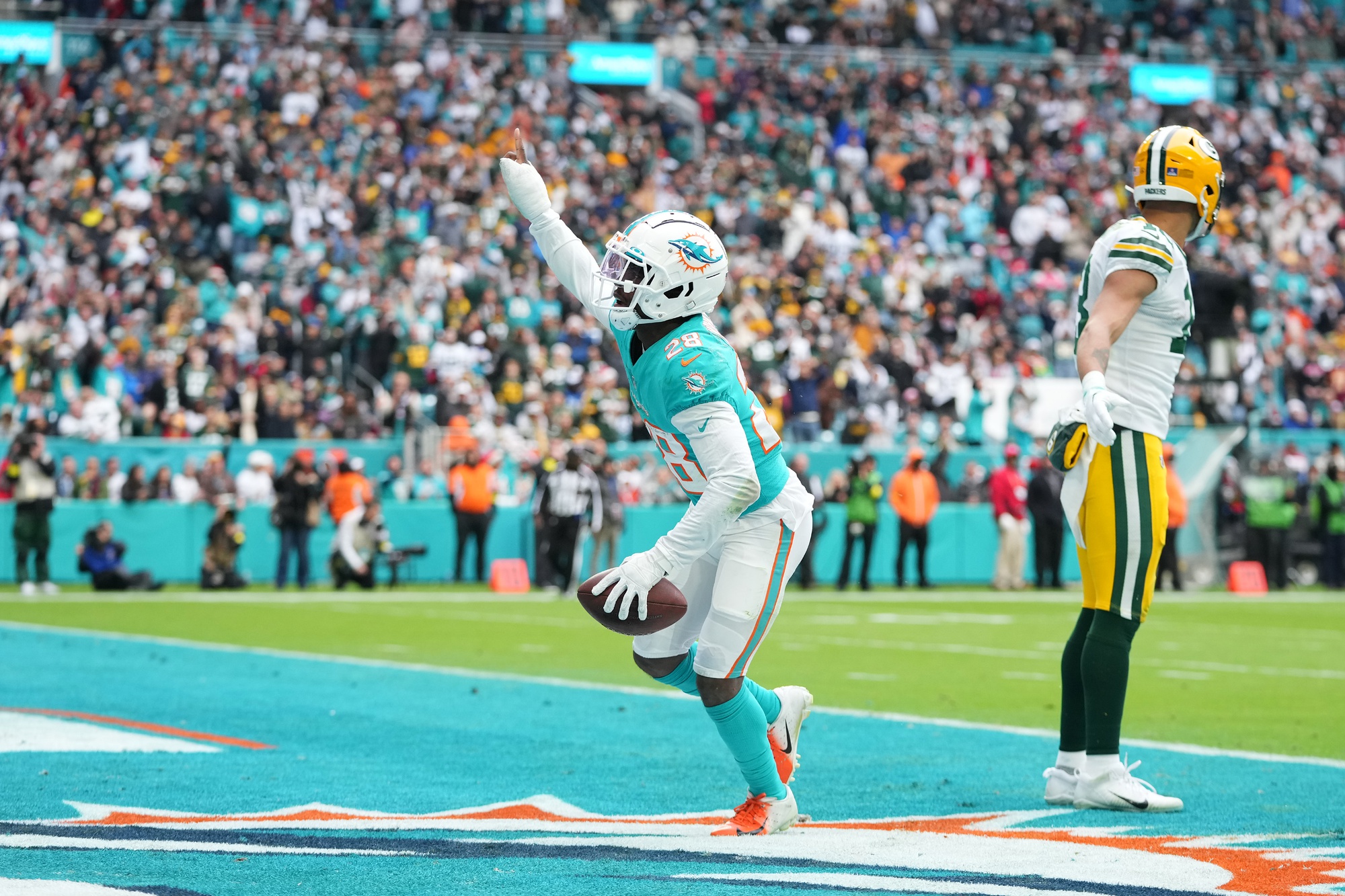 This is probably the deepest competition in the Dolphins' camp. At least five corners will have the chance to win the No. 3 job — and that number will grow to six if Nik Needham makes a speedy recovery from a torn Achilles tendon injury from October.
The likeliest scenario is the Dolphins stash Needham on the physically unable to perform (PUP) list in hopes that he's available a month into the season.
But Needham can't count on a place on the field whenever he does return.
The Dolphins learned the hard way last year how valuable cornerback depth was.
Their top three corners in their Wild Card Round loss to the Bills were a hobbled Xavien Howard, undrafted rookie Kader Kohou, and career specialist Keion Crossen.
Kohou and Crossen proved to be — at worst — capable depth pieces and will have the chance to get significant snaps in a secondary that features Howard, Jalen Ramsey, and Jevon Holland.
Then there's Noah Igbinoghene and Cam Smith, who were high draft picks, and Trill Williams, who was impressive in camp last summer before tearing an ACL.
"Everybody's a starter," Dolphins cornerbacks coach Sam Madison said in the spring. "You talk about in this league, anything can happen at any given time, and that's what I try to portray to these guys. [Kohou has] done some really great things for us last year. He played in the nickel, he played at the dime, he played at cornerback position.
"Vic [Fangio] is trying to find the best people to put on the football field, and he's definitely in the mix just like a lot of these guys are. But now it just becomes who's the most consistent, who's the most productive, and who's going to be one of those guys that we can depend on no matter what position that we put him in?"
Backup Quarterback | Mike White vs. Skylar Thompson
Tua Tagoaviloa will almost certainly miss time due to injury in 2023. This isn't us being haters. It's a fact of life.
Tua hasn't played a full season since he was a sophomore at Alabama. He missed significant time in 2022 due to a series of concussions, including the Dolphins' first playoff game in six years. The head issues were serious enough for him to consider retirement in the offseason.
That's why there's been a bit of angst among the fan base about the team's low-key Plan B.
After letting brittle Teddy Bridgewater walk in free agency, the Dolphins signed ex-Jets backup Mike White to compete with Skylar Thompson.
That is … a gamble.
Both have thrown more career interceptions than touchdowns. Neither has a lifetime passer rating that approaches even 80.
Thompson appears to have the early lead, but it's entirely possible that if neither impresses during camp, Tua's No. 2 isn't yet on the roster. Bridgewater, for one, is still available.
Listen to the PFN Dolphins Podcast
Listen to the PFN Dolphins Podcast! Click the embedded player below to listen, or you can find the PFN Dolphins Podcast on iTunes, Spotify, and all major podcast platforms.  Be sure to subscribe and leave us a five-star review! Rather watch instead? Check out the PFN Dolphins Podcast on our NFL YouTube channel.