2023 was the first year the Memphis Tigers went without an NFL Draft selection since the 2013 cycle. Can Ryan Silverfield's program right the ship and get back on the board with a new crop of prospects in 2024?
Memphis Tigers NFL Draft Prospects
A Memphis program that's produced NFL talents like Isaac Bruce, Stephen Gostkowski, DeAngelo Williams, and more contemporary figures like Tony Pollard and Antonio Gibson will always have an imprint at the professional level. But the 2023 NFL Draft cycle represented a rare aberration in the team's NFL development.
Just because the Tigers didn't have any draft picks doesn't mean they lost nothing, however. Safety Quindell Johnson, who joined the Los Angeles Rams as an undrafted free agent, was a stellar playmaker in all phases, as was UDFA linebacker Xavier Cullens.
In Johnson and Cullens, the Tigers lost their two leading tacklers. They also lost rising star Camron Jackson to the Florida Gators via the transfer portal and saw several top receiving weapons leave on the offensive side of the ball.
Luckily, there are core pieces still in place in Memphis. The team has their QB of the past two seasons still in-house, as well as several quality offensive linemen. And a few notable transfer additions could help the team stay above .500.
Seth Henigan, QB
True junior Seth Henigan will be entering his third year as a starter in 2023 — something not all players his age can say. And for as long as he's been the Tigers' QB, Henigan has been exceptional. Across two seasons, he's completed 520 of 838 attempts for 6,881 yards, 47 touchdowns, and 16 interceptions.
Though Henigan, at 6'3″, 210 pounds, lacks the high-end tools to earn early-round capital, his toughness, and sound decision-making could grant him an NFL opportunity as a quality backup.
Blake Watson, RB
Transfer addition Blake Watson has a good shot to be Memphis' top 2024 NFL Draft prospect and continue the program's tradition of quality NFL RB development.
Watson began at Old Dominion as a WR recruit in 2018 but transitioned to RB over the ensuing years and broke out in 2021 with a 1,000-yard rushing season. He rattled off 918 more yards in 2022 and caught 37 passes as well. The 5'9″, 195-pound Watson is one of the most shifty, elusive, and creative runners on the circuit, and his natural receiving background adds to his appeal in the modern era.
Tauskie Dove, WR
The Tigers have a deep WR core with several potential PFA prospects in the mix, but the most intriguing name in the group might be Tauskie Dove. Dove comes as a transfer addition from Missouri after spending five years with the Tigers of the SEC, including a redshirt. Dove has good size at 6'2″, 197 pounds, and has proven he can produce before. He peaked in 2021 with 38 catches for 576 yards, using his body control and soft hands to convert week in and week out.
Jonah Gambill, G
The Tigers have several players worth keeping tabs on in the interior offensive line group. One of those players is Jonah Gambill, a returning starter at right guard. At 6'3″, 305 pounds, Gambill won't fit every evaluator's size thresholds at the position, and he's not an elite athlete, nor does he have neutralizing strength.
But he brings enough burst on the attack, and he's particularly strong as a pass protector. He can keep his base synergetic and steady while using combative, independent hands to gather opponents.
Jacob Likes, C
Jacob Likes will be anchoring the Memphis front for his third straight season, with a chance to accrue upwards of 38 career starts at the center position. Likes could also become a deep sleeper in the 2024 NFL Draft with his blend of traits. At 6'3″, 305 pounds, he fits the well-leveraged center mold. That mold does come at the cost of size and length, but Likes does well to compensate with functional athleticism, hand usage, awareness, and physicality.
Josh Ellison, DT
On the interior defensive line, transfer addition Josh Ellison will be a player to watch for the Tigers and their 2024 NFL Draft aspirations. Originally a JUCO product, Ellison signed with Oklahoma in 2020 after putting up 5.5 tackles for loss and a sack in one season at Blinn CC.
At Oklahoma, the 6'3″, 300-pound Ellison was a regular rotational presence, with 44 tackles, six TFLs, and two sacks in three seasons — and an FBS career-high three TFLs in 2022.
Jaylon Allen, EDGE
Memphis' most established EDGE presence entering the 2023 season is fifth-year senior Jaylon Allen. Over the past two seasons, Allen has a combined 10 sacks and 17.5 TFLs. He's listed at 6'3″, 240 pounds, but may ultimately measure smaller.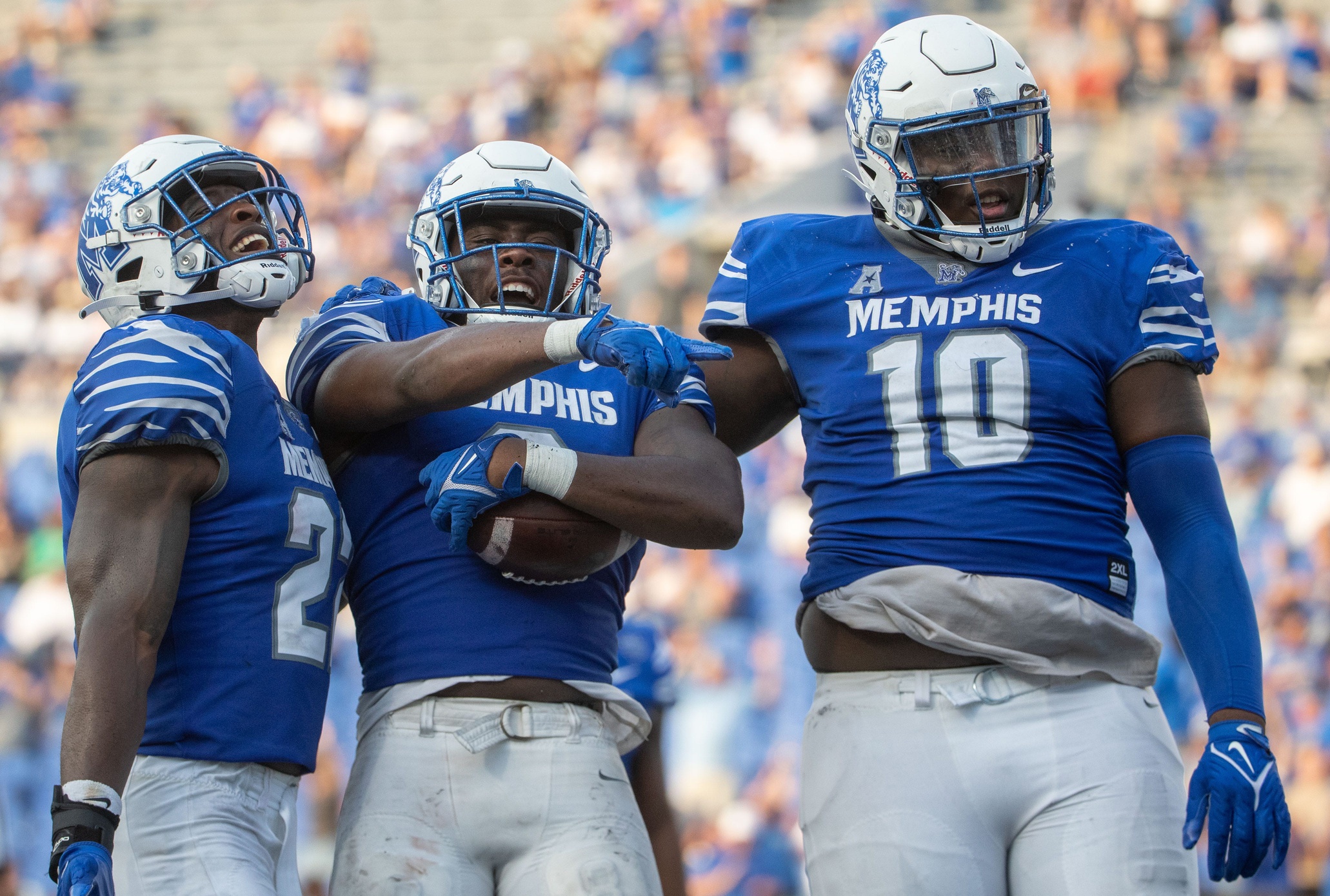 As his size implies, he's a speed rusher with good burst, who can also pinch fairly tight angles with his bend, as well as use quick swims to offset blockers off the snap and find separation.
Geoffrey Cantin-Arku, LB
Memphis' roster is flush with potential sleepers on the 2024 NFL Draft board, and another one of those players is linebacker Geoffrey Cantin-Arku. Cantin-Arku started at Syracuse from 2020 to 2021, and across that stretch, he compiled 105 tackles, 11 TFLs, and five sacks.
2022 marked his first season at Memphis, and he fared well, accumulating 76 tackles, four TFLs, 1.5 sacks, and two pass breakups. He's an impressive athlete, whose size at 6'3″, 240 pounds implies some unearthed role versatility.
Davion Ross, CB
The Tigers have a cornerback tandem to watch as the 2024 NFL Draft cycle drones on. Senior Davion Ross transferred to Memphis in 2022 after a stellar career at Eastern Kentucky and rewarded the Tigers with 43 tackles, 2.5 TFLs, a pick, and six deflections.
While Ross is undersized at 5'10", 175 pounds, his playmaking ability is evident, and his twitchy athleticism translates well in both phases. He's a willing support participant who can trigger on screens with impressive burst.
Greg Rubin, CB
While Ross has the experiential edge, don't sleep on Greg Rubin. Rubin had SEC offers out of high school and led the Tigers in deflections as a true freshman in 2021 with 14. 2022 was a down year comparatively, but the 5'11", 190-pound Rubin still has that swarming playmaking upside. Like Ross, he's a fleet-footed, high-energy athlete, but Rubin's most striking trait is his natural sink, and his bird-of-prey mentality in side-saddle, as he baits QBs to test him.
Simeon Blair, S
In the wake of Quindell Johnson's departure, the Tigers will need someone new to step up and become the premier playmaker at safety. Arkansas transfer Simeon Blair has the best chance to fill that void. In SEC play in 2022, Blair amassed 73 tackles, two TFLs, and five pass deflections.
The 5'10", 208-pound defender is a former high school QB, but he's found his niche as a safety with dual-phase utility. His lower-body flexibility helps him in coverage, but he also has good range and tackling ability in support.
Other Notable Names
Jevyon Ducker, RB
Demeer Blankumsee, WR
Roc Taylor, WR
Joseph Scates, WR
Makylan Pounders, OT
Derick Hunter Jr., DT
Jaylen Joyner, EDGE
Cormontae Hamilton, EDGE
Cincir Evans, LB
Joel Williams, S
Memphis Tigers Schedule
Week 1
BYE
Week 2
Sept. 2: vs. Bethune-Cookman Wildcats
Week 3
Sept. 9: at Arkansas State Red Wolves
Week 4
Sept. 14: vs. Navy Midshipmen
Week 5
Sept. 23: vs. Missouri Tigers
Week 6
Sept. 30: vs. Boise State Broncos
Week 7
BYE
Week 8
Oct. 13: vs. Tulane Green Wave
Week 9
Oct. 21: at UAB Blazers
Week 10
Oct. 28: at North Texas Mean Green
Week 11
Nov. 4: vs. South Florida Bulls
Week 12
Nov. 11: at Charlotte 49ers
Week 13
Nov. 18: vs. SMU Mustangs
Week 14
Nov. 25: at Temple Owls
Week 15
BYE
Listen to the PFN Scouting Podcast
Listen to the PFN Scouting Podcast! Click the embedded player below to listen, or you can find the PFN Scouting Podcast on iTunes, Spotify, and all major podcast platforms.  Be sure to subscribe and leave us a five-star review! Rather watch instead? Check out the PFN Scouting Podcast on our Scouting YouTube channel.