The New England Patriots are on a league-leading six-game winning streak. Their turnaround wouldn't have happened without key contributions from several members of the Patriots offense. Let's take a look at the advanced metrics behind the performances of Mac Jones, Kendrick Bourne, and Jonnu Smith.
The Patriots offense has improved dramatically during recent weeks
Bill Belichick's defense has been characteristically excellent this season, allowing just 316.7 yards and a league-low 15.8 points per game. However, New England's recent success has been driven by a massive turnaround from the offense. In their first six games, the Patriots scored an average of 20.83 points per game.
In their last six, they have almost doubled their scoring output and are averaging 35.17 points per game. That includes a 54-point outing against the New York Jets and 45 points against the Cleveland Browns.
This offensive transformation was fueled by highly efficient performances from several key players. Today, I want to highlight three in particular: Jones, Bourne, and Smith.
Mac Jones is playing like a seasoned veteran
The piece of the Patriots offense that has garnered the most press is the play of rookie quarterback Jones. Despite mixed reviews from analysts coming out of college, he appears to have found himself in a perfect situation with the Patriots.
His box score statistics are somewhat mediocre, as he's thrown for 2,850 yards, 16 touchdowns, and 8 interceptions. To his credit, Jones does lead all rookies in both passing yards and touchdowns. However, his statistics are a far cry from the outlandish numbers that led to Justin Herbert winning Offensive Rookie of the Year last season.
That said, Jones has been extremely efficient. As evidence, let's turn to the Offensive Value Metric (OVM). The OVM is a grading system created by the (Bx) Movement to evaluate players based on how much they contributed to the creation of their statistics, rather than the statistics themselves.
So far during his rookie season, Jones has earned a grade of 26.06, the sixth-highest grade of any quarterback in 2021, suggesting that he has been more effective within the Patriots offense than other quarterbacks are in theirs.
Mac Jones' weekly grades
For further context into Jones' performance this season, let's take a look at his weekly grades. You can see them in the chart below, marked by the black dots. For comparison, the yellow line represents the regular season average OVM grade for quarterbacks so far in 2021.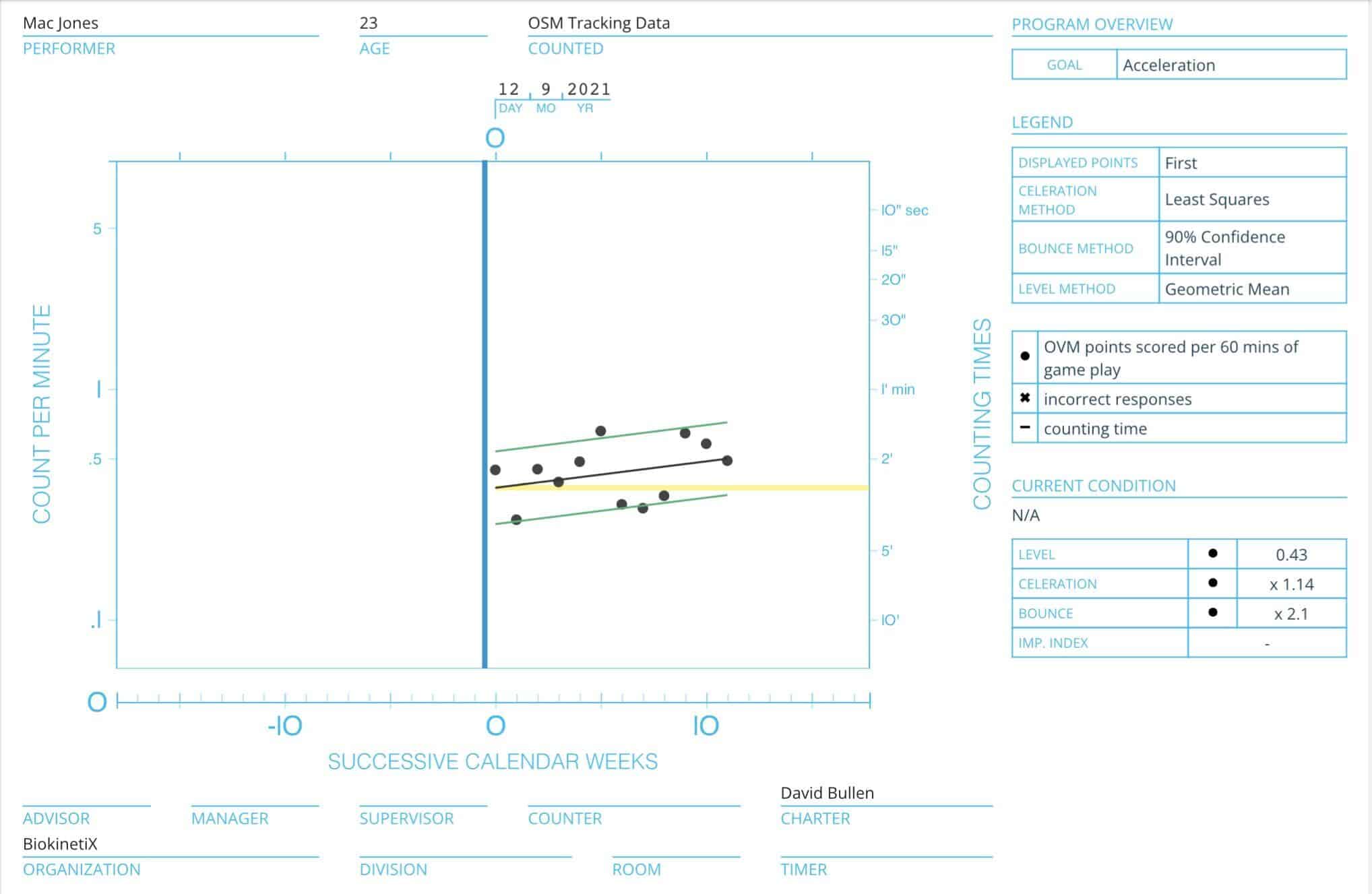 As you can see, Jones has been remarkably consistent this season. Although he has had a few grades below the league average, he has outperformed his counterparts in the NFL for most of the year and has generally trended upwards as well.
The advanced metrics behind Jones' OVM grade
Interestingly, many of Jones' advanced metrics aren't especially impressive. He generally hasn't attempted challenging passes. He's thrown into tight windows on 13.9% of his pass attempts — he's averaging 7.6 air yards across all of his attempts and 5.1 yards on his completions.
However, Jones' grade is bolstered by spectacular completion statistics. He is completing 70.3% of his throws, the third-highest rate of any quarterback this season. According to the NFL's statistical projections, that number is 3.4% higher than expected, the fifth-largest differential in the league.
In short, while Jones hasn't been asked to play the hero often for New England, he has filled his role exceptionally well.
With Mac Jones throwing him the ball, Kendrick Bourne is having a career year
The next player I want to talk about is Jones' primary target in Bourne. The fifth-year receiver, who spent his first four seasons as a backup in San Francisco, is having the best season of his career.
However, like Jones, his statistics (623 yards, 5 touchdowns) aren't close to leading the NFL. But also like Jones, the OVM grades Bourne extremely highly, giving him a grade of 36.92, the third-best of any wide receiver so far this season.
That grade is the result of excellent advanced metrics across the board. Bourne has caught 79.25% of his targets, the third-most of any wide receiver. And once the ball is in Bourne's hands, he is exceptional as well. He is averaging 7.1 yards after the catch, the sixth-most at his position. According to the NFL's statistical projections, that number is 2.9 yards higher than expected, the fourth-best in the league.
Although his box score might not show it, Bourne is excelling in all the ways a team could want from their No. 1 wide receiver.
Jonnu Smith is a small, but essential part of the Patriots offense
The last player I want to talk about is Smith, one of two high-profile tight ends the Patriots signed during the offseason. Smith is far from the most productive player in the offense — he ranks sixth on the team in receiving yards (259) and has only scored a single touchdown.
However, like Jones and Bourne, Smith has been extremely efficient in his role. His OVM grade of 37.41 makes him the ninth-highest-graded tight end this season.
Unlike Bourne, his catch percentage is just 62.5%, the seventh-lowest at his position. However, Smith is excelling in other areas. He earned the third-most separation of any tight end, averaging 4.1 yards.
And of course, Smith excels in the area in which he has dominated for his entire career: yards after the catch. He is averaging 8.6 yards after the catch, the highest average of any tight end. That is 1.8 yards higher than expected, the second-highest differential at his position.
Overall, while Smith isn't the most consistent target, when he does catch the ball, he is lethal.
New England's final six games will make or break their season
Despite a rocky start to their season, the Patriots have turned their fortunes around with solid defense and efficient offensive performances. However, they still have a ways to go. The AFC playoff race is extremely tight, and the AFC East even more so.
Going into Week 13, the Patriots hold a one-win lead over the Buffalo Bills, but only because Buffalo has already taken their bye. Meanwhile, the Miami Dolphins, who defeated New England in Week 1, are still hanging on to their playoff hopes and are riding their own five-game winning streak.
Three of New England's final five games are against their two division rivals, starting against the Bills on Monday night. One of the other two should be a relatively easy win against the Jacksonville Jaguars, but the remaining game is against the Indianapolis Colts, who are also competing for a playoff spot.
How the Patriots perform over the final weeks will mean the difference between winning the AFC East and missing the playoffs entirely. And the continued good play of Jones, Bourne, and Smith will be crucial to them getting a favorable result.