Mac Jones and the New England Patriots put on a show last Sunday, clobbering the Cleveland Browns and placing themselves firmly into the AFC Playoff race. Let's take a look at the performance of the Patriots' young QB at this point in his debut NFL season.
Mac Jones' box score statistics haven't impressed so far in 2021
Even the most devout Patriot fans should be able to admit that Jones' box score statistics have been unspectacular so far during his rookie year. In 10 games, he has thrown for 2,333 yards, 13 touchdowns, and 7 interceptions. Those statistics don't exactly scream "franchise superstar in the making," especially since Jones is one of just six quarterbacks to start all 10 games this season.
It's not as though the Patriots aren't letting Jones throw the ball — his 323 pass attempts rank 10th in the NFL. Even in this most recent game — a complete blowout in New England's favor — Jones threw for 3 touchdowns but only 198 yards. However, examining Jones' advanced metrics reveals that this performance was one of the best of his young career.
The advanced metrics paint a more nuanced picture
Let's turn to the Offensive Value Metric to help us gain a more complete picture of Jones' performance in 2021. The OVM is a grading system created by the (Bx) Movement to evaluate players based on how much they contributed to the creation of their statistics, rather than the statistics themselves.
For most of this season, the OVM hasn't graded Jones particularly well. Going into Week 10, his overall grade of 23.74 ranked 21st out of 37 qualifying quarterbacks. Put simply, the Patriots' QB was a relatively low-impact player. The one exception came in Week 6 against the Dallas Cowboys when he earned a grade of 39.36. It was a valiant effort, although the Patriots ultimately fell in overtime.
On Sunday, however, Jones proved his Week 6 performance wasn't just a one-time event. He earned a grade of 38.53 against Cleveland, improving his overall grade by over a point, to 24.85.
That Jones was able to replicate his Week 6 performance matters. Doing something once in nine attempts could be a fluke. Doing it twice in a four-week span could be a sign that Jones is starting to find his footing in the NFL.
What made Jones' Week 10 performance so impressive?
Understanding why Jones' Week 10 grade stands head and shoulders above most of his others requires an in-depth look at his advanced metrics. Interestingly, although his grade was excellent, Jones actually didn't perform particularly well on a number of the metrics involved in calculating the OVM.
The chart below shows how he fared in Week 10 on many of those metrics.
| | | |
| --- | --- | --- |
| | Mac Jones | Week 10 Rank |
| Avg. Intended Air Yards | 6.5 | 19th |
| Avg. Completed Air Yards | 5.4 | 11th |
| Aggressiveness | 13% | 17th (tied) |
| Completion Percentage | 82.6% | 1st |
| Completion Percentage +/- | 16.2% | 1st |
As you can see, Jones didn't rank particularly high in most of these areas. He didn't push the ball downfield or regularly throw into tight windows. Overall, the passes he attempted weren't particularly difficult. Nevertheless, the rate at which he completed those passes was extremely impressive.
Not only did his actual completion percentage rank best in the NFL for Week 10, but according to the NFL's projections, the Patriots QB also completed far more of his passes than he should have. His differential was not only the best of the week but also the second-highest produced by any QB so far this season. He might not have been launching Patrick Mahomes-style deep balls every play, but Jones put on a staggering display of efficiency against Cleveland.
Mac Jones' Week 6 and 10 performances are significant outliers
As impressive as Jones' grades against the Cowboys and Browns were, his other grades weren't didn't reach that same level.
You can see all of the Patriots QB's grades from this season in the chart below, represented by the black dots. For comparison, the yellow line represents the average OVM grade for quarterbacks so far in 2021.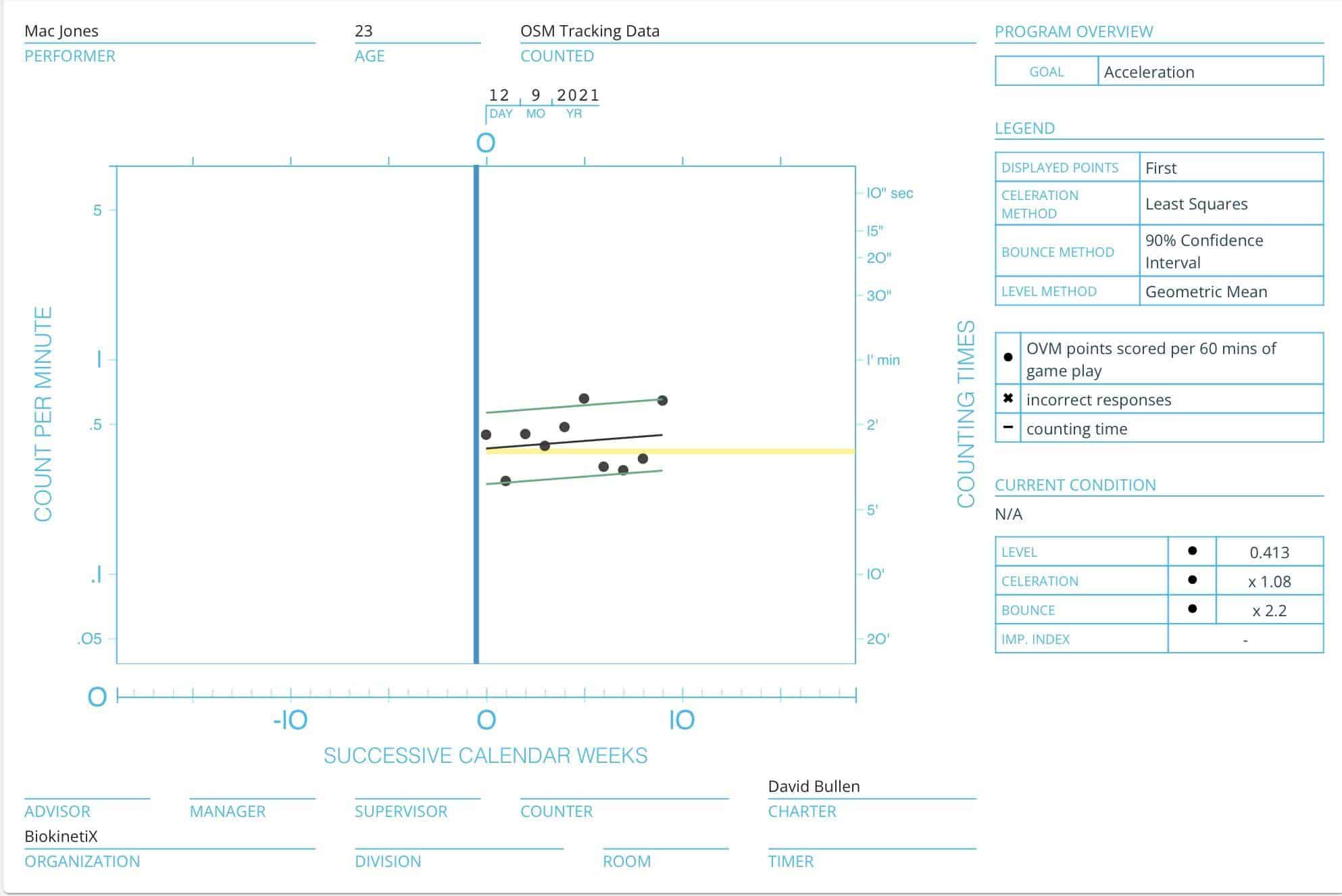 None of Jones' grades have been truly terrible, but he has earned four grades below the league average, three of which were below 20 points. Even his best grade, aside from the two we've already mentioned, only sits at 28.99, nearly 10 points lower than the one he earned on Sunday.
Ultimately, most of his grades have been fairly pedestrian. If Jones is going to be an elite quarterback, he needs to reach the level we saw from him last week more consistently.
Mac Jones isn't a superstar just yet
For most of this season, Jones has been a fairly average quarterback. There have been a couple of excellent games mixed in, but it would be inaccurate to say that he's proved himself as Tom Brady's long-term replacement.
In fairness, that's a high bar to reach. That said, if Jones can have more performances like the one he did on Sunday, that would be a good start. We'll see if he can continue to play at a high level on Thursday night.