It is a difficult transition when a player switches positions in the middle of the season. They train all offseason to play a certain position and then have to learn a whole new system of movements and methods. Now, consider making the complex transition from wide receiver to quarterback, and it is astonishing that anyone could be successful considering the level of difficulty those positions entail. Lynn Bowden, a 2020 NFL Draft prospect, did just that this season for Kentucky.
[sv slug="vegas"]
How Lynn Bowden became the most fascinating prospect in the 2020 NFL Draft?
There is no other prospect like Bowden in this upcoming draft. He will not be playing quarterback at the next level, that much is apparent, but as for what to do with him after that? It is a bit of a muddy projection. Before being a quarterback for the Wildcats, Bowden was a receiver that was used primarily out of the slot. He was rather solid when focusing solely on his receiver role. Had he stayed in that position, he would not have nearly as much buzz as he currently does. However, he has remained in most NFL scout discussions because of his strong traits as a receiver. That includes the physicality he plays with as a runner because it translates right over into his receiving game.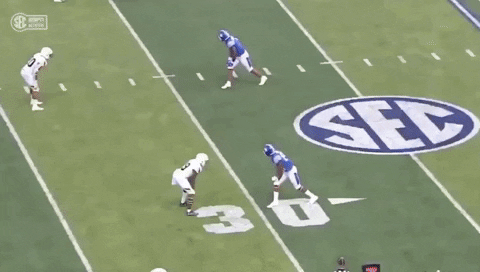 Bowden is not a nuanced receiver, but he is quick. That quickness allows him to set guys up at the line of scrimmage on his releases. He does an excellent job of getting up on this defensive back's toes and thus controlling the point of attack. That is why he gets that one step of separation on this slot fade. The sudden feet allow him to move upfield quickly. But you can see he has some nice ball tracking ability. Bowden fights back towards the ball and then goes up high to get it.
At the NFL Combine, Bowden measured in a 5'10", and that likely means he will be more restricted to the slot where he can take full advantage of his twitchy athleticism and quickness against free releases. The reps against press coverage have not been a great showing for Bowden, so freeing him up in space is imperative to let him breathe and win on his routes and releases. If you need him to, Bowden can go up and win jump balls, which should help his stock.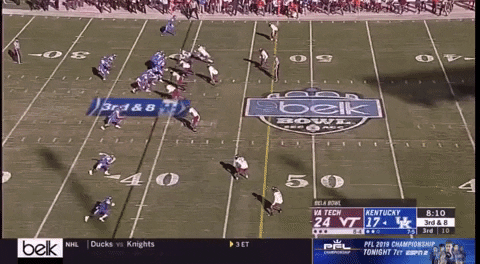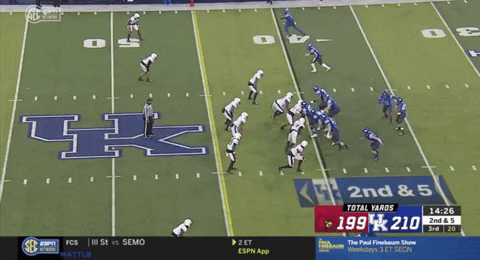 These two plays, however, show why Bowden is getting so much hype. He is a dynamic ball carrier in the open field. You will see plays like this all over his film. It is said he did not run at the Combine, but when he runs at Kentucky pro day, he is going to run a time in 4.4s. Bowden has excellent contact balance and open-field vision. Those sudden feet allow him to make some nasty cuts as a ball carrier. Bowden, however, loves to hit guys. You can see him throw stiff arms and lower his shoulder to try and truck people. That speaks volumes about his competitive toughness.
Overall, I have to feel there are a few key things wrong with Bowden's game. For one, he is not a good route runner. He has the traits that could improve his route running like his quickness, sudden feet, and fluid hips. But he has not yet meshed all of those together to become a nuanced receiver. And as fun as it was to see him dominate as a quarterback, those were reps lost that could have helped Bowden improve as a pure route runner. And then there are the woes against press coverage. He likes to be physical, so that is not that issue; it is more about decreasing the surface area of where he can hit and fighting with his hands.
Still, Bowden is an electric football player. He has a notable kick and punt return experience that parlayed him to two touchdowns in that area. And more importantly, he has the athletic traits and nuance still that he can be an effective slot receiver at the next level. Starting out, teams will want to use him in some gadget role, I am sure of that, but Bowden can do more. The comparisons to Randall Cobb are apt; he can be that in the future. Bowden is a guy that can be an impact offensive weapon at the next level, and that is all you are looking for as an NFL team.