When the Baltimore Ravens announced that they were applying the non-exclusive franchise tag on Lamar Jackson, there was an understanding that there would be a market rush to sign the former MVP, one of the most dynamic players in football.
Instead, the opposite seemingly happened. Five franchises indicated, primarily through reporters, that they were not interested in Jackson moments after the news was made public that he was going to be functionally available to negotiate with other teams.
The fact that quarterback-needy teams aren't interested is worth noting but is not by itself evidence of collusion or anything else sneaky afoot. There's a selection bias involved here — teams who will be interested cannot announce their interest officially until March 15, when Jackson is free to negotiate and receive loose offers from teams before the official start of free agency.
But the nature of how these reports have come to light is still pretty interesting.
The Signaled Lack of Interest in Lamar Jackson Does Not Make Sense
That five teams immediately indicated that they weren't interested in signing Jackson is unusual. The unusual part is not necessarily the lack of interest — though that is worth its own discussion — but the proactive need to announce a lack of interest.
Some of these teams have very good reasons, at least on the surface, to opt out of the race; the Las Vegas Raiders are a notoriously cash-poor team and do not have the liquid assets to take on large amounts of guaranteed money.
The reason that can be true of guaranteed money and not other types of money — the Raiders were not shy about providing free agents with big-money deals these past several offseasons — is because owners are required through the Comprehensive Bargaining Agreement (CBA) to put all guaranteed money into escrow upon agreement with a player.
That means having cash on hand.
The Raiders (and Bengals) have traditionally handed out significantly less guaranteed money on their deals to players in part because of this problem. At the moment, the players on the Raiders roster have an accumulated $221 million in fully guaranteed money at signing. That's less than the amount fully guaranteed for one player on the Cleveland Browns roster.
By contrast, the Denver Broncos have over $400 million in fully guaranteed money doled out to their players at signing. Of new money committed to deals between 2020 and 2022, the Raiders ranked 28th in the percentage of that money that was guaranteed at signing.
Washington is not far behind. Not only is their owner embroiled in a number of federal investigations — some of which involve questions about Washington's financials — but they also rank just as low as the Raiders in a number of these categories.
This sort of thing can be a real barrier to acquiring free agents, and in the case of Jackson, who is rumored to want a fully guaranteed deal and certainly has high guarantee demands regardless of the rumors, it would be untenable for the Raiders to put together a competitive package.
Nevertheless, leaking their lack of interest before ever talking to Jackson and figuring out if an alternative compensation package is even possible — the Raiders and Commanders have been good at "functionally" guaranteeing quite a bit of money without logistically guaranteeing it at signing — makes for an odd scenario.
If Jackson doesn't see a single offer sheet with a high percentage of money guaranteed on his contract, there's nothing he can do. He would end up signing with a team with little guaranteed or with the Ravens on a remarkably cheap and unsecured franchise tag.
So, teams with very little room to offer guaranteed money can still be in the running for Jackson. If the rest of the market agrees he shouldn't receive a high amount of guaranteed dollars, then teams like Las Vegas and Washington can absolutely be in the running. Opting out before that market materializes is strange.
Some teams, like the Miami Dolphins, do have simpler reasons for opting out. In the Dolphins' case, they trust Tua Tagovailoa and are committed to him as their starting quarterback. Given his level of production over the last year, that's a fairly reasonable stance.
But for the Panthers and Falcons, it's absolutely baffling. The Falcons were not shy about pursuing Deshaun Watson not long ago and do not have a quarterback on the roster worth throwing their weight behind.
The Panthers, who were also in on Watson, just hosted Derek Carr, so any concerns about not appearing committed to Matt Corral are fairly limited. Both teams are aggressively in the market for a quarterback but have made statements that they aren't in on this quarterback.
The Excuses for Lamar Jackson's Lack of Market Don't Make Sense
NFL General Managers Are Not Usually Defeatist
There has been some discussion about alternate reasons teams aren't interested in Jackson. More than cash flow, there's a weird sense of futility from NFL general managers, according to ESPN's Adam Schefter.
The idea is that teams would be out because they feel like they would simply be "drawing up the offer sheet" for the Ravens to simply sign it, doing work for another team. Schefter substantiated that by pointing out that only one player has been tendered the non-exclusive franchise tag to play for another team.
An update on free-agent QB Lamar Jackson. pic.twitter.com/HbmHhuOHFn

— Adam Schefter (@AdamSchefter) March 8, 2023
That explanation doesn't follow. If teams were in the business of giving up because the likely outcome of doing work was not seeing results, half the teams would be tanking every year. The NFL only works because teams make an effort even if the odds are low.
It's also ahistorical. Teams offer players in free agency only for players and agents to take those offers to other teams as leverage. That's how bidding wars work. In this case, there's no bidding war because the Ravens have the right of first refusal, but the idea that teams wouldn't want to draw up an offer sheet because a team can absorb it is uncharacteristically defeatist behavior.
Not only that, it doesn't really track. The Ravens drew a line in the sand and risked their relationship with a franchise quarterback in order to define their projected value for the player. If a team offers more than that and the Ravens replicate that offer — why wouldn't Baltimore have offered the deal they eventually agreed to?
The example Schefter gave, a four-year, $200 million contract that's fully guaranteed, is well outside the range of where Baltimore was willing to go. At the very least, if a team values Jackson at that level and knows that the Ravens' offer is nowhere near it, they should at least make the attempt.
MORE: Top 100 Free Agents
That history of non-exclusive franchise tags isn't relevant either; only three quarterbacks in the past twenty years have been offered a non-exclusive franchise tender: Drew Brees, Matt Cassel, and Kirk Cousins. Cassel was not going to be judged to have been worth two first-round picks, so it's not an interesting case study.
Brees seems compelling, but it's worth noting that he had just made his first Pro Bowl and the Chargers had already drafted his replacement. He had not demonstrated the consistency or durability necessary to be the kind of player teams would trade multiple first-round picks for until after his 2005 season, the one he played on the tag.
Cousins was first tagged with the non-exclusive version of the tag and then later the exclusive franchise tag. He, too, faced questions about his consistency as he had only been a starter for one year. After another year of production, Washington took no chances and tagged him with the exclusive tag.
None of these are analogous to a multiple-time Pro Bowler and unanimous league MVP who has ranked fourth in EPA per play since 2019.
The Free Agency Waiting Period Is a Convenient Excuse
There was another obstacle pointed out by NFL Network's Ian Rapoport, who noted that "if a team signs Lamar Jackson to an offer sheet, Baltimore has five days to match. That knocks that team essentially out of free agency and loses them the other available QBs — because they are paralyzed in cap space just waiting. Not impossible. But hard."
This makes some sense but, once again, does not historically line up.
Importantly, both Tom Brady and Peyton Manning didn't sign with their new teams until March 20 of their respective seasons. In 2020, the league year officially began on March 18, while in 2012, it began on March 13. The idea that teams would be reticent to sign an impact QB because they would be put into a holding pattern on that player is meaningful but not enough to pass the smell test.
This goes back some time. Brees signed with the New Orleans Saints on March 16, 2006, five days after the league year began, making teams wait on his decision. In the same year as Brady, Philip Rivers waited a day longer to sign with the Colts.
This isn't exclusive to quarterbacks, either. In 2020, the top non-quarterback by average value was Dante Fowler, who commanded a $25 million-a-year deal with the Falcons. They didn't sign him until March 25. In 2021, Kenny Golladay was the top non-quarterback on the market after the league year opened. He didn't sign until March 20 despite the league year opening up several days earlier.
MORE: NFL Franchise Tag Deadline Winners and Losers
These circumstances are all different — Brady announced his move to the Buccaneers as soon as it was possible, making the signing a more formal affair a few days afterward, while Brees and Manning took very public tours of the facilities of the different teams courting them.
But it's not unusual for big-time players to make teams wait and force them into a holding pattern. Putting the rest of your signings on hold while waiting for the marquee piece in free agency is fairly normal.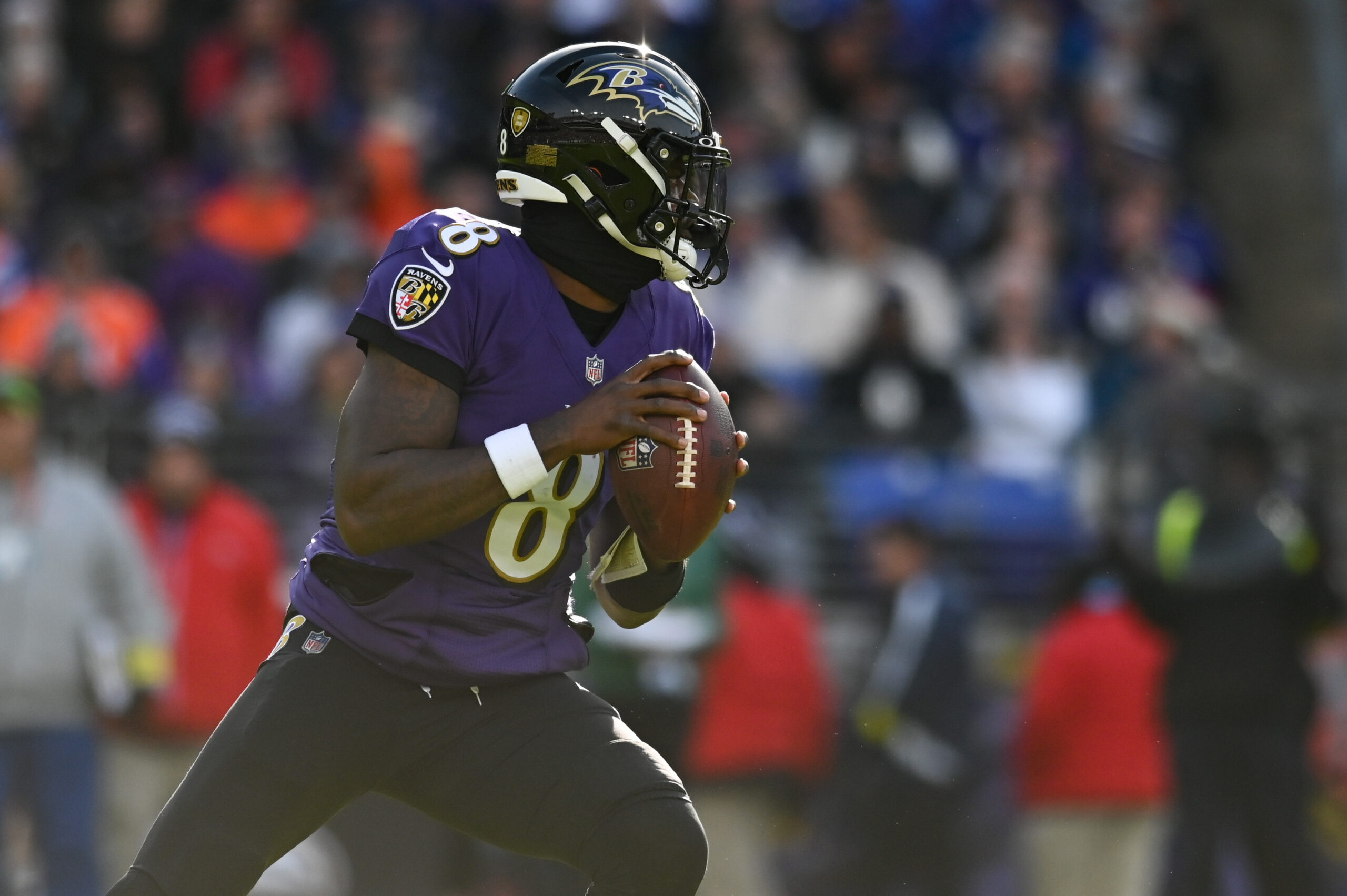 This Isn't the End of the Lamar Jackson Franchise Story
There will probably be teams interested in Jackson who have not opted out at the outset of his availability. But though there are more than the usual number of teams who need a quarterback, the teams who would be legitimately interested in Jackson are smaller.
Teams like the Colts and the Texans can be locked into a quarterback in the draft without having to worry about availability. The Saints, Seahawks, and Giants have committed to signal-callers already, while the Lions seem to be invested in Jared Goff and the Bears in Justin Fields.
Without the Panthers and the Dolphins, that list of teams shrinks to mostly just the Buccaneers. The Lions would certainly seem like potential contenders, but if they really wanted to move on from Goff, they could just as easily trade up in the draft. The Bears are in a prime position to do what they want without seeking a quarterback in free agency, so the list will remain small.
It is possible that a team with quarterback questions outside of that — like the San Francisco 49ers — could be interested. But the prospects seem small.
And though silence from interested teams is not exactly uncommon, it's also not wild for reporters to find sources indicating that teams are evaluating all options when it comes to available players.
The Lamar Jackson Situation Brings up the Dreaded "C" Word
All of this forces us to ask whether or not we see evidence of collusion.
It's one thing for teams to find it difficult to contact Jackson without an agent. It's another thing entirely to preemptively opt out of the race before those difficulties really present themselves. It could certainly be the case that all of these teams decided on their own merits not to pursue Jackson, but that, at a minimum, seems unlikely.
The owner of the Ravens, Steve Bisciotti, indicated that he disapproved of the fully guaranteed contract that Deshaun Watson received — and not because Watson has the specter of several dozen sexual misconduct allegations. He, and a number of other league owners, indicated their displeasure at setting a precedent for fully guaranteed money for players.
This very much looks like a message to Jackson, and other players around the league, that the desire to pursue big-money fully guaranteed contracts beyond the typical three-year timeframe for most guaranteed deals will not be entertained.
There are reasonable skeptics about this particular accusation, and that skepticism should be easily cleared up one way or another once Jackson can take on offers several days from now. But the nature of the skepticism often misses the mark.
The idea that owners would willingly hurt their own prospects as a winning organization seems to run counter to how most people understand team ownership. But owners have incentives beyond winning and have often demonstrated a willingness to sacrifice competitive advantage to pursue another goal — often profits.
MORE: Could Lamar Jackson Get 3 Franchise Tags From the Ravens?
The league's revenue-sharing scheme hurts the most popular teams in the NFL, but it turns out that those are the very owners who want to keep revenue-sharing in place. Revenue-sharing allows bottom-income teams to compete on the same playing field as high-profile teams and reduces the competitive advantage that a Dallas Cowboys or New York Giants would have.
Not only that, the salary cap remains a competitive disadvantage for those very teams but is necessary, in the eyes of owners, to reduce costs and maintain competitive parity — which they see as a way to maximize interest and, therefore, profits.
These are also the same owners who play hardball against a players union that propose quality-of-life improvements for players that could undercut profits for the ownership group.
The same group of owners who settled a collusion case with Colin Kaepernick and Eric Reid instead of attempting to prove, in court, that they willingly undertook actions that reduced their ability to compete on the field in order to dictate how the labor they employ should act.
The NFL may not be colluding against Jackson. But they should not be given the benefit of the doubt.