Every kid learns foundational ideas when they are young. They learn how to count, their ABCs, and how to read. Now, those are the very basics of education; those necessary foundations grow throughout our lives. Numbers turn into complex calculus equations, letters turn into full-blown sentences, and reading turns into massive books. Similarly, this can be true in football for all positions. Some baselines build on each other to create complex webs. Still, you have to master the basics to move onto the more complex and harder concepts. Oregon safety and nickel cornerback Jevon Holland is a perfect example of this progression.
While he does a lot of great things with fantastic nuance at the safety and nickel position, his value comes from being elite at the basics of the position because the fundamentals of the position can have such an impact elsewhere.
What are the basics?
So throughout that introduction, I referred to the "basics" of the nickel position. So, what are they?
The nickel cornerback position is something that has risen in value the past few years because that nickel cornerback is so versatile in what they do. Frequently, that nickel cornerback may also be a safety, but the base of being a nickel cornerback are five basic things: fluidity, footwork, discipline, leverage, and drive.
Related | 2021 NFL Draft: Top 10 safety rankings
Fluidity, footwork, and discipline all relay themselves to the keys of man coverage. Your hips have to be fluid enough to execute a speed turn if need be with quicker slot receivers emerging as a trend. The same thing goes for footwork, where nickels do not want to skip a beat if they have false steps, thus causing them to give up ground. The discipline relies on the nickel staying square and reading the receiver's hips with his eyes.
Leverage refers to the advantage a cornerback has on any given play. Knowing where they have help and maintaining that leverage is of the utmost importance. Drive refers to mostly off-man coverage and zone coverage. This is where having experience at safety can come in handy since safeties are driving downhill all the time. For example, if it is a hitch route, you want your nickel flying downhill and driving to either get in position for a tackle or to make a play at the catch point. That is what playmakers do.
How Oregon safety Jevon Holland has mastered these
Holland is a guy that does a lot for Oregon on the field. He lines up as a safety a good deal of the time, but his most important position for the Ducks defense might be slotted as that do-it-all nickel cornerback. Safeties are getting asked to do that job more and more as of late, and for good reason. Even if in the NFL Holland plays as a true safety, being in the overhang role in the slot is something that will be asked of him regardless. So, it is encouraging that Holland has got those basics down completely. His tape showcases some teach tape moments.
Holland played against his fair share of tight ends out of the slot, including now NFL tight end Colby Parkinson here. With an inside shade, it is clear as day that Holland wants to keep Parkinson outside and away from the middle of the field. He does that, but mainly because this is a slot fade anyways.
What makes Holland thrive on this play is smooth footwork and good hips. He laterally aligns himself with Parkinson's hip to get ready for this turn. Staying in that hip pocket will allow him to make a play on the ball when it comes. Now, his hips are smooth as well as he stays in phase with Parkinson, gets in there at the catch point, and breaks this thing up. Again, the basics are so subtle here, but they are the reason he was in a position to make a play.
This is all about Holland's hips and footwork again. This is an excellent stem by the receiver to get Holland to move outside, but Holland does a great job of recovering through one step and a fluid speed turn. Without those fluid hips and crisp footwork, this is a catch up the seam, but Holland can keep pace even after being turned. Another thing he does is that he keeps his outside hip open and square so he can execute this speed turn should the receiver stem this back inside. So, Holland does not declare or bite on this stem completely. That is highly impressive fundamentals.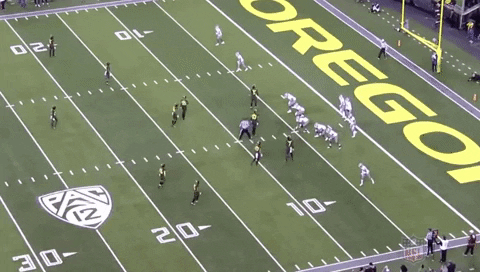 Here is a phenomenal example of the drive technique. This one is not straight downhill, but at an angle laterally. That makes this play even harder since Holland has to take a perfect angle to get in on a play on this ball. Still, it is a great blend of discipline and drive.
Related | Analyzing the top safety prospects in the 2021 NFL Draft
Holland reads the crosser all through the receiver's hips and feet and then hits the turbo button to come down and intercept this pass. If he has a false step in his footwork, he probably is not able to explode down like that either as he keeps pace. Most of the basics come together in harmony to make these plays.
This is a phenomenal job by Holland to stay square and react to what the receiver's hips tell him. In other words, elite eye discipline is the key here for Holland. He does not even move off his initial spot until the receiver declares the outside stem because he knows he has help to the inside with this being Cover 1. Holland instead stays right in phase with this due to great discipline and clean footwork to stay in the hip pocket, and he nearly gets an interception as a result.
What the basics mean for Holland and beyond
So, the basics are all there for Holland, as shown above. That means he is a highly skilled man coverage nickel cornerback. It certainly makes his baseline floor extremely high just from having those physical and mental traits, to begin with. Some NFL guys do not have all of these traits down and, as such, are limited to specific roles or situations. So for Holland, it gives him real value.
However, beyond that, he also has sharp ball skills, instincts, and is a high-level tackler. As I said before, these basics build on things, and they determine your floor. However, all those other traits he has above heighten his ceiling. That is why Holland is my top-rated safety in this class. He is proficient in man coverage out of the slot, but as a safety, there are high-level traits as well. So, this is a boon to his versatility and what roles he can condense on a defense.
All in all, Holland is an extremely talented football player out there. As a starting nickel cornerback, he showcases the potential to be one of the best out there. However, it could also be a highly useful tool to expand his versatility as a safety. Either way, Holland has a high ceiling as a playmaker for any football team.