He's not yet a household name in the 2023 NFL Draft, but perhaps Missouri Tigers S Jaylon Carlies deserves more attention with his scouting report. He's young and ascending after a breakout 2021 campaign, but does Carlies have the tools to take another leap and become a legitimate NFL draft prospect?
Jaylon Carlies NFL draft profile
The sheer abundance of high-quality football talent on the modern college football landscape allows for talents like Carlies to fall through the cracks. Carlies was a mere three-star recruit in the 2020 class. At the time, he played wide receiver, and while he fielded offers from Power Five schools like Pitt, Miami, and Maryland, he was largely overlooked throughout the process.
But Carlies, who hailed from Winter Garden, Florida, would get his chance to play in the vaunted SEC. He signed with Missouri, who soon moved him from receiver to safety. Carlies needed some time to acclimate, but his natural athletic traits served him well in his role. In fact, the Missouri S caught on quickly, earning starts in three of the final games in his true freshman season.
MORE: FREE Mock Draft Simulator With Trades
In 2021, Carlies came back as a full-time starter on the Missouri defense and shined in his full-time role. Starting 12 of 13 games, Carlies put up 67 total tackles, three tackles for loss, four interceptions, and a forced fumble. The 2021 season was another crucial step forward in Carlies' development as a safety. And judging by his trajectory, the former three-star WR recruit may soon be in line to become a star.
Position: Safety
School: Missouri
Current Year: Junior
Height/Weight: 6'3″, 219 pounds
Jaylon Carlies scouting report
Entering his first year of eligibility, does Carlies have the physical tools to warrant an early departure from college? Such a fate is often reserved for only the elite talents on the CFB stage. But Carlies might just have that kind of skill set.
Carlies' positives
Carlies is listed at 6'3″, 219 pounds, and he's every bit that big on tape. Not only is Carlies' frame incredibly long, but it has great mass and density. His overall size grants him constant mismatch and disruption potential, but his athleticism is the second piece to the puzzle.
Carlies is an explosive athlete with great burst out of his stance. He's able to explode downhill with exceptional long-strider acceleration and seal off outside runs. Moreover, he carries an intense closing burst into contact and can accelerate quickly on the attack. Carlies gears up very quickly when he has a lane to open his strides and churn his legs. He also has the explosiveness to quickly gear up and make up ground when tracking WRs in deep coverage.
Carlies' explosiveness is his most fruitful athletic trait when paired with his size. But the Missouri S has more in his toolbox. He at least has above-average fluidity, as he's shown to play low in his stance and flip his hips upfield out of his backpedal without much strain. He can also swivel around with impressive efficiency on play fakes. Additionally, Carlies has good short-area twitch, which he uses to modify tackling angles in short spaces before exploding into contact.
Going further, Carlies can effectively manage his throttle while surveying congestion. He's a spry lateral athlete who can traverse the formation with ease when tracking plays. The Missouri S has excellent foot speed and can chop his feet to correct angles and navigate tight spaces. Also encouraging are Carlies' range and long speed. Though not elite, he has good range in pursuit and covers ground efficiently with long strides. He can close off outside runs and cover ground to the sideline, as well as track receivers in single-high.
Carlies is still young and developing mentally. But already, he's shown promise in a limited sample size as a starter. Carlies has shown he can identify swing routes and motions underneath and quickly close in. He also diagnoses play directions based on motions and anticipates attack angles. The Missouri S can identify play fakes and get depth. Furthermore, he's an adaptable operator who can quickly swing downhill from depth to seal off QB rushing lanes.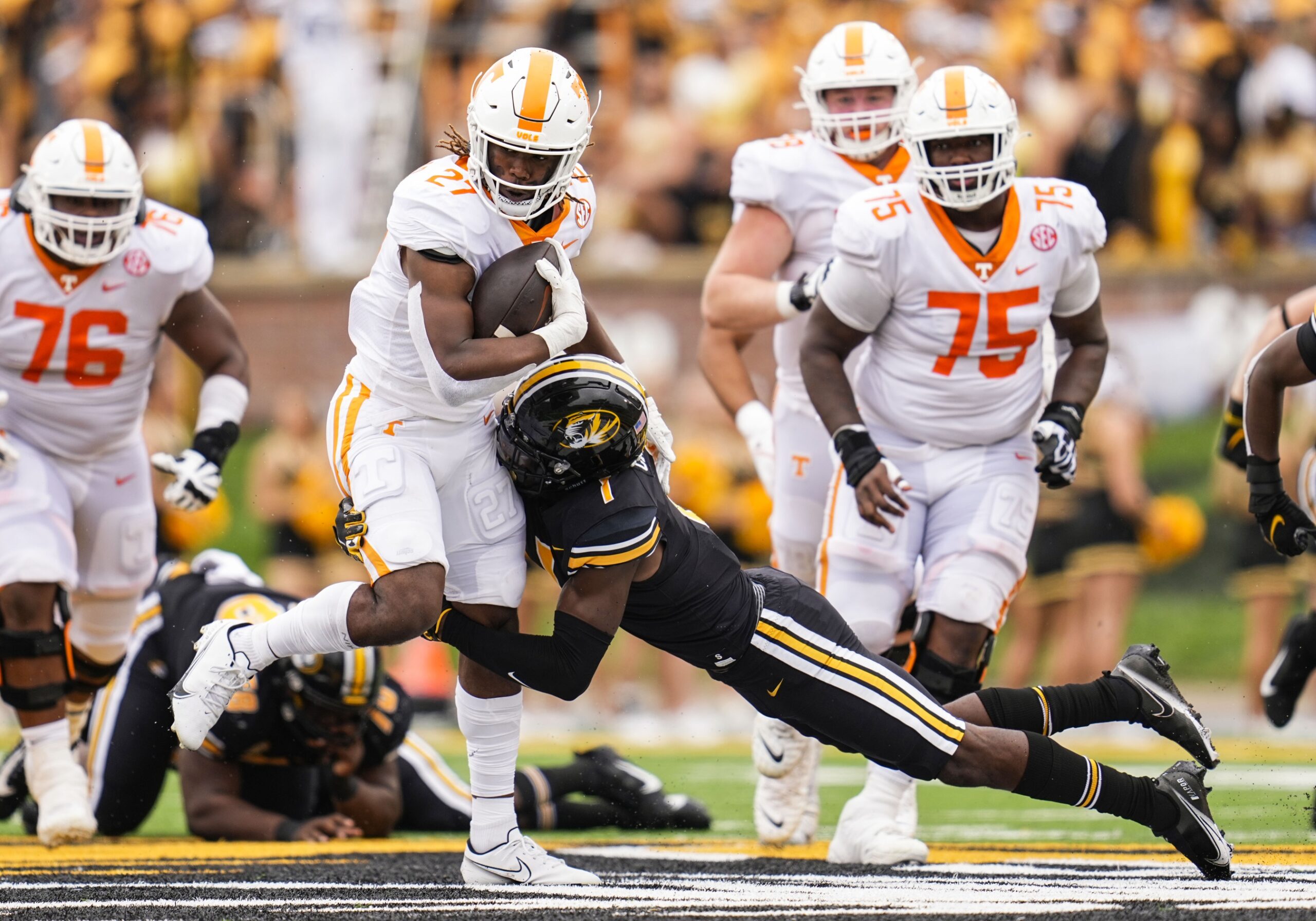 Going further, Carlies flashes quick diagnosis in congested situations, showing that he has the necessary capacity. In coverage, he can effectively recognize and respond to double moves, flipping upfield quickly after being baited inside. The Missouri S can tempo up and down in his backpedal to effectively space himself in zone. He can also effectively throttle up and down to mirror WR movements ahead of stems.
Carlies knows when to open up and retract his strides to maintain spacing, an impressive glimpse of instinctive movement and situational awareness. The Missouri S shows excellent throttle control when covering space in the deep third. He keeps his eyes on the QB when backpedaling in deep coverage and can actively align his hips based on route relationships. In the red zone, Carlies maintains patience and picks up crossing routes, matching stride-for-stride.
Carlies brings a lot of projected versatility and upside, but his highest highs come in run support. Carlies tackles like an apex predator in pursuit, pouncing on opponents and violently clamping down with his length. He's willing to lower his shoulder and launch into contact, and he can wrench down players in stride. The Missouri S shows excellent play strength at contact. He brings down larger players, halts runners in their tracks, and makes solo tackles with authority.
MORE: 2023 NFL Draft Big Board
Expanding on Carlies' run support ability, the Missouri S has flashed the wherewithal to take proper angles downhill and effectively wrap up ball carriers with his length, leading with the shoulder and wrapping up low.
Moreover, Carlies can manipulate blockers by over-playing pursuit angles, then surge inside and slip past blocks. Carlies squares up runners downhill and matches with tremendous foot speed. He can blanket runners with his overwhelming length and short-area athleticism.
Carlies' run support upside is exhilarating, but the Missouri S can make plays when the ball is in the air, too. In fact, he's a former WR who brings readily translatable ball skills. He can track the ball and high-point passes at the catch point. Furthermore, he uses his length and natural contortion ability to snare passes that enter his reach — easily gathering the ball when overthrows and tipped passes come his way.
Carlies' areas for improvement
The biggest issue on Carlies' scouting report right now is his angle consistency. Particularly in run support, Carlies needs to improve his angles and become more anticipatory. He consistently comes into the box too narrow and is late to flatten to the sideline when runs break outside. When he does take the right angles, he's a menace as a tackler. But getting to that point can be frustratingly difficult.
Elsewhere, Carlies can sometimes be a bit late to diagnose runs and trigger downhill. In congested formations, he can experience a delay. The Missouri S is also sometimes late to react to wide receivers breaking out of the slot. His processing of WR motions at stems could use improvement. Pre-snap, Carlies can be baited off play-side by misdirections, and he has room for more discipline with early positioning on reps.
Physically, some measured hip stiffness comes with Carlies' long, built frame. He sometimes has to gather himself on tight transitions and can't consistently sustain acceleration while pinching tight angles. The Missouri S sometimes falls a step behind quicker opponents while gathering himself and loses his balance on tight transitions. His hips also lock up a bit when he has to come back to the ball.
Carlies doesn't quite have an elite change of direction and has to take a couple extra steps to gather himself at times. In zone coverage, his backpedal must be tighter and more composed. He sometimes has wider feet, which can make it difficult to gather his hips and turn inside. In a similar vein, Carlies can sometimes be flat-footed when matching WRs at stems. He'll occasionally jam before moving his feet, which can disrupt his timing and balance.
With his positioning, Carlies sometimes gives deep routes too much cushion or over-corrects to one side. In single-high especially, he could be more disciplined. The Missouri S needs to take better angles more consistently when breaking on slants and other passes. His tackling coming downhill also needs more consistency. On occasion, Carlies lunges before attaining proper positioning and doesn't always seek to wrap up.
Among other things, Carlies sometimes freezes up his feet too early when squaring up to tackle. Additionally, he's sometimes late to correct his pursuit angles after faulty initial diagnosis.
Current draft projection for Missouri S Jaylon Carlies
Carlies is entering his true junior season, so any 2023 NFL Draft ranking is largely a projection. But Carlies' 2021 tape exudes early-round upside. There are still things the Missouri S can clean up, but he's worthy of Day 2 consideration if he keeps following his upward trend. Perhaps, in a wide-open safety class, late Round 1 might not be out of the question at his peak projection.
Physically, Carlies' upside is through the roof. He not only offers length but a strong frame. And with his size, he also brings high-end explosiveness, exceptional foot speed in close quarters, and inspiring agility and twitch. Carlies is not the most fluid defender, but he's not a liability, either. On single transitions in space, he can flip upfield and accelerate well enough.
MORE: 2023 NFL Draft Safety Class
Carlies' combination of explosiveness, length, play strength, and physicality makes him a dangerous threat in the box, with teeth-rattling solo tackles coming downhill on tape. But Carlies also has the versatility to play overhang slot, two-high, or even single-high. He has enough explosiveness and speed, paired with his size, to play just about anywhere. He's flashed the necessary processing and feel for positioning to move across the board, and as a former WR, has the ball skills to convert when he's in place to make a play.
Carlies needs to keep refining his game as a processor and be more consistent with his angles. He must also keep chipping away at his technique, to more efficiently carry his taller frame in space. In the meantime, he shouldn't play man coverage too often. But projecting into the future, Carlies has the tools to be a superb box safety, with enhanced versatility and numerous coverage capabilities beyond that.
Listen to the PFN Scouting Podcast
Listen to the PFN Scouting Podcast! Click the embedded player below to listen, or you can find the PFN Scouting Podcast on iTunes, Spotify, and all major podcast platforms.  Be sure to subscribe and leave us a five-star review! Rather watch instead? Check out the PFN Scouting Podcast on our Scouting YouTube channel.