The Jacksonville Jaguars are coming off an inspiring finish to their 2022 season that led to an AFC Divisional Round loss to the Kansas City Chiefs. Head coach Doug Pederson helped the young Jaguars finish 9-8 and peak in the second half of the year. With more experience across the board, the Jaguars are looking to win the AFC South once again in 2023.
We have an all-encompassing Jaguars season preview now that most of the major NFL offseason events are over. Below are the Jaguars' projected depth chart, roster changes, and season predictions.
Everything You Need Ahead of the Jacksonville Jaguars 2023 NFL Season
The Jaguars spent nearly $260 million in the 2022 offseason, leaving the team financially strapped this year. More veteran players left than arrived, with right tackle Jawaan Taylor and pass rusher Arden Key headlining their departures. However, a strong draft class can help fill the void each left.
Jaguars Roster Changes
Players Acquired

RB D'Ernest Johnson
WR Calvin Ridley (coming off suspension)

Players Drafted

OT Anton Harrison
TE Brenton Strange
RB Tank Bigsby
LB Ventrell Miller
EDGE Tyler Lacy
EDGE Yasir Abdullah
CB Antonio Johnson
WR Parker Washington
CB Christian Braswell
S Erick Hallett II
OT Cooper Hodges
DT Raymond Vohasek
EDGE Derek Parish

Players Lost

RT Jawaan Taylor
CB Shaquill Griffin
WR Marvin Jones
EDGE Arden Key
TE Chris Manhertz
Jaguars Coaching Staff in 2023
Head coach: Doug Pederson
Offensive Coordinator: Press Taylor

QB coach: Mike McCoy
RB coach: Bernie Parmalee
OL coach: Phil Rauscher
WR coach: Chad Hall
TE coach: Richard Angulo
Assistant QB coach: Andrew Breiner
Assistant OL coach: Todd Washington
Assistant WR coach: Tyler Tettleton
Passing game coordinator: Nick Holz
Offensive quality control coach: Nick Williams
Offensive quality control coach: Greg Austin

Defensive Coordinator: Mike Caldwell

DL coach: Brentson Buckner
ILB coach: Tony Gilbert
OLB coach: Bill Shuey
CB coach: Deshea Townsend
Assistant DL coach: Rory Segrest
Senior Assistant: Bob Sutton
Safeties coach: Cody Grimm
Quality control: Patrick Reilly
Quality control: Sean Cullina
Quality control: Tee Mitchell

Special Teams Coordinator: Heath Farwell

Assistant special teams coach: Luke Thompson
Predicting the Jaguars Depth Chart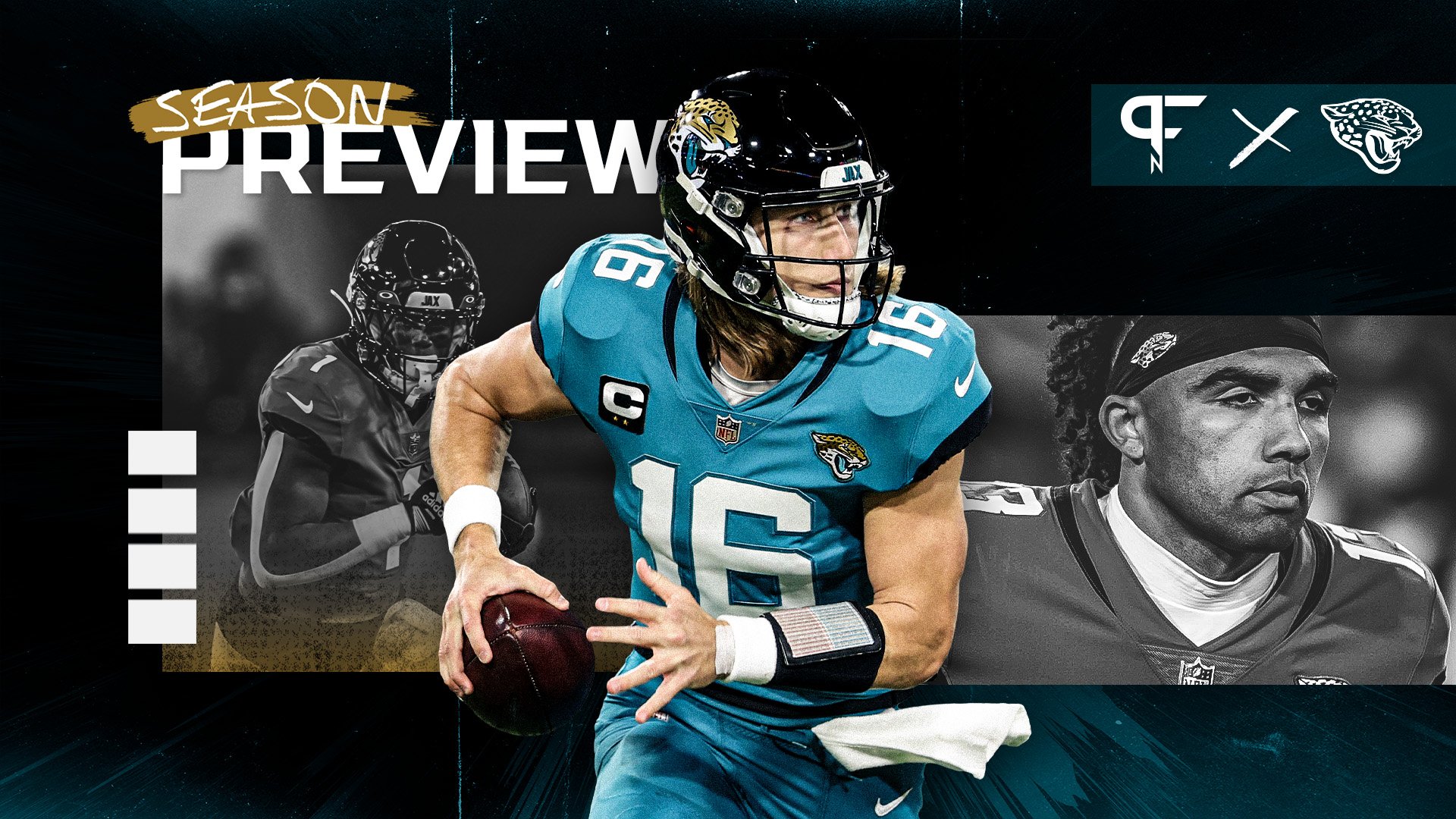 QB: Trevor Lawrence, C.J. Beathard, Nathan Rourke
FB: Derek Parish
RB: Travis Etienne, Tank Bigsby, D'Ernest Johnson, Snoop Conner
WR: Calvin Ridley, Christian Kirk, Zay Jones, Parker Washington, Jamal Agnew
TE: Evan Engram, Brenton Strange, Luke Farrell
LT: Anton Harrison, Cam Robinson (facing suspension)
LG: Ben Bartch, Cole Van Lanen
C: Luke Fortner, Tyler Shatley
RG: Brandon Scherff, Chandler Brewer
RT: Walker Little, Josh Wells, Cooper Hodges
DE: Roy Robertson-Harris, Tyler Lacy, Jeremiah Ledbetter
DT: Folorunso Fatukasi, DaVon Hamilton, Adam Gotsis, Michael Dogbe
EDGE: Josh Allen, Travon Walker, K'Lavon Chaisson, Yasir Abdullah
ILB: Foye Oluokun, Devin Lloyd, Chad Muma, Ventrell Miller
CB: Tyson Campbell, Darius Williams, Tre Herndon, Christian Braswell, Chris Claybrooks
S: Rayshawn Jenkins, Andre Cisco, Antonio Johnson, Andrew Wingard
K: Brandon McManus
P: Logan Cooke
2022 Results and Standings
The Jaguars experienced two different seasons in one year. Like most young teams that had to adjust to a new staff and an influx of talent, the Jaguars were disjointed throughout the first half of the season. Entering their Week 11 bye, Jacksonville sat 3-7 with six losses in their last seven games.
Both sides of the ball were struggling.
Second-year quarterback Trevor Lawrence produced a handful of excellent games but also duds against the Eagles, Texans, Giants, and Broncos. The offense found more success on the ground than as a passing team, which is a problem for a unit that had dedicated serious assets into the receiving corps and quarterback positions.
The defense allowed 390 or more yards in five games and embarrassingly allowed over 155 rushing yards three times. When the defense played well, the offense fell flat. The team simply couldn't string performances together.
Things changed after the bye week. Jacksonville took advantage of a favorable schedule to win six of their final seven regular-season games, winning the division in Week 18 against the Titans.
The offense exploded to new heights thanks to a sudden leap from Lawrence, and the defense settled in over the final five weeks to become more respectable.
Several things became apparent. Lawrence became a franchise quarterback while running back Travis Etienne and wide receiver Christian Kirk proved to be quality long-term stars. The defensive additions of linebackers Foyesade Olukun and Devin Lloyd and cornerback Darius Williams helped transform the defense into a top-12 unit.
After a 31-30 AFC Wild Card Round win against the Chargers that featured a historic 27-point comeback and a competitive 27-20 loss to the Chiefs, the Jaguars are on the upswing entering 2023.
2023 Power Ranking and Season Outlook
PFN Analyst Dalton Miller has the Jaguars ranked ninth in his post-draft 2023 NFL Draft Power Rankings. The 2022 trade-deadline addition of wide receiver Calvin Ridley was a significant one, even if it was a long-term risk by the team. If Ridley can reproduce the effectiveness he had in 2020 when he totaled 1,374 yards and nine touchdowns with 15.3 yards per catch, the Jaguars' offense will have a new ceiling.
It was important for the Jaguars to address their offense this offseason, even after finishing 10th in points last year.
Keeping tight end Evan Engram, even on the franchise tag as a "placeholder" for a long-term deal, and adding Ridley gives the Jaguars an important level of athletic advantage that will be key in the playoffs. Consider that Lawrence was able to get career seasons from Zay Jones and help Kirk produce at a different level, and it's easy to be excited about how the unit will benefit from a true WR1.
If Ridley is able to take his crown as the top playmaker on the unit, Jacksonville doesn't necessarily need Lawrence to elevate his surrounding cast quite as much or for Pederson to be such a timely play-caller in order for the unit to improve. Should Ridley prove rusty or not quite as explosive as he previously was, he'll still be a quality fit into a timing-based offense that lacked another strong route runner in 2022.
The biggest question for the offense is how they'll handle the offensive line. Losing Taylor and replacing him with Anton Harrison would be simple enough, but left tackle Cam Robinson is facing a multi-game suspension for violating the league's performance-enhancing drug policy. Pederson said Harrison will be the team's right tackle spot, and Walker Little will move to left tackle.
However, what happens when Robinson gets back will likely be based on how Little performs. Robinson's contract makes it unlikely he'll be back with the team in 2024, so this could be the team's long-term plan at tackle.
The Jaguars have an average strength of schedule this year but the toughest in the AFC South. For as well as the team ranked in most metrics, the pressure to progress and improve is real. Pederson said, "We're always trying to improve," and admitted the team won't bat an eye at adding a quality pass rusher if the opportunity presents itself.
With no individual rusher producing more than seven sacks last year and Key departing, 2022 No. 1 overall pick Travon Walker will have to improve. Josh Allen is in a contract year, and the Jaguars could be in a tough position if Walker doesn't take a leap into being closer to a star performer. The team's ceiling will be redefined once again if Walker and Allen can combine for 20 or more sacks, but if they're again combining for 10.5, Jacksonville will be an early-round playoff exit again.