The Indiana Hoosiers' 2024 NFL Draft class is on track to be lighter than previous years, but that doesn't mean Tom Allen's squad doesn't have the talent to potentially bounce back after two losing seasons. Who headlines Indiana's draft crop in 2023?
Indiana Hoosiers NFL Draft Prospects
Things are changing for Indiana in 2023 on both sides of the ball. On defense, there's the expected turnover that comes with losing a productive veteran class. On offense, the changes can be chalked up more to experimentation. For two straight seasons, Indiana's offense has been outside the top 100 in points per game. That'll have to change in 2023.
At quarterback, the Hoosiers are set to replace former Missouri transfer Connor Bazelak with one of two redshirt freshmen: Tennessee transfer Tayven Jackson or Brendan Sorsby. Jackson was a highly regarded four-star recruit coming out of high school and appears to have the inside track. If he gets the job, he'll have a talented WR corps at his disposal.
The Hoosiers lost tight end AJ Barner via the transfer portal to Michigan but got back several quality receiving targets — among them Dequece Carter and E.J. Williams. Most of the notable changes, outside of QB, occurred on defense.
Indiana's defense hemorrhaged talent in the 2023 NFL Draft cycle, with players such as Tiawan Mullen, Jaylin Williams, Devon Matthews, Cam Jones, Demarcus Elliott, and Alfred Bryant all moving on. Indiana reinvested into the defensive line by adding Philip Blidi and Andre Carter, and brought in two Stanford transfers to help at the second and third levels.
Josh Henderson, RB
Indiana's best RB prospect — Jaylin Lucas — isn't yet eligible for the NFL Draft. But there is a player worth keeping tabs on in former North Carolina transfer Josh Henderson.
Listed at 5'11", 222 pounds, Henderson is built like a workhorse back and carries that mass well. He has good vision and linear burst for his size and can truly stretch seams once he navigates to the second level. On top of that, Henderson's also a capable goal-line back.
Cam Camper, WR
Had it not been for an ACL tear suffered in October, Cam Camper would've put up even more impressive numbers in an otherwise uninspiring Indiana passing offense. His 2022 stat line was strong through seven games: 46 catches for 569 yards and two scores. At 6'2″, 194 pounds, he's a long-striding athlete with the speed to stack defenders but also the suddenness to offset at stems. Camper is an instinctive hands-catcher with an attitude.
Dequece Carter, WR
Camper's return will be big for Indiana's offense, but the Hoosiers will be counting on Dequece Carter to provide a competent complementary threat. Carter, a transfer from Fordham, was one of Tim DeMorat's top targets for the Rams, accumulating 104 catches for 2,038 yards and 24 scores over the past two seasons.
The 6'0″, 196-pound Carter is a twitchy, explosive vertical threat who flashes insane body control and coordination.
E.J. Williams, WR
Camper and Carter represent the most dynamic portions of Indiana's receiving corps, but also keep an eye on Clemson transfer, E.J. Williams.
At 6'3″, 195 pounds, Williams maxed out as a freshman in 2020 with 24 catches for 306 yards and two touchdowns. He still hasn't been able to supplement his physical foundation with additional refinement, but his size and length present unique value within Indiana's WR room.
Matthew Bedford, OL
For several cycles, Matthew Bedford has been a name with recurring hype on Indiana's blocking front. He missed most of 2022 with a torn ACL but returns as a starter on the line in 2023.
At 6'6″, 314 pounds, Bedford has an NFL frame with elite length and also shows good quickness and leverage acquisition out of his stance. Bedford likely projects better to guard at the NFL level, but he has in-built versatility, as well as untapped upside with his power profile.
Zach Carpenter, C
Bedford has the best chance to be drafted among Indiana's offensive linemen, but with a good year, center Zach Carpenter could potentially enter that conversation. Despite standing at 6'5″, 292 pounds, Carpenter has shown that he can channel good knock-back power with proper leveraging, plus he has fast feet and good flexibility, as well as quick hands off the snap. If he can get stronger and more consistently sustain blocks, Carpenter could be one to watch.
Philip Blidi, DT
The Hoosiers delved heavily into the transfer portal this offseason, and it all starts up front for Tom Allen's defense. Philip Blidi, an addition from Texas Tech, offers intriguing upside on the interior.
Blidi quieted down after a two-sack, three-TFL debut against Murray State in 2022, but he flashes exceptional quickness off the snap to go along with his natural leverage at 6'3″, 294 pounds. He can also levy cross-chop and arm-over combos.
Andre Carter, EDGE
Also helping the Hoosiers on the defensive line will be Western Michigan transfer addition, Andre Carter. Now listed at 6'5″, 273 pounds, Carter arrives as one of the top producers in the MAC a season ago. In 2022, Carter logged 70 tackles, 13.5 tackles for loss, seven sacks, two pass breakups, and two forced fumbles.
He'll need to show he can retain his athleticism at his increased weight, but he's ultimately an explosive, high-motor competitor who can fight through second-effort attempts.
Jacob Mangum-Farrar, LB
One of Indiana's more intriguing acquisitions via the transfer portal is linebacker Jacob Mangum-Farrar. The former Stanford defender has a good baseline size-athleticism combination at 6'4″, 241 pounds.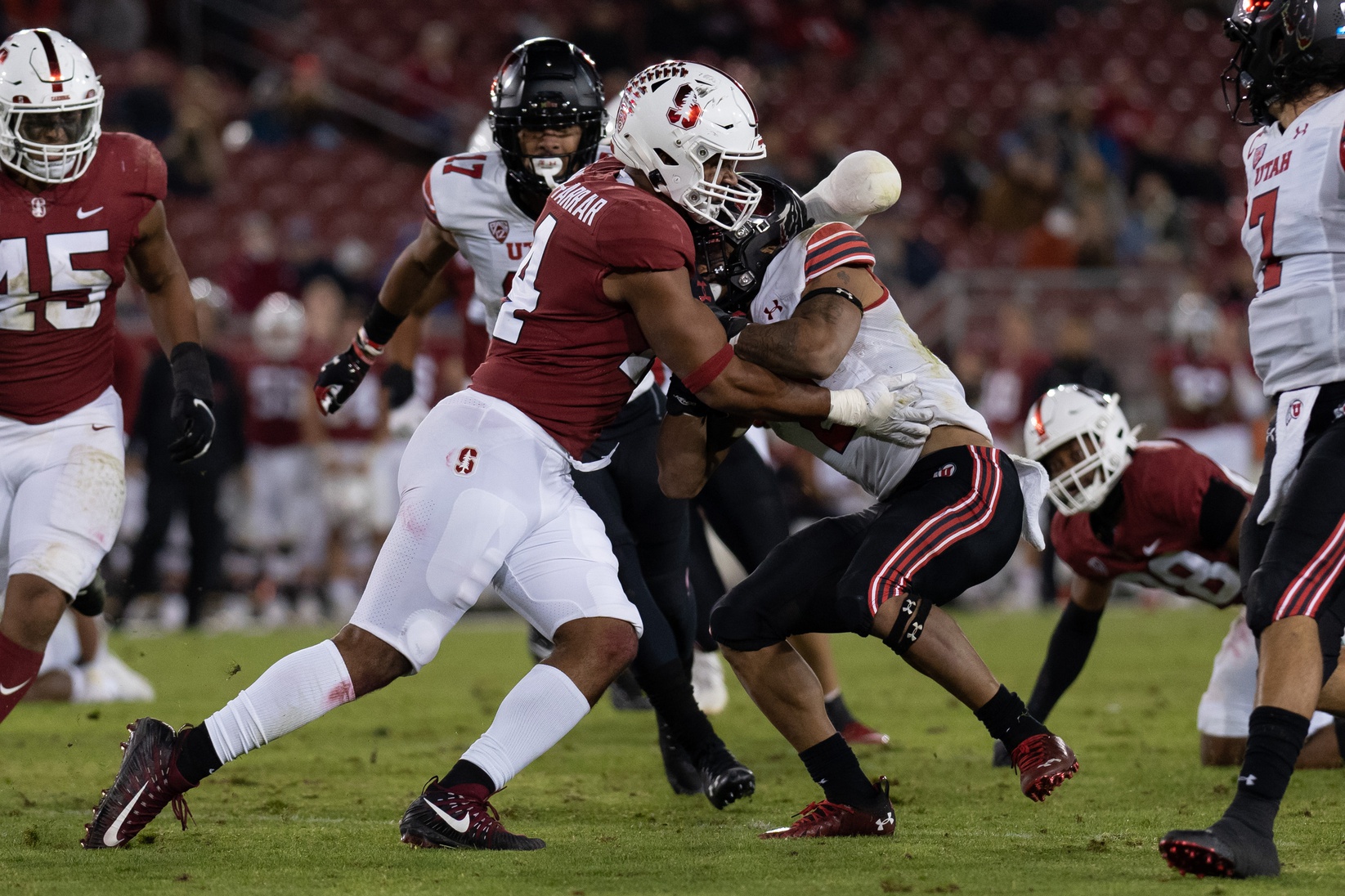 Mangum-Farrar still needs further refinement. He can struggle with angles and gap discipline, and can also miss tight ends sneaking out into space in coverage. But Mangum-Farrar has good range and eye-catching closing burst — tools to mold.
Aaron Casey, LB
Aaron Casey was Indiana's leading tackler last year, having amassed 85 tackles, 10.5 TFLs, 1.5 sacks, two pass deflections, and two forced fumbles in 2022.
The 6'2″, 235-pound veteran lacks high-end range and can still improve his coverage instincts. That said, Casey's ability to obstruct gaps and make plays behind the line of scrimmage is undisputed. He might not command draft capital but could be a PFA target for teams.
Nicolas Toomer, CB
Nicolas Toomer was never a full-time starter at Stanford, but he has legitimate riser potential as a transfer addition for Indiana. Although he doesn't have elite recovery speed or reaction speed, Toomer's a long-striding athlete and a natural sinker at 6'2″, 195 pounds. He flashes impressive foot quickness and corrective twitch in man coverage and could capitalize on the opportunity to fill the void in the Hoosiers' secondary.
Noah Pierre, DB
Noah Pierre provides a sliver of continuity for a secondary going through major changes in 2023. The 5'11", 178-pound redshirt senior is coming off a 2022 campaign in which he put up 39 tackles, four TFLs, three sacks, three deflections, and three forced fumbles.
Pierre's eye discipline could improve in zone coverage, and he can do a better job staying square at stems in man. Still, he's a dynamic slot defender who flashes two-phase playmaking ability.
Josh Sanguinetti, S
With Devon Matthews, Bryant Fitzgerald, and Jonathan Haynes all moving on, Josh Sanguinetti will be in line for an increased role in the 2023 campaign.
The 6'1″, 183-pound defender has 37 tackles, two picks, and five deflections over the past two seasons. There's still room for Sanguinetti to become more autonomous as a playmaker on the back end, but he does show glimpses of solid spatial-management skills and responsiveness against screens.
Indiana Hoosiers Schedule
Week 1
BYE
Week 2
Sept. 2: vs. Ohio State Buckeyes
Week 3
Sept. 8: vs. Indiana State Sycamores
Week 4
Sept. 16: vs. Louisville Cardinals
Week 5
Sept. 23: vs. Akron Zips
Week 6
Sept. 30: at Maryland Terrapins
Week 7
BYE
Week 8
Oct. 14: at Michigan Wolverines
Week 9
Oct. 21: vs. Rutgers Scarlet Knights
Week 10
Oct. 28: at Penn State Nittany Lions
Week 11
Nov. 4: vs. Wisconsin Badgers
Week 12
Nov. 11: at Illinois Fighting Illini
Week 13
Nov. 18: vs. Michigan State Spartans
Week 14
Nov. 25: at Purdue Boilermakers
Week 15
BYE
Listen to the PFN Scouting Podcast
Listen to the PFN Scouting Podcast! Click the embedded player below to listen, or you can find the PFN Scouting Podcast on iTunes, Spotify, and all major podcast platforms.  Be sure to subscribe and leave us a five-star review! Rather watch instead? Check out the PFN Scouting Podcast on our Scouting YouTube channel.