HOUSTON — Jalen Pitre sees the game of football differently, a unique vision that encompasses more than the routine way defensive backs read quarterbacks' eyes on the fly and adapt in coverage.
For the Houston Texans' instinctive rookie safety, it's about trusting what he sees, reading body language, and dedicating hours to film study to thoroughly understand the offensive tendencies. It all comes back to a rare combination of intelligence, athleticism, and toughness with the confidence to aggressively commit to action and execute a plan.
Jalen Pitre is off to an extremely strong start to training camp and his NFL career
Whether the second-round draft pick and former Big 12 Defensive Player of the Year from Baylor needs to be physical in covering a larger tight end, fast enough to mirror a speedy wide receiver's patterns, and a sound tackler to bring down bruising running backs, Pitre has a lot of traits and skills working in his favor.
"That boy is a dog," Texans tight end Brevin Jordan said. "I'm excited for him. He's instinctual, he plays fast and he's already out there making plays."
What makes Pitre stand out among the Texans' rookie class and having already earned a starting job along with first-round cornerback Derek Stingley Jr., heading into a preseason opener Saturday night against the New Orleans Saints at NRG Stadium is how he's already emerging as a leader who's earned the respect of older players and his absence of mental errors.
"He's just very smart," Texans cornerback Tavierre Thomas said. "That's one of the smartest guys I've seen coming in, me going on my fifth year. You wouldn't know that he's a rookie. Like he ain't make like the little rookie mistakes.
"But other than that, you wouldn't think he's a rookie. When he's not in, he's calling out plays, calling out formations, so he knows the game. As long as he continues to do that, he's going to be real good in the league."
Pitre says he's 'got a long way to go'
Signed to an $8.95 million contract that includes a $3.692 million signing bonus, Pitre models his game after New Orleans Saints safety Tyrann Mathieu, a former All-Pro selection and Texans defensive captain, along with Arizona Cardinals standout safety Budda Baker.
A former consensus All-American, Pitre led Baylor with 18 tackles for losses, finished with 76 total, had three sacks, seven pass breakups, two interceptions, and three fumble recoveries.
As well as Pitre has performed, he's maintained a humble, low-key approach. That falls in line with his unassuming, friendly personality. Pitre doesn't think he has everything figured out yet.
"Yeah, I would say I'm still growing," Pitre said  I'm still understanding the playbook, understanding what offenses like to do in the NFL, and I love the game of football, so I love learning every day, and I feel like I'm doing that. I'm just continuing to go up. I feel like I haven't really reached any plateau yet. I've got a long way to go.
"Coming in, I just wanted to make sure that I was confident from the start. I understand that I don't know what I'm doing fresh off, and I think that when you approach something you've got to start with confidence in order to grasp the material and be able to go out there and make the plays when it's needed. I try to approach everything with a confident mindset, and I think that's helped me."
Pitre's anticipation of plays is not only creating an impact for himself. It's benefiting veteran teammates.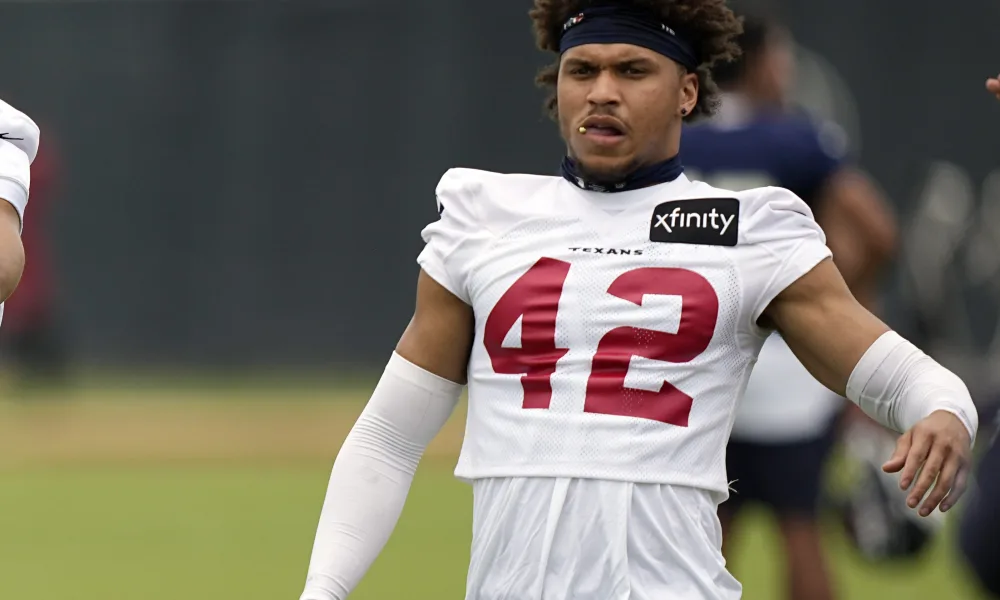 Jalen Pitre instinctively anticipates plays, reacts fast
Pitre saw the collision unfolding in front of him as Thomas and linebacker Neville Hewitt converged on wide receiver Chris Conley, popping the football into the air. And Pitre literally pounced on the opportunity, diving forward for his first interception of camp. It was a big play, but it didn't come as a surprise.
"The first thing I can recall of him, there was one play where he made a pick where he dove and caught it, which was pretty nice," defensive end Rasheem Green said. "He's always a guy who carries himself well around the locker room and meetings and on the field. I feel like he has a bright future."
Pitre has been around the football since the start of camp, reacting smoothly to routes and closing quickly.
"What we should notice about Jalen is he's just blending in now," Texans coach Lovie Smith said of the Houston native. "Of course, he's one of our starting safeties. We aren't giving out any starting spots, but he's been working with the ones. But he's intelligent, smart, everything we're looking for in a safety, he has. Can't wait for him to actually play his first game."
Pitre had 60 tackles as a junior and was an All-Big 12 selection with 13 tackles for losses, 2 1/2 sacks, and returning both of his interceptions for touchdowns. He started as a true freshman before redshirting the following season with a shoulder injury. He lined up as a hybrid linebacker-safety in a position called the Star in a 4-2-5 defense under Dave Aranda after Matt Rhule was hired by the Carolina Panthers.
"Pitre, he's a ballplayer," Texans linebacker Garret Wallow said. "He's a ball hawk. He just has a knack for the football, and I've known that from playing him when he was at Baylor."
What has separated Pitre from most rookies is his range and ability to track the ball. He takes great pursuit angles.
"Pitre, his ball awareness, when the ball in the air, he can go get it," former Pro Bowl cornerback and punt returner Desmond King said. "He finds it and attacks the ball."
Nick Caserio: 'He plays with his hair on fire'
The Texans like Pitre's aggressive, fired-up style of play and his versatility. Pitre can play either safety spot or nickel if needed.
"He plays with his hair on fire," Texans general manager Nick Caserio said. "Versatile player, they used him a little bit inside in the slot. He played safety, so he has some position versatility. I think he might have a role in the kicking game. Tough, instinctive football player, loves playing football. His energy was infectious when he was in the building.
"I would say Jalen falls in the category of embodying the types of people and players that we want to have in this building. Kind of their vigor and joy playing football. You see it in the way that he plays. He plays with his hair on fire."
Pitre is aware that, as he operates as more of a pure free safety, he can't overreact to fakes or play too aggressively. He has to strike a balance.
"Yeah, it's a lot more patience," Pitre said. "You are the last line of defense, so you can't be as aggressive, but it's still football. I still understand that I'm a piece of the defense and I need to do my job. Every time I'm out there, I'm trying to do that."
Pitre will have a large contingent of family and friends to watch his first NFL game. He needed a large allotment of tickets, roughly 30 to take care of those closest to him. He plans to put on a show to remember in his first NFL game.
"Oh, I'm very eager," Pitre said. "I love the games. In practice, you're not able to hit and drive through a lot, finish a lot of plays. It would be great to go out there and compete with my teammates and run to the ball."
Outside of the Texans safeties' meeting room there's a prominent sign that reads: 'I'm good.'
That message resonated with Pitre for several reasons as far as the standard that safeties coach Joe Danna expects.
"The one thing I do remember, though, in our room, it's a thing that right when you walk out the door it says, "I'm good," Pitre said. "You should never say, I'm too good for something. You should always be working to get better at something and I feel like he brings that every day. Coach Joe has great energy every day and he tries to match the players' intensity, so I love that."
Pitre and Stingley look to form Texans' cornerstone
The Texans drafted Stingley, a former LSU consensus All-American and blue-chip recruit, with visions of installing him as a shutdown corner. Although Stingley will be brought along cautiously due to a preexisting foot injury that required surgery and won't play against the Saints, he's on track for the regular season. He's made some eye-catching plays against veteran wide receiver Brandin Cooks.
Pitre and Stingley could form a cornerstone presence in the Texans' secondary for years to come.
"Stingley, he's great," Pitre said. "He's also a guy that I lean on when talking about different things that the offense is trying to do. I love playing with him, and I love being out there with him. We're always talking about what we're about to get. And I feel like me and him are going to be great together."
At 5-foot-11, 198 pounds, Pitre packs a lot of power into a regular-sized frame. He ran the 40-yard dash in 4.46 seconds and posted a 35-inch vertical leap. Meaning, he's fast enough and leaps high enough to chase down receivers and contest passes against taller wide receivers and tight ends.
"He's probably the most consistent rookie I've seen in my years," Texans linebacker Kevin Pierre-Louis said. "Just a guy that just — he picked it up from day one. So we're excited to have him out there. He's just one of the guys. He is a rookie, but he doesn't play like one."
Pitre stuck it out at Baylor after coach Art Briles was fired following a series of sexual assault scandals surrounding the program, keeping his commitment after accepting a scholarship offer. Baylor stuck by him when he tore his ACL in high school as a junior. Not every school did that with many backing off their recruiting efforts toward Pitre. He embraced the new coaching staff, playing for Rhule and then Aranda.
Loyalty is huge for Pitre. And playing so close to home — a 20-minute drive from his parents' home to NRG Stadium — is significant for him.
Teammates' respect: 'It means the world to me'
"I thank God for putting me here and allowing me to do the things that I'm able to do," Pitre said. "I would have never guessed that he would have put me here in Houston to play in front of my home city. It's very wonderful that he chose me, and I'm very thankful for it."
Proving himself is the emphasis for a 23-year-old playing for his hometown team after excelling at Stafford High School. To hear that his older teammates are speaking so highly of him strikes an emotional chord with Pitre.
"Definitely, it means the world to me," Pitre said. "I'm trying to gain those guys' respect and I'm trying to show them that I belong. That's big that they feel like I'm doing a great job, but I want to continue to grow and continue to match their intensity.
"I have a great coaching staff that's teaching me the game, that helped me understand the playbook very fast, and also I have great teammates that lend a helping hand when I need it. So, I'm grateful for that."